Mix and Match Meal Prep is an easy way to prepare delicious, nutritious meals for yourself and your family. With just a few simple steps, you can create customized meals that fit your lifestyle and preferences. Instead of separate entrees, you'll prepare the individual components that make up a meal. Then to make your dishes special, you'll create a few sauces to drizzle, dollop, and plop on top!
Eat Healthily with Mix and Match Meal Prep
If you're looking for ways to cut back on food costs while still getting nutritious meals, then you will want to consider implementing mix-and-match meal prep. With this method, you prepare multiple ingredients at once so you only need to cook once. Then, you can simply combine different ingredients together to create new dishes.
Choose Your Ingredients (the components)
You can choose any ingredients you want to use when creating your menu. This includes fruits, vegetables, meats, dairy products, grains, beans, nuts, seeds, spices, herbs, and more.
To give you a better idea of how I created the meals in this video, download the free printable shopping list. Keep in mind this is just a starting point, you can brainstorm other meal prep ideas or subscribe to my YouTube channel and turn on notifications so you'll know when I share other ready-made healthy meal plans.
Create A Shopping List
If you use my printable, you won't need to create a list, but to do something similar on your own, you'll want a shopping list. When you do mix-and-match meal prep on your own, you'll come up with:
3-5 proteins to cover each night of the week, enough for everyone in your family
3-5 starches (carbs) unless you are low-carb or following a ketogenic diet
as many vegetables as you like (shoot for at least 2-3 per meal, enough for everyone)
ingredients to make your favorite sauces – more on this below
Food Storage and Labeling
Once you have decided what you want to prepare, you will need to decide where you will store your food. Food that will be eaten within 3-5 days can be stored in the refrigerator. For longer storage, make sure the food is in a completely sealed container and store in the freezer for up to 3 months.
Consider purchasing glass or BPA-free airtight containers with lids. These containers keep foods fresh and help prevent odors from escaping. They also allow you to easily see what you have left so you won't forget anything.
Here are some recommendations that I use for my Personal Chef Business:
For labeling, I like the ease of colorful masking tape and a sharpie. You'll want to write on the label:
name of food item
date made
any necessary instructions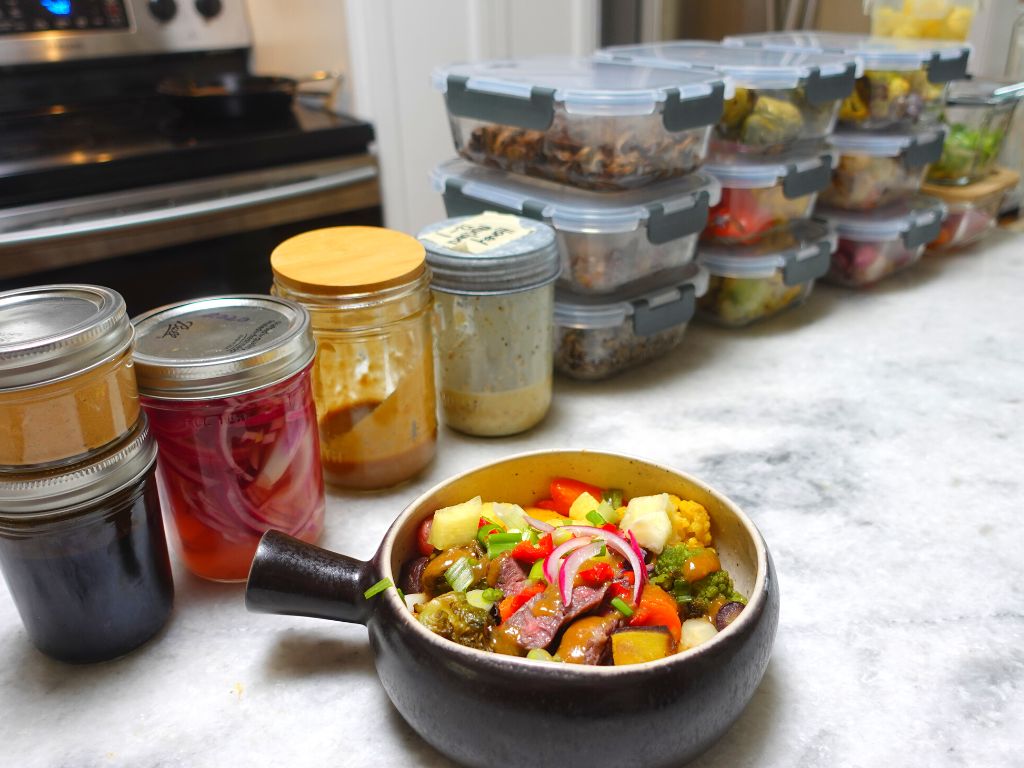 Prepare The Food
Instead of buying pre-made meals, you're going to make them yourself. Cooking at home will allow you to control exactly what goes into your body. Plus, you can save money by cooking your own meals instead of eating out every day.
With mix and match meal prep, you'll be saving energy in the kitchen! For example, instead of heating the oven or stovetop every night, you can roast all the veggies on a sheet pan. Not only will this save energy, but your time as well.
My total time in the kitchen to prepare all the components for a weeks worth of meals was only 2.5 hours. Depending on how much experience you have in the kitchen, it could take you a little more or less time.
Kitchen Therapy for Mix and Match Meal Prep
Learning to trust your instincts in the kitchen will help you gain confidence and become a better cook!
Eating nutritious foods doesn't have to be time consuming.
Trust yourself & your instincts when cooking
Taste as you go and adjust when necessary.
Grocery List to Create Budget-Friendly Weekly Meals
Looking through cookbooks to get inspiration for healthy recipes is one of my favorite things to do. But you know, from time to time, you're going to have a super busy week or maybe your life is go, go, go all the time right now. That's okay!
If that's you, you're going to love this low prep time, easy meal plan for creating delicious mix-and-match meals all week.
You can pile the components onto a plate or section them into a bowl, but you could also throw them in a stir-fry or wrap them up in a tortilla! Tuck them into a pita or toss them with a salad. The combinations are endless. Let your imagination run wild!
You won't use every ingredient in every meal, you'll be mixing and matching the ingredients to create different combos. To get a better idea of what I mean, read: Bowls, the hot new trend you are gonna love.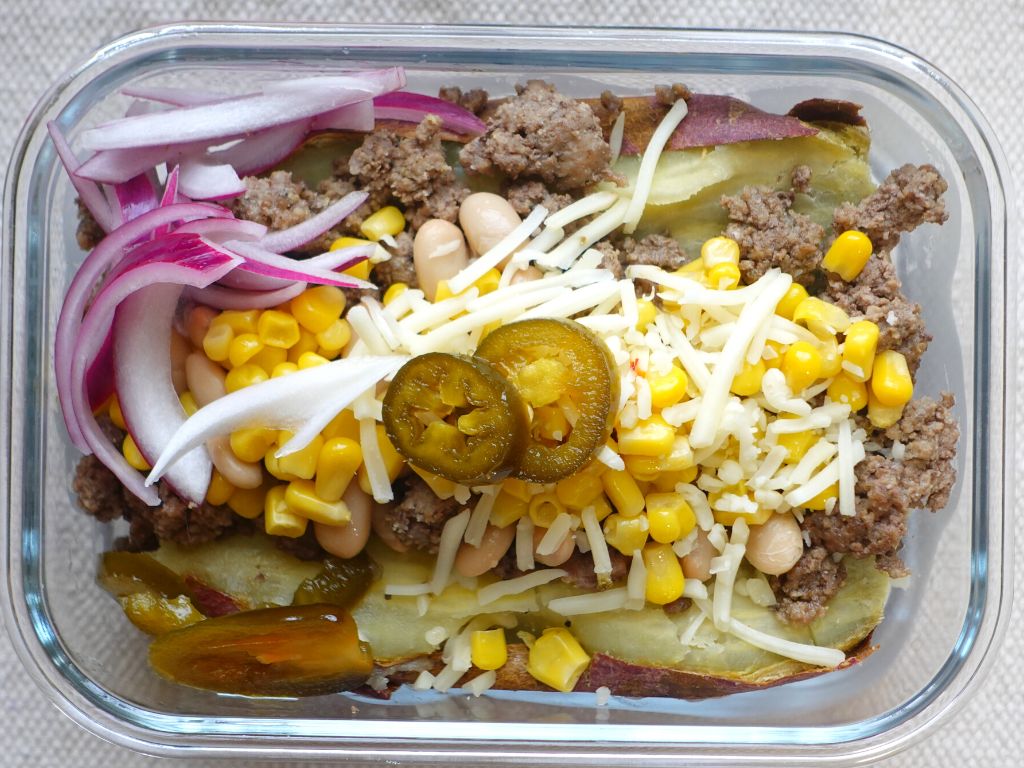 Ideas for Veggies
Mix and match the vegetables your family likes best. Try to shoot for a rainbow of colors. Also, don't be afraid to try new vegetables. Garnishes can also be fruit, such as pineapples or blueberries!
Carrots
Brussels Sprouts
Cauliflower
Broccoli
Red Onions for garnish, salads, or other raw uses
Yellow or white onion for cooking
Sweet Potatoes
Bell peppers
Radishes or Potatoes
Pineapple
Green onions
Cherry tomatoes, scallions, cilantro, for garnish and salads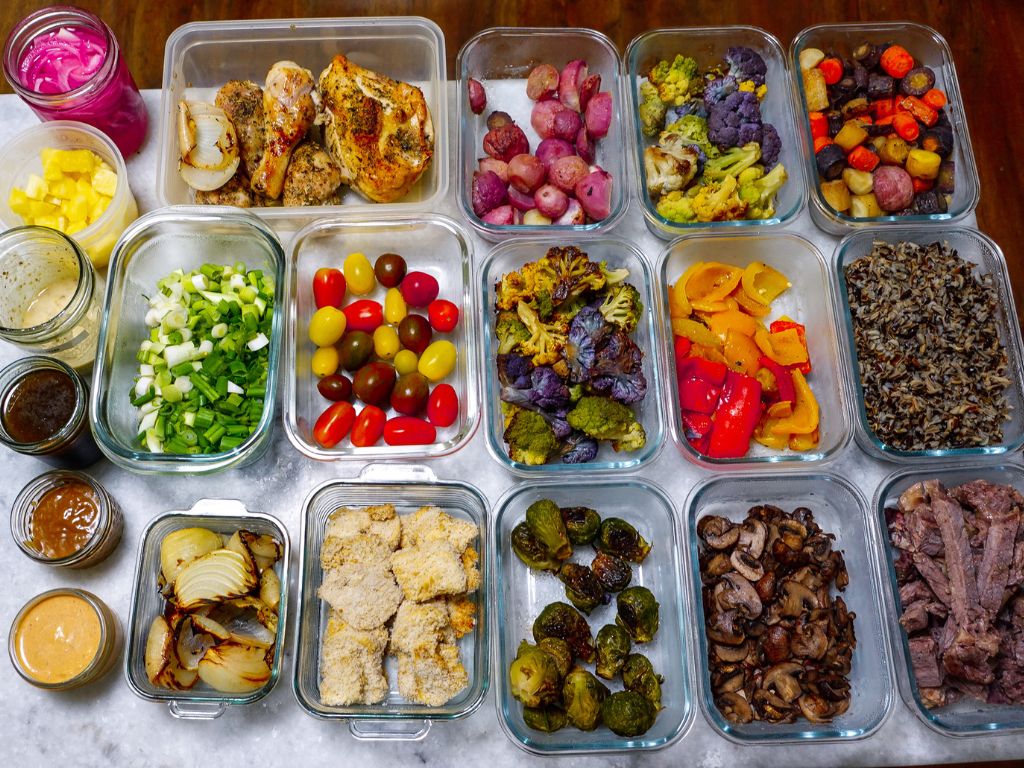 Carbohydrates
If you eat carbs, choose the ones you like, typically one per night, but if you like do a combination.
Rice, white, brown, wild, black, mixed
Quinoa, red, white, or mixed
Pasta, any shape you like
Tortillas or low-carb wraps (add meat, and veg into a wrap)
Bread (you can make hot hoagies)
Pitas (to stuff with meat and veg)
Riced Cauliflower
Zucchini noodles
Shirataki Noodles
Meat / Protein
For each meat, buy enough for one meal for your family, keeping in mind you'll also be adding starch and a vegetable. If you don't already, use a meat thermometer to check your meat for doneness, as overcooking will dry out meat.
Here's a printer-friendly chart I created that you can keep inside your kitchen cabinet as a reference.
There are many ways to cook meat, so if you wanted to cook them all on your meal prep day you can use the stove top, oven, instant pot, crock pot, grill, etc. to save time.
Ground beef, chicken, or turkey
Steak of your preference
Tofu if you eat soy products
Fish – choose firmer fish that hold up better if you won't eat it the same night your prepare it
Chicken breast and thigh
Beans such as chickpeas in hummus also have higher protein, black beans, pinto, and others go well in bowls, for making tacos and burrito, etc.
Lentils are another good protein source if you want to eat meat sparingly. Choose any color, and keep plenty in stock in your pantry.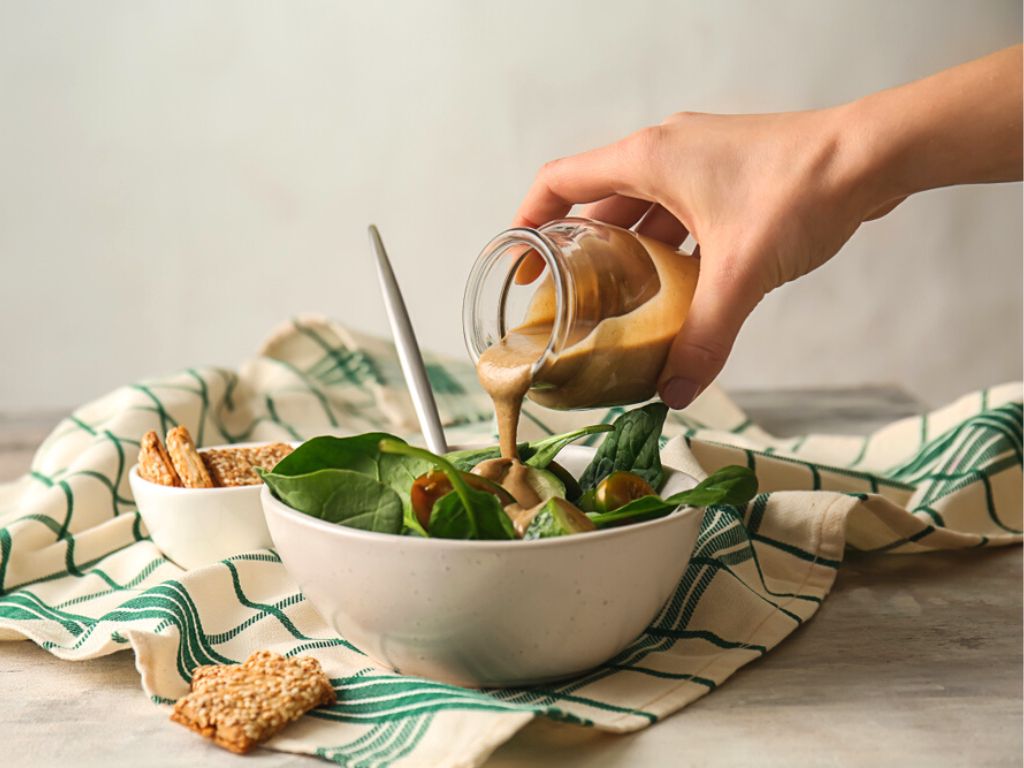 Pantry Items
You'll find tons of information about how to keep a well-stocked pantry on this website. I'll list a few articles in the resources section of this post.
Beans and lentils of your choice – you can keep dried beans or canned, whichever you prefer, but keep in mind that dried beans will have a longer cook time. Using an instant pot can greatly reduce the time it takes to prepare beans!
Brown Rice or other types of rice you enjoy will make the base of your bowl or plate each night.
Corn – canned or if you prefer you could store frozen.
Chipotle in adobo sauce – excellent for whipping up chipotle mayo as I did in the video
Roasted Red Pepper in jars – these add flavor and nutrition when blended alongside other ingredients to create a delicious bowl sauce.
Plain Yogurt – an excellent sour cream replacement and can even be swapped in for mayo.
Stone Ground Mustard – use this mustard for sauces like honey mustard, or maple mustard vinaigrette, on sandwiches, etc.
Honey – perfect for sweetening your sauces naturally.
Maple Syrup – another useful natural sweetener for sweetening sauces like my favorite Asian Peanut Sauce.
Olive Oil – delicious when added cold to sauces or drizzled over vegetables or for dipping sourdough bread. (Never cook with olive oil on high heat as it has a low smoke point.)
Refrigerated Ingredients to Keep on Hand
Condiments such as the ones listed below will make it easier to create your own delicious sauces to drizzle on your meals.
White Miso – lends a saltiness to sauces, soups, and other dishes plus lots of good bacteria. Keep it on hand for extra flavor in all your dishes, but add it at the end so it maintains the live bacteria which are so healthy for you. The intake of miso soup does not increase blood pressure and heart rate compared with the equivalent intake of table salt, so use it to add more flavor if you have to watch your sodium intake! (1)
Balsamic or other types of vinegar – These add the tang so often needed in sauces, keep a variety of these on hand.
Ghee (save 20% at Simply Ghee with coupon code: OMGhee) – instead of olive oil, use ghee to saute veggies – you'll be amazed at how much better they taste!
Coconut Aminos or soy sauce – they are interchangeable for the most part, keeping in mind that coconut aminos have a slightly sweeter taste.
Peach or Apricot Jam – Use to sweeten sauces like the miso jam combination I prepare in the video.
Pickled Jalapenos – great for topping tacos, burritos, salads, or on a variety of different meals.
Mayo – if you don't make your own, keep an extra in the pantry so you can prepare sauces to drizzle on your mix-and-match meals.
Dairy Items to Add
You might like to have the following items to complement your meals:
sour cream
Greek yogurt
shredded cheese
crumbled goat cheese or feta for the Mediterranean flavors we all love
A Well Stocked Spice Cabinet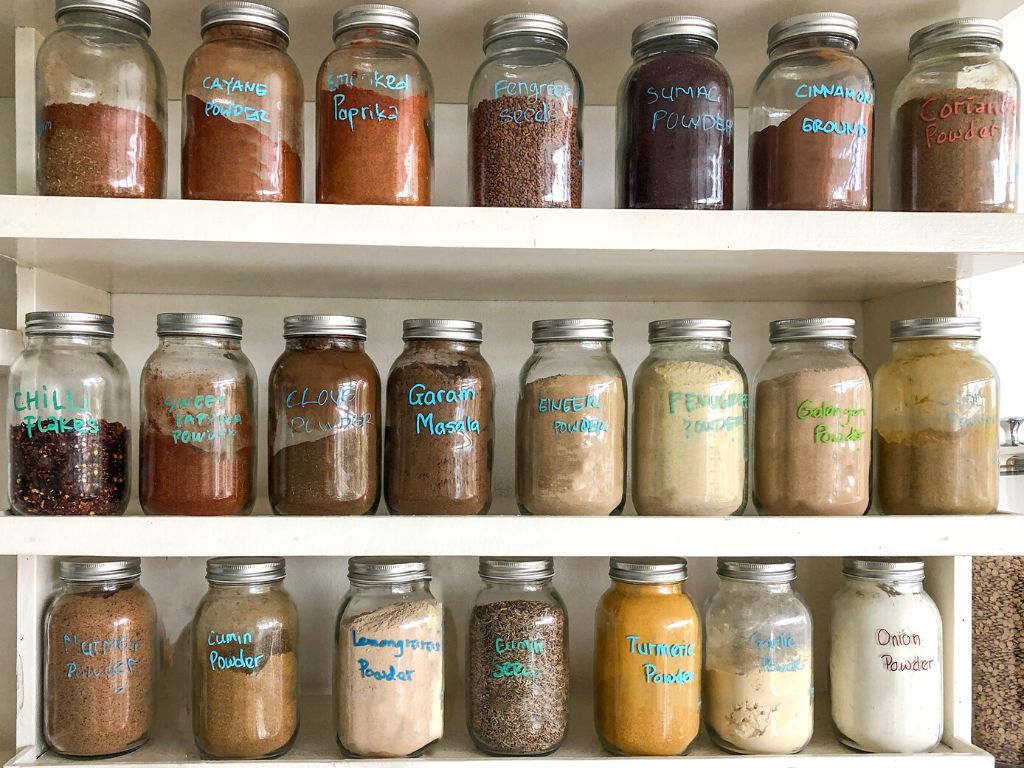 To help you bring your dishes to life, keep a well stocked spice cabinet. Keep some international cuisine type spices handy too, such as cumin, aleppo pepper, sumac, and others. Explore the flavors of other countries when seasoning dishes.
Tips and Suggestions for This Meal Plan
These are also listed in the printable instructions for this meal prep.
Get the sweet potatoes in the oven first as they take the longest to cook.
Chop vegetables in uniform bite sized pieces so they'll cook evenly.
Mix the sauces while veggies are roasting, store in glass jars or squeeze bottles.
For protein, either cook all on the same day and store in the fridge, or prepare the meat fresh each day, you'll still save time over cooking everything each night.
Use a meat thermometer when cooking meats, here's how.
For sauces think sweet, salty, tangy, zippy, smoky, acidic, spice/heat, then combine to your taste preference.
Label everything with name and date – keep it simple by using tape and a sharpie!
Vegetables should last in the fridge up to 7 days when properly stored.
Let cooked foods cool before transferring them to fridge or freezer.
Use airtight containers for storing foods for best results.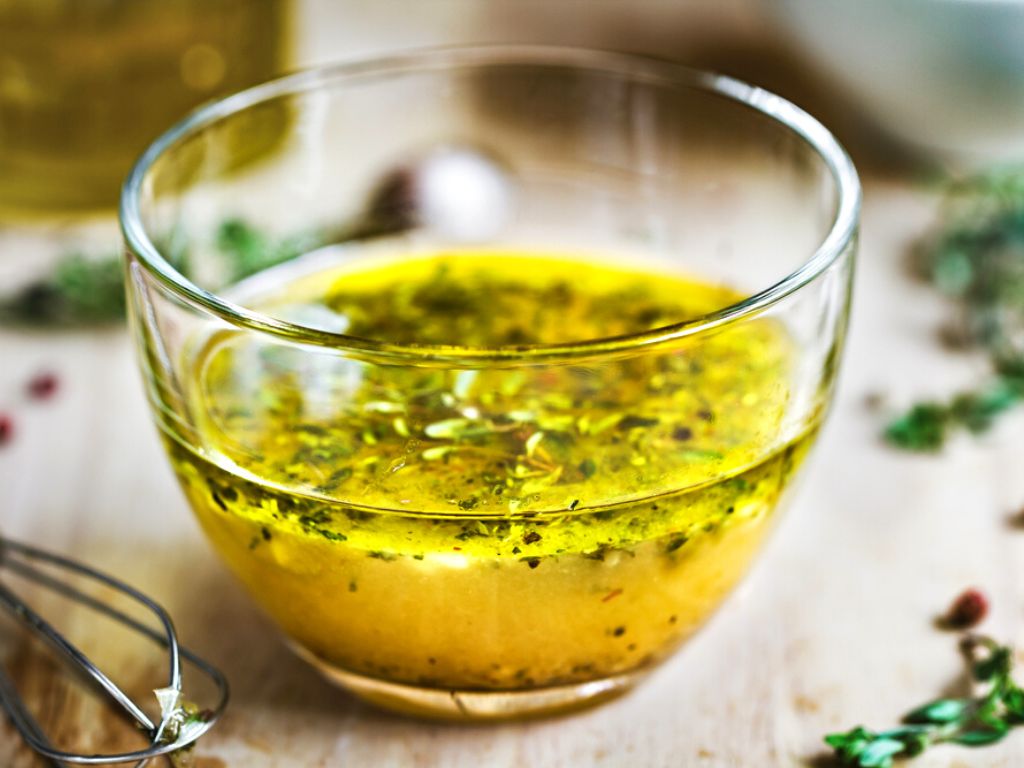 If you need to follow a gluten-free diet, make substitutions as necessary. This week I didn't use flour products, however, soy sauce and some other ingredients may contain trace amounts of gluten. Check with your dietitian if you are on a strict diet.
Helpful Resources for This Mix-and-Match Meal Prep Plan
FAQ
Can you prep the ingredients the night before? Yes, you can! However, this meal plan is so quick and easy, I don't think it is necessary! Total time to cut, prep, cook, and store is around 2-3 hours for most people.
What are some benefits of mix and match meal prep? You won't get tired of eating the same meal night after night with the mix and match method. Think of mix and match as a bowl matrix!
What is the difference between mix and match vs. regular meal prep? With regular meal prep, specific entrees are made and divided into individual portions for reheating and eating later in the week. With regular meal prep, you will be eating the same dish over and over, whereas with mix and match, you can create more variety as you mix and match the ingredients to create different combinations and flavors. So you end up with more variety.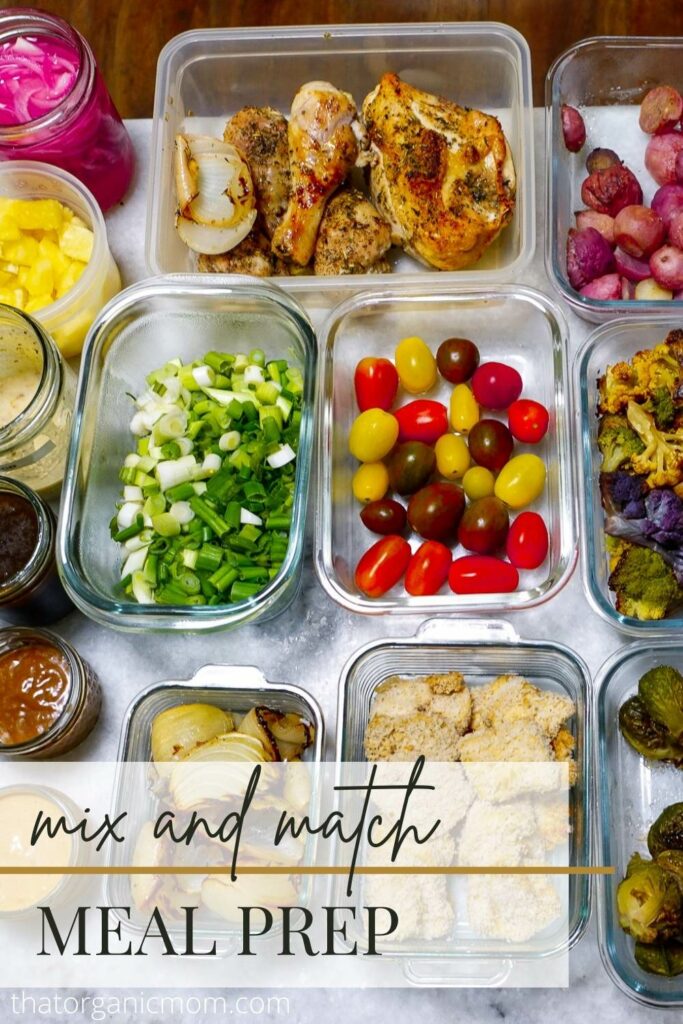 Sources

Ito, Koji. "Review of the health benefits of habitual consumption of miso soup: focus on the effects on sympathetic nerve activity, blood pressure, and heart rate." Environmental health and preventive medicine vol. 25,1 45. 31 Aug. 2020, doi:10.1186/s12199-020-00883-4