Table of Contents

[Hide]

[Show]
Last Updated on June 29, 2022 by Rebecca Huff
May I encourage you to experiment with your own salad dressings if you haven't already started!? Nothing beats the taste of a fresh vinaigrette or hearty cream dressing on your salad in the area of taste or nutrition. There are so many different flavors to experiment with. Maple mustard vinaigrette is an easy one to start with.
If you are a salad dressing pro, share your tips with the rest of us, we love sharing recipes and tips here.
maple mustard vinaigrette
Maple mustard vinaigrette pairs beautifully with a baby green salad topped with some thinly sliced radishes! Oh, my! Also, try maple-mustard vinaigrette on arugula! The peppery taste of arugula is accented beautifully by the tartness of the mustard and sweetness of maple. If you love arugula you might want to try my Chicken and Pear Salad as well.
This is a tart vinaigrette so adding berries works well too, try raspberries, strawberries or whatever you have on hand. Kids love maple-mustard vinaigrette with pears and apples as well.
If you are following a strict low carb diet and prefer not to use any maple syrup, try adding a few drops of maple extract to a tablespoon of water and 1-2 tablespoons of powdered erythritol. When I make this vinaigrette I divide it in half before I sweeten it. Although I don't have a problem eating this dressing occasionally while staying in ketosis!
I like tart foods, so 1-2 tablespoons of sweetener in this recipe is just right for me, but my kids like it sweeter. Try adding the sweetener 1 tablespoon at a time and tasting as you go until you get it adjusted to your preference.
If you're trying to make salads part of your lifestyle, consider some useful tools like: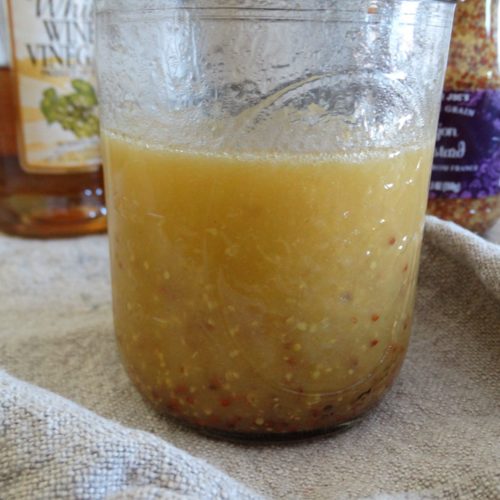 Maple Mustard Vinaigrette with low-carb option

Dairy Free

Gluten Free

Paleo

Vegan

Vegetarian
Keep a jar of maple mustard vinaigrette in your fridge for last minute salads. You'll never have to buy bottled again.
Ingredients
1

tablespoon

dijon mustard

preferably with whole mustard seeds

1-2

tablespoon

pure maple syrup

or see option in notes

1/2

cup

extra virgin olive oil

1/2

cup

white wine vinegar

salt and pepper to taste
Instructions
Place all ingredients into a jar and shake well.

Serve over salad greens.
Notes
Low carb and sugar-free option: omit maple syrup; instead use Pyure Maple Flavored Syurp.
2 drops maple extract, 1-2 tablespoons powdered erythritol or a few drops of liquid stevia, plus 1 tablespoon water.
If you don't have maple syrup, this recipe works well with honey!