Last Updated on January 7, 2023 by Rebecca Huff
Looking for the best meat subscription boxes for consistently high-quality meat to feed yourself and your family? Let's face it; the grocery store doesn't always carry the highest quality meat options.
A recent discussion among my family members about where to buy the best quality meat sparked an idea. So, in the name of research, I ordered multiple meat subscription service deliveries.
Next, I studied terms and made phone calls, and verified everything from grass-fed to free range plus everything in between. Lastly, I cooked many delicious meat-based meals and created videos and recipes to share.
The terms can be confusing, so I've included some definitions in the first section. Use the Table of Contents Below to skip directly to the section you're looking for, as this post contains a lot of information.
Terms You Need To Know When Buying Meat
Grassfed – From the moment it is weaned, the animal only eats grass (or hay). Regulated by the USDA's Food Safety and Inspection Services. This is done through documentation by the producer, verified by USDA auditors.
AGA Label – American Grassfed Approved label – Grassfed but also are not treated with hormones or antibiotics. Ever.
Natural – Minimally processed in a way that doesn't fundamentally alter the product, meaning no spices, colorings, or chemical preservatives. (Not regulated at all.)
Organic – The USDA seal means the animals must have year-round access to the outdoors, eat an all-organic diet that may contain organic grains, and may not be given hormones or antibiotics. In addition, they must be raised with access to shelter, shade, clean water, and sunshine. Regulated by government agent visits annually.
Pasture Raised – Access to outdoors for a minimum of 120 days per year. Regulated by documentation sent by the producer to the Food Safety and Inspection Services and then verified by USDA auditors who do not visit the farm. You may also see this labeled "Pastured Fed, Not Confined."
Raised without Antibiotics – Animal was not given antibiotics via any means, including food, water, or injections. The producer sends documentation to FSIS, which are then verified by USDA office audits (again, not in person.)
Free Range – means the animal that was raised in the open air or was free to roam, however this does not guarantee ample space nor does it certify free of hormones, etc. This is also true for eggs.
Snake River Farms Subscription Box
Snake River Farms specializes in true ranch-to-table beef in American Falls, Idaho. The parent company, Agri Beef, was established in 1968 by Robert Rebholtz Jr, who established their four fundamental principles:
Sustainability
Total Quality
Animal Well-Being
Responsibility to customers, partners, and employees
Steak Lovers Love Snake River Farms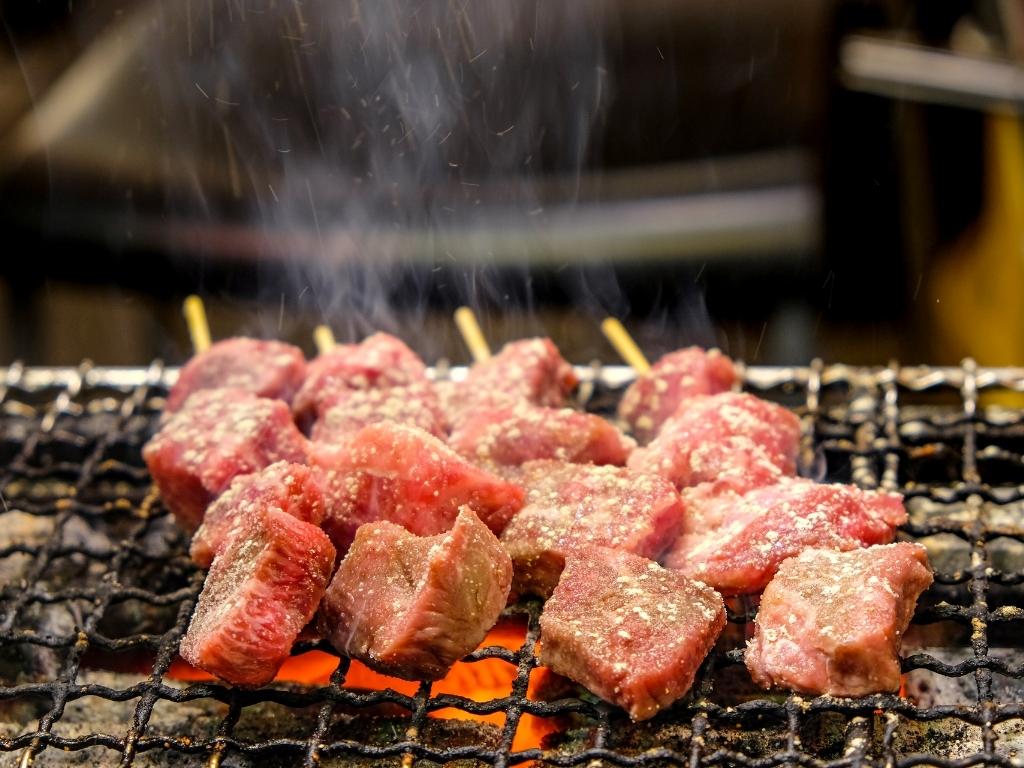 Snake River Farms cross-breeds Japanese Wagyu with high-quality continental cattle breeds to get American Wagyu beef. The result is rich marbling and traditional beef flavor, offering the best of both worlds.
Kobe beef is a term reserved for Japanese cattle from the Kobe city area of Japan in the Hyōgo prefecture. Read more about Kobe, Japanese Wagyu, and American Beef here.
Snake River Farms is your resource if you're a steak lover. You'll find your favorite meat cuts such as:
Filet Mignon
Sirloin Steak
Porterhouse & T-Bone
Ribeye Steak
New York Strip Steak
Flat Iron Steak
Wagyu Skirt Steak, and much more
Source for Sunday Pot Roast and Brisket
In addition, you'll find roasts, briskets, and even fully cooked products such as Smoked Brisket, Smoked Pork Steaks, and Smoked Beef Sausage.
Snake River Farms is by far the best source of Kurobuta pork, which is a heritage pork that originated in Japan. If you like to render lard for cooking, you'll appreciate Snake River Farms Kurobuta pork's hefty fat content and excellent texture.
You'll find traditional cuts of pork just like you'd find at an artisanal butcher.
I originally sought out Snake River Farms for the heritage breed pork. I've ordered the American Kurobuta Pork Belly three times so far. It is excellent in dishes that call for pork belly and for rendering lard at home.
Watch my video review of Snake River Farms and print or save my Asian Pork Belly Bao Buns recipe which uses their Kurobuta pork belly.
Is Snake River Farms Worth It?
For a die-hard meat lover, nothing beats Snake River Farms. If you invest in steaks from Snake River Farms, plan how you'll cook them in detail. This isn't cheap supermarket beef with dyes or fillers added. Read my full review of Snake River Farms.
What I Recommend and Love from SRF:
When I order from SRF, I usually get steaks for grilling, pork chops for schnitzel, and pork belly for recipes or making lard. I always use lard to season my iron skillets. In cooking, I alternate between ghee and lard.
Box options include:
under $200
over $300
$200-300
Discover Why Porter Road Meat is an All-American Favorite
Porter Road started as a butcher shop. That's why they have specialty cuts like the Porter Road Hanger Steak!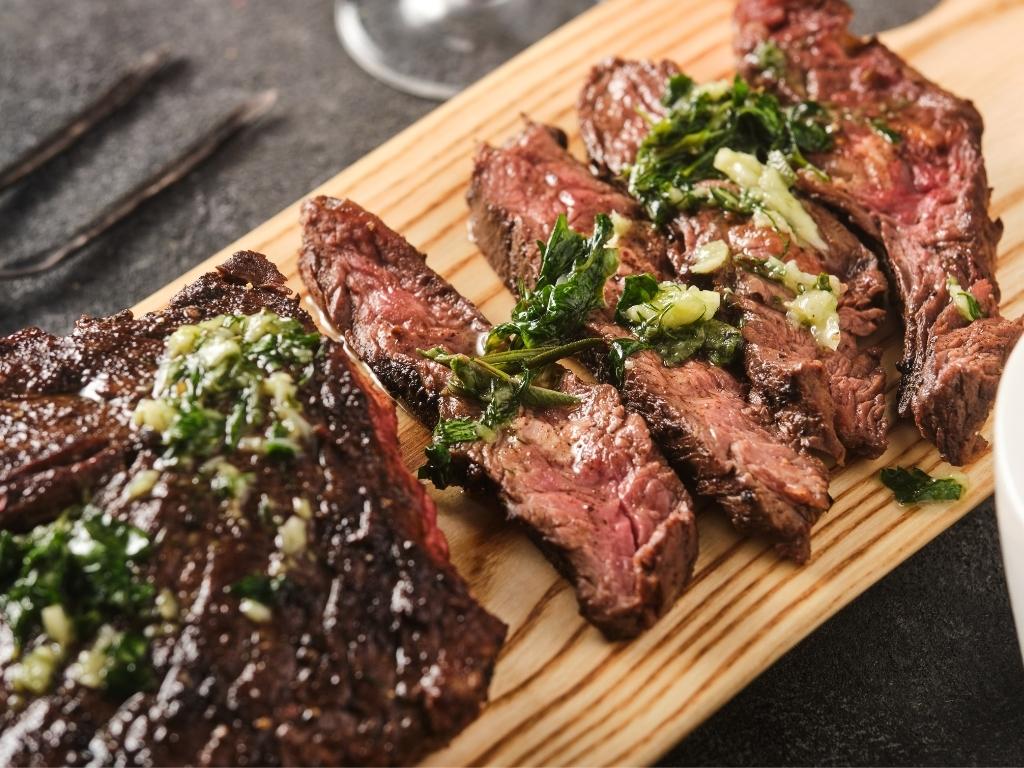 The creators wanted to ensure that the meat they delivered was being raised correctly. So they sourced meat from family-owned and operated farms in Kentucky and Tennessee. These are farms practicing the highest animal husbandry and environmental standards, with animals raised outside on pasture, never in a concentrated animal feed operation or feedlot.
Enjoy the best that living in America can offer – Porter Road Meat! This Tennessee favorite is an All-American favorite with its commitment to quality, sustainability, and flavor. Porter Road Meat is the perfect choice for those who want to enjoy the best of American-style meat. From the commitment to quality, sustainability, and flavor that Porter Road Meat brings to the table, there's no denying why this Tennessee favorite is an All-American classic.
The team at Porter Road Meat is dedicated to providing customers with quality meat that meets the highest standards of sustainability and flavor. From sustainable sourcing practices to dry-aging techniques for a high flavor profile, Porter Road Meat ensures every cut is something special for you to enjoy. Every piece of meat is inspected step by step during the curing process, and only the finest cuts are delivered for your next meal.
Porter Road Meat's Commitment to Quality
Porter Road Meat is dedicated to providing quality meat through comprehensive sustainability practices and daily checks to ensure its products meet the highest standards. From grass-fed cows that are hormone and antibiotic-free to pasture-raised chicken and pigs, Porter Road Meat guarantees the freshest meats. Fresh and delicious while avoiding chemicals, additives, and preservatives. Their careful curing processes ensure the customer gets a juicy, delicious cut every time they enjoy Porter Road Meat.
Sustainability is Deeply Embedded into the Company's Values
Sustainability is at the heart of Porter Road's values and ingrained into every stage of their meat production process. The farm-to-table chain is committed to reducing greenhouse gas emissions by adopting more energy-efficient shipping systems and reducing food waste by finding uses for scraps.
They also take great care in how they source the ingredients for their products, strongly supporting local farmers. As a result, customers can enjoy the best flavor while knowing they're supporting sustainable agricultural practices.
Porter Road's product selection is one reason customers love it so much. The butcher shop offers grass-fed beef, heritage pork, air-chilled poultry, and much more.
On top of that, they also offer a wide selection of sausage, bacon, and more – all made with high-quality ingredients and produced ethically. So whether you're looking to fill your freezer or stock up for an upcoming BBQ, Porter Road Butcher Shop has something for everyone!
Our Christmas ham purchased from Porter Road this year was the best we've had! The compliments poured in from everyone around the table. I prepared it using the Spiral Cut Ham Glaze and Heating instructions from the Tips and Tricks section of their website. Try it at your next holiday meal (or anytime) then sit back and enjoy all the praise you'll receive!
Find Out What Makes Porter Road Stand out from Other Butcher Shops Across America
In addition to its quality products, Porter Road stands out from other butcher shops across America due to its commitment to ethical and sustainable practices. They source all their meat from family-owned farms and partner with local processors for butchering, smoking, and curing. This ensures that all the animals are raised humanely without using growth hormones or antibiotics—something that not all butcher shops can guarantee. Additionally, Porter Road takes great pride in being a Zero Waste facility, which means that none of the byproducts go to waste!
Porter Road ships anywhere in the contiguous United States and is a smaller-scale agricultural business. They've grown a system that supports transparency and truth in labeling. Porter Road supports and rewards farmers for being good stewards of the land and the animals they raise.
The end result? Excellent quality and flavor.
Is the meat grass-fed and finished?
From the FAQ section of their website, "All of our beef is pasture-raised, so they feed on all that nature provides, and are never fed hormones or antibiotics. Out on the pasture, we introduce a custom grain blend to 'finish' the beef, giving our cuts the delicious marbling you know and love."
Their meat is dry-aged to give it a superior taste, which will tenderize and develop its flavor. Meats do not arrive frozen, just kept cold. You can read more about why here.
While the company does not have an organic certification due to the small-sized farms, they state that they never use any growth hormones or antibiotics. In addition, they ensure animals are raised outside on pasture. Lastly, the feed is free from any animal by-products or hazardous chemicals.
Farm Foods Market
Farm Foods Market was my first meat subscription box when I needed to increase my iron and ferritin levels. Because they carry a wide variety of bones and organ meat, it was a natural fit.
I use Farm Foods Market to source ingredients for bone broth and marrow. Salt block roasted marrow is tasty and incredibly nutritious.
When I make OssoBucco, I get my grass-fed bone-in cross-cut shanks from Farm Foods Market.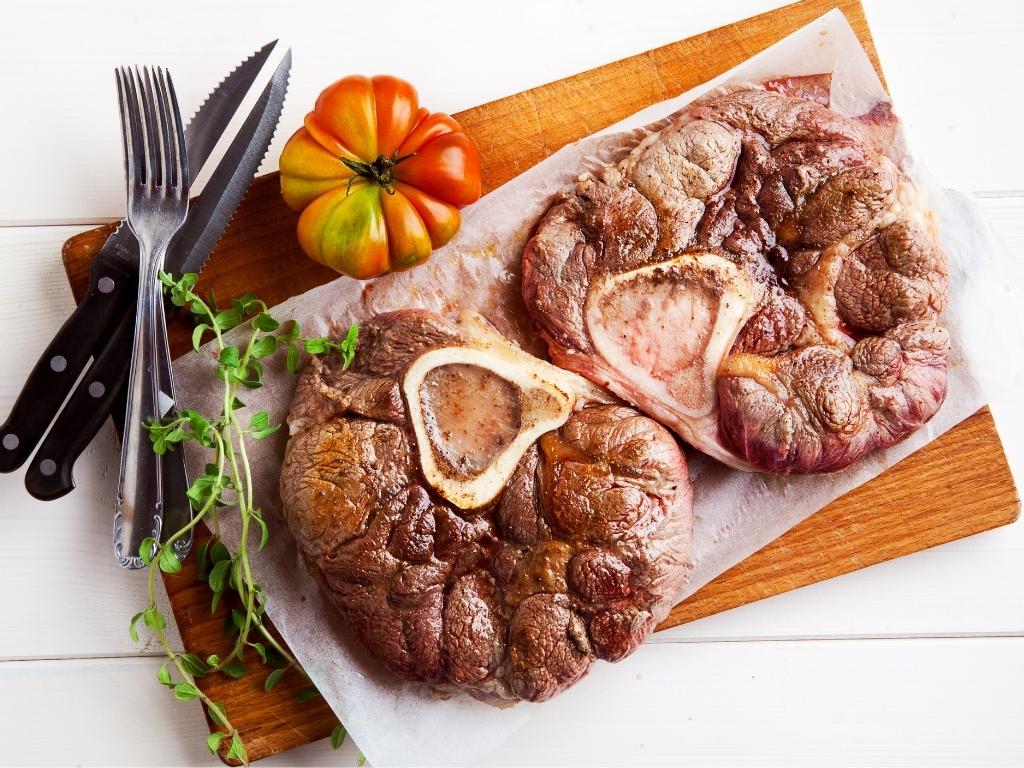 Products always arrive frozen, if not, they'll give you a replacement or refund.
Farm Foods has 100% grass-fed beef and grass-finished beef raised by small family-run farms where they enjoy a grass-fed and grass-finished diet. In addition, their pasture-raised chickens can roam freely to forage for grasses, bugs, seeds, and worms. The birds move to fresh pasture every day and are never given vaccines, antibiotics, or drugs.
They Offer 100% guaranteed shipping.
Farm Foods guarantees their products will arrive conveniently to your door, frozen or cool to the touch and vacuum-sealed in a reusable Styrofoam cooler.
ButcherBox Subscription Options
Order the classic box from the curated plan if you're unsure what to buy. This includes 8.5-11 lbs or 16-22 lbs of meat which they pick for you that include a variety of beef, pork, or chicken or a variety of the three.
The Custom Box allows you to choose specific cuts of meat and has options for seafood a la carte.
Choose from:
All Beef Box
Beef, Chicken, Pork Combo Box
Chicken and Beef Box
Pork and Beef Box
ButcherBox Meat Sourcing and Certifications
Free Range Organic Chickens from Butcher Box have (Global Animal Partnership) GAP 3 certifications verified by audits on participating farms, which means:
no cages, crates, or crowding
live in a stationary housing structure for protection
given access to an enriched environment
natural light (sunlight)
outdoor access and more space
Beef – Butcher Box states that their cattle are humanely raised, 100% grass-fed, and grass-finished. Cattle are free to roam on grassy pastures throughout their lives, not just as calves.
The majority of the grass-fed and finished beef is sourced from Australia.
Bison are sourced in the United States and humanely raised on a grassy prairie their entire life on grass that is never sprayed with herbicides or pesticides. In addition, they eat non-GMO grasses.
Sustainable Seafood is always wild-caught, sustainably harvested, free of artificial coloring, without additives, and free of antibiotics and hormones. Shrimp, lobster, scallops, Alaskan salmon, cod, halibut, and sablefish are all wild-caught by independent harvesters.
Partnering with the best fisherman upholding strict fishing and handling practices guarantees quality and sustainability.
Free-Range Turkeys are humanely raised. In addition, they are hatched, raised, and harvested in the USA, where they are never given antibiotics or hormones. The meat comes free of preservatives and is minimally processed with no artificial ingredients.
Crate-Free Pork – Heritage Bred Lineage Pork such as Berkshire, Duroc, and Chester White hogs are humanely raised, vegetarian-fed, and free of antibiotics and hormones. The hogs live naturally and safely in pastures or hoop barns.
What I Like About Butcher Box
The ordering process is streamlined and easy. Pick your specific cuts, receive email reminders before your subscription renews, and get bonus products.
Delivery is flexible, so if your schedule changes, it is no problem to change the date. They offer 4, 6 or 8 week options for replenishing your supply.
Get great Variety with ButcherBox including salmon and even a turkey at Thanksgiving. I typically include chicken breast in my monthly box and I get free ground beef for life as long as I maintain my subscription.
Add-on items and deals once you're a member make a subscription worthwhile. Checkout is easy and straightforward and communication is excellent.
Meat arrives frozen. During the most recent east coast hurricane, my daughters' ButcherBox delivery was delayed. The meat was still cold, but no longer frozen when it arrived. The company allowed her to keep the meat but also sent her an entire box replacement.
Order a curated box or custom create by adding exactly what you want. Read my full review of ButcherBox here.
The Charcuterie Variety Pack is perfect for entertaining. Theirs contains Genoa Salame, Prosciutto, and Capocollo, made from all-natural pork raised crate free, with no antibiotics or hormones.
Everyone in the family loved the bacon, just wished there were more servings per pack! (Although it's the same size as what you'll find in the supermarket.)
Local Meat Delivery Service
I suggest going through the Weston A. Price farm and ranch locator to see if you can find a farm in your area. Some local farms offer meat delivery services in the surrounding area. Just check with the farmer to see if they are selling certified organic beef, grass-fed meat, or grain-fed, etc.
You can often visit these family farms and ask the owners or ranchers questions such as those about hormone-free, pasture raised, products.
In some cases, you can see for yourself about animal welfare, but it is not typical. Most farmers and ranchers are too busy to give individual tours. However, small farms, like the one my dad used to own and run produced healthy food and meat products that we then sold to local buyers on a one by one basis.
If finding a local family farm doesn't work, check for Community Supported Agriculture in your area. In some cases, they may offer a meat share that allows you to get a portion of what was most recently butchered or what they have in stock. Sometimes these include eggs, milk, and cheese as well.
Some local farmers may offer organic meat delivery at a central location so you don't have to drive all the way out to the farm.
You may have to drive a short distance to pick up your share, which isn't as convenient as home delivery; nor is it as consistent as online meat subscription services.
In addition, you can find organic grass-fed bison and other organic food at Costco. That is where I originally purchased meats without added hormones, etc.
Best Meat Subscription Boxes for BBQ Lovers
If you are a whiz at grilling but are looking for the best quality meats, you can't go wrong with any of the choices outlined here. To narrow it down, however, I'd say, for smoking meats and grilling steaks, try Snake River Farms or Porter Road first.
If you're on a tighter budget, but still want high-quality meat, take a look at ButcherBox.
Sampling of Meat Recipes to Try