Last Updated on June 29, 2022 by Rebecca Huff
Preparing your favorite Korean dish is fun and rewarding, but first, let's get some Korean pantry staples so you'll have what you need.
Korean food is one of the healthiest cuisines to explore. Vegetables star in many dishes. Fermentation is a popular method of preservation which means those dishes, such as kimchi, pack a nutrient-dense punch.
My daughters and I started watching Kdramas in 2012, right after Dramafever was born and we've been in love with Korean culture, food, and music ever since. Over the years, we've watched Kimchi Chronicles, Maangchi's YouTube Channel, and other cooking shows that have intensified our love for Korean food.
Our interest in Korean Cuisine began by watching Korean Dramas, but the variety of flavors sustains it! Because some of the ingredients are a bit different than what your pantry might have on the shelves, here are a few Korean Pantry Staples.
At the end of this article, I'll share resources you can use if you want to find out more from authentic Korean chefs.
Korean Cooking at Home
Korea is on my bucket list of places to visit, but if you're like me and haven't had the opportunity to go there, you can still explore the culture through food. (As well as learning a bit of the language, music, and history.)
Korean food is absolutely delicious with plenty of variety and I've found it to be quite healthful if you make good choices and avoid the junky processed foods. That goes for just about any culture's food though, really, doesn't it?
We've been to Korean BBQ restaurants in New York, California, Georgia, and even here in Tennessee. Q Korean Steakhouse opened in 2020 here in Knoxville, highly recommend the "unlimited" which is absolutely worth it. This means unlimited side dishes and meat to grill (you can do it or your server can, you choose.)
Korean Recipes You'll Love
If you are new to Korean food, here are a few of the more popular dishes you'll see.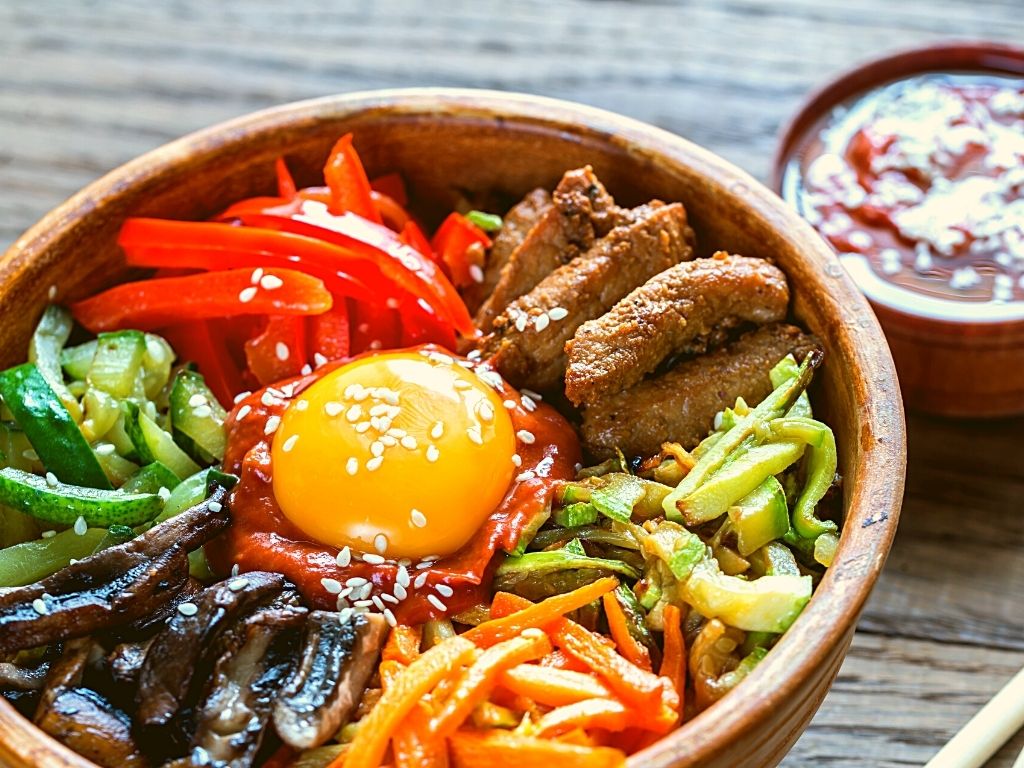 Bulgogi translates to "fire meat" as it's usually you cook the meat yourself over an open flame bbq grill. At home, you can cook it in a frying pan or a stovetop griddle. Make sure to get a good quality sauce or make your own.
Bibimbap – An assortment of meat, rice, veggies, with sauce, and possibly a fried egg on top. In dolsot bibimbap, you may see a raw egg yolk on top, but don't worry, the heat from the hot bowl will cook the egg as you mix it in. By the way the word translates to "mixing rice" which is accurate to what you do when you receive a bowl of this scrumptious food.
Tteokbokki – Rice cakes that are chewy and soft (not puffed rice cakes that dieters eat.) These are pretty bland in flavor, which is why they're often swimming in a sauce made up of a combination of gochujang (Korean red chili pepper paste) and gochugaru (Korean red chili pepper flakes.) You can watch Maangchi make rice cakes but you can also purchase them ready-made at your local Asian market. My daughter loves street-style tteokbokki; we use this recipe.
Gimbap or Kimbap – Looks like sushi, but typically made with cooked meat as opposed to raw fish.
Jjajangmyeon – Black Bean Noodles, the most popular takeout dish in Korea, are incredibly popular. Here's a nice jjajangmyeon recipe for you to try.
Omurice – Rice topped with an omelet. (om-rice – makes sense to me!) The kdrama Rooftop Prince popularized Omurice in other countries!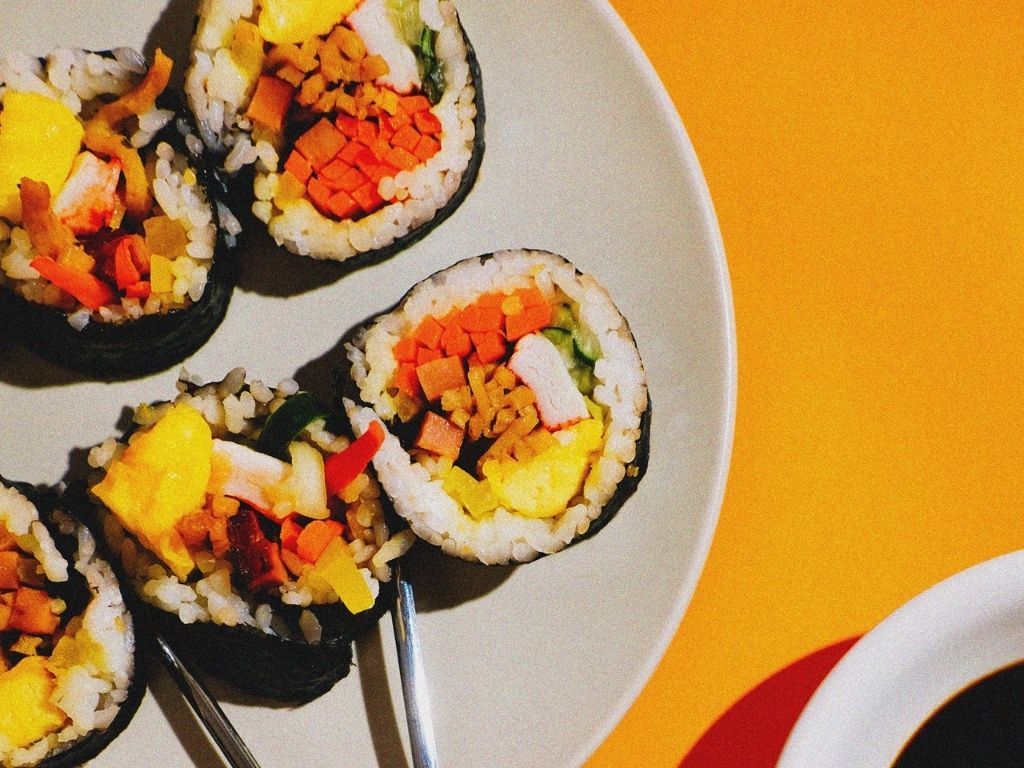 Popular Korean Side Dishes (Banchan)
Kimchi – No meal would be complete without this spicy and flavorful fermented food. There are many varieties of kimchi, but the one you'll see most often in the supermarket and cookbooks is Nappa Cabbage Kimchi. (Try making your own, it's fun!)
Spicy Cucumber Salad – We love Maangchi's version of spicy cucumber salad, but you get it, basically a mixture of cucumbers, hot pepper flakes, soy sauce, sesame oil, and other flavors.
Soy potatoes – Sweet and salty. This Korean side dish differs from most American potato dishes. Soy sauce is the primary seasoning and is slightly sweet. I like to use this recipe when I make this dish, and make sure to use a waxy potato, like red or Yukon gold, not an Idaho potato for this one.
White rice, steamed, stir-fried rice – Rice is a staple in the Korean Kitchen. In restaurants, you may have these three options.
Stir fries – Mixing essential ingredients of meat, vegetables, and chili paste will result in the most amazing stir fry dishes you'll ever taste.
Jjigae – a Korean stew that is often served in a communal dish. (I wonder if and how this tradition has changed in the last few years with the virus?)
Mandu (Korean dumplings) are also very popular, you may have even had some as an appetizer. Korean dumplings often use tofu in the filling whereas Chinese may have meat fillings.
Namul – Herbs, greens, and side dishes made with them. Spinach is the main ingredient in the popular side dish Sigemuchi Namul. I have a side dish that I make that is very similar here, although mine wasn't mean to be Korean in nature.
Essential Korean Elements for Popular Dishes
When you first begin experimenting with Korean cooking you'll want to add a few pantry items to get you through those recipes.
Let's start making mouth-watering dishes from Korea with meat, vegetables, rice, and sauces listed below. Here are some of the more popular foods you'll see in recipes.
Korean rice is usually medium or short-grain rice, and good news for the gluten-free crowd, rice is naturally gluten-free. Mix rice with other grains or even beans to improve taste, texture, and nutrition. An example of this: Korean Multigrain Rice (Japgokbap.)
Soup is incredibly popular in Korea. Known for its ability to replenish energy and support healthy immune function, try Korean Ginseng Chicken Soup (Samyetang.) This recipe from Seoul is worth trying.
Korean soup, or guk is an essential element of Korean food culture. Many Koreans feel that along with rice, kimchi, and banchan, no meal is complete without it.
Talking about all of these mouth-watering dishes is making me so hungry! So, let's get in the kitchen and find out what kinds of ingredients we might need to make a few of these delicious Korean Foods.
Korean Pantry Staples
Starting with the most important: fresh produce. I'd encourage you to explore an Asian supermarket for some if not all of the items on this list.
Fresh Produce
In no particular order, I'll list some of the most popular fresh produce items I've seen and used since I started exploring Korean cuisine.
Chives – these little green herbs add flavor to many Korean dishes.
Mushrooms – Shitaki, enoki, oyster; these and other mushrooms may be called for in a recipe.
Ginger Root – You'll see ginger root used alongside garlic in many dishes including my bulgogi sauce.
Lotus Root – used in Braised Lotus Root side dish as well as other ways, this is exactly what it sounds like, the root of the aquatic Lotus plant. Chinese dishes often use Lotus root as well. Watch famous YouTube creator LiZiQi harvest and use every part of lotus root.
Korean Pear – crisper than other types of pears and to me, seems more like an apple but only in texture, works great as a sweetener in sauces.
Korean Eggplant (you can substitute other types of eggplant)
Green Chili Peppers, Shishito Peppers, and others are often used in fermentation recipes as well as stir-fry dishes, and many more.
Greens like Mustard greens, spinach, bok choy, chard, Napa Cabbage, Minari, etc.
Perilla Leaves (you might find these at the Asian supermarket, I've never seen them in a traditional grocery store)
Kelp and Kombu are types of seaweed that are often used in recipes for soups, stocks, and other dishes as well. Seaweed is typically dried and not fresh produce, but I'm adding it here because it's something you might keep in your pantry to boost flavor and it has nutrients like fresh produce.
Spices, Sauces, Seasonings
Korean ingredients such as red pepper, chili flakes, rice vinegar, sesame seeds, scallions, and radish aren't hard to find in American supermarkets. You'll find more unique Korean foods in an Asian Market or a Korean specialty store. If you don't live near one, try looking for these special ingredients on Amazon or Thrive Market.
Fish Sauce – We typically buy the Red Boat brand. Fish sauce is a popular ingredient in Chinese, Japanese, Thai, and other cuisines as well. It's a popular Paleo seasoning as well.
Soybean Paste (Doenjang) – This is a bit different than miso (Japanese fermented soybeans) and has a more complex and hearty flavor. It's also harder to find, but most Asian supermarkets should carry some, and I've found it at Whole Foods. You can also substitute miso paste, however, choose a darker more earthy miso.
Black Bean Paste (fermented beans mixed with flour and other ingredients) is the main ingredient in the ever-popular black bean noodles. (If you wanna see these watch the Korean Drama: Wok of Love or Coffee Prince.)
Soy Sauce (ganjang) – Known for its ability to add saltiness to a dish, this sauce is made from fermented soybeans and wheat. There's a lot to know when it comes to soy sauce. Traditional ganjang is said to be quite different from the brewed soy sauce we are used to here in the states. If you want to learn more about how to use the various types, what a Korean cook would do, read JinJoo's soy sauce buying guide.
Gochujang is a fermented spicy paste made with red chilies that is used in Korean cooking. It can be hard to find one without corn syrup, so I learned to make my own pepper paste using my preferred sweeteners. However, recently I found this one at Kroger that is sweetened with rice syrup and cane sugar, but it's less expensive to make my own and I like it better homemade.
Red chili flakes are a definite staple and are used in so many ways. Banchan (side dishes) as well as dipping sauces, marinades, and even as a garnish.
Mirin is a sweet rice wine used in cooking many Korean (and Japanese) dishes. We like Mirin made by Eden Foods.
Sesame Oil (chamgireum) – Toasted sesame oil is not only used for cooking, but for adding flavor to sauces and dishes.
Condiments to complement your Korean Dishes
While you might find some unhealthy ingredients listed in some of the cookbooks, feel free to substitute them with healthier alternatives. For example, if I see corn syrup listed, I might choose honey or allulose syrup (zero-calorie sugar alcohol) instead.
You can find many ready-made condiments in the store, however, it is so satisfying to make your own and often can be more nutritious. Black bean paste for the black bean noodle dish Jajangmyeon has caramel color added. I'm not sure if the caramel color is entirely necessary and I don't want to eat it as could potentially elevate the risk of cancer in some people.
Pepper Paste (gochujang) is one I make all the time. This Paleo Gochujang recipe is the one that I use.
Ssamjang is a popular dipping sauce that you can make at home with ingredients that aren't too hard to find. Here's the go-to recipe for making ssamjang that I use.
If you want to purchase ready-made condiments and sauces, I recommend checking Thrive Market first. You can also find some decent ones at places like Whole Foods, Earth Fare, etc.
Beans Grains in the Korean Pantry
Rice is the predominant grain used in the Korean Pantry. Here are a few other beans and grains that you may see in some recipes.
Sushi Rice or other short grain rice
Barley
Millet
Sorghum
Red Beans
Black Soybeans
Meats
According to reports, pork is the most popular meat consumed in Korea, however, you'll find recipes that use beef, chicken, fish and pork. Beef is particularly prized and expensive in Korea due to high demand and limited supply.
Dried anchovies are used to make stock, which can then be the base for soups, stews, and other dishes. Known for their umami flavor, dried anchovies are popular
Pork belly is popular and you'll find at Korean BBQ restaurants and it's fun to grill at home, too!
Dessert
No article about Korean food would be complete without a mention of Bungeoppang! My kids love the storebought version of this popular fish-shaped pastry filled with vanilla ice cream and sweet red bean paste. Bungeoppang can be sweet or savory; we've only tried it sweet, but I have a pan to make the pastries, so I plan to explore this area more.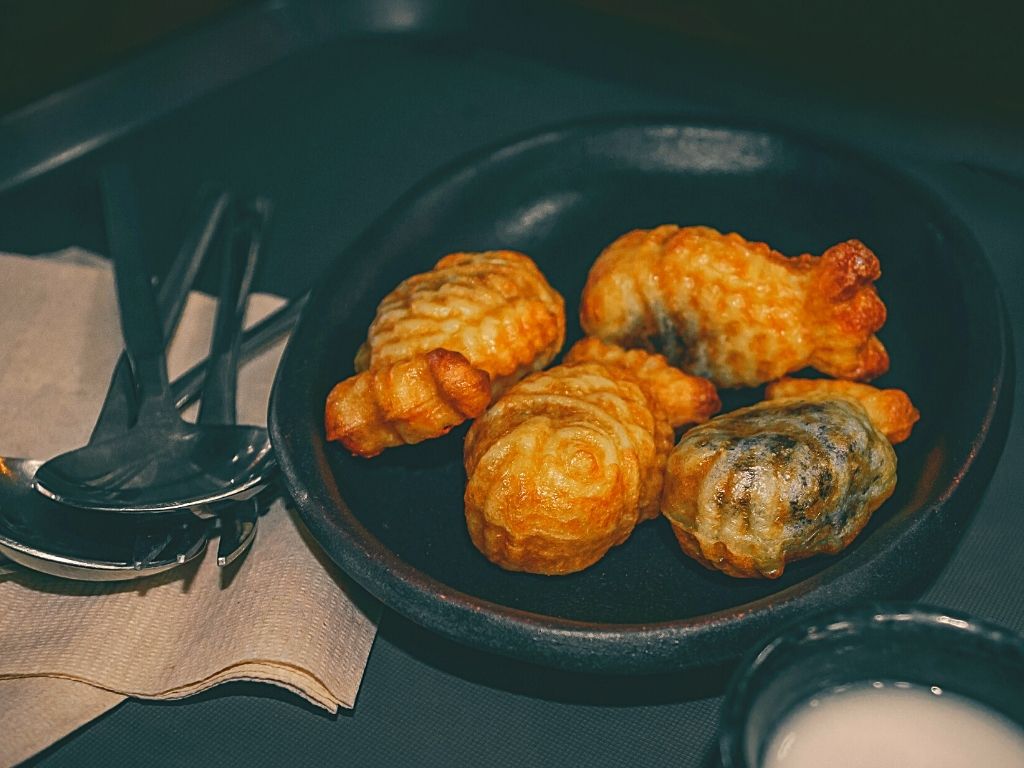 Explore Korean Food at Home with these Resources
I've listed The best Korean Cookbooks in this post, but here are the two I refer to the most when craving Korean food.
Watch this short video to see just a few of the recipes from Korean cookbooks we've tried, including Bill Kim's popular sauces. See the book recommendation above.
If you've never seen a "kdrama" and have no idea what I'm referring to, check out my 2016 post on Korean Dramas. Be prepared to start craving Korean food; you've been warned!
Recipes and Bloggers I recommend:
We love to chat about food, won't you join us? In A Tasty Bite Cookbook Club, we explore a variety of recipes. Four cookbooks per year make the list. I announce these in three places. On the cookbook club page, in the Healthologist Community as well as the Facebook group.