Podcast: Play in new window | Download
Subscribe: Apple Podcasts | Google Podcasts | RSS
Last Updated on June 29, 2022 by Rebecca Huff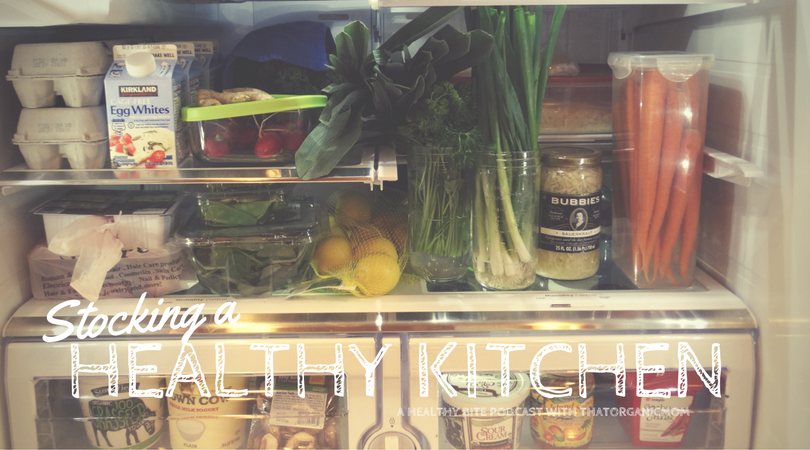 Today's podcast goes along with the Healthy Kitchen Challenge that kicked off February first. Find more instructions for gearing up to healthify your kitchen here.
Creating a toolbox (healthy foods) to create health is the ultimate goal for our Healthy Kitchen Challenge. I have put together a Makeover Guide for those who want to get fanatical with the Healthy Kitchen Challenge which you can download for FREE. The link is at the bottom of this post.
Listen to this podcast on iTunes.
What is a podcast and how do I listen?
A podcast is a free downloadable audio show that enables you to listen and learn while you're on the go. To subscribe to my podcast for free, you'll need an app to listen to the show from.
For iPhone/iPad/iPod listeners – Grab your phone or device and go to the iTunes store and search "A Healthy Bite." This will help you to download the free Podcasts App (produced by Apple) and then subscribe to the show from within that app. Every time I create a new episode, you'll get it downloaded right on your iDevice.
For Android listeners – Download the Stitcher Radio app (free) and search for "A Healthy Bite."
For podcast enthusiasts – If you already listen to podcasts and have a podcatcher that you prefer, the feed you'll need to add is https://www.thatorganicmom.com/feed/podcast
For those who don't have a mobile device – You can always listen to the show by clicking the audio file at the top of this page. Or go to: https://www.thatorganicmom.com/podcast
Also, it would mean a lot to me if you could leave a review for A Healthy Bite on iTunes! Some upcoming shows include:
Making your kitchen work for you

Tips for fighting inflammation

Sending your child to school with a bodyguard

Eating for Energy

Exercising for Energy

Sleep like you mean it

Clean like your life depends on it