In general, coffee acids are perfect for most people, but they can cause acid reflux, gastric ulcers, and other medical conditions in some people.
In that case, it might not be the best decision to give up on your morning cup of joe but instead, you could look for ways to make coffee less acidic.
The acidity of coffee can easily be reduced by:
using dark-roasted coffee beans
using paper filters
adding acid reducers to coffee grounds
changing the way you brew coffee
Useful tips to make coffee less acidic
1- Use Dark roasted coffee beans
Dark-roasted beans are significantly low acidic than lightly roasted coffee beans.
"Dark roast coffees tend to be less acidic because they contain fewer compounds that cause stomach cells to produce acid". – health.clevelandclinic.org
Dark roast coffee is made by roasting the beans at a higher temperature and for longer. Intensive heat darkens the coffee beans and causes them to crack, releasing more oils. As a result, the flavor is more intense, less acidic, and with notes of burnt caramel and dark chocolate.
While the taste is entirely up to you, you might like a medium roast, but if you want a cup of coffee that is less acidic, opt for a dark roast.
2- Use Paper filters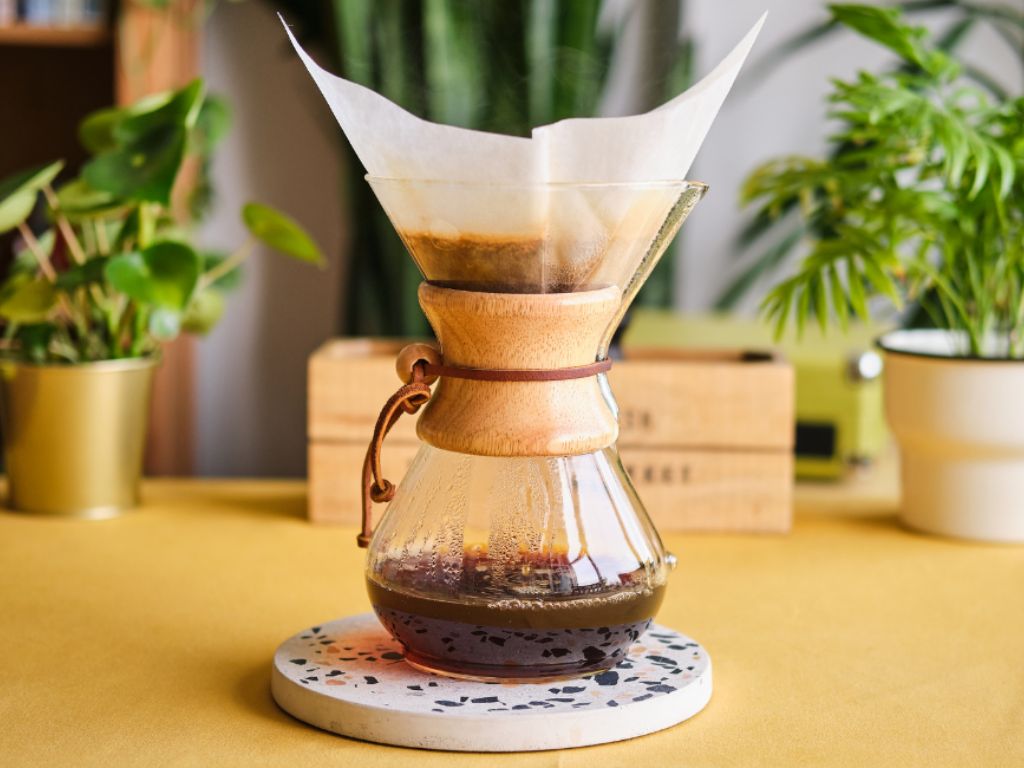 Coffee oils are the main culprit that makes the coffee acidic, and using paper filters will minimize the amount of oils reaching your cup, making the coffee less acidic.
The paper filter is already used in many brewing methods, such as pour-over, drip coffee, Chemex, etc., but if you are brewing French Press coffee, you should use a paper filter in addition to the metal strainer.
The brew will become slightly less flavorful but will also become less acidic. It's up to you whether you like it or not after you try it.
3- Don't use boiling water for brewing coffee
Some people make the mistake of using boiling water for brewing coffee, and that's a big mistake as it will make your coffee extremely acidic and bitter.
According to National coffee Association, the best water temperature for brewing coffee is 195 to 205 degrees for optimal extraction of flavors.
To make coffee less acidic, let the water sit for some time after boiling it until it reaches the right temperature.
4- Add Salt to Coffee Grounds
You can reduce the acidity of coffee by adding a pinch of salt to the grounds before brewing.
Salt is an acid reflux trigger, and adding salt to coffee changes its flavor by affecting the sensitivity of specific taste receptors while decreasing that of others.
You can significantly reduce acidity and bitterness by adding a quarter tablespoon of salt to two tablespoons of grounds when brewing coffee.
5- Drink coffee right after brewing
Coffee grounds continue to extract flavors after brewing, even if they are filtered with a paper filter. That's why the taste becomes increasingly acidic and bitter with time.
To enjoy the best flavors and health benefits of coffee, try to drink it within 30 minutes of brewing.
Brewing lots of coffee and storing it in a thermos to drink later in the day is not a good practice.
6- Use fine grounds for brewing
Coarse grinds increase the brew time but increase the acidity in coffee as the bigger chunks of coffee require more time to extract flavors.
Use coarse grounds for a more acidic cup of coffee and fine grounds for a less acidic cup. But don't overdo it as it can make the taste bad.
Also, the Grind size mainly depends on the type of coffee you are brewing.
Here's an ultimate guide on Coffee grind sizes for different brewing methods.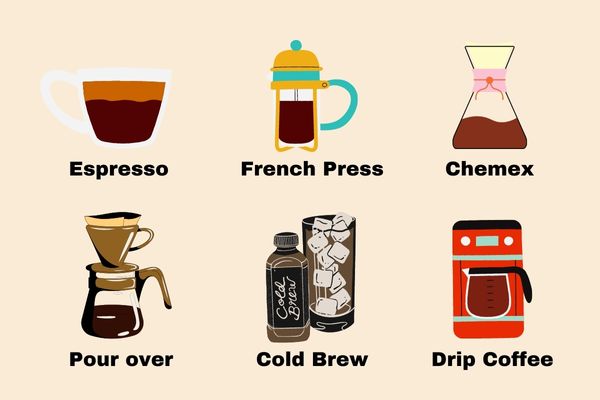 7- Choose low-acidity coffee beans
The acidity of coffee beans also depends on the origin and the type of coffee beans, i.e. Robusta or Arabica.
Compared to Arabica beans, Robusta beans have less acidity but are not as flavorful. Try using a blend of Arabica and Robusta; you might find it perfect as it will be less acidic.
Some coffee companies process their grounds to remove acidity and make them less acidic. You can easily find coffee beans advertise as "less acidic" in the market.
8- Choose the right coffee-to-water ratio
According to National Coffee Association, the perfect coffee-to-water ratio is one to two tablespoons of coffee for a regular 6-ounce serving.
Since taste is an entirely subjective matter, you can adjust this ratio according to your preference.
Use fewer coffee grounds if you want your coffee to be less acidic.
5 extra tips to make coffee less acidic if you are entirely against it
If all the above methods fail to please your taste buds and you still find your coffee acidic, here are five more tips you can follow to eliminate the acidity of coffee.
9- Change your Brewing method
Espresso fans complaining about acidic coffee should know that Espresso is, at its core, supposed to be acidic.
If you want to cut the acidity, shift to the French Press brewing method, as it is the least acidic and flavorful. I bet you will enjoy it if you haven't tried it before.
A French press is a simple yet elegant way of brewing coffee. It is considered one of the best ways to get a rich and bold taste with less acidity in your cup. 

Coffeeabout
Whatever brewing method you choose, like drip, pour-over, or Chemex, just stay away from Espresso.
10- Try Cold brew coffee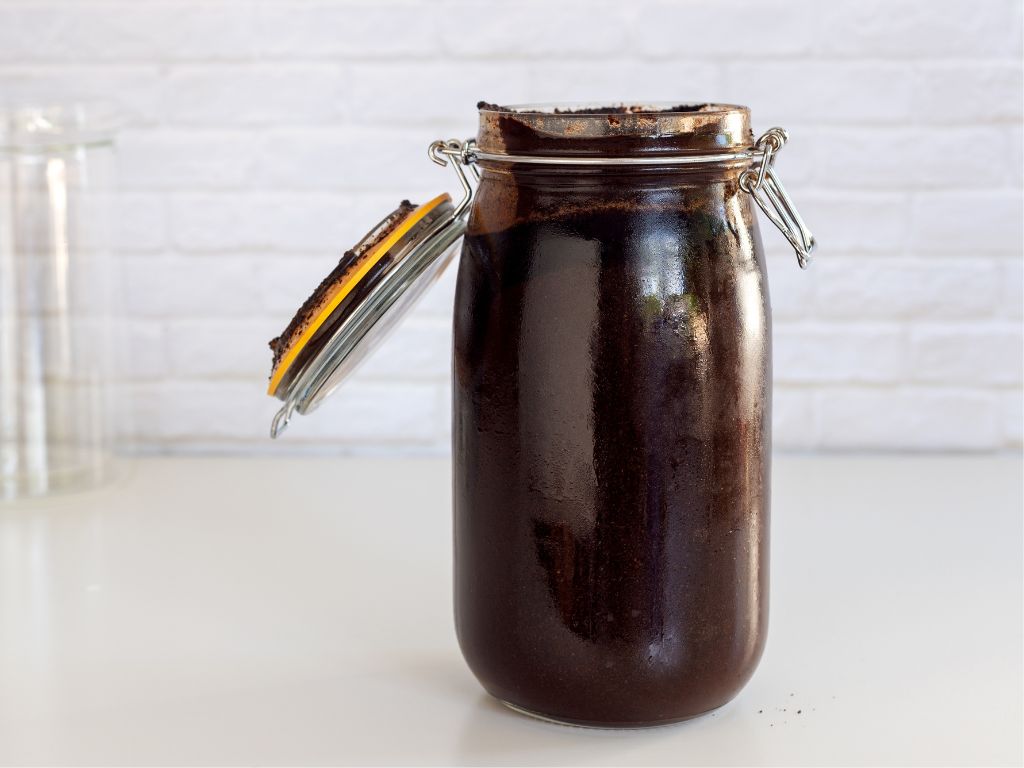 Don't confuse cold brew with iced coffee, which is a hot coffee served with ice; Cold brew is prepared by immersing coarse coffee grounds in cold water at room temperature, preferably around 60 to 70 degrees.
As it is brewed using cold water, the acidic oils in the beans don't get extracted. Therefore, cold brewed coffee can be up to 70% less acidic than traditional hot Black coffee and have a much smoother and sweeter taste.
Nonetheless, brewing coffee by this method requires preplanning as the coffee grounds should be immersed in water for 12 to 24 hours.
11- Brew coffee with alkaline water
The magnesium and calcium minerals in alkaline water enhance the taste of your coffee. These minerals help to extract the beautiful flavors of coffee. In addition to enhancing the fruity flavors, alkaline water reduces acidity and brings out the full flavor of the coffee.
It's simple chemistry: alkaline water neutralizes some of the coffee acids and makes the drink smooth and less acidic.
If you use an automatic coffee maker, it is not recommended to use alkaline water. Doing so will cause excessive scaling and calcium deposits, which may damage the machine in the long run.
12- Add Cream or milk
Adding milk or creamers significantly reduces coffee acidity. Calcium in milk neutralizes acids and lowers the pH.
However, this can add additional calories to your diet that you might want to avoid, in which case you can use nonfat milk instead.
13- Add acid reducers to coffee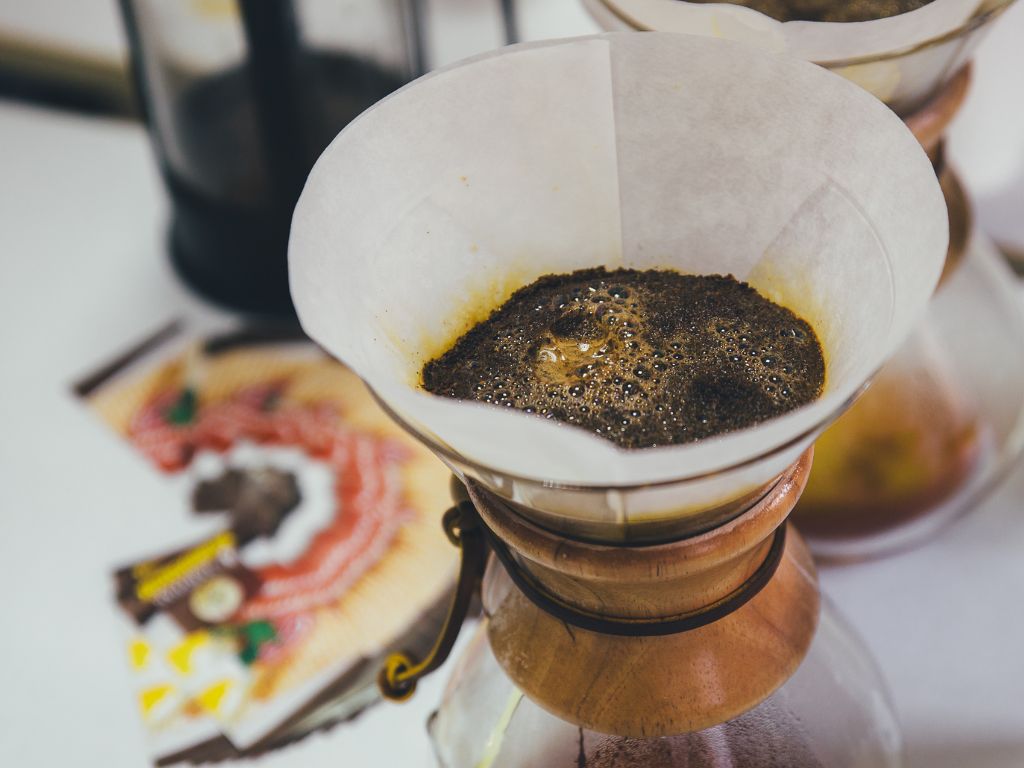 Adding certain acid reducers can reduce the acidity in coffee but also slightly affects coffee flavors. Anyhow these are some additives you can add to coffee to make it less acidic with minimal impact on the taste.
Eggshells: The calcium in eggshells makes them alkaline and can be used to reduce acidity in coffee. You will need to remove the egg content and clean the shell thoroughly to remove any residue; after that, crush the shells and mix them with coffee grounds. Make sure to use paper filters to brew a clean cup of coffee.
Baking soda: With a pH level of 9, baking soda is highly alkaline and can neutralize the acids in coffee. Add a small amount of baking soda, around 1/8th tablespoon to 2 tablespoons of coffee grounds before brewing coffee. Don't overdo it; otherwise, your coffee will taste weird.
Coffee tamer: Coffee tamer is another available Amazon product that can reduce acidity in coffee.
Final Thoughts
The acidic and fruity flavors are the essence of coffee, and most people enjoy them.
But it's too much acidity that causes the problem, and some people are allergic to it as it might cause acid reflux or irritation in the stomach.
Hopefully, the above tips will help you reduce acidity in coffee and make it sweeter, smoother, and more flavorful.
All tips may not work for you as adding additives such as baking soda or salt and using alkaline water have an impact on the taste of coffee. I suggest you try all the tips and find what suits you the best.
FAQs
Does decaf coffee contain less acid?
Yes, Decaf coffee is slightly less acidic than regular coffee, but the difference depends on the decaffeination process and the roast-level coffee beans. Darker the roast less the acidity.
For those who suffer from acid reflux, decaffeinated coffee might be the best choice as caffeine in coffee can irritate the stomach.
What's the least acidic brewing method?
Cold brew is the king when it comes to the least acidic brewing method.
In cold brew, coarse coffee grounds remain immersed in water for a long time at a very low temperature, which prevents the acidic oils from being extracted.