Last Updated on June 29, 2022 by Rebecca Huff
Korean BBQ by Bill Kim (with Chandra Ram) is Korean with a definite Puerto Rican flair; but we love that about these recipes. After discovering this cookbook at the library, I eventually purchased a copy to add to my home collection. It was that good.
Kim is a Korean-American who has been a chef at top French restaurants and many of his own. His wife is Yvonne Cadiz and is from Puerto Rico. Her influence (and that of her mom) is part of why his recipes began to reflect a Caribbean flavor, a combination he calls "Ko-Rican."
The sauces printed on the back cover of this cookbook are the main reason I felt I had to have this cookbook. When we first borrowed Kim's cookbook from the library, I made every sauce and spice blend he'd included inside the back cover.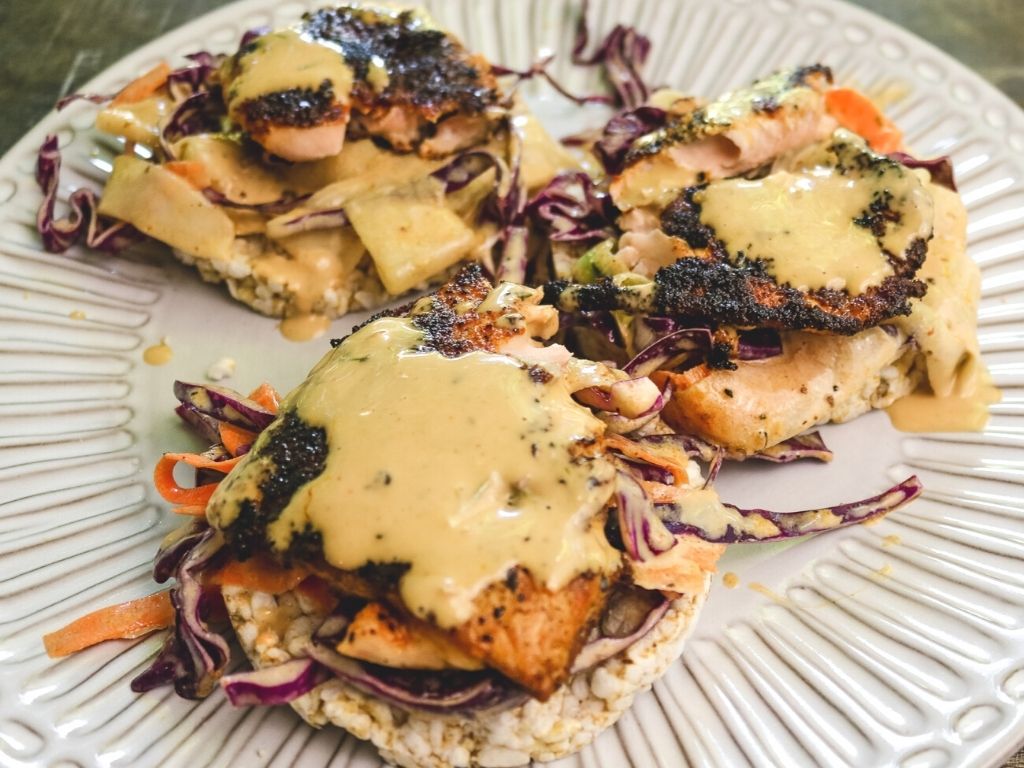 My daughter helped me mix these up, mincing over thirty cloves of garlic! She later suggested that we should keep these sauces in the fridge all the time. I agree, and we have.
Kim's easy recipes include grilling, but you don't have to use the grill; you can broil or adapt in whatever way you prefer. I've even used my Yakitori Grill for some of these recipes; it's the perfect solution when you don't want to mess with the big grill.
Whether you like to grill or not, you're still going to want a copy of this cookbook. 
My favorite recipes from Korean BBQ by Bill Kim are:
Mama Kim's Burgers (the sauce!)
Chicken and Corn Salad (made with leftovers, it comes together quickly)
Blackened BBQ Tofu – don't forget to marinate ahead of time, and you'll have flavorful tofu.
Korean BBQ Salmon – on the grill or in the oven, it's outstanding.
Blackened Salmon Po boys – look for the thinnest rice cakes (the crunchy kind, not the chewy kind), and you won't regret this dish!
BBQ Spiced Chicken Thighs with Yogurt Nuoc Cham Sauce
Korean Beef Satay
We bought some pretty jars to keep our sauces in, like these Kamota jars. In addition, it helps to have a few squeeze containers on hand for adding various sauces to your finished dish. 
You might be wondering, why not buy a ready-made sauce with so many on the grocery store shelf? You could do that, and I have in the past as well. The problems that I've found with many bottled Asian Sauces are the ingredients or the price.
If you find a Bulgogi sauce that doesn't have tons of sugar or MSG, then the price will be sky-high. I've found that it is not that hard to mix up your own to keep on hand, and the price is easier on your budget.
Summer and fall are the best for grilling. While everyone loves a tasty grilled burger, you can impress your friends and family with any of the recipes from Bill Kim's Korean BBQ cookbook. 
Favorite Cookbook for Korean BBQ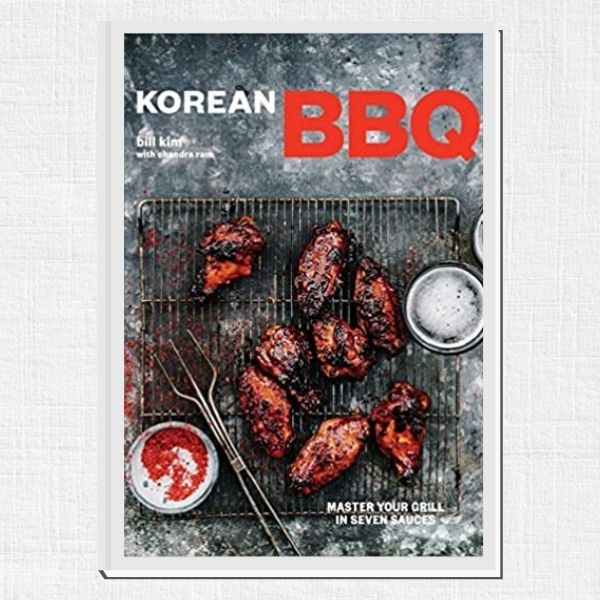 Book Title: Korean BBQ
Book Description: Born in Korea but raised in the American Midwest, chef Bill Kim brings these two sensibilities together in Korean BBQ, translating Korean flavors for the American consumer in a way that is friendly and accessible. Kim teaches the fundamentals of the Korean grill through flavor profiles that can be tweaked according to the griller's preference, then gives an array of knockout recipes. Starting with seven master sauces (and three spice rubs), you'll soon be able to whip up a whole array of recipes, including Hoisin and Yuzu Edamame, Kimchi Potato Salad, Kori-Can Pork Chops, Seoul to Buffalo Shrimp, BBQ Spiced Chicken Thighs, and Honey Soy Flank Steak. From snacks and drinks to desserts and sides, Korean BBQ has everything you need to for a fun and delicious time around the grill.
Book Author: Bill Kim
Book Format: Hardcover
Publisher - Orgnization: Ten Speed Press
Publisher Logo:
Date published: April 17, 2018
ISBN: 978-0399580789
Number Of Pages: 240
Quality of Book

Illustrations

Ease of Use

Unique Recipes

Complexity
Pros
beautiful images
delicious dishes
easy to follow instructions
traditional Korean with a Puerto Rican flare – best of both worlds
entertaining commentary by the author
Cons
if you don't make the sauces, you'll find that making the recipes throughout the book will be rather complicated as almost all of the recipes require one of the master sauces (or one of the rubs)