I'm always looking for ways to feed my family lots of vegetables while simultaneously saving time. The loaded sweet potatoes recipe came about one weekend when we were having a game night with friends.
Healthy, Delicious, and Easy!
My goal was to serve a meal that is highly nutritious, low in sugar, and easy to make and serve. In addition, I wanted the toppings to be optional so that different food intolerances could be accommodated. Sweet potatoes have an excellent nutrient profile, therefore I highly recommend keeping them in your diet.
Jump to Recipe
That night the meal was overshadowed only by the fun fellowship and friendly competition as we enjoyed our game night.
At my friends' recommendation, I am sharing the recipe with you. Let me also make this pairing suggestion: Eat the Rainbow Loaded Sweet Potatoes go great with Rummikub and Blockus!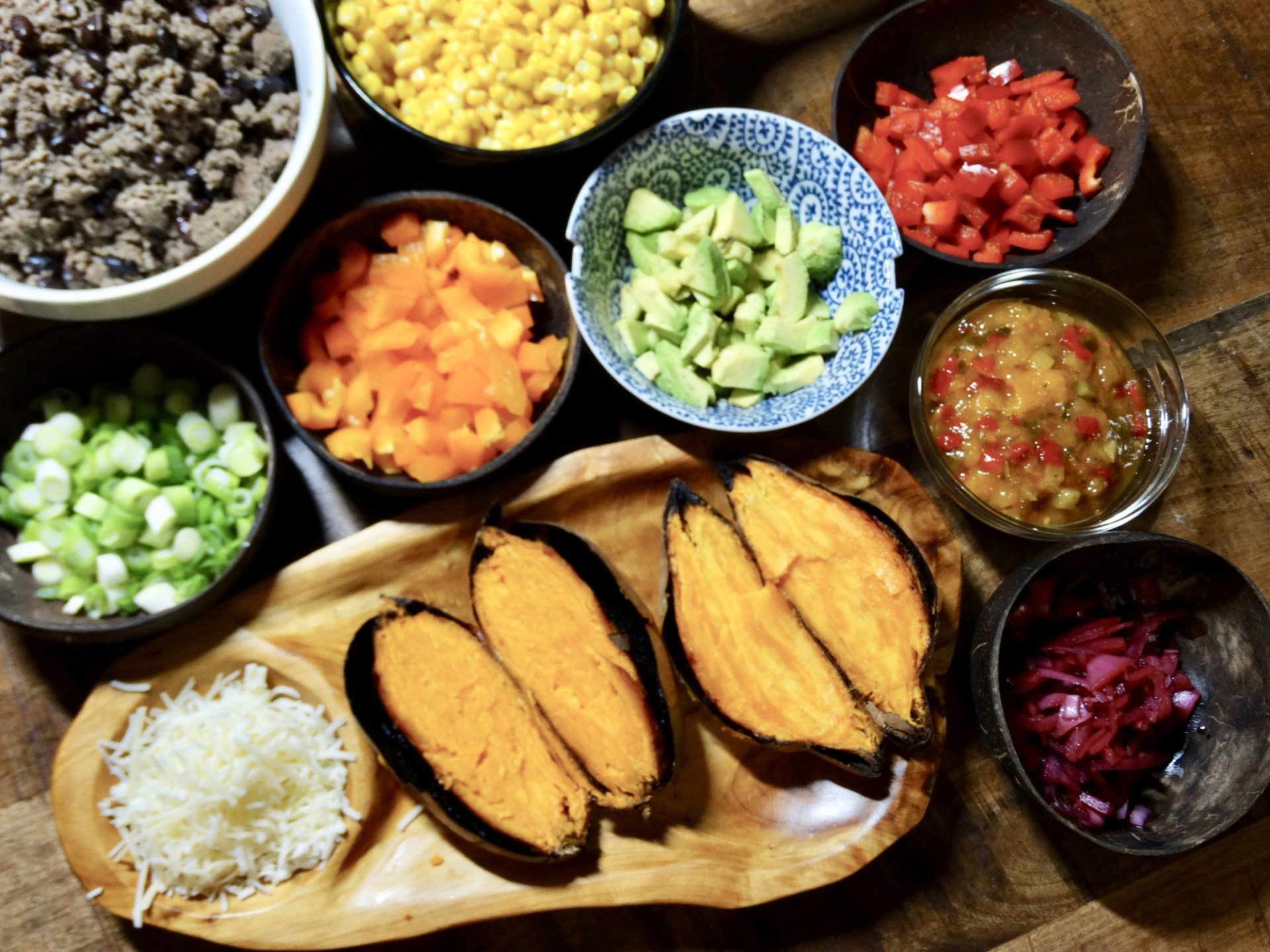 Vegetarian and Vegan Options
These rainbow loaded sweet potatoes can be made vegan by leaving off the meat and cheese or using substitutes. The meat mixture has beans, so if I were going to make this vegan, I would add rice to the beans. There are plenty of cheese substitutes on the market. In this way, you could also use this meal for #meatlessMonday.
Rainbow loaded sweet potatoes are really like eating the rainbow!
If you can find a variety of different sweet colored potatoes, your meal presentation will be even more vibrant. I have enjoyed using purple sweet potatoes as well as the traditional orange. Try Murasaki sweet potatoes for a change.  Switch it up with Stokes or Okinawan Purple Sweet Potatoes which retain their vibrant purple flesh even after roasting.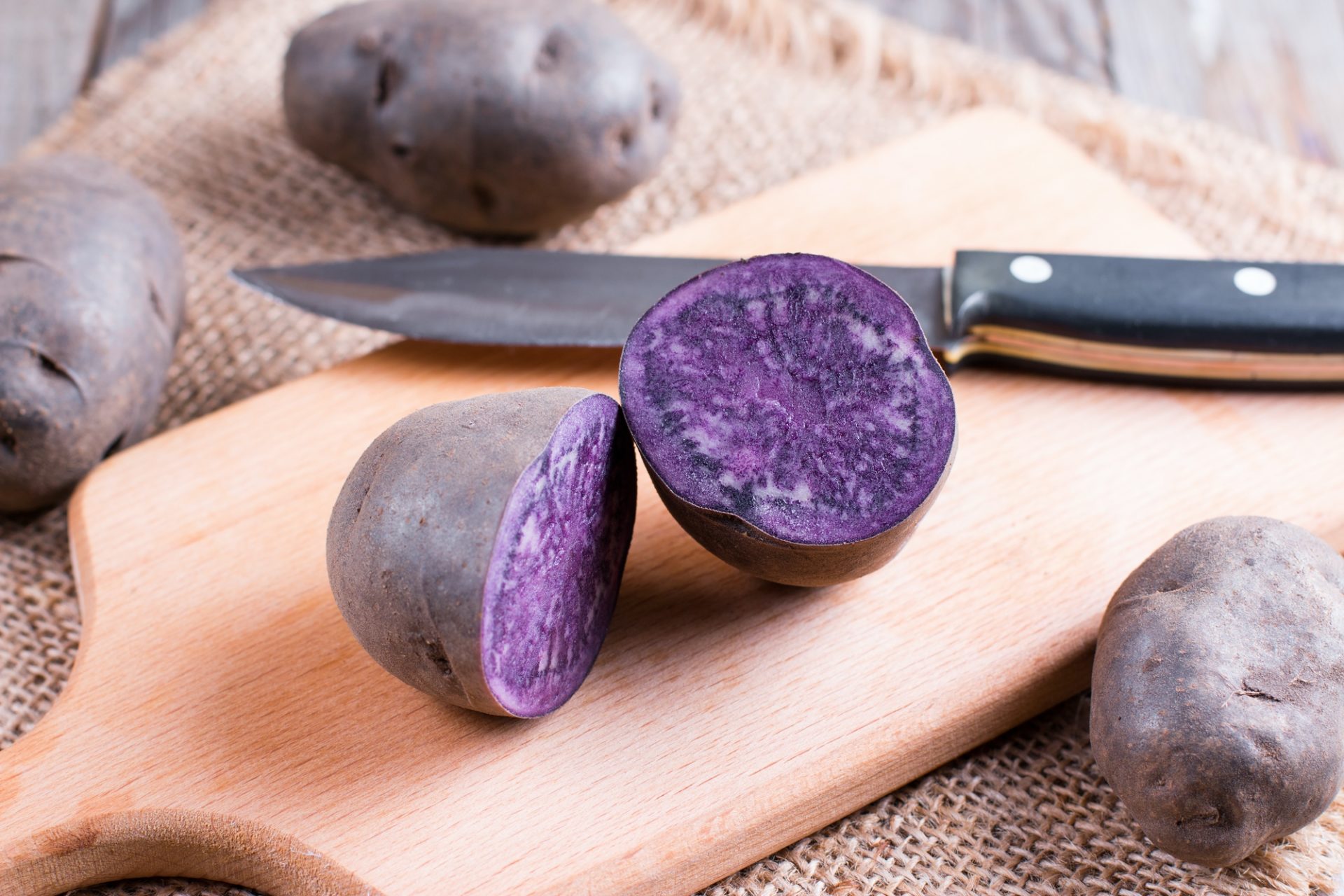 Time-Saving Tips:
Dice the topping vegetables ahead of time and keep them in glass containers. You can always set them right on the table or bar and then simply replace the lids on the leftovers. In this way, you'll find it's a perfect meal prep dish.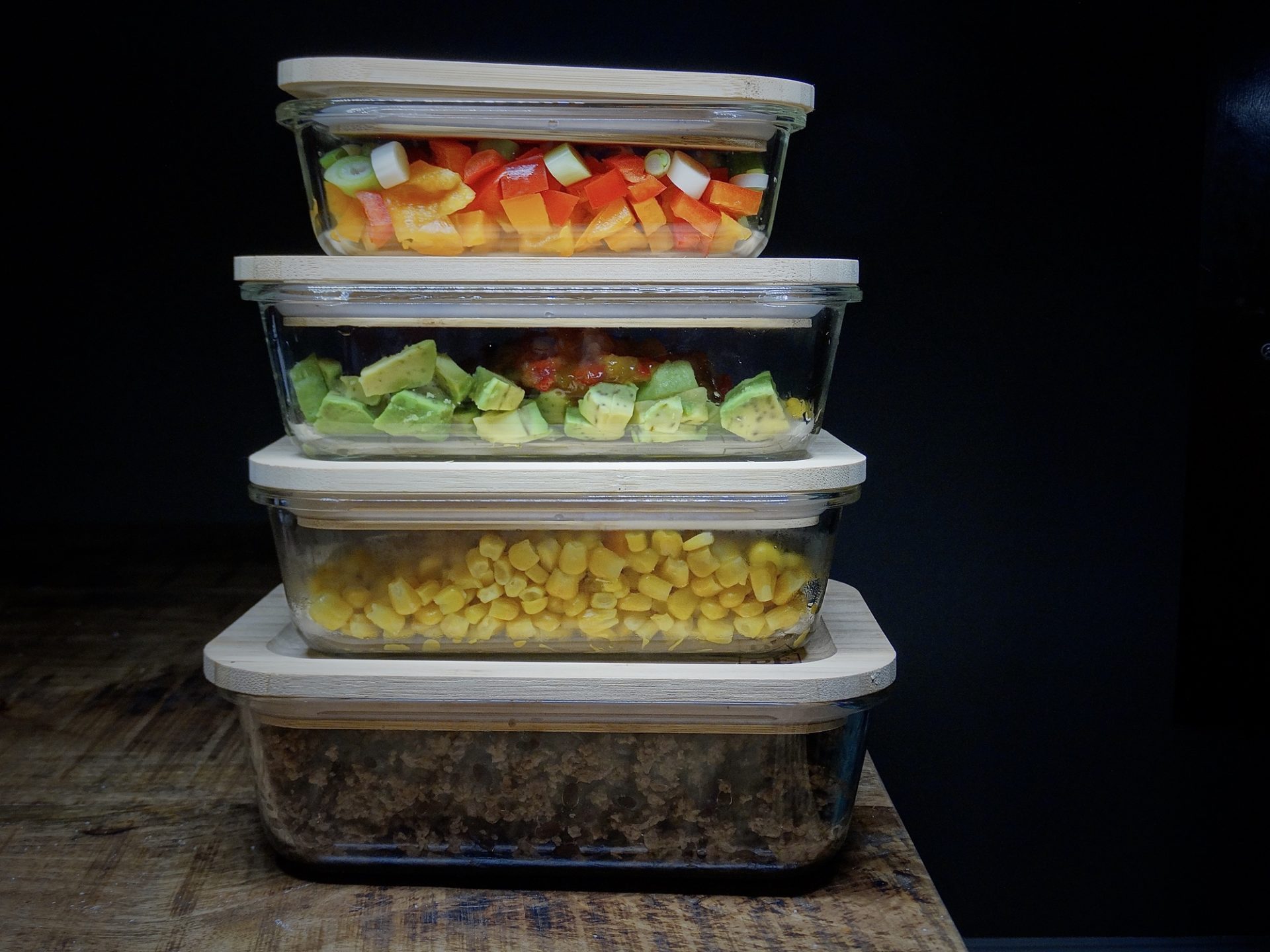 You can use raw onions or try the beet-infused pickled onions that I make in the Thai Taco recipe. It's effortless yet elegant, and they keep well in the fridge. Green onions also work for this dish.
Put your instant pot to work for you
I like to prepare the meat and beans in the instant pot, then turn on the keep warm setting. My instant pot has earned a spot on my kitchen counter, let me tell you, it's such a time saver. By the way, an upcoming episode of A Healthy Bite Podcast will feature the author of a cookbook for the instant pot. The bonus is that all the recipes are anti-inflammatory. Stay tuned or subscribe to my podcast on iTunes or Spotify.
Some additional filler side-dishes could be sprouted grain rice, quinoa, or even tortilla chips. This is a stand-alone meal that needs no additions, however, if you wanted to, you could serve a simple soup and salad alongside the potato bar. Your friends will be thrilled and appreciate you looking out for their health.
Use any salsa you like; my favorite for this dish is Trader Joe's Island Salsa with mango, pineapple, and red jalapeno peppers.
A variety of hot sauces are always appreciated, so gather your favorites. We like Frank's Red Hot, Cholula, Valentinas and Cajun Sunshine!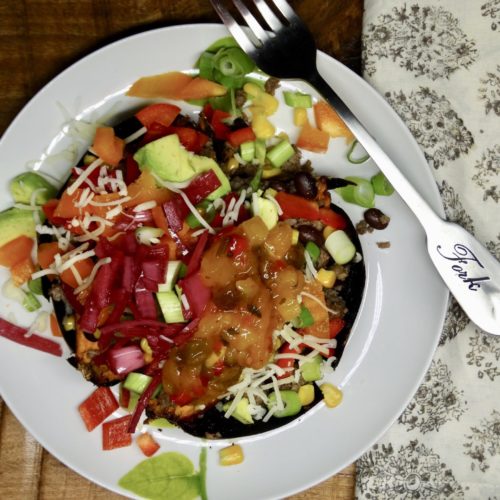 Eat the Rainbow Loaded Sweet Potatoes

Gluten Free

Sugar Free

Trim Healthy Mama
Ingredients
10

sweet potatoes

or one per person, see note

1

each red

yellow, orange bell peppers, diced

2

pounds

lean ground meat

bison, beef, turkey, lamb, whatever you like

Salt and Pepper to taste

2

cans black beans

rinsed and drained

1

onion

diced (to add to meat)

1

purple onion

thinly sliced for topping

bunch of green onions

16

ounces

sweet corn

cooked

16

ounces

broccoli

steamed

Quattro Formaggio

shredded

salsa

avocado

diced

hot sauce

saurkraut

we like Bubbies

pickled or fresh jalapenos

fresh herbs like parsley or cilantro

French Fried onions

optional (my kids love these but they're a rare thing in my house
Instructions
Preheat oven to 425 degrees.

Scrub the sweet potatoes well, because you want to eat the skin, it's full of nutrients.

Poke each sweet potato with a fork or knife before putting them on a baking sheet to allow the steam to escape.

Bake for 45 minutes to an hour. Check after 45 minutes, a fork should go through the potato if it is done.

Whiile the sweet potatoes are baking, cook the meat and diced onions either in a skillet or in an instant pot on the sauté setting. Season the meat with salt and pepper while cooking. *see note

When the meat is cooked, add the beans and stir, heating just till warm.

To serve, set everything out on the table or bar assembly line style, cut the potatoes in half and add the toppings as you go.
Notes
This dish is easily adjusted up or down. You may not want to bake 10 sweet potatoes if you don't have a crowd. Although it does make a nice meal prep for the week! You can adjust this recipe up or down based on how many people you are serving. Cut this in half for a family of 4-5.
I like to add a sprinkle of turmeric to anything I put pepper in, just a dash. Turmeric has anti-inflammatory properties that are highly available when added to black pepper.
Make it THM-E by leaving off any cheese and using lean meat.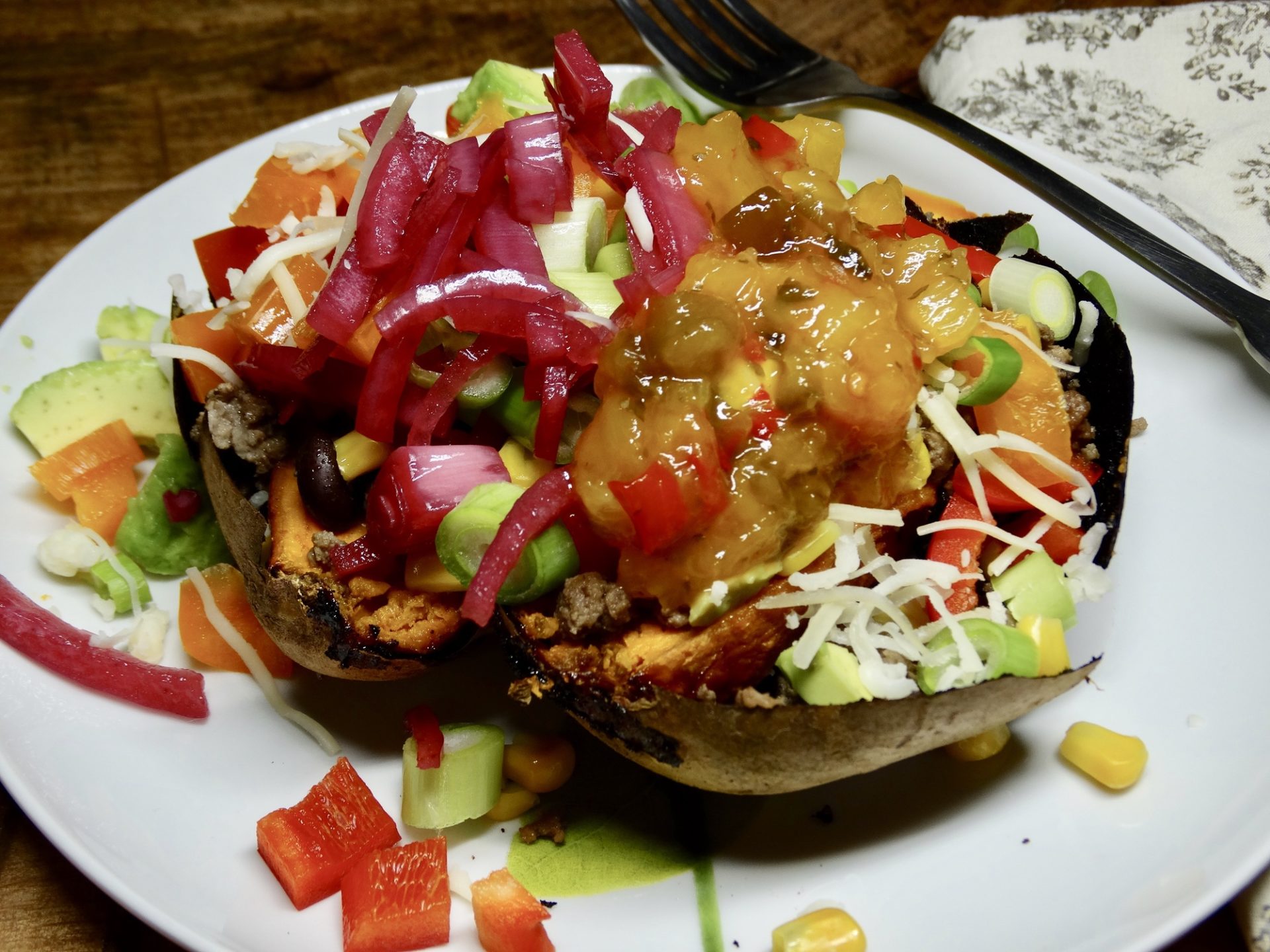 Another idea would be to use melted cheese instead of the Quattro Formaggio; try this cheese sauce recipe.
For those who follow a ketogenic lifestyle, starchy root vegetables are probably not on your radar as a regular staple. This is one of those areas where you have to use your own judgment. I use a ketone monitor to see if half of a sweet potato would knock me out of ketosis. When I limit other carbs throughout the day, this meal changed my blood ketone levels slightly.
If you are insulin or leptin resistance, make sure to eat sweet potatoes in moderation, as they, like many sweeter vegetables and fruits, contain natural fructose.
This meal can be used as a crossover as is or an energizing option for those following the Trim Healthy Mama lifestyle if you use lean ground beef, skip the avocado and use only a garnish amount of cheese.
Have a Healthy Kitchen
Have you ever participated in the Healthy Kitchen Challenge? You know, you can makeover your kitchen, one simple step at a time: Join here to baby step your way to have a healthier kitchen which in turn will help build a healthier YOU!
Enjoy! Don't forget to share this post with your friends. You can also follow my Eat the Rainbow Board on Pinterest, where I collect lots of veggie rainbow recipe ideas. If you are a blogger with recipes you'd like to add to this board, feel free to request that I add you as a contributor. I would love to see your rainbow recipes.