Today let's whip up some Caribbean Chicken in the kitchen; but before we get to the recipe, I want to suggest an important tool.
The USDA recommends using a food thermometer to make certain that meats have reached a safe internal temperature. Cooking food to the proper internal temperature reduces the risk of food borne bacteria and the danger of getting sick.
However, that is not even the best reason to start using a meat thermometer. This is the best part…
Have you ever excitedly started preparing a recipe with chicken or fish only to end up with overcooked, dry meat? A food thermometer can help you avoid overcooking your meat! If you want tender, juicy, and flavorful dishes it is highly important that you measure the internal temperature of your dishes.
The thermometer I'm using for this post came from Katom Restaurant Supply.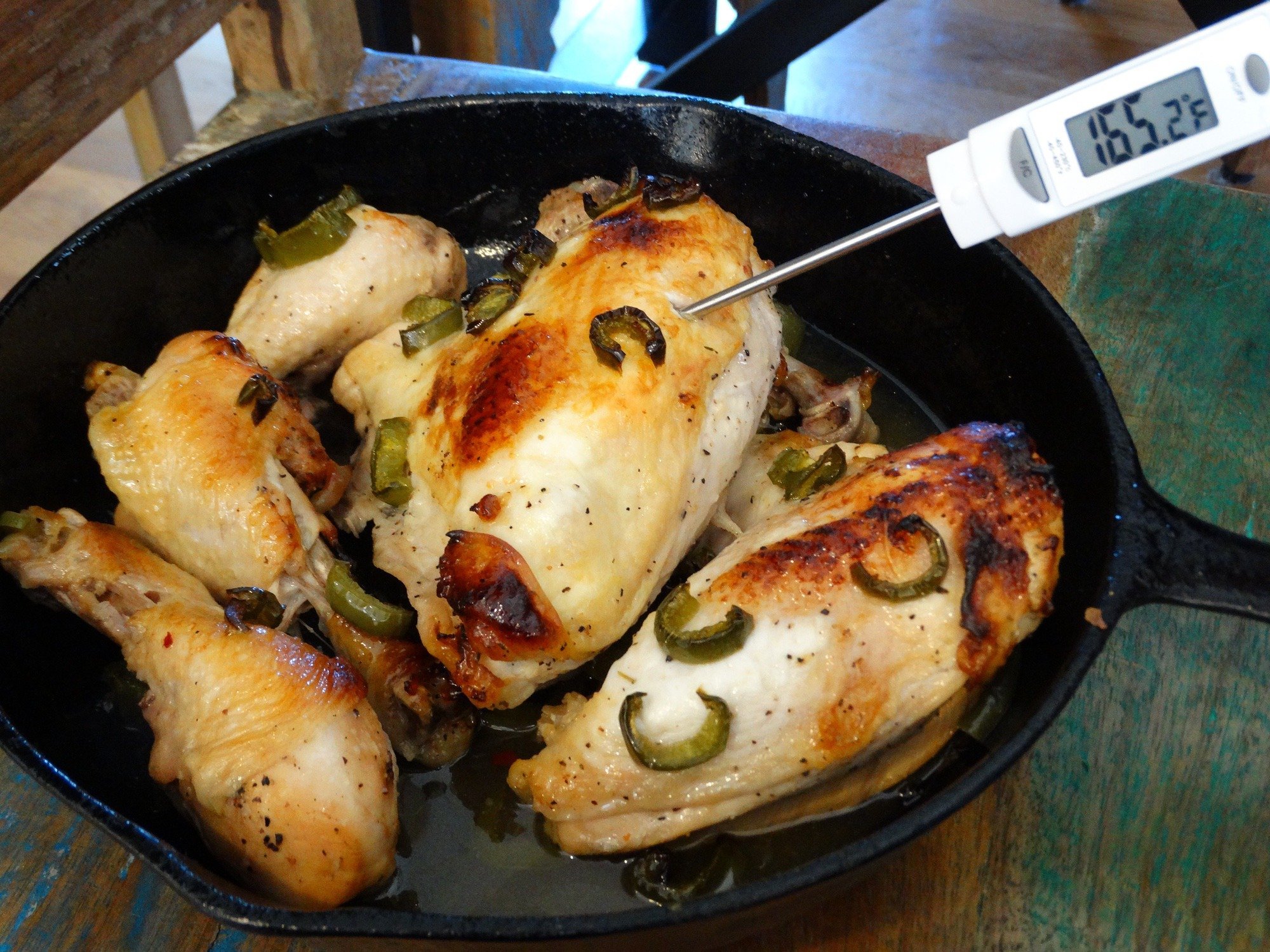 Don't tell me you cut into your meat to see if it's done. Cutting into meat allows the juices to escape, meaning a higher chance your meat will be dry. In addition, beef can often look done inside when cut open but turn red again a few minutes later. A meat thermometer takes out the guesswork.
Grilling meat can also be tricky without a meat thermometer. Actually, grilling meat might be the trickiest when it comes to testing doneness without a thermometer. What a shame to buy an expensive cut of meat, then cook it improperly!
An instant-read thermometer with a digital display inserted in the thickest part of the food can help you to know when it's time to take your food off the heat. Make sure to avoid bones, fat or gristle when taking the internal temperature of the meat. After use, always wash the thermometer with soap and water.
Now let's get cooking
We like to use chicken breast for this recipe, however you can use pretty much any kind of chicken you like. We've also tried the marinade on pork chops and whole turkey. It was delicious!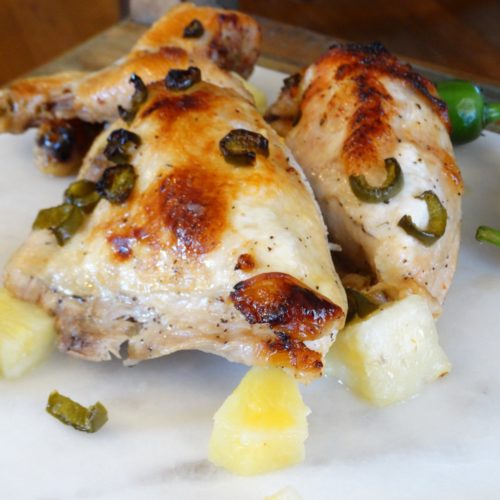 Caribbean Chicken Recipe

Dairy Free

Gluten Free

Keto

Low Carb

Sugar Free

Trim Healthy Mama
Ingredients
16

ounces

of chicken

any style
For the Marinade:
4

medium green onions

sliced

1-2

jalapeno chilis

seeded and chopped (for additional heat, leave seeds in)

1/3

cup

lemon juice

1/4

cup

cup honey

warmed slightly to soften (or Pyure Harmless Hunny for a Low Carb option)

2

teaspoons

dried thyme

2

teaspoons

olive oil

1/4

tsp

ground allspice

1/4

tsp

ground nutmeg
Instructions
Add marinade ingredients in a bowl and whisk to combine. Place chicken in a shallow dish or bowl.

Pour marinade over chicken and turn to coat. Cover and refrigerate at least 2 hours.

Preheat oven to 400 degrees F.

Prep your grill or heavy flat-bottom skillet to medium-high heat by adding avocado oil to the skillet and heating the pan or oven safe dish.

Remove chicken from marinade and place on in the skillet, or on the grill. 

Put skillet with chicken in oven and cook for approximately 30 minutes or until internal temperature has reached 165 degrees Fahrenheit.

Baste with marinade during cooking, but discard any remaining marinade before serving.
The longer the meat marinades the more flavorful the end result will be. I like to let mine marinade overnight in the refrigerator.
This chicken recipe makes a great meal prep dish; add rice, beans, salad, veggies or noodles.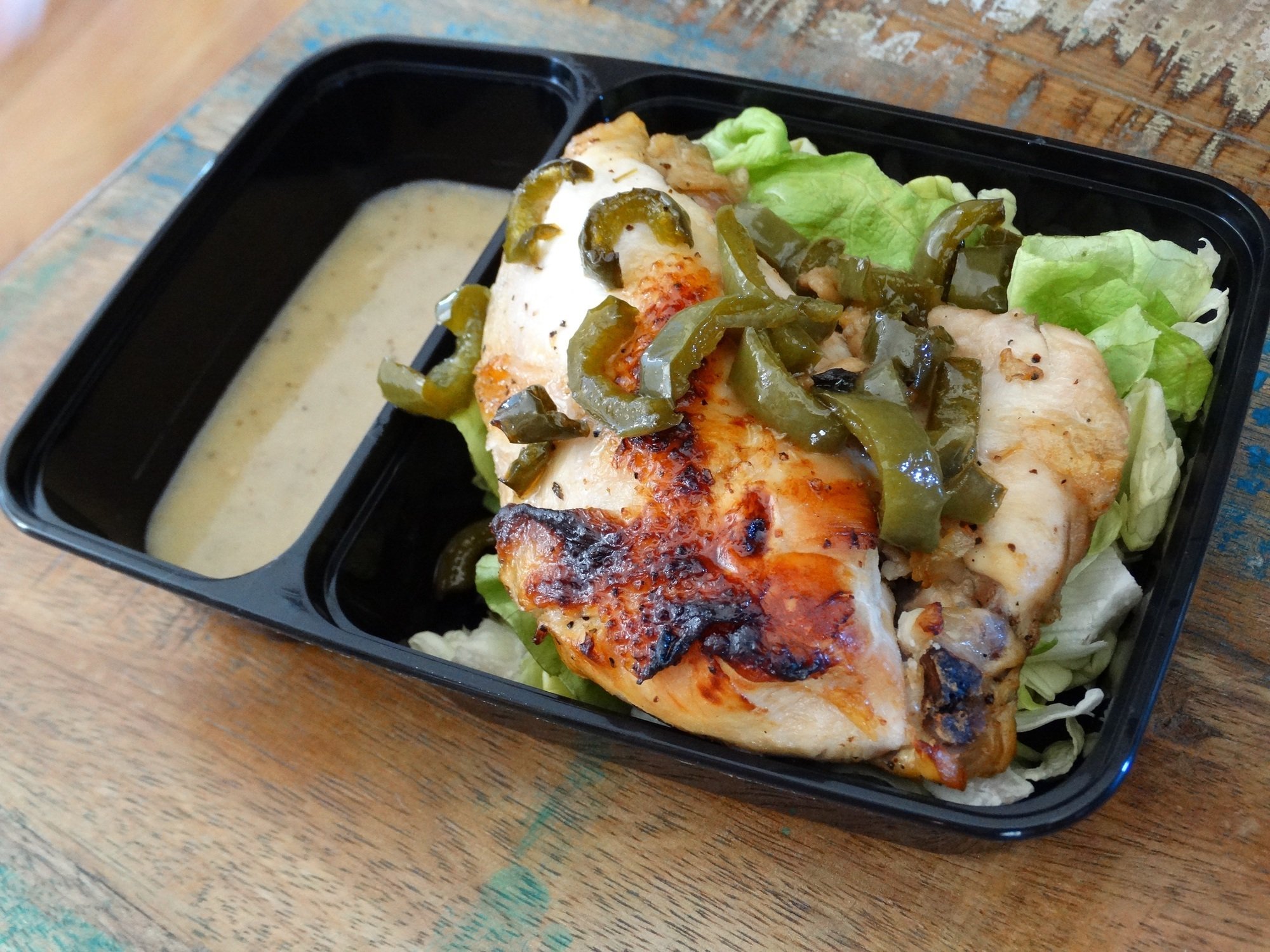 This spicy and healthy chicken recipe originally appeared on the Katom blog.
What type of thermometer should you use?
There are several different types of thermometers on the market.
Probe thermometer (mainly a meat thermometer but can be used for candy, etc.)
Instant-read thermometers
Thermometer fork combination
How to use a probe thermometer
Test your digital instant read thermometer for an accurate reading by using boiling water and ice water.
During the cooking process, you want to check for doneness by inserting the thermometer in the thickest area of the meat. If you are cooking a whole chicken, it's best to use an oven-safe food thermometer probe with wire so you don't have to keep opening the oven door.
When the digital thermometer registers the right temperature (safe temperature for avoiding salmonella or other food bourn illness) it will make a beeping sound to alert you that the minimum internal temperature has been reached.
Food safety dicatates the cooking temperatures which vary for different types of meat.