Last Updated on November 22, 2022 by Rebecca Huff
If you've ever stood in front of your fridge wondering "what to make with what I have," then you are not alone! Answering the "what's for dinner" question is a common occurence for many!
With food prices rising, many are looking for ways to cook tasty meals from what's on hand rather than creating elaborate menus.
Food prices were up 11.4 percent for the year, the largest yearly increase since 1979.

Politico
That's why I couldn't resist sharing my review of Cook What You Have so that you can make a meal out of almost anything! You'll be skipping takeout after adding this cookbook to your collection.
I already had Christopher Kimball's new cookbook on preorder before I realized it would help me cook from my pantry! I've been using his Milk Street weeknight cookbooks for years now; I've grown to trust him to introduce me to new and delicious flavor combinations.
We all have those favorite recipes we turn to time after time, right? Polls show that 60% of people eat the same seven meals weekly. Most cooked meal: lasagna. What? Come on! Life's too short to eat the same food every day! That's where a few cookbooks can come in handy. They keep you inspired and trying new foods.
I enjoy a good cookbook but fall in love when it helps me cook with ingredients I already have.
So how does it work?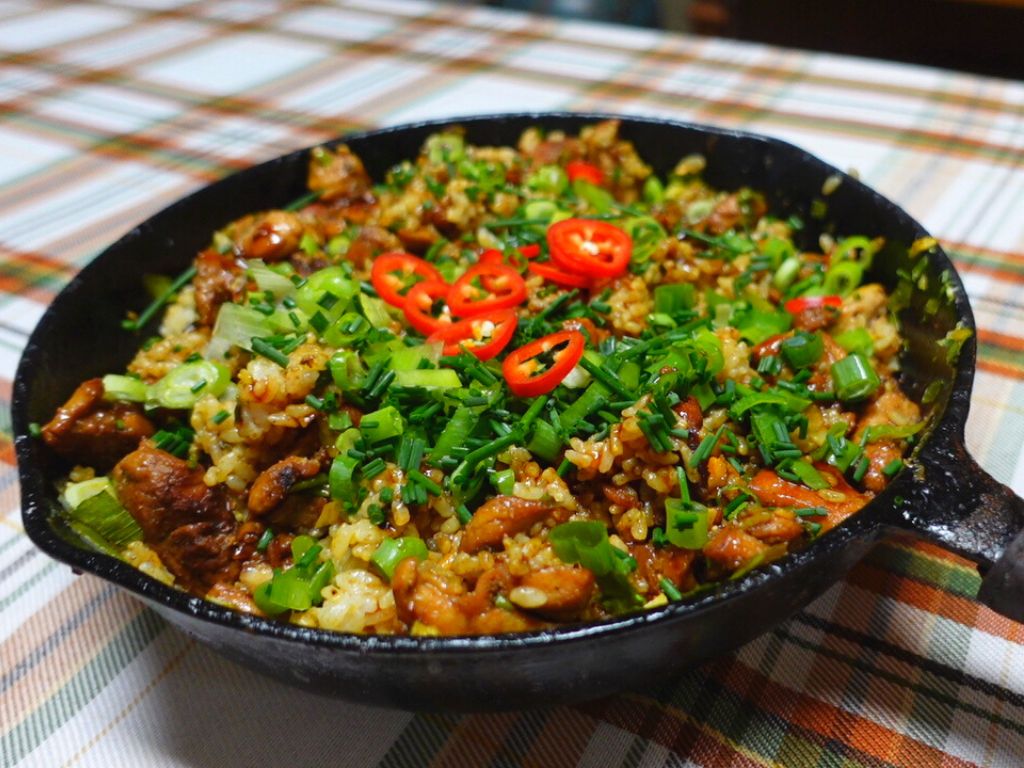 Check Your Pantry Staples
To prepare a delicious meal, start by surveying your pantry. Hopefully, you're keeping it stocked with various shelf-stable foods like beans, rice, canned tomatoes, coconut milk, and condiments.
If you're a home cook with a few years of experience, you might not need cookbooks anymore. However, Cook What You Have is a huge bonus if you enjoy experimenting with new flavor combinations or tasting dishes from other cultures.
In addition, you'll want to make a note of the first couple of sections of this cookbook. These will become your go-to sections for "Have this? Try that!" ideas.
Have This? Try That!
The first section would typically be considered the contents of the book. Although, this section is way more useful than the ordinary contents of a cookbook. These pages divide up the cookbook into useful subsections like:
Canned Goods – all the recipes you can make with things like black beans and chickpeas.
Shelf Stalwarts – Pasta-type dishes, along with rice or couscous.
Cold Storage – Here's where you'll find dishes that use sweet potatoes and winter squash.
From the Freezer – Your frozen veggies, seafood, and other freezer favorites are found in this section.
Flour Powered – Think of this as your carb selection or bread box.
Sugar and Spice – Desserts made with cupboard confections such as peanuts, brown sugar, and such.
Why?
For thousands of years, we have cooked what we have. The ingredients on hand always drove the decision of what to make, whther that was a haunch of venison, a bowl of chickpeas or a tangle of wild greens. The notion of eating what we want-selecting from a menu of desires, if you will-rather than what is available is relatively new. Christopher Kimball, introduction of Cook What You Have
Milk Street Must-Haves
In this section, the author lists 25 ingredients he believes you must keep in your pantry. These are a little out of the ordinary, but nothing you can't find at your local supermarket. For example, capers, tahini, miso, and canned chipotles in adobo are a few "staples" he recommends that the average American pantry might not have on hand.
The ingredients suggested in this section effortlessly deliver tons of flavor and texture using high-impact, bold ingredients.
It's true. Watch this video where I prepare multiple dishes from Cook What You Have.
Of course, you'll also find the traditional index in the back so you can quickly look up recipes based on other ingredients you want to use. I recommend using these suggestions as a list for a well-stocked pantry.
Another tip is to keep your fridge stocked with good whole-food ingredients used in cooking from scratch. Parmesan, feta and mozzarella are three types I like to keep in my cheese drawer.
In your cabinet near your cooking space, you'll want to keep olive oil, ghee, good-quality balsamic vinegar, and various spices. These are listed in detail in Cook What You Have!
Recipes we Loved
I dove into this cookbook with reckless abandon. Every beautiful photograph tempted me, and I couldn't wait to serve some of these meals to my family. Here are a few we enjoyed the most:
Shrimp and Cheese Tacos – a fantastic way to spice up your taco Tuesday!
Stir-Fried Broccoli Noodles – getting in those veggies!
Turkish Wraps with tortillas – wanna try more like this? Here are the essentials for stocking your Turkish Pantry.
Meringue Cookies with Salted Peanuts and Chocolate Chips (in the video)
Cuban-Style Black Beans and Rice – a classic but even better and quick to make.
Japanese-Style Rice with Corn, Butter, and Soy Sauce (in the video)
Garlic Fried Rice With Chicken (in the video) is a great way to use leftover rice.
Cabbage, Apples, and Kielbasa – they say this is a classic combination but I'd never heard of putting these ingredients together. This is a one-pot recipe that comes together in less than an hour.
Pasta with Kale Pesto and Sun-Dried Tomatoes – toss it up in a food processor with pasta and chopped sun-dried tomatoes. Easy peasy.
Curried Egg Salad with Raisins and Cashews – I was surprised how much I enjoyed this, but I had all the ingredients, so I thought I'd try. I definitely will make again.
White Bean Bruschette with Roasted Cherry Tomatoes – see my notes below about substitutions.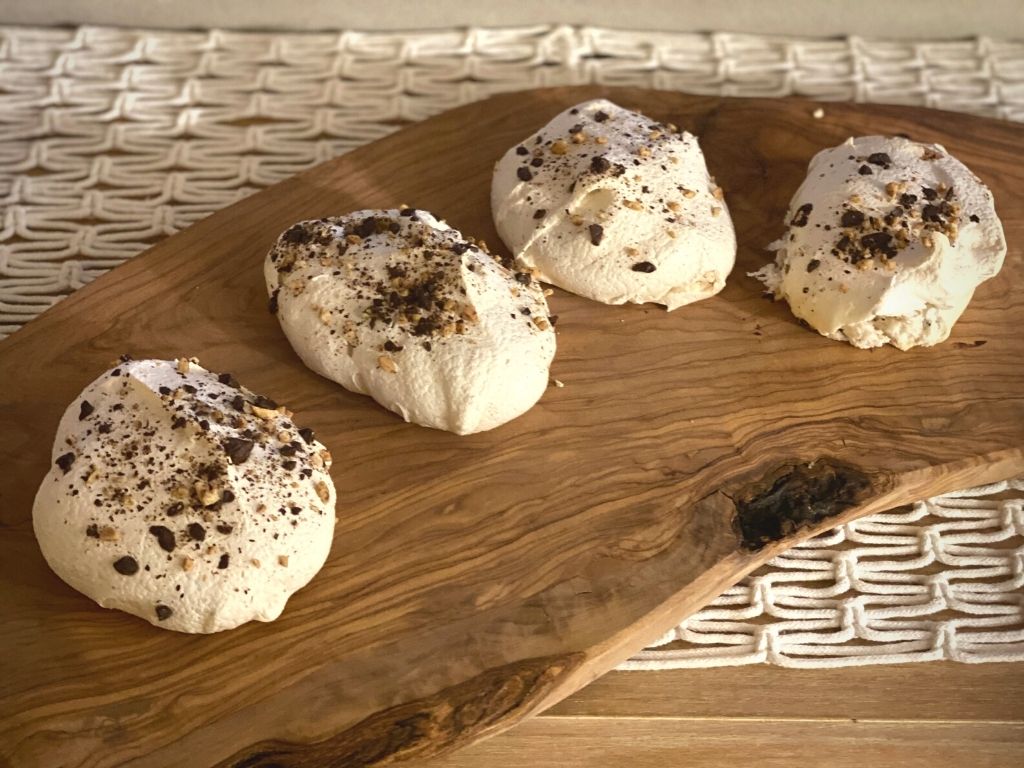 Substitutions
One thing I love about Milk Street cookbooks is that the author tends to offer substitution suggestions. For example, in the White Bean Bruschette recipe, I mentioned above at the end of the list. The original recipe calls for lemon, parsley, and caper relish.
However, in the notes, the author makes other suggestions, such as lemon-anchovy, wilted kale, or white bean and cherry tomato. I didn't have parsley, but I did have cherry tomatoes. So I could make this appetizer for my family without going to the store.
I always substitute another herb in place of cilantro! The author often offers suggestions so you can make many recipes in the cookbook without altering your meal plan. Yes, even if you are out of an ingredient.
Just think about how you're preparing or cooking a recipe before you make a substitution. In the case of Miso Garlic Slashed Chicken, for example. It calls for bone-in, skin-on chicken leg quarters. You wouldn't want to use chicken breasts in this recipe because they'd likely be too dry. Chicken thigh is dark meat and, therefore, juicier than chicken breast.
However, you can often use chicken thigh in place of chicken breast. Keep both chicken thigh and breast stocked in your freezer with a Butcher Box Subscription! (Plus they often have an option for free ground beef for the life of your subscription!)
Tips for a Well-Stocked Pantry and Easy Meals
As I always say, keeping the basics in your pantry will help you get dinner on the table more easily. But do you also keep your freezer stocked with meats and frozen veggies that your family enjoys eating?
Stock up on chicken wings if you love hot wings dipped in blue cheese dip. Keep both breast and thigh handy in the freezer for all the chicken recipes you love.
After Thanksgiving, shop the sales and stock up on turkey breast, cream cheese, and cranberry, which are typically on sale right after the holiday.
When everyone is growing a garden in the summertime, keep an eye out for giveaway zucchini! My husband often comes home with multiple bags of free produce from his co-workers and clients who are "too good" at gardening! Every night we try a different side dish using zucchini!
What to Make With What
You'd be surprised what you can make from just a few ingredients. That's the premise behind "The Ration Plan," which you can download from this website for free. For example, lentils and other legumes are inexpensive and full of heart-healthy fiber.
Eating beans as part of a heart healthy diet and lifestyle may help improve your blood cholesterol, a leading cause of heart disease. Adding beans to your diet may help keep you feeling full longer.

Heart.org
You can whip up a delicious lentil stew with just a few ingredients and throw them in the slow cooker if you're too busy to stand at the stove.
Looking for immediate answers on how to make a meal with what you have? Try these websites:
Supercook

is

one of the best ways to reduce food waste in the home

. It finds recipes that use as many of your ingredients as possible so nothing goes to waste. SuperCook makes food waste prevention fun and easy; open the menu page on the app and choose a recipe.