Last Updated on June 29, 2022 by Rebecca Huff
Have you been stress eating for the last couple of months and are noticing a change in how your clothing fits? If so, you're not alone! You are in the right place though, because I have some good news for you.
During the first month in isolation – Wow, this looks like I am writing some kind of apocalypse memoir. Nope, just a kick in the pants menu plan using keto comfort foods, to get us back on track with maintaining a healthy weight!
Anyhow, during that first month, I was just eating whatever I made for the kids, whatever got us through the day, that sort of thing. Since I was mostly wearing sweat pants around the house, with a nice blouse of course, for all the video calls, it was easy to ignore that I'd gained a few pounds. That is until I had to put on jeans to go out for an appointment.
What on earth!? My jeans shrunk while hanging in my closet the last few weeks!
My texts to my friends confirmed it, we'd all been relaxing our eating habits. That's okay! Hey, we're living through a pandemic, we have every right to freak out a little bit, or a lot, but we can't stay there, so I decided I'd had enough.
Instead of keeping all my efforts and work that I put into getting back on track to myself, I decided to share my notes so that you could use the plans too. When you're ready. And if that's not now, just save this for when you ARE ready. No judgment here, do not be ashamed of yourself or your body (you know who I am talking to, girl.) It took me a while to get myself going again, and I didn't start one minute before I was ready.
Keto Comfort Foods
For the first week, I chose Sam Dillard's book "Keto Comfort Foods" because to be honest, isolation has been stressful, and part of the reason I'd been gaining weight was that like many people, I eat to cope. You may have thought, like me, that you conquered emotional eating, well, this is a new level of stress. We're looking for comfort in food, so let's use this as a transition to get back on track.
Pizza, pasta, French fries, bread, and baked goods are typically carb-loaded treats that are not part of the keto diet. These are the flavors of the comforting high-carb dishes we crave when we eat due to stress and negative feelings. Emotional eating tends to involve comfort foods, right?
So why not choose Keto Comfort Foods that are satisfying, keto-friendly versions of traditionally carb-loaded dishes? Yasssss!
[Tweet "choose Keto Comfort Foods that are satisfying, keto-friendly versions of traditionally carb-loaded dishes"]
In this book, we find everything from mac and cheese to lasagna to low-carb pastries that will help us kick those carb cravings to the curb and stay on track with our keto diet goals!
I've enlisted fellow blogger, Jessica Ancaya, Holistic Keto Goddess, and Nurse Practitioner. We each chose a cookbook that we already had on hand to plan one week's worth of dinner recipes, compile a grocery list, shop, prepare the dishes, and stick to our goals.
You can find Jessica's plan here: One Week of Ketotarian Dinner Menus.
One last thing before we look at the menu plan, did you know that sleeping at colder temperatures can aid your weight loss efforts? That is one of the many reasons I sleep on a hydroponic mattress pad set to 55 degrees at night! (Even though I turn it back up to 111 degrees in the morning!)
Keto Comfort Foods One Week  Dinner Menu + Dessert and Extras
Ready to start this menu plan? Here are the tools to make it super simple!:
In addition, here are the extras in case you want further help or inspiration.
How I create a grocery list that everyone in my family will have access to on their smartphones. (I don't use printables very often, especially for groceries, I just use this app. Do you use paper grocery lists or digital?)
Notes and tips for the week (below)
Going forward
A Week on my Plate of Keto Comfort Foods
The reason I chose Biscuits and Gravy as the first dinner was so that I could use the leftovers for breakfast the next few mornings. That was a very good decision! Since I'm cooking for two and this recipe makes 6 servings, I was able to eat it for dinner one night then breakfast two mornings.
Country Fried Steak was new to me, and my butcher didn't have cubed steak, so I used flank steak and tenderized it myself. That was a good decision, let me tell you. The breading on this dish reminded me of my Copycat Keto Shake and Bake Chicken Tenders recipe. I had enough of this recipe leftover to have steak and eggs for breakfast, and I hope you do to cause my, oh my! This was one of the highlights of this book for me. Who knew Country Fried Steak was that good!
By the way, the Country Fried Steak recipe is one of the sample pages for which you can get a "look inside" of the book.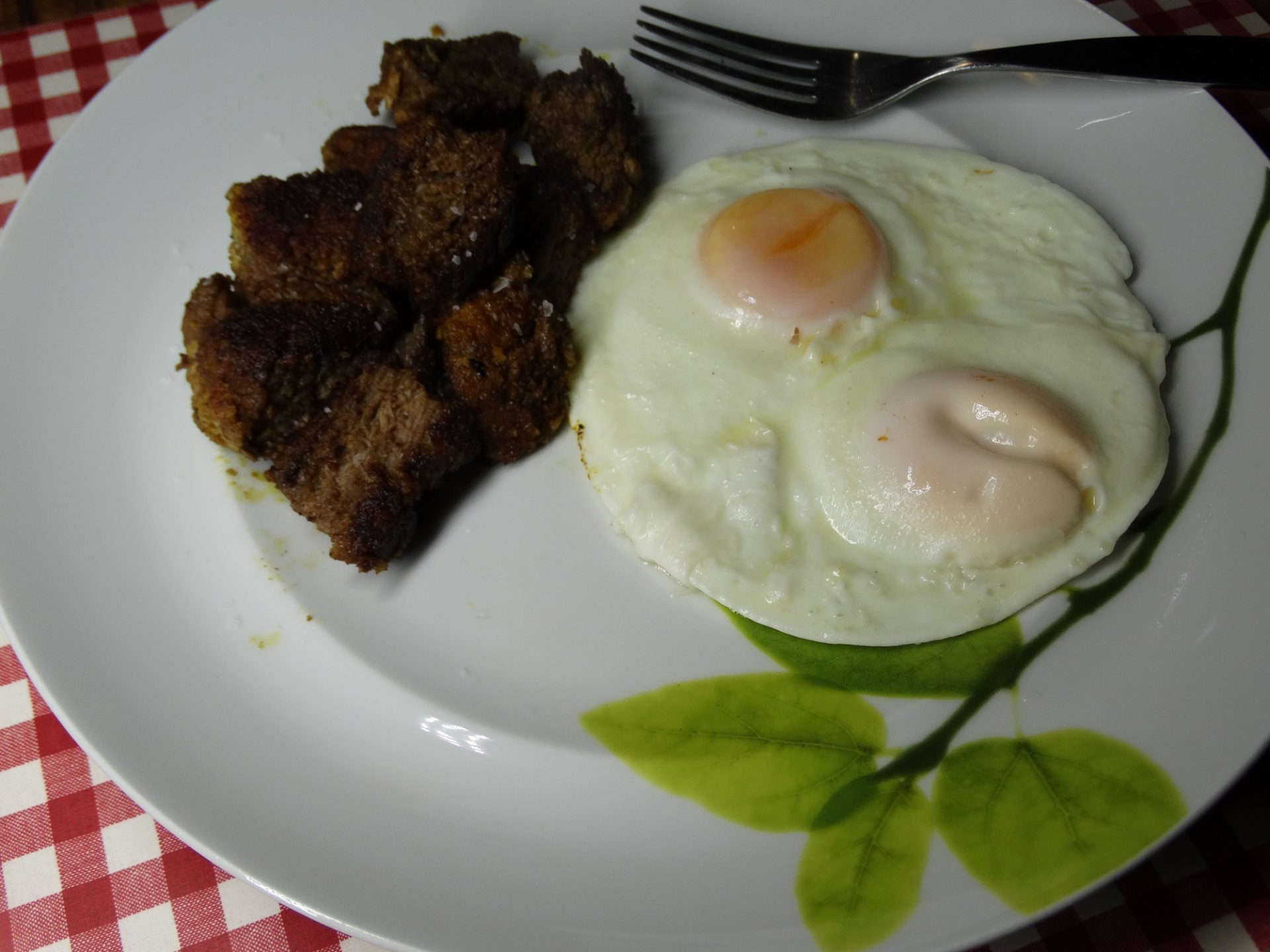 Results, Notes and Tips for Keto Comfort Foods
The results of following my menu plan this week were fantastic! As of day 7, I had actually lost 5 pounds! If you have an inner mean girl, it's best not to weigh yourself every day. This may not work for everyone, but I do not keep a scale at home. The only time I weigh myself is at the doctors' office.
I also started back monitoring my blood glucose and ketone levels. When I first started working on getting my body into ketosis, I found the best way to track and monitor how my body reacted to various foods was to test and record these markers. Using a monitor can also help you see how your body reacts to certain foods. For example, I have found that black coffee (no sugar, no cream) elevates my blood sugar slightly unless I drink it with food. It's important that you know how to properly test your blood for ketones. Here are step-by-step instructions that you can print out and keep handy.
Another app I use to track biometrics is Cronometer. it's free, easy to use, supports various diets such as Keto, Paleo, Vegan, and others. You can use Cronometer to track nutrients, so if you are low in iron you will be able to keep up with how much you are getting throughout the day.
This week, I was also back on track with my fitness routine. I alternated using a Lyzabeth workout, altered because I can't go to the gym, and doing dance workout videos on YouTube.
Each morning, I drank my coffee with a splash of heavy cream and a scoop of collagen. Lots of water and green tea throughout the day! Lunch was either leftovers, fasting, or something simple like an avocado with smoked salmon or eggs.
My kids enjoy walking to our local Bubble Tea Cafe, so on National Bubble Tea Day, I was tempted to get Boba. Instead, I opted for oolong tea with almond milk, basil seeds, and aloe, unsweetened and it was still refreshing and delicious, and also nutritious. This reminded me to drink more tea; especially oolong and Pu'erh.
Going forward with the Ketogenic Lifestyle
By the time you read this, I'll be at the end of my second week's menu, working on week three. If you've had enough and you are ready to get back on track join me. I'll send you my menu, shopping list, and other tools to get back on track with Keto. If you are following a Trim Healthy Mama diet or Low-Carb, you can join us as well, with a few minor tweaks you can easily adapt this menu plan to your lifestyle. Just reply to my first email to let me know that you are following THM or just low-carb.
We will also be sharing menu plans and cookbooks in the online cookbook club – you can join at A Tasty Bite Cookbook Club or read more about it in this post: Welcome to a Tasty Bite Cookbook Club.

Here are some other Keto posts you'll enjoy