If you are trying to lose weight, you can speed up the process by adding a few cups of delicious Pu Erh tea! It's as simple as drinking a cup in between meals.
Recently while in China, I attended a tea ceremony and tasting class. I've been a fan of hot tea for a long time, even though having grown up in the South, I do not drink sweet tea or iced tea. It just never appealed to me. I do however, have an embarrassingly large collection of various other teas I drink hot that I purchased locally.  
There are two teas I have really tried to like in the past due to the benefits, but have never been fond of:
Pu Erh tea

Oolong
Surprisingly, I enjoyed both of these teas in China. Among a ridiculous amount of other types of tea, I purchased a box of Pu Erh (in what I suspect was a tourist trap, selling highly overpriced tea in attractive Chinese metal boxes). I left with the hope that I would actually be able to enjoy drinking Pu-Erh tea at home.
When buying tea back home it is harder to assess the quality of Pu Erh since to judge the quality you need to steep it and observe the spent leaves.
Locating Pu Erh tea
Is your Pu Erh tea a knock off?  Most likely, the reason I have never liked Pu Erh tea is the fact that obtaining a true Pu-Erh tea can be challenging! This is due to the fact that packaging and marketing methods in China are completely different than in America.
Unfortunately, fake teas are found abundantly outside of China, and even in China, some imitation Pu-Erh teas are produced. I was told that Pu Erh Teas rarely have any English language on the packaging, much less a manufacturing date or ingredient list.
However, I think it is becoming more common to find Pu Erh tea in the states. As a matter of fact, I have even located a place that carries it in Crossville, Tennessee!
Origins
Pu Erh tea is said to originate from the Yunnan Province and is praised for it's healing and preventative properties. The Pu'erh tea I purchased is picked, aged and left to ferment, then finally dried and pressed into little round cakes. While most other teas get stale over time, the wonderful Pu Erh tea only mellows with age.  Think of it like your favorite wine!
Believe it or not, there are some Pu-Erh teas that are more than 50 years old; these are highly prized and sought after by tea aficionados.
Historically, The last Emperor of China, Emperor Pu Yi said "Drink Dragon Well Green Tea in summer and Pu Erh in winter. Drinking Pu-Erh Tea is like being a member of the Royal Family" Who doesn't want to be royalty!? If you've seen the Palace in the Forbidden City you might want to be royalty!
Health Benefits of Pu Erh Tea
Pu Erh tea is said to remove toxins from the body, prevent bad breath, encourage weight loss, improve eyesight and even help cure a hangover. It has also been said that Pu Erh reduces bad cholesterol and lowers triglycerides. In one study in laboratory animals, Pu Erh tea was the only kind of tea which could actually raise the level of good cholesterol and lower the level of bad cholesterol.  (1)
Ironically, the longer the tea is fermented, the higher the statin like benefits become (2) making it very effective for lowering cholesterol; and why not, Pu Erh tea touts these pharmacological components: Vitamins B1, B2 C and E, potassium, phosphorous, calcium, magnesium, aluminum, lysine, arginine, histidine and cysteine, linoleic and linolenic acids and trace amounts of zinc, sodium, nickel, iron, beryllium, sulfur and naturally occurring fluorides!
I have seen Pu Erh tea in several Asian Supermarkets sold as "Diet Tea" and wondered if it was some gimmick.
However, it is said to experience weight loss one must get the timing right! For the best results in weight loss, drink a cup of Pu-erh tea one hour after a meal, so it can help your body get rid of unwanted and leftover, hard-to-digest fats.
Also, to experience the best weight loss results the tea should not be combined with other teas or food ingredients. Consequently, I lost about 8 pounds while in China, although I can't contribute this entirely to drinking tea since I walked everywhere I went and ate very little as I am not a huge fan of Chinese cuisine.
Nonetheless, the weight has not returned in the weeks since I've been back, although I am following the Trim Healthy Mama lifestyle and drinking multiple cups of tea per day.
Additional Benefits of Pu Erh Tea Include:
Cleansing
Reduces stress (due to GABA and L-Theanine)
Improves overall health
Aids in soothing the stomach
Increases metabolism
Lowers cholesterol
Balances blood sugar levels
Brewing
Another fascinating discovery during the tea class was how to brew Pu Erh tea (and other teas) properly. Most people I had seen make tea simply boiled water, added tea, waited a few minutes, strained and consumed. Wrong!
I learned that when brewing tea you first heat water (preferably filtered) to a vigorous boil, then (this is the important part) pour the water over the tea leaves and wait 10 seconds, then discard the water. (note* she used this hot first tea to swirl around the cups, to rinse the cup and warm it slightly) , my tea teacher explained that this step opens the leaves.
Next, she added more water and steeped it long enough to develop the color and flavor. If it is brewed too long, it will cause the tea to taste bitter. For Pu Erh, she recommended two minutes on the first brew and up to five minutes if reusing the tea for subsequent brews; in my experience, the 2nd and 3rd brews taste even better!
I've been told that you can reuse good-quality tea leaves several times.  You can use this method on tea that is loose, in a strainer, tea ball, or tea bag! I use my cast iron tea pot and warmer on a daily basis.
Tips:
Drink your tea hot.  Tea oxidizes quickly after brewing; meaning the nutrient levels in iced tea are significantly reduced.
It is best to drink tea between meals, especially when it comes to Pu Erh tea.

Drinking tea brewed too strong might cause insomnia due to the fact that some tea has high levels of caffeine. Overly strong tea can also upset your stomach.

Tea contains a large amount of Tannin, which can cause a less than favorable reaction with certain elements in medicines, thus diminishing their effects. This is why it is best not to take medications and drink tea together. It is better to wait a couple of hours after you take medicine to consume tea.

Green tea is a great option for those using electronic devices frequently. Green tea contains catechins that help prevent computer radiation and cell phone electromagnetic fields adverse effects.
Determining Quality Tea
The quality of the tea can be determined through inspecting the dried leaves, the tea liquor, or the spent tea leaves. The "true" quality of a specific batch of Pu Erh can ultimately only be revealed when the tea is brewed and tasted.
Dried tea should not contain twigs, leaves should be whole, should be fragrant when dry and have a matte finish on the cake surface.  After brewing, whole leaves and leaf buds should be easily seen in spent tea with no twigs or fragments. It should not crumble and should unfurl slightly when brewed, although very ripe Pu Erh tea will usually have leaves that do not open.
Buying Pu Erh tea
Do your research and buy tea from a reputable source. Having just returned from China, I can attest to the fact that it is very important to test the quality of an item or at least know the return policy before you buy.
Ahhhhh, drinking a cup relieves my anxiety and takes me back to that time I realized my dream!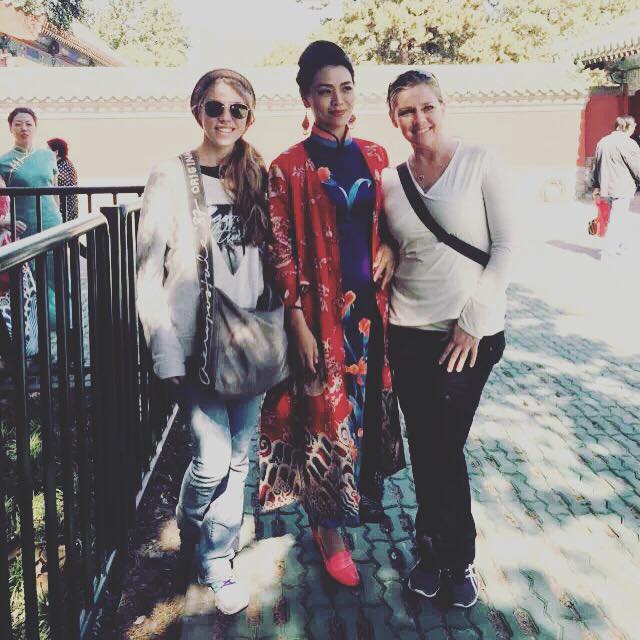 ThatOrganicMom is a participant in the Amazon Services LLC Associates Program, an affiliate advertising program designed to provide a means for sites to earn advertising fees by advertising and linking to amazon.com if you purchase an item through these links you are getting the same great price while helping to support this website. Read more about my mission here.
SaveSaveSaveSaveSaveSaveSaveSave