Last Updated on February 23, 2018 by Rebecca Huff
I'm very impressed by how my health has improved since beginning a ketogenic lifestyle. I previously used carb cycling to prevent weight gain, eating some meals with carbs and some with fat instead of carbs. For years I had struggled to lose weight following the popular Trim Healthy Mama diet.
Even with counting calories, cycling and cutting back my carbohydrate intake I still wasn't reaching my best possible health. Weight loss was slow if at all. My thyroid and hormones were not improving even though I'd helped others lose weight and improve their health.
The more I read about using fat for fuel and getting into nutritional ketosis; the more intrigued I was. In the post on Keto Basics I shared the details of the ketogenic lifestyle more in-depth. In this post, I want to share the personal side of our experience.
For me, the transition to the ketogenic lifestyle was a tremendous learning experience. After years of not being able to reach my goals in health and weight loss, I decided to take a break. I felt that it would be better for my mental and physical health to just go back to my original whole foods healthy eating patterns than to keep beating myself up for not losing weight.
My reasons for wanting to lose weight were not all vanity, most of my desire to lose some pounds was to keep up with my kids. I'm not a gym rat but I do exercise regularly when I feel healthy, so that was another reason I wanted to feel my best. It's a vicious cycle when you are too sick to workout!
From the beginning of the year through mid spring, I simply ate simple whole food meals. I didn't count calories or macros. The focus was entirely on health. Eventually, in my renewed pursuit of being as healthy as possible, I started to study the benefits of eating a high fat diet with a focus on healthy fats.
My husband works incredibly long hours; energy drinks helped him get through the day. He tells me he uses the "least bad ones, " i.e., the ones sweetened with stevia. I think he felt tired sometimes because he had developed a habit of eating all throughout the day.
While he has always had a healthy metabolism, he had gained a few extra pounds. His primary concern was increasing his energy levels.
We both agreed to increase our healthy fats, maintain a moderate amount of protein intake, and restrict our carbohydrates to less than 35 grams per day. My goal was 20 grams per day during the first 30 days. Eventually, I increased it to between 30-50 grams per day.
During the first month, I also removed dairy from our daily menu. For meals, we used mostly recipes from the book 30 Day Keto Cleanse. Our primary food groups were healthy fats, protein, and non-starchy vegetables. During that first month, I lost roughly 17 pounds.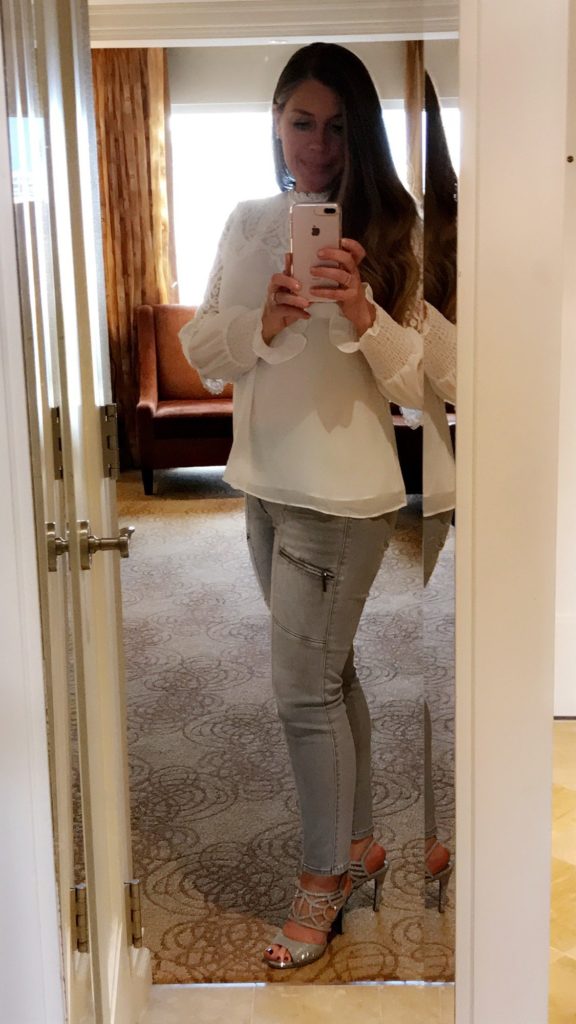 The following month I continued to use fat for fuel, but I added in some dairy. I didn't weigh myself that often, but at the end of three months I'd lost roughly 26 pounds. The weight loss wasn't the most significant benefit for me though.
Having a lighter appetite, no more emotional eating, and not feeling like a slave to food were the improvements I most appreciate. My energy level did go up as well. Right now, I feel fantastic despite testing positive for Lyme Disease and Mold Illness several months ago!
We went on a business trip to Las Vegas three months into the ketogenic lifestyle and both of us actually had the energy to go hiking one day after we'd stayed up later than usual the night before. I even took a full body selfie, not something I would have done at the beginning of the year.
My husband was able to cut back on the number of energy drinks he was drinking at work and cut back on drinking his nightly wine as well. Overall, he says that the keto lifestyle has been an improvement for him and he plans to continue eating this way as long as I prepare his meals for him 😉
We both consider keto our lifestyle now. I rarely think about the fact that I use fat for fuel, it's just a way of life. Because we have four children still at home, I do prepare meals with healthy carbohydrates for them. Mostly sweet potatoes, rice, and fruits.
In the past, preparing something for the children that I was not planning to eat would make me feel a bit deprived. No more! I can easily make the kid's homemade ice cream or whatever without feeling left out in the slightest.
I've created several keto-friendly recipes for my husband and me to enjoy. This year, we'll have keto holiday meals, but of course, I'll have some old favorites for my kids.
Read more about the basics of keto and download my simple keto grocery list! You can also read a how our friend Josh got off his medication for Type 2 Diabetes following a high-fat low-carb diet.
My favorite Keto Books
Do you love to cook or keep it simple? Cause either way the ketogenic lifestyle works! There are days when I just don't have the time to prepare a big meal and just end up with a charcuterie board – no cooking involved. Other days I have more time and want to prepare something special. Here are my favorite keto books and cookbooks.
The 30 Day Ketogenic Cleanse – This was the first keto cookbook I purchased. Using this cookbook to kickstart my keto lifestyle helped me get off on the right foot.

Fat For Fuel by Dr. Mercola is a wonderful book if you like to know the why and how of what you are doing. This book goes into detail about the nuts and bolts of ketogenics. Very useful for fine tuning the lifestyle as well.
Eat Fat Get Thin by Dr. Hyman was another book that I read to gain a better understanding of what my body was doing during ketosis. Also, if you are looking to follow a very healthy version of Keto, this is the book to read.
Quick and Easy Ketogenic Cooking

Keto Comfort Foods – had a bad day and want to eat something comforting? Don't go off plan, enjoy some comfort foods keto style! This book is great for weekend cooking and special occasions when you want to prepare something "normal" but without the sugar, gluten, and junk in most comfort foods.

Keto Restaurant Favorites – Love Chinese but don't want the added sugar and other junk? Enter keto restaurant favorites. Even my children enjoy the recipes out of this book!

the Ketogenic Cookbook – I bought this cookbook last because I am a sucker for great food photography! Also, I knew from experience that the recipes would be killer!
Products I used to measure our ketones
As I mentioned in my post on Keto Basics, these products are not necessary but can be useful.
Glucose and Ketone monitor – It's useful to have a monitor that can test ketones and glucose levels.
Ketone Test Strips – I used these more in the beginning to see when I entered Nutritional Ketosis. They are a bit pricey so I don't use them very often.
Glucose Test Strips – these can be helpful to give you an idea how your blood sugar levels react to fasting or how certain foods affect your blood sugar levels. By design, the ketogenic lifestlye is conducive to very blanced blood sugar levels.
I'd love to connect with you if you are also following the ketogenic lifestyle! Comment on this post or on social media!