Tasty Wings Four Ways
Let's face it, wings are a perfect movie night food, comfort food, party food, or just any time you want some tasty finger food and you can cater to everyone's taste with these four wing sauce variations.
Originally shared on my Instagram account, this has been a popular unpublished recipe of mine. So after taking yet another screenshot of my wing recipes to share with a friend, I decided to just go ahead and put it here.
For the most part, I don't like to fry foods, but when I have a gathering (just my family is considered a gathering – having six kids) I like to make these. If you have an air-fryer, I'd love to know how wings taste made in one, so if that's you, let me know in the comment section.
Get the printable version of this recipe and other recipes here.
Sweet Garlic Wings
Sweet Garlic Wings Sauce has a tangy, sweet flavor with just the right amount of pungency from the garlic. You will love the way coconut sugar gives these wings a deep caramel-y flavor.
5 TBSP coconut sugar
3 TBSP avocado oil
2 tsp minced garlic
1 tsp Maldon Sea Salt or another coarse salt, heat while stirring till sugar melts, then pour over wings, toss to coat
Peppered Meyer Lemon Wings (good low-carb option)
Meyer lemons are a little less sour than regular lemon and they pair beautifully with coarse pepper. If you can find some tri-color peppercorns in a grinder you won't regret buying some!
For this recipe, zest two Meyer lemons (or just regular lemons will do fine if you can't find Meyers) set zest aside. Separately, squeeze the juice from zested lemons in a bowl, mix with 1 tablespoon extra-virgin olive oil, add salt to taste, pour over wings, toss to coat, sprinkle zest over the tops then add fresh cracked pepper.
Honey Gochujang Wings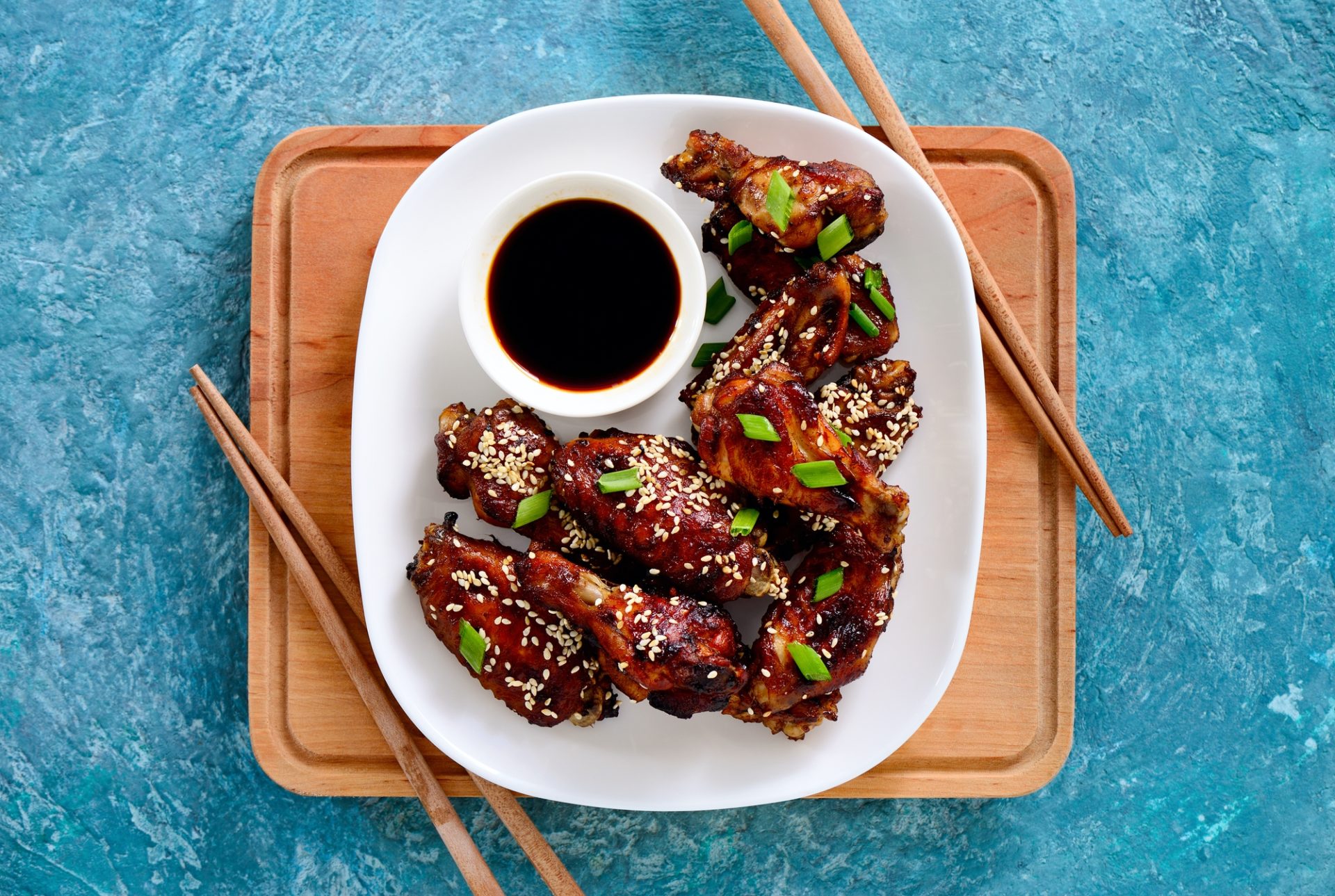 Gochujang is maybe not as widely known as Sriracha but deserves equal attention. Gochujang a type of Korean Hot Pepper sauce is a red chili paste that is a savory, sweet, and spicy fermented condiment made from chili powder, glutinous rice, fermented soybean powder, barley malt powder, and salt. Find gochujang at Asian markets or the international aisle of the supermarket.
For this version use
3 tablespoons of Gochujang (if you don't have that you can sub out for Sirriacha to make Honey Sriracha Wings)
2 tablespoons honey
1 tsp sesame oil, mix well, pour over wings, toss to coat
sprinkle with sesame seeds and green onions for garnish
Traditional BBQ Wings (low carb option)
This last version can be a substitution if you don't have the ingredients for one of the other flavors, or as a fourth variation. I use my BBQ Rub; BBQ Sauce Recipe so that anyone following a low-carb diet will have a tasty option that doesn't contain honey or coconut sugar.
To make these, I get the three bubble packs of organic wings from Costco. I like to use my iron skillets for frying because it adds to the protective coating of a skillet called "seasoning" and makes the iron skillet more nonstick. Costco also has a large glass bottle of avocado oil that I use for frying wings. All sauce recipes are added AFTER the wings have been cooked.
To make these wings:
1. Fry wings in oil till golden brown.
2. Lay on a paper towel or mesh wire rack to cool
This recipe was originally shared on Instagram, where I often post recipes, book reviews, motivational quotes and other tips.
View this post on Instagram
If you enjoy recipes and cookbooks, join A Tasty Bite Cookbook club where we share our favorites! I've been collecting, testing, writing, and talking about cookbooks for most of my life, and I'd love for you to join me and share YOUR favorite cookbook recommendations.
Pin this post so you can find it when you need it