Last Updated on June 29, 2022 by Rebecca Huff
Maybe a decade ago Starbucks had a drink called Chantico, which tasted pretty much like a melted chocolate bar. Thankfully, it didn't last because, although I don't know what is in it, I'm sure it couldn't have been healthy! I did see it being poured into a cup before it was heated and I never could drink one again. I'm not sure what was in it but it looked like sludge until they warmed it for serving.
Over a decade later, I bring you: Ketococoa, a drinkable chocolate dessert. Loaded with heart healthy monounsaturated fatty acids from the secret ingredient: avocado.
The idea was to create a small dessert drink that was healthy, yet similar in taste to a Hershey bar that had been left to gently melt in the sun. Well, at least that's how I imagine it. Let's describe it as somewhere on the scale between chocolate pudding and hot cocoa. Shawna often asks me for this dessert and I'm happy to make it for her knowing that it is so full of nutrients.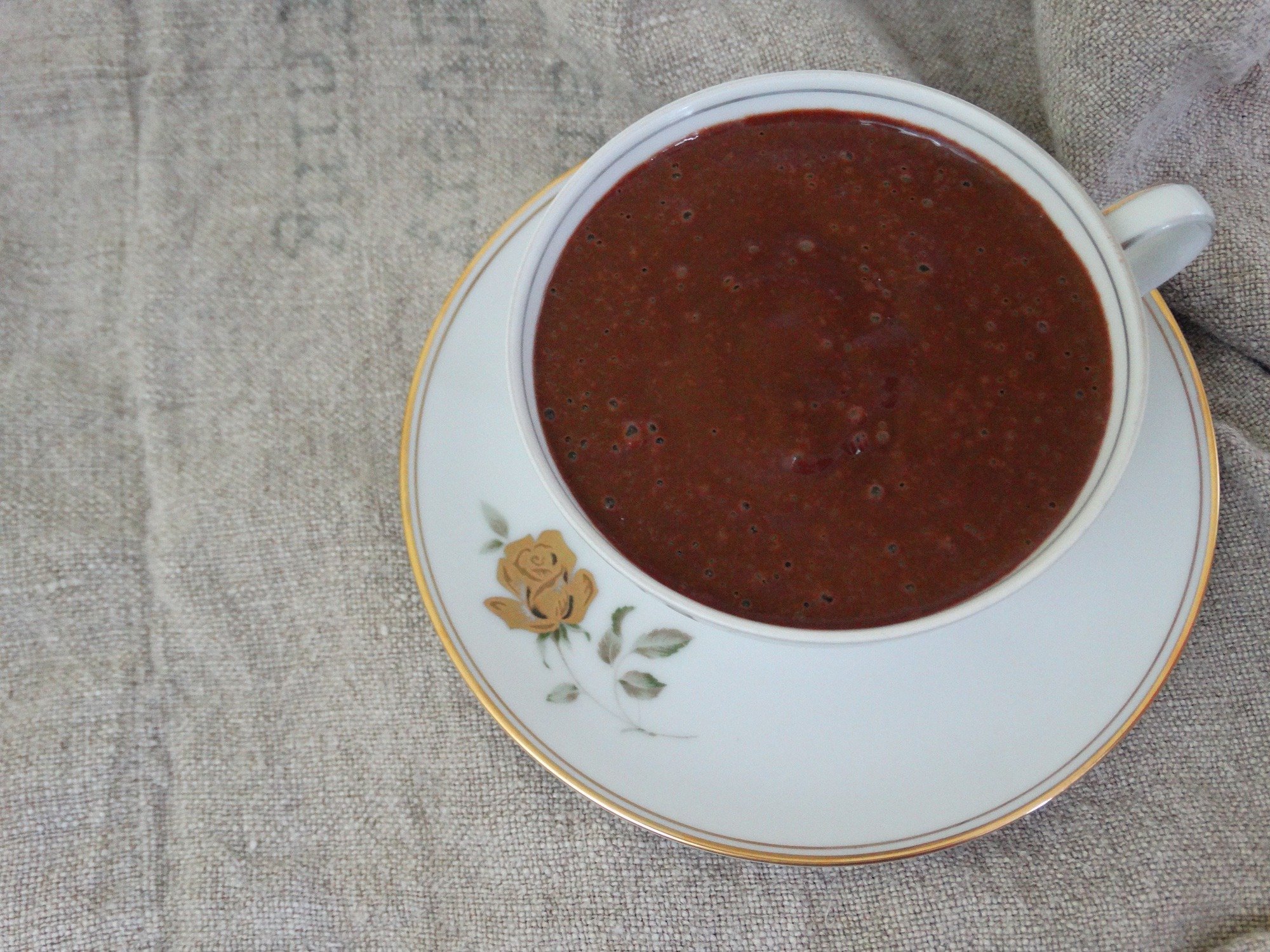 No worries about junky candy here though, with avocado as the main ingredient, this dessert is one you'll feel good about serving to your kids and enjoying yourself. Avocado contains oleic acid which is an inflammation fighter. The fiber in avocado is a mix of soluble and insoluble, both beneficial. Soluble fiber actually encourages good gut health as it is known as a prebiotic.
drinkable chocolate dessert for the entire family
As usual, I make two types of this drinkable chocolate dessert; one for parents, one for the kids. For the kids batch, I use pure maple syrup for the sweetener. I'm not going to lie, the kids version is the most similar to that melted chocolate bar. The keto version is pretty amazing too and swerve confectioners is the sweetener I use to make it for Shawne and myself.  The goal is to stick with our Ketogenic lifestyle and reap the benefits.
It's not really that big of a deal to make two batches; I make the kids version first and pour it into cups. It cools just enough for them to drink it by the time I finish making our batch, using the same pan.
My drinkable chocolate dessert is perfect for the entire family. When made for a family of four, double the recipe and it will use exactly one avocado. If you are making it only for yourself then save half the avocado for next time, but still make at least two servings because it's worth. Plus, it's harder to blend half of a serving with an immersion blender. Yeah, that's definitely the reason. Seriously though, a smaller saucepan does work best.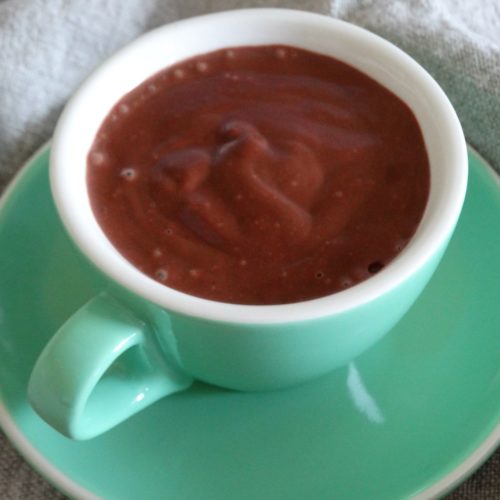 Ketococoa Low Carb Hot Chocolate

Gluten Free

Low Carb

Sugar Free
If you've ever enjoyed a melted chocolate bar, that's basically what you'll get with this recipe. It's so good, a little goes a long way.
Ingredients
3/4

cup

heavy cream

or full fat coconut milk

1/2

small ripe avocado

3

tablespoons

unsweetened cocoa powder

1/4

cup

maple syrup or confectioners erythritol

pinch

of sea salt

1/2

teaspoon

vanilla extract or seeds from half a vanilla bean

pinch

of cinnamon

optional
Instructions
Blend all ingredients with an immersion blender or in a blender, then transfer to saucepan.

Heat mixture over medium low heat.

Serve in demitasse cups.
Notes
This is meant to be thick, almost pudding like but still sipable. Use whatever type of milk base suits your lifestyle, I've made it with cashew milk, coconut milk (canned), heavy cream, and even half-n-half.
If you are following a ketogenic lifestyle, you'll appreciate this when you get a chocolate craving. Also suitable for those following a THM diet.