Last Updated on June 29, 2022 by Rebecca Huff
This keto buffalo chicken tenders recipe results in a dish that tastes very much like the chicken my mom and grandma sometimes made when I was a kid, only better! Usually when I make a recipe without flour my kids will ask, "is this gluten-free?"  With this recipe, they gobbled it up, asked for more, and went on with their day.
The reason I used pork rinds in this recipe was purely by accident. I ran across a sale on pork rinds and purchased several bags. Later, my kids left two of the bags open, and they got a bit stale. Not wanting to waste them I decided to pulverize and use as a "breading" for some chicken. The result was surprisingly delicious.
In the past, I always made my gluten-free chicken tenders by coating them with either coconut or almond flour or a mixture of the two. However, the addition of the pork rinds takes the chicken tenders to a whole new level! Take a look at the crispy coating on these tenders!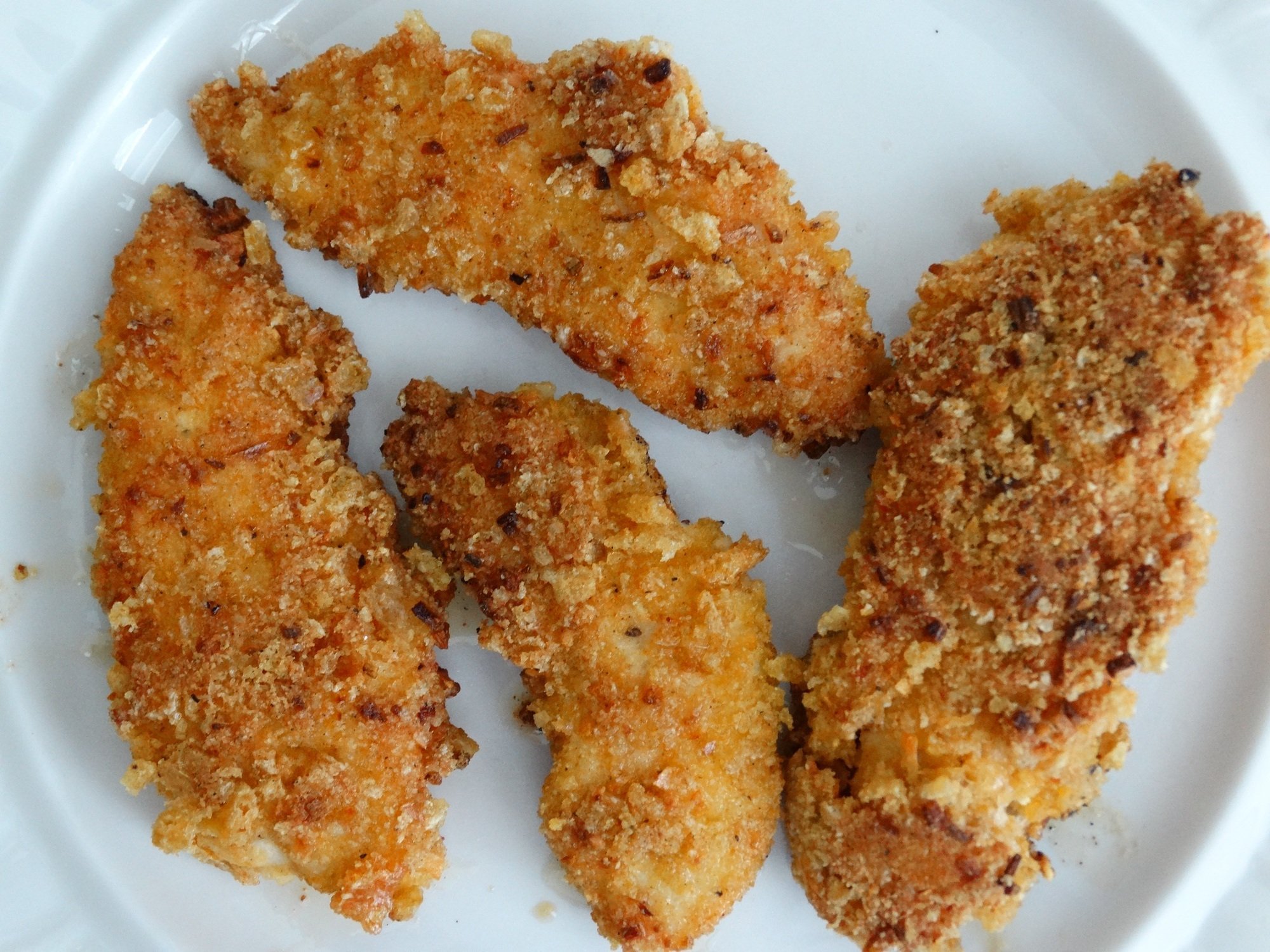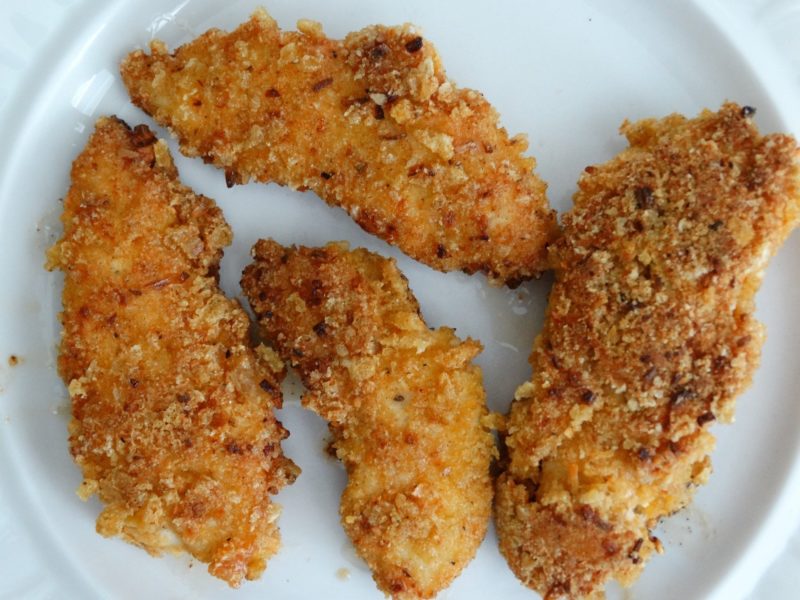 Since decent pork rinds are not cheap, I'll save this method for special occasions or when I happen to have some extra on hand. The last two times I've placed an order on Thrive Market the Epic Brand have been on sale; both the salt and pepper and BBQ flavor work well in this recipe.
Making a huge batch of these keto buffalo chicken tenders will save you time later and who doesn't love having extras in the fridge? I usually make a triple batch of these so I'll have plenty for my husband and kids to share and have in lunch boxes.
They would be great to take to a keto potluck, which hopefully some of my friends are planning real soon!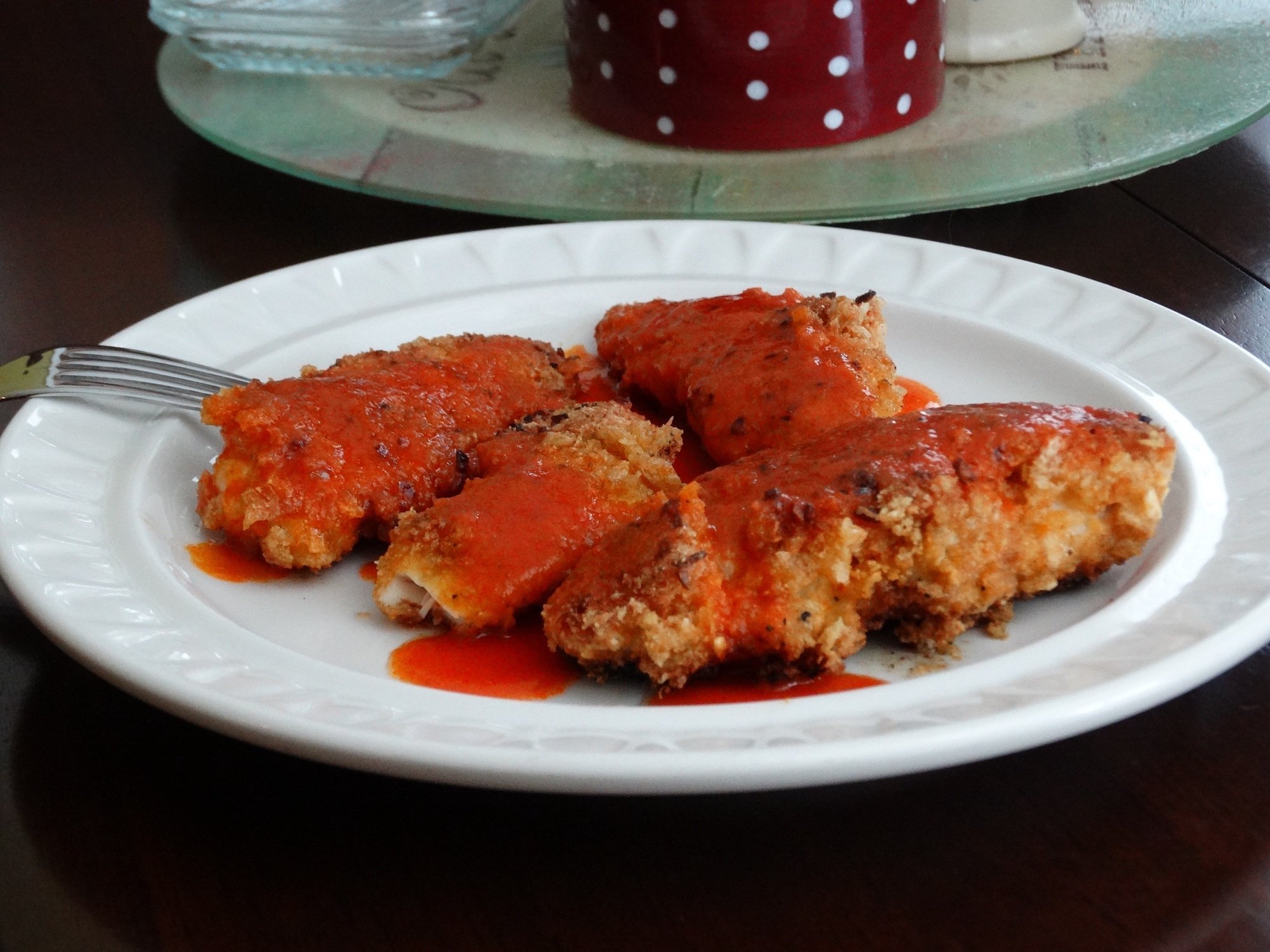 My kids like to dip theirs in ketchup sometimes, but we all love the buffalo sauce made with Franks Red Hot and butter. I have also made it with other hot sauce brands as well, including one sold locally.
When the original "shake and bake" was invented back in the 60's it was meant as an alternative to frying which was considered unhealthy at the time. When used properly, I believe food can be fried and still healthy. If you like the flavor and don't mind the mess, go ahead and fry these up in some nutritious avocado oil.
Baking the traditional way will also result in crispy on the outside, juicy on the inside tenders! These chicken tenders taste delish whether baked or fried, but baking is of course, less of a mess.
How to eat keto buffalo chicken tenders
I paired mine with cabbage "noodles" for myself and my husband since we follow a ketogenic lifestyle. My kids enjoyed them in wraps, on sandwiches, and alone! Try them dipped in blue cheese dip or use them to top a salad! Makes a perfect lunch or dinner.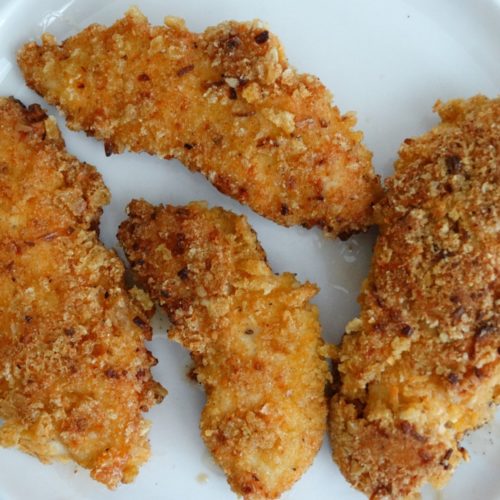 Keto copycat shake and bake buffalo chicken

Gluten Free

Keto

Low Carb

Sugar Free

Trim Healthy Mama
Ingredients
4

cups

pork rinds

1/4

cup

almond flour

or coconut flour

1/4

cup

powdered parmesan cheese

1

tbsp

garlic powder

1

tbsp

onion powder

Salt and Pepper

1 1/2

pounds

chicken tenders

2

eggs

2

tablespoons

heavy cream or mayonnaise

oil if frying

(avocado or coconut oil work best)Buffalo Sauce

1/2

cup

Hot Sauce

we use Franks Red Hot

4

tablespoons

butter
Instructions
In a food processor make crumbs from the pork rinds

Next, add almond flour, garlic and onion powder, plus salt and pepper.

Put the crumb mixture into a shallow dish (or if you want to shake - a gallon size bag).

In a separate bowl, mix eggs and cream.

Dip each chicken tender in egg mixture followed by the crumb mixture - if using the bag method, only shake a few tenders at a time to get the best coating.

Place chicken on a parchment-lined baking sheet, then into the oven for 25-30 minutes or until done.

If frying, heat skillet with oil over medium heat, when hot, add dipped chicken being careful not to overcrowd. When browned, flip chicken, cook both sides until golden brown and done in the middle.

In a small saucepan melt butter, add hot sauce and simmer on low until chicken is done. Add it on the side or pour it over the top. Enjoy!
You might also like to try my heavenly chicken recipe! I almost always make my own BBQ sauce using a variation of my BBQ Rub & Sauce Recipe.