All my life, doctors have told me I need to stay balanced for my mental health. Being all-or-nothing is stressful and can hinder your well-being. But what is life balance and how do you apply it to the various areas of your life? What amount of time should we spend thinking about and working on this balancing act?
Like many others, I have struggled when it comes to finding balance. Whether I work full-time outside of my home or work all day caring for my loved ones, it was a struggle to practice self-care. Like many women, there were times when I experienced serious burnout.
Recently, in a conversation with my best friend, I likened "life balance" to walking a tightrope.
Do you know why it's so hard to walk a tightrope?
Imagine trying to lower your body's center of gravity while simultaneously increasing something called rotational inertia—effectively, positioning your body so that it fights against the wire's tendency to rotate. It's all about:
Balance
Imagine this:
"You are on a rooftop, looking across empty air 1,350 feet above the ground. Your foot dangles over the ledge and touches a steel cable just centimeters wide. As you shift your body forward, hands gripped tight around a balancing pole, you find yourself suspended over a gut-wrenching void." (Smithsonian Magazine)
Now what?
Most of us would not likely step off that rooftop onto the wire, but like the tightrope walker, we must learn to keep a good balance. Just like a tightrope walker is less likely to fall if the bulk of their mass is closer to the wire, we improve our chances of success when we focus on our priorities.
So, what do you do with your day off? Do you clean the house? Catch up on laundry? Sleep all day? Work? Rest is an important part of your wellness routine, so make sure you are doing some things that are restful.
Keeping the Balance
I remember the first person who pointed out that I was "so all-or-nothing" as it was a new concept to me in my early twenties! Since that day numerous others have confirmed his statement, and I admit, it's true.
So I strive for more balance in all things. It helps to imagine myself walking a tightrope when I lean too far in one direction, the result is unpleasant. When you find yourself leaning to one side in your own life, take a deep breath, and start focusing on mindfulness to bring you back into balance.
Living a well-balanced life is all about lowering stress through a positive outlook on life with a focus on creating good habits while eliminating not-so-good habits. This will look different for everyone. However; there are simple ways to keep the balance no matter what.
Finding Middle Ground
Of course, the first area I like to bring balance to is FOOD! I love everything about food. Making it, eating it, dreaming up new recipes, looking at cookbooks, trying new foods, and talking about food! If there's one area I've struggled to maintain my balance in, it's food! Excluding certain food groups, eating specific diets, I've done all those things. Lately, I just try to keep my eating balanced and not focus too much on the technical side.
A good way to stay balanced when it comes to healthy foods is to look for healthy recipes or explore healthy cookbooks. For me, a menu plan and grocery list is the best way to make sure that I am including plenty of vegetables and other healthy foods in our meals.
There are times when I realize I've missed the veggies in several meals in a row. That's when I need to get back that balance in my diet. Maybe I'll cut up some vegetables to put in the front of my fridge so I'll be prepared when the craving for crunch hits.
Follow my Eating Healthy Pinterest Board or listen to A Healthy Bite Podcast for lifehacks and other tips on keeping balanced with food.
Being too busy to eat right is an indication that you may need to cut back in another area. Utilize shopping services like Instacart and other curbside pickups. Add items to your cart as you run out during the week, then swing by on your way home from work or school and pick up your items in a jiffy!
Applying balance to your meals means that you eat "bad for you" foods in moderation. Many people choose to implement the 80/20 rule. This means that they eat "healthy" 80% of the time and the remaining 20% is for splurges.
Other ways to live a balanced life may include:
Exercise without going overboard. It's true that too little exercise can lead to poor health, however, exercising too much can also be detrimental to your health. It's all about balance!
Rest – not sleep – just sit and stare at the moon, a lake, the stars or some bit of nature, let your mind go blank.
Focus on one thing at a time – multitasking can lead to a feeling of overwhelm, not balance.
Read inspiring books – both fiction and non-fiction.
Keep a journal – write down your goals and thoughts.
Be grateful – write down at least one thing you are thankful for every day, either on a calendar or in a journal, but somewhere you'll be able to go back and review.
Pray. When we pray we become more grounded in our faith and we are more able to keep the balance in all areas of our lives. Prayer makes you healthier, too.
Have a hobby you enjoy just for the fun of doing it, mine is knitting!
Relationships – spend time with your family and friends, when you are together, be present. Make it a point to put away phones, etc.
Enjoy life's small pleasures. It's the little luxuries in life that make us feel rich! Nurture yourself so you can care for others.
Say no when you need to. You don't have to offer the reason why you are saying no.
Learn about good sleep hygiene. Losing your balance when it comes to sleep can lead to a feeling of overwhelm, bad moods, and other health problems.
Plan to stay balanced
As for me, it helps to make a list of what I'm trying to achieve, in other words, what is my priority? I take this list and my Passion Planner and I block out times for each of the things that I want to work on. For example, I like to do one Mandarin Chinese lesson per day, I know I can do that on my commute. I also want to work out and I can do that while my daughter is in her Taekwondo class. Eating healthy is a priority, so I block out enough time to prepare food myself, as well as additional time to clean up.
Adding these blocks of time to my planner is like making a commitment to my health and living a balanced life. Because it is written in my planner, I don't usually let other things encroach upon that time I have set aside to do what's most important to me.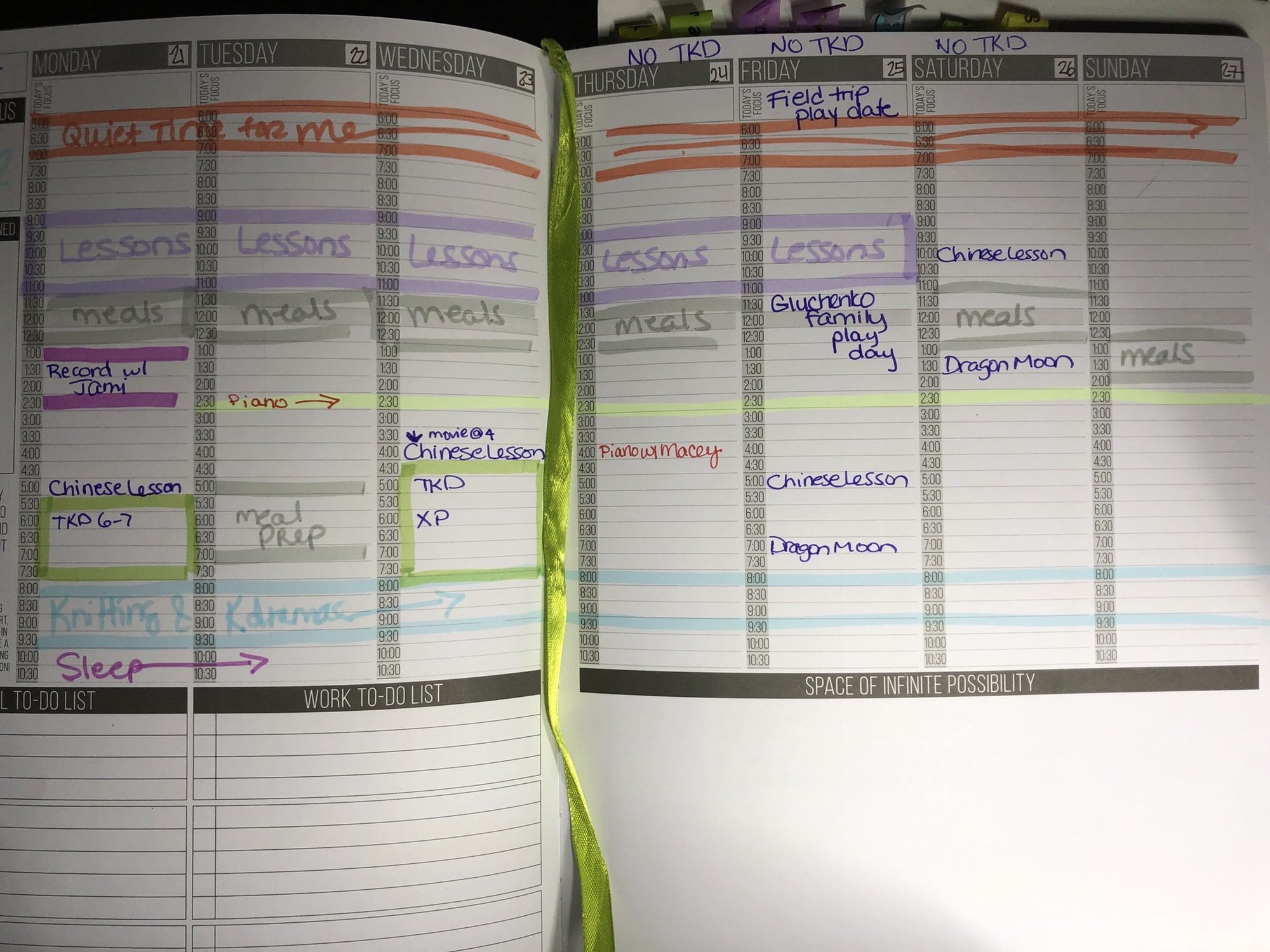 Friends can help us keep our balance
Spend time with other people who are well-balanced and outgoing; positivity is contagious! Just a little time spent with your best friend can give you a serious energy boost. Good friendships are healthy. Don't allow social media to take the place of spending time with friends face to face. Set goals for how often you'll take time out of your busy schedule to do life more with other people.
A newbie to the tightrope will try to shift their weight forward to keep from falling, but this is a mistake. The tightrope instructor suggests the tightrope walker stand up straight but bend their knees. Likewise, we must pull ourselves upright, yet still, put forth some effort to stay balanced.
Keep your focus, keep your balance
When you are feeling out of balance, stop and ask yourself why you are doing what you are doing at that moment. Keeping the balance can be as simple as reviewing your priorities. If you struggle to understand why you keep feeling off balance, it can help to find a psychotherapist, either a psychologist or psychiatrist to help you.
Prayer can also help us to lead a balanced life. Ask God to strip away anything that hinders us from our purpose in life. (Hebrews 12:1) Keep in mind that there is a time and place for everything and you'll be well on your way to leading a balanced life.
In Ecclesiastes 3:1-8 (ESV )
For everything there is a season, and a time for every matter under heaven: a time to be born, and a time to die; a time to plant, and a time to pluck up what is planted; a time to kill, and a time to heal; a time to break down, and a time to build up; a time to weep, and a time to laugh; a time to mourn, and a time to dance; a time to cast away stones, and a time to gather stones together; a time to embrace, and a time to refrain from embracing; a time to seek, and a time to lose; a time to keep, and a time to cast away; a time to tear, and a time to sew; a time to keep silence, and a time to speak; a time to love, and a time to hate; a time for war, and a time for peace.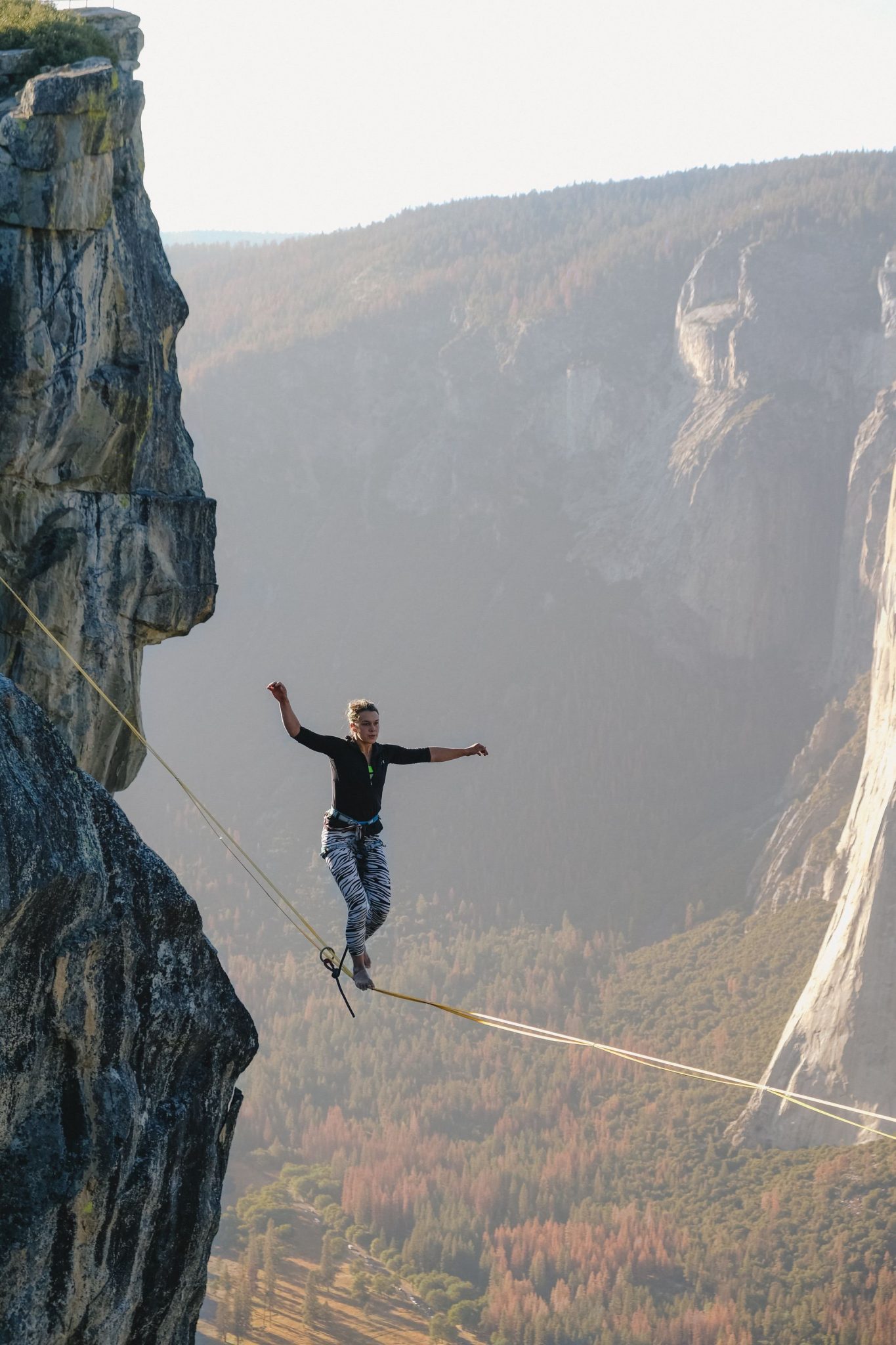 Related Posts
Brave woman Photo by Leio McLaren (@leiomclaren) on Unsplash (Featured Image)
Woman in Field Photo by Ben White (@benwhitephotography) on Unsplash (Banner Image)