Podcast: Play in new window | Download
Subscribe: Apple Podcasts | Google Podcasts | RSS
Last Updated on December 12, 2022 by Rebecca Huff
[00:00:00] Rebecca: I listened to your, talk at the Weston A Price Conference and was so fascinated by everything that you've done and everything that you've experienced. So to start off, would you just give us a brief introduction of who you are and how you got to be where you are eating like a human.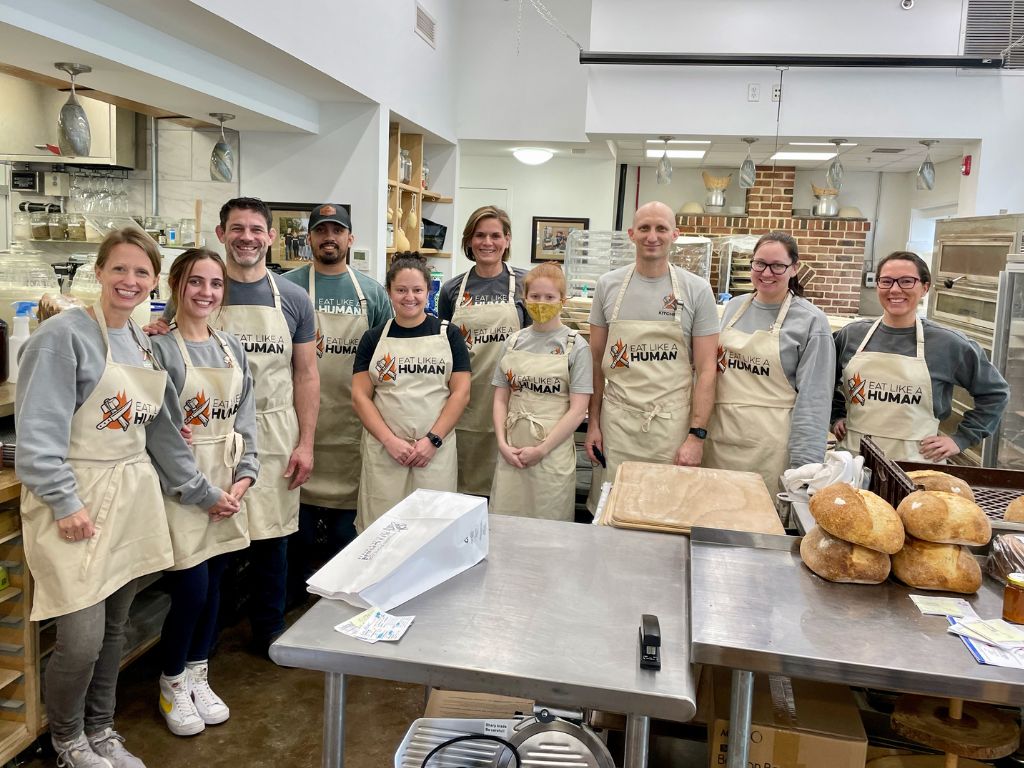 Who is Dr. Bill Schindler
[00:00:17] Bill Schindler: Sure, I would love to, and thank you for the opportunity to talk with you today. So my name is Dr. Bill Schindler, and I am the executive chef currently of the Modern Stone Age Kitchen, which is a full family endeavor, which I'm sure we'll talk about in a little bit, and also the director of the Eastern Shore Food Lab, which is our non-profit.
[00:00:34] Bill Schindler: And the where, how we got to this place, you know, our tagline, our, our motto, all of it is, is "eat like a human" because my background is actually in anthropology and archeology and I've spent literally my life at some level looking and I'm trying to understand and studying ancestral and traditional diets.

[00:00:52] Bill Schindler: Some through the archeological record and some millions of years old and some more recent in historic through the ethnographic record and tried to make sense. And I'm using that to make sense of, our current issues surrounding food and diet and health and ethical eating and sustainability and all those things that we're really, you know, trying to problem solve today as a species.
In Person Classes:
The Question We Should Be Asking About Food, Not What but How
[00:01:13] Bill Schindler: We've, I think my, my wife and I and my family have really started to at least ask the right questions. We don't have all the right answers, I'm sure, and we're headed in the right direction, but I think we've, we've started to at least ask the right questions, which I think is, is, is very important, especially in today's

[00:01:28] Bill Schindler: dietary climate where we had landscape, where we have all sorts of, of information hitting us, left and right and don't really know, know how to feed ourselves. But my own relationship with food is, is actually incredibly important as well. I spent most of my life, very unhealthy because of how I ate, incredibly poor self body image, battling weight, battling, metabolic disease until we've really took this ancestral and traditional approach.

[00:01:52] Bill Schindler: my, I'm I'll turn 50 in about a month, and I've never felt better. I've never been in better health and, my entire life has been transformed because of, of this approach. And, and very quickly, I think just to mention what that approach is. We as a species right now, as humans, are trying to understand obviously how to feed ourselves.

[00:02:11] Bill Schindler: Most of us wanna lose weight or feel better or live a better life, and to figure out how to do that, we're asking the question, "what should I eat?"

[00:02:19] Bill Schindler: And trying to achieve that health or that body. Through that answer. You know, what, what should I eat? And we think that, you know, from that sort of Weight Watcher's mentality, if I have this much carb, this much protein, or I go on this diet and I eat this green smoothie and all this, all my problems will be solved.

[00:02:35] Bill Schindler: And even though what we should be eating is a very important question, what I hope we get a chance to dive into a little bit today during this conversation is it's not the only questions that humans need to ask.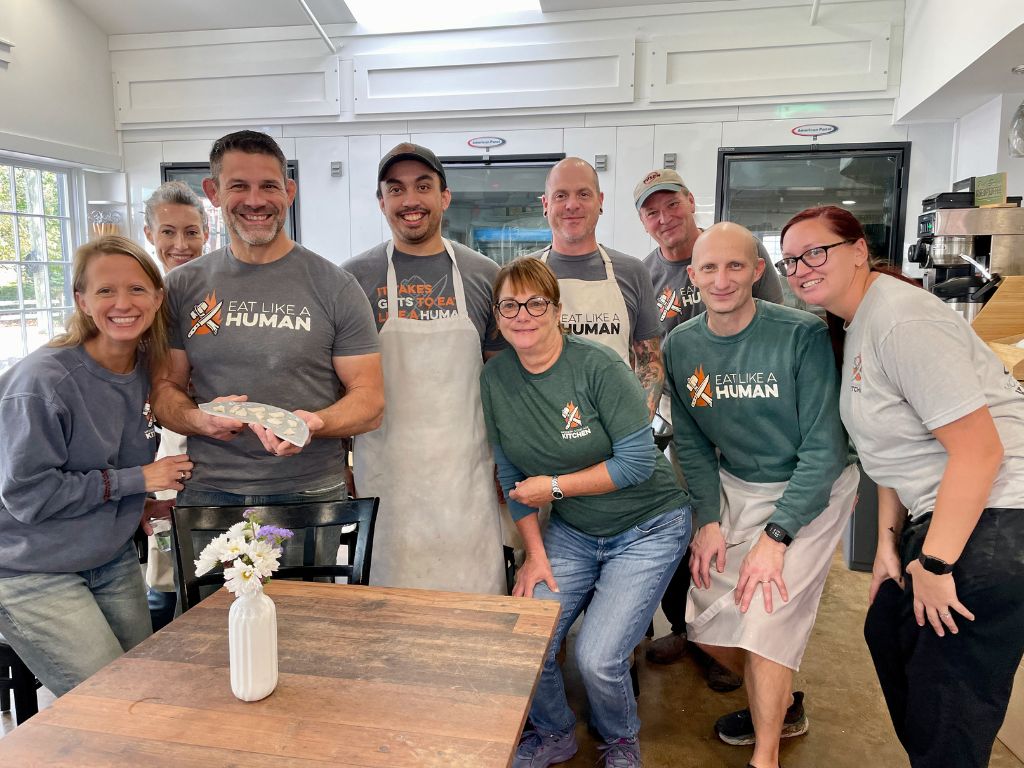 How Should We Eat?
[00:02:47] Bill Schindler: We are a completely different species. The way we go about eating and getting our food is completely different from every other animal on the planet. It is partially the what built us as a species with these big brains and these big bodies. And in order to properly fuel our bodies, we also have to ask the question, how should I eat? How can I, how should I take these raw materials from my environment and transform them into their safest and most nourishing form possible for my body.

[00:03:12] Bill Schindler: That's where we've landed, that's where we're spending all of our time. So our family has a, a restaurant called the Modern Stone Age Kitchen where we put all of this into practice and we also have the nonprofit where we continue to do research and teach these approaches to food.

[00:03:25] Rebecca: That's awesome. I know there's probably a lot of misconceptions about you, and when people just see, you know, "eat like a human", they maybe don't know what that is.

[00:03:35] Rebecca: Maybe they think paleo or something like that. I know when I first met Christina, I wasn't really sure what type of diet you guys followed, and I think it's interesting because people have these preconceived notions. So this happens to me a lot my website is that organic mom and people come to my site or they come to my YouTube channel and they think, oh, she's a vegan.

[00:03:58] Rebecca: And then they see me preparing pork belly and they're like, what the heck? Unsubscribe, go away. Why are you eating meat, woman? You know, I mean, people get offended and I know, one of the first chapters of your book "Eat Like A Human" is about the question that you just mentioned, not only what we eat, but how, what, what mistakes are we making? What are we doing wrong when it comes to food?

[00:04:24] Bill Schindler: One of the biggest mistakes we're making is we come at this from this idea to answer what we should be eating and, and how we should feed ourselves. We try to also say, okay, what, what is my body designed to eat? You know, what foods are my body designed to consume?

[00:04:41] Bill Schindler: And. We think we're omnivores that humans are omnivores and we are omnivores, but not because we have the teeth or the digestive tract to allow us to be omnivores. We're omnivores because for three and a half million years, and I've realized that that amount of time is very hard for to conceptualize for, for for many people.

[00:05:02] Bill Schindler: But for three and a half million years, we and our ancestors have been creating technologies that allow us to overcome our physical limitations, allow us to do more than just what our teeth can do, do more than just what our digestive tract can do and transform raw materials from our environment into their safest and less nourishing form as possible for our bodies.

[00:05:22] Bill Schindler: We are not omnivores because we are built to be omnivores. We are omnivores because we and all of our incredibly innovative, you know, inventive ancestors, figured out ways of, of cooking and fermenting and soaking and sprouting and nixtamalizing, and doing all of these things to raw materials to get them ready for our body so our body can safely get the nutrients from it.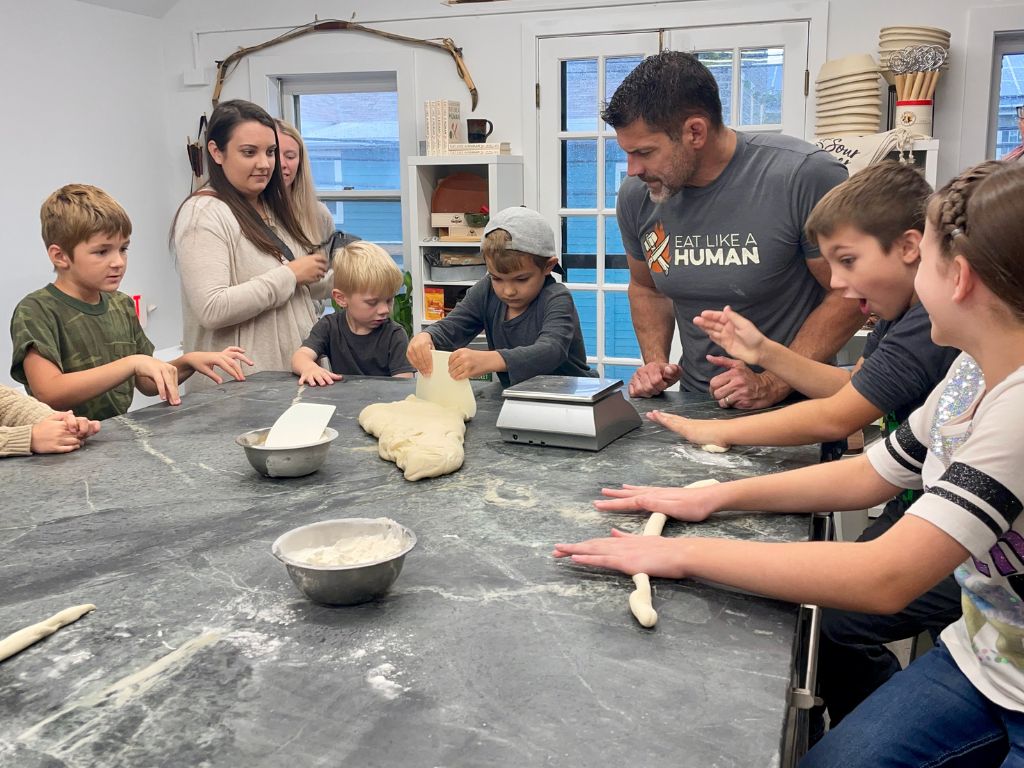 How to Eat Like A Human
[00:05:46] Bill Schindler: So that's partially that, that, what, and how, you know, it's, it's not as easy to say, Hey, you know, I get asked all the time, you know, when I get at the end of presentations, okay, I get all the, but should humans eat bread , or should, should humans, adults be consuming milk? Isn't milk designed for baby cows?

[00:06:02] Bill Schindler: You know, that sort of thing. And the answer, you can't answer that question the way it's asked, right? The answer is, well, let's back up, is there something we can do to that dairy as adults, even for people who are lactose intolerant to make it safe and nourishing for our bodies? Is there a way to take grains and transform them into something that's safer and more nourishing?

[00:06:26] Bill Schindler: And can you introduce that kind of bread into a diet and have it be a healthy human diet? And the answers to those questions are, yes, there are ways of doing it. So to back up just to, and I do think it's very important for people to understand exactly where anybody they're getting information is coming from.

[00:06:45] Bill Schindler: I eat a very animal based diet. I do believe that one of the biggest, issues with our modern industrial food system are industrial nut and seed oils. We include absolutely no industrial nu seed oils in our diets whatsoever, we do use a few oils from the plant world. We use a little bit of coconut oil we use a little bit of olive, and a little bit of avocado oil in cold applications. But anything we're cooking with, anything that we're eating on a regular basis are purely animal based fats, butter, schmaltz, lard, tallow, you know, that sort of thing.

[00:07:16] Bill Schindler: So, we eat a lot of nose to tail animal. We, we eat meat, we eat bone marrow. We eat fat, we eat organs, we eat all of those things. , so I, I do believe that that is the, the safest way to get as much nourishment as possible into our bodies. But on top of that, we do also eat vegetables. We're very careful about the vegetables that we eat. I love eating vegetables. I love the way they taste.

[00:07:38] Bill Schindler: I love the way their texture, I love what they add to foods. There are some plants that are inherently dangerous for us to eat, and I just don't put them in our diets at all. Many plants that we do eat, we do something too to either make them safer or allow their, nutrients to be more easily accessible to our bodies.

[00:07:53] Bill Schindler: like something like safety fermentation, for example, but we do eat a very omnivorous diet in our family very animal based, but we do include plants. So at, so just so you know where, where, where we're coming from. We also have, we don't eat a whole lot of grains. However we do, part of our restaurant is a, is a sourdough bakery.

[00:08:12] Bill Schindler: You make all sorts of sourdough bread. So I'm in this weird place and I know you mentioned, you know, on social media for you and some of the people come with this sort of image or expectations of what you are, what you stand for. And then all of a sudden I see you cooking a pork belly and you know, their image is shattered and they, and they unfriend you or make a nasty comment or whatever.

[00:08:31] Bill Schindler: It's, it, we're in a very interesting place too, because even though we don't as a family eat a lot of grains, what we're trying to do is create, for our community, the safest and most nourishing form possible for them no matter where they are in their journey or matter what their dietary approach is.

[00:08:50] Bill Schindler: And one of the great, sort of advantages to approaching diet through that "how lens" as opposed to just that, "what lens" is that no matter. What you are eating, whether you are a vegetarian, a vegan, a carnivore, fully keto, what, whatever your dietary approach is for sustainability reasons or ethical reasons, or nutritional reasons or all of them, you can do something to those raw materials that are in your diets without even changing what those raw materials are and make them safer and more nourishing for your body.
Toxins in Plants: How to Prepare Food Properly
[00:09:20] Bill Schindler: And that's the "how part", that's the, that's the beauty of what happens in your kitchen when you're connected with your food and you know how to prepare it properly.

[00:09:27] Rebecca: Mm-hmm. , can you give us an example of that?

[00:09:30] Bill Schindler: Sure. I mean, a great example is, is grain. So, you know, there's a lot of people now and, and, and I'm glad we are in the, talking about the dangers of toxins in the plant world.

[00:09:42] Bill Schindler: I mean, it is true that plants are inherently toxic. Every plant on this planet has some level of toxin and at some of them will make you very, very sick. Some of them will kill you, some of them will build up over time and cause issues decades down the road.

[00:09:55] Bill Schindler: Some of them are fairly benign. But regardless, all plants have some level of toxin we need to be aware of, and different parts of plants have different levels of toxins and, and it all makes sense if you understand what the plant's trying to do. The plant is, the plant is out there trying to hurt you. The plant is trying to survive, reproduce, viable offspring and continuous species. The, a lot of energy in the plant world is put into making.

[00:10:18] Bill Schindler: Babies, toxic so that other animals don't eat them and they grow and sprout and create new plants and create new life and all this. So, seeds, nuts, legumes and grains are inherently toxic, but you can help mitigate some of the issues of those toxins by tricking the plant or that plant part into thinking it's in the right environment to support new life. It's in the right environment to sprout and, you can help again with things like, lectins and, and, and other issues that, that those seeds and grains and nuts and the gomes have, you can fool it to let its defenses down and make it safer and more nourishing for us to consume. So, sourdough bread is a great example.

[00:11:00] Bill Schindler: The bacterial fermentation that takes place, in conjunction with the yeast fermentation to make real traditional, wild, long fermented sourdough bread transforms those grains into something that's a completely different final product than any bread you can buy at the grocery store. So a bacterial fermentation, which is a part of sourdough, is huge fermenting, dairy is also a huge piece.
On Milk and Dairy Products
[00:11:22] Bill Schindler: So there's a, for forget plant based milks and, and ultra pasteurized skim milk and all of those other things that I believe should never be in our bodies, but even just a glass of, of raw milk. For 60%, you know, I mean the most high quality raw milk in the world, for 60% of the adult human population around the world who are lactose intolerance, 60% of adult humans are lactose intolerant.

[00:11:50] Bill Schindler: That poses an issue. They can't safely without any issues at all, usually drink any form of, of just straight milk. But if you ferment it, if you take that raw dairy and turn it into yogurt or kefir or even a traditional cheese, you have that, the, that process of fermentation does a lot of things and transforms it into something completely different, which for most people around the world is at that point, safe to consume.

[00:12:19] Bill Schindler: And one of the things that happens with dairy through that fermentation is the food for the bacteria to help that, that fermentation take place is the lactose, is the sugar and the milk. So if you ferment that milk properly, you're not only reducing the lactose, sometimes you end up with a lactose free final product that is completely safe, to consume later on.

[00:12:38] Bill Schindler: I mean, and those are, you know, things you can do literally right on your countertop to transform those raw materials into something else.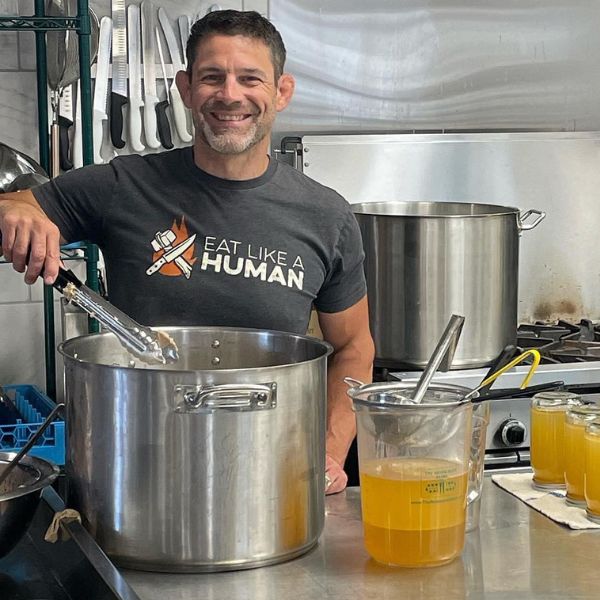 What Dr. Schindler's Family Eats
[00:12:45] Rebecca: Wow. That's just so much to unpack, I feel like. I can relate to your family in so many ways because we, we both have similar goals. You know, we wanna feed our family healthy, we wanna teach other people how to feed their families healthily.

[00:13:01] Rebecca: And there's just so much confusion. And we wanna put a label on a particular diet. Everyone wants to know exactly you mm-hmm. , you know, well, what, what's the best diet to follow? Because there are so many diets out there. And the bottom line is we just wanna be healthy. So we, we wanna live, we don't wanna just be healthy.

[00:13:22] Rebecca: We wanna live productive, wonderful lives. We wanna be there when our grandkids or great grandkids are born. That that's really it. It's not that we wanna be healthy, we wanna be around and we wanna be able to do things with our great grandkids. And that, I think is the goal for most of us who say we wanna be healthy.

[00:13:44] Rebecca: So I know that you said that you prepare these foods so that people in your community can eat them in the right way. What does your family eat? You guys all look so healthy, you look amazing. All of you, your kids, your wife, you all look healthy. And I know from listening to you talk that you had struggles with your weight and health, from childhood.

[00:14:08] Rebecca: So what did you figure out? How did you get there and what do you guys eat?

[00:14:12] Bill Schindler: Well, let me, there's, there's a lot there to unpack this.

[00:14:15] Rebecca: I know. I mean, this is only a, a, a one podcast episode. I know that is a really tough question to answer, but can you give us some kind of a brief overview?

[00:14:24] Bill Schindler: Absolutely.

[00:14:24] Rebecca: I mean, I know people need to read your book and go to your website because you have so much fantastic information, but get us started.

[00:14:31] Bill Schindler: Okay. Let me say a couple of things to sort of create the foundation for this first to, to, to back up a couple things you said. So a lot of this is all about context. It's all about how you view the world, how you view your place in the world, how you view your place in your life.

Eating for Longevity
[00:14:44] Bill Schindler: I have a brand new goal. I have a brand new goal, so I'm about to turn 50. It's hit me kind of hard because truly in my mind when I wake up in the morning, I feel like I'm, in my mind, I'm still like 25 years old and then I get up and, you know, go shave and look in the mirror and I see that's not the case. But, it, hitting fifties, getting 50 has hit me kind of hard.

[00:15:05] Bill Schindler: I have a brand new goal and I, this, this state of mind has, has transformed the way I look at the world. And it might be a silly goal. I mean, I, I remember my parents used to have a thing on the wall growing up and, and it was kind of our saying, shoot from the moon. Even if you miss, you'll be among stars.

[00:15:18] Bill Schindler: So even you create these lofty goals and go to hit them, but even if you don't get there, you're still much better off than if your goals were, were shorter. I recently heard, a friend of mine, Anthony Chaffee, talk about, the amount of time that he and others have estimated the human cells are supposed to live for, and that number is closer, close to 120 years. So my new goal is to live, to be 120 years old. And even if that's silly, the way that I view where I am at 50 on that time scale is a completely different thing than if, you know, I'm, most us are thinking, oh, I hope I make it to 75. Completely different. So number one, we need to set our goals very high.

[00:15:58] Bill Schindler: Number two, we need to understand that what is considered normal, we've normalized as modern humans today, is nothing like what the normal should be, right? We call it normal because most of us are experiencing it, but most of us are eating a terrible, modern western diet and experiencing all the ill effects of it.
Healthspan vs. Lifespan
[00:16:17] Bill Schindler: So don't compare yourself to that, compare yourself to other animals that are living and, and breathing and consuming and thriving on diets that they are meant to consume, right? We don't live to be 75 or 80 years old. We die. We spend the last 10, 15, 20, 30 years of our life dying. And that's normal today, right?

[00:16:43] Bill Schindler: We are just, this is the way we should be thinking about it. Wild animals run around, live these amazing lives no matter what their lifespan is for a particular species. They run around and then keel over dead. That's what that's normal for animals, for humans. We run around until we're about 35 years old.

[00:17:04] Bill Schindler: We spend the next 15 years of our life complaining about these knee joint aches. And our feet swell in the morning and we get up outta bed and you know, our backs hurt. So we need heated seats in the car and those sorts of things. And we get these massages and all this. And then the past, last 15, 20 years of our life, we're sort of just barely getting by.

[00:17:20] Bill Schindler: We're happy if we can get on the floor with our grandkids. That isn't something to shoot for. Like that's a product of how we're treating ourselves and the diets that we've been consuming for for the past several decades. It's normal for humans to live like other animals and thrive until they keel over dead.

[00:17:38] Bill Schindler: That's my goal. That's what I wanna do. Whatever that moment is that I kill over dead, I want to do it running as fast as I can. So that should be the goal. If you are living that life, then I am convinced, fully confident. No matter what age you are, there are things you can do and it really, many much of it starts with diet that can help you shoot for that goal, shoot for the moon, and end up at the star somewhere.

[00:18:04] Bill Schindler: It's a heck of a lot better off than where you are. Our goal should be to live, literally live and thrive until. We die. So how do we do that? Well, there's a lot of ways to do that. Number one, we need to trust ourselves. I hope, you have a fantastic podcast, and I hope people learn a lot from this episodes and all the other episodes that you have, the ones you've recorded, the ones you're gonna record in the future.

[00:18:28] Bill Schindler: Listen to other podcasts, read books, read my book. I hope it's helpful, watch documentaries, all of those things. But at the end of the day, I am convinced that if we get in tune with our bodies and are confronted with real, genuinely nourishing, safe food, we have everything in inside of us. To tell us when we should eat, when we should stop eating, how much we should eat, how little we should eat, and all of the things that most of us are spending all this time asking other people for the answers for,

Reconnect with our Food and Ourselves
[00:18:58] Bill Schindler: we have that inside of us. What we need to do is reconnect with our food and reconnect with ourselves, try to understand what truly nourishing food is, how to prepare it properly, how to put it on the table. And then the most important thing we can do is eat a truly nourishing meal and set that, you know, that reset button.

[00:19:17] Bill Schindler: How does your body feel after eating that incredibly nourishing meal? And that should be your goal. Every meal, every day, we should, every time we get up from a table, we should feel better than when we sat down to eat that meal. We shouldn't be hungry, we shouldn't be overstuffed, we should be satiated, full content, all of it.

[00:19:36] Bill Schindler: And if that's our goal, then our lives are gonna completely transform. The other thing I think we all need to understand, Is that we have this sort of martyr instinct inside of us. This, this idea that to get healthy, we need to suffer. And if we're not suffering, then we're not working towards this goal.

[00:19:54] Bill Schindler: It's insane. I mean, what, what evolutionary mechanism would be responsible for making something suffer in order to live a better life or get in a better state or be more fit or be able to reproduce better or, or whatever it happens to be? It's absolutely asinine, but that's sort of drilled into us. If we're not getting it from the table hungry every then we should, then we're not gonna be losing weight.

[00:20:18] Bill Schindler: That's false. If we are eating the right food the right way and it's incredibly nourishing and satiating and filled with the right things prepared properly, then you can get up from the table every single time that you eat Satiated. Happy feeling better than when you sat down and your body is still getting into a better, that's exactly how it should be.

[00:20:39] Bill Schindler: So we should be eating food we enjoy, we should be eating food until we're full. All of those things. So with that said, what does my family eat? I know that was the question, it's, it's interesting because if you asked me that a few years ago, why my kids right now are 19, 17 and 15. So one's off at college, freshman at American University, one's a junior in high school and one's a freshman in high school a few years ago when we had much more control over what they ate, it would be a little bit of a different answer.

[00:21:05] Bill Schindler: But the first part of the answer would be, they eat food, and this isn't a throwaway answer. This is the truth, and then I'll dive, drill in a little deeper. They eat food that they know everything about. They've either prepared it themselves or seen me prepare it. They know the farmers where the food has come from, they've either seen the butchering or been a part of the butchering. They've seen the things, the jars and the countertops fermenting and doing whatever they happen to be, they're eating things, very few things with any labels whatsoever. So they're eating food that they understand and know the effort that went into it for the most part, they are eating absolutely no industrial seed oils.

[00:21:42] Bill Schindler: They are, eating again animals they have a connection to, and knows something about, something, about, something about the life history of that animal. Either they know the farmer, the avatar, the butcher did it themselves, something they have, they, they, they know they're connected to.

[00:21:56] Bill Schindler: If they're eating grains, they're always fermented. If they're eating any wheat at all, it's always been through the sourdough process. If they're eating maize, it's always been nixtamalized. Almost, their entire life they've been consuming raw dairy. So they went right from breast milk to raw dairy their whole lives.

[00:22:13] Bill Schindler: And for most of that, any dairy they consumed was, was fermented. And that's about if there's sugars, most, most of the time, almost all the time, any of the sugars were unrefined sugars. We do another thing that I think is important for everybody to understand, or at least that I believe that I, I, I think is true.

[00:22:37] Bill Schindler: The other unique thing about humans is that everything about our lives at some level is, is connected to food. Food is very important to us for reasons other than just pure nourishment. So holidays, traditions, parties, romance, politics, everything, socioeconomic status, all of that at some level has an, an interplay with, with food, how we view it or we think is good food or we think is bad food.

[00:23:02] Bill Schindler: All of those things. And in order to be fully nourished as a human, we need to do more than just meet our biological needs. Right? We also have to meet our emotional needs or our cultural needs or, our ideals or our goals of, sustainability or ethics or all of those things. When all those things come together and are met and satisfied, we are truly nourished.

What About Sugar
[00:23:25] Bill Schindler: So I do realize that sugar, and that's the, it was the last chapter in the book, and it was the hardest chapter for me to write, but it's the one that I received the most amount of, of feedback from, sugar is an, an interesting one for humans, especially today. It's in so many parts of our lives, it's such a part of celebrations.

[00:23:41] Bill Schindler: You know, I, I, I struggled as a father for such a very long time. Do I keep sugar completely out of the diets of, of my kids and what I landed was No, no. We have to do it in the right way. It has to be certainly, you know, stay at a certain level in their diets. But what kind of sugar can we use, to ensure that it's in safest most nourishing form it can be for them.

[00:24:01] Bill Schindler: And, and what we've landed on is, is completely unrefined sugar, honey maple syrup, muscovado sugar, which is completely unrefined. And that's sort of been our motto here at the modern stone age kitchen too. We will not use any refined sugar in any of our foods, but do we put out cookies? Yeah. We have amazing sourdough cookies that are with made with unrefined sugar.

[00:24:18] Bill Schindler: If you want to have a cookie, you wanna have a treat. I wouldn't eat 17 in a day, but if you wanna have one, it's something to feel guilty about. So, again, my wife and I eat a very low carb diet, very animal based. Our kids, aren't flooded with carbs. They probably eat less carbs than, than many of their peers, but any of the carbs they do eat have been put through the right kind of process.

[00:24:40] Bill Schindler: And it's not a very high carb diet, again, no industrial nut and seed oils and no unrefined sugar.

[00:24:45] Rebecca: Mm-hmm I had like this light bulb moment when you were talking about our, getting up from the table, hungry and suffering and our instincts, and I think that is, Kind of the product of these diets that have been pushed on us.

Getting In Tune With Our Instincts Again
[00:25:02] Rebecca: Because I think so many of us were born with great instincts, right? We have instincts to survive, and through all of these messages about dieting, we are kind of programed, I guess, to stop listening to our instincts and start suffering. Because if you wanna be healthy, if you wanna lose weight, you have to suffer.

[00:25:28] Rebecca: So we stop listening to our instincts and start following a set of rules and it just exacerbates the problem and keeps it going so that then we're buying diet pills and following all of this stuff. So, I mean, that was crazy when you said that, it was just like, aha. Because you know, we do, we, if we follow our instincts and listen to our bodies, It, it's kind of telling you how to survive. Right?

[00:25:54] Bill Schindler: Well, you know, here's the, here's the image. And I recently started thinking about this and I, I think it's so, so very true. How many of us have seen like a National Geographic program or one of these natures things? And, and, and you see, you know, the, the hungry, you know, birds and their mouths are open and they're super hungry and the mother comes back with the worms and feeds them and they devour it or whatever the animal is.

Raising Kids Who Listen to Their Bodies
[00:26:13] Bill Schindler: The parents bring back the food with it's worms or, you know, part of a carcass or whatever it is, and, and they're devouring it. It's beautiful and we love it and we clap it, but then go to literally just about every single household in this country and, and in the modern world, anyhow, and this is the picture of what we see; we have our kids. They've been, we. They're ready for solid food. We stick 'em in a high chair. They're screaming, they're so hungry. And we come over there with a jar of beach nut, baby food and, you know, whatever creamed spinach. And, and we open it up and we, we go to give it to them and they spit it across the, the table.

[00:26:52] Bill Schindler: They spit it across the kitchen and they're, and they're playing with it. And, and we have to the, they force it down their throat, play little games with airplanes and trains and do all these other things and buy all the stuff as babies R us to help get it down their throats. And we are literally programming them to not listen to their instincts.

[00:27:09] Bill Schindler: Right. That's exactly what we're doing. They don't want, first of all, how crazy is it that they're starving? They're so hungry, they're screaming, they're not starving, they're hungry. Mm-hmm. . And we're giving them food and they're spitting it back at us. Mm-hmm. like, first of all, that's crazy. But then here we are as parents and we did the same thing cuz we were told, we read the books, we keep giving it to them, we keep sticking it down their throats.

[00:27:32] Bill Schindler: This doesn't happen with other animals. Right. So, We are, we're, we're, first of all, we're as parents not listening to their instincts because maybe there's something wrong, maybe now that I know as much as I do about spinach, I would never give another human being spinach at all, especially a baby. Maybe they know something that we don't know.

[00:27:52] Bill Schindler: and on top of it, we're programming them to not listen to their self, to listen to somebody else. First. It's listening to your parents, then it's listening to your doctor. And not that any of that's a bad thing, but what's bad about it is we're programming them not to listen to their selves, in addition to listening to, to other people.

[00:28:10] Bill Schindler: And here we are now trying to get that back. I mean, that's exactly what we need to get back. How does your body feel after you've eaten a salad meal? How does your body feel after you've done a real true fast? You know, those kinds of things. Those are the kinds of questions we should be asking ourselves and, and getting the answers to, and then we can start trusting ourselves again.

[00:28:36] Rebecca: Wow. And honestly, if I could start over and have my kids, knowing what I know now, because I mean, I raised six kids and I can go back and look at the evolution, you mentioned, feeding our children, our babies, you know, their first bites of food with this, you know, spinach out of a jar. Worse than that.

[00:28:55] Rebecca: What about those boxes of the flaky grain things that you Serious? The rice serious mixed with water, and I mean, it's not even edible as an adult and we're feeding it to our baby. So like, if I could go back, you're talking about being about to turn 50. I'm 51, And honestly, we're having fifties fun now.

[00:29:14] Rebecca: I love being 50. There's so much great stuff. Like, you know, all of this stuff, you have all of this experience and it's amazing. And if you feel great because you've taken care of your body, you can still go do that stuff that you enjoy doing in your twenties and thirties. But now you have this knowledge and you also, on top of that, give less of a shit about what people think about you and you do what you wanna do now.

[00:29:38] Bill Schindler: That's so true. That is so true.

[00:29:40] Rebecca: But if, if I could go back and raise my six kids again with what I know now. Wow. And I mean, my kids are healthy. My kids have been raised on a similar diet to what you mentioned, and they've been taught basically the same things that you're talking about. You know, I don't force my children to clean their plate.

[00:29:58] Rebecca: You. I mean, my son, he doesn't even eat until the afternoon because he listens to his body. He eats what feels good to him. And you know, one of the questions he had recently was, someone had told him eating raw meat was healthier than eating cooked meat. And I was like, yeah, I'm not sure. I've eaten steak tartar

How to Eat Meat
[00:30:17] Bill Schindler: so a couple, couple points. One thing that I want to, I think maybe, maybe nail home, , if you read the book I go through in, in the very first chapter, sort of of basics of our dietary past, the past almost 5 million years, really focus on the past three and a half million years and lay that out.

[00:30:35] Bill Schindler: The role of technology and how our diets change and when we introduce meat and organs and fermenting and all those sorts of things. And I think that's very important. That's a very good place to start to better understand what our diets are like today because if you, if your view of history is what you learn in high school, it's about three or 400 years old at best.

[00:30:57] Bill Schindler: And we were already doing all sorts of terrible things to our food three or 400 years ago, we have to step back even further to create that foundation. So that said, the role of technology is not, cannot be separated from our dietary past for three and a half million years. But something's very interesting about, and this is, this is directly answering your question, something very interesting about what technology was required or invented to deal with animal-based foods and what technologies were invented or created to deal with plant-based foods.

[00:31:28] Bill Schindler: And there's a huge difference up until the agriculture revolution when everything changes. So everything for three and a half million years prior to 12,000 years ago. So the majority of our existence as humans and also our ancestral existence, almost every single technology created around animals was about getting the animal, overcoming our physical limitations and allowing us to take an animal down from a distance, whether it's a bow or an atla, la boomerang, a spear, a fishing hook, a net, trap, snare, whatever it is, allowed us to get that animal.

[00:31:57] Bill Schindler: Once you have that, That in almost all cases, that animal represents a massive amount of completely safe, incredible bioavailable nutrition. In other words, all you need is a sharp edge to cut that animal open and you can start eating and your body's gonna get most of its nourishment without working very hard at all.

[00:32:19] Bill Schindler: On the other hand, with plants up again, up until the agriculture revolution, this is prior to plows, prior to harvesting equipment and all those other sorts of things, just collective foraging for plants. Almost all the technological innovation went towards not getting the plant. It's easy to pick a berry.

[00:32:37] Bill Schindler: It's easy to dig a root with a simple stick, that sort of thing. Almost all technological advancement was towards making that plant safe to consume and making the nutrients that are locked up incredibly well. And behind these, you know, tough cell walls or in a state that our body can't do something with, and transforming those nutrients into something that our bodies could actually do something with; so things like fermentation and soaking and sprouting and, and all those other sorts of things, nixtamalizing.

[00:33:07] Bill Schindler: So that said is in that context, do you have to do anything to the, any part of an animal? No. However, there's two things that I think we need to keep in mind as far as raw meat is concerned. One, is we live in a different time today than we did in the past, right? Our, our gut microbiome is different than a hundred gatherers 2 million years ago, even a hundred gatherers today, and the animals we have access to are raised in most cases, in different ways. So the safety of that animal raw and the safety of us to be able to access the nutrients in it is not exactly the same as it was, you know, back in, back in pre-history.

[00:33:50] Bill Schindler: So, that's one thing to consider, however, a, a, a healthy human has complete safe access to a healthy animal, if that's, you know, if that's the situation, especially when it comes to organ meats. In fact, you know, organ meats, blood, fat is more easily, in almost all cases, more easily digestible by the human body without doing anything to it whatsoever.

[00:34:16] Bill Schindler: Meat, red meat is a little bit different. And here's the caveat. So there's a, there's a fantastic primatologist by the name of Richard Wrangham, he's from Harvard. He's a great guy. He wrote a great book about fire about a decade ago and I was having breakfast with him one time and, and talking to him about this very same question, and, you know, do we have to cook? Or, because this whole, all his research is about, you know, cooking food, do you have to cook meat? And what his research has shown is that a hunk of raw red meat is, takes a lot of work for the human body to completely break down and get all the nutrients from. It can be done and, and it happens.

[00:34:56] Bill Schindler: But if you wanna optimize the bioavailability of a hunk of red meat, there are a couple things you can do. Number one, mechanically breaking it down helps a lot. So instead of taking a hunk of raw red meat and chewing it, slicing it, or chopping it up or grinding, it saves our body a lot of work. And if you think about it, if you go to a really nice restaurant and order raw meat, which is on the menu, it's either tartare or carpaccio, carpaccio, which sliced super thin and tartare it's ground up like hamburger meat.

[00:35:26] Bill Schindler: So number one, physically breaking it down some way like that, cutting it, slicing it, grinding it, whatever, certainly helps. Secondly, what he's found is that a little bit of cooking also helps release, make available to our bodies with less work, some of the nutrients. So, Overcooking goes the opposite way.

[00:35:44] Bill Schindler: So that's what you never order a well done steak. For example, in my mind, the most incredibly bioavailable way to access all the nutrients in red meat is with like a medium hamburger. I mean, you've, you've ground it so that you've mechanically broken it up, you've hit it with a little bit of heat, but not too much and then you know that that's a completely different thing than just eating a hunk of raw red meat.
[00:36:09] Rebecca: That is fascinating and such good news because that's exactly how I like to eat mine. I do like, uh, uh, me, I guess just above rare steak, but yeah,

[00:36:19] Bill Schindler: maybe medium rare is even better. I don't know.

[00:36:20] Rebecca: Yeah. Okay. So over cooking. So cooking, well done, our meat makes it harder to digest and assimilate?

[00:36:28] Bill Schindler: In, in certain foods. It, it does. And so there's, there's certain issues certainly with meat and according to him, overcooking it, then makes it, you know, goes a little bit too far. And really, but we have to also remember as we're sitting here having this conversation, any of the ways raw hunks of meat, ground up, fresh meat, you know, raw meat, cook burgers, medium well, wells, steaks, all of it.

[00:36:52] Bill Schindler: You know, there's little nuances with how to maximize that. But in every case it's more nutrient dense and bioavailable than say a head of cabbage or something like that. So there are ways to optimize it, but do also remember that this is incredible nourishing food that any way that you have it would be great.

[00:37:11] Bill Schindler: But to me, and I just love hamburger, so maybe I've kind of justified it that way, but a ground, the ground up, lightly cooked hamburger is probably, your body's probably working the least amount to access the.
The Dangers of Oxalates

[00:37:23] Rebecca: Hmm. . Yeah. And I, I wanna go back just really briefly before we move on to something you said about spinach because you know, people want to eat spinach all year long.

[00:37:33] Rebecca: And I made this mistake in the past as well, back, I don't know, 20 ish years ago when I bought into the green smoothie kind of movement, which I haven't touched a smoothie in probably 17 years or something. But I used to drink spinach smoothies and I didn't realize the oxalates. Can you just briefly explain why you were saying that about the spinach?

[00:37:57] Bill Schindler: So I spent a large part of my, Academic career studying how to detoxify plants, traditional ways of detoxifying plants, and there's some amazing ways of doing it, and there are a lot of ways to mitigate the issues that come from certain plant toxins and still safely consume the plants that had those toxins cuz you've detoxified them or, or done something to, to the toxins in there.

[00:38:19] Bill Schindler: The one toxin that I haven't been able to find any form of, of meaningful detox detoxification strategies is for the toxin oxalates. And thankfully more people are talking about this today than, than they ever have. The, the oxalates were really first discovered, the dangers of them were discovered in the late eighteen hundreds.

[00:38:41] Bill Schindler: And then for some reason, in the early and mid nineteen hundreds, they just fell off the radar. And this is the same time when a lot of high oxalate containing plants, started to appear more and more on our grocery store shelves, spinach being probably the worst offender. And unfortunately, for some reason, in addition to our parents and our doctors, we were taught to listen to a cartoon about how we should be feeding ourselves.

[00:39:05] Bill Schindler: And Popeye really transforms spinach into this thing that, you know, everybody should be eating. And it got this label as a super food. The problem with labeling something as a super food, which is a silly label for any food whatsoever, is that we have this false perception that some of it is good, more of it is, If I wanna be superhuman, I eat super foods and I eat them all the time, and this is all happening at the same time when we now have the ability to grow plants year round in certain parts of the world. And if even though we don't, we have the ability to ship plants from all over the world in the grocery store.

[00:39:42] Bill Schindler: We've taken the seasons out of the grocery store and these super foods, things like spinach or almonds, are now available all year round in the grocery store with this label of super foods. And we're eating massive quantities of them. Oxalates quickly, I am not the expert on oxalates. My go-to always is a woman named Sally Norton, who's a good friend of mine and fantastic, her book, Toxic Super Foods, I've read a cover to cover. It's full of great information, but let me just say a few words about oxalates because for those of you who are experiencing any of the stuff we talked about earlier, joint pain, swollen feet, you know, pain when you shouldn't be a whole bunch of other things, then there's a very good chance oxalates are, either causing it or one of the things that may be causing it.

[00:40:24] Bill Schindler: Remember, plants are trying to protect themselves so that they can reproduce viable offsprings. That's their sole purpose of creating these toxins, the, well, not sole purpose, but that's one of the reasons oxalates do a lot of different things. But one of the things that's protective mechanism and under a microscope, they look like.

[00:40:41] Bill Schindler: Microscopic bits of shards of glass and when you consume them, our body, a healthy human body, can deal with a certain amount of these oxalates daily, but anything above that number and that number is actually quite low, our body then takes and realizes how dangerous these, these shards of glass are and puts, sequesters them and puts them in different parts of our body, typically in our extremities, like our feet or our hands, sometimes in our organs, sometimes in our organ tissue, but sometimes in the organs themselves.

[00:41:10] Bill Schindler: So kidney stones are almost always a result of oxalates, they'll also store them in areas that we've had some sort of trauma in the past, if you've been injured quite often the oxalates can get stored there.

[00:41:21] Bill Schindler: They're often stored in the corneas. And they build up over time. One of the biggest dangers of oxalates is that we don't realize what's happening to us as we consume them. We eat some spinach or thinker being healthy. We don't necessarily feel any ill effects the next day, and then the next day and the next day and days turn into weeks, into months, into years, and sometime down the road we have something happen to us where these oxalates present themselves, and then it's hard for us to make that connection between that bowl spinach that you've been eaten for 10 years and right. So, then the next thing that happens is if some of us who realize that oxalates are as dangerous as they are, then immediately remove them from our diets.

[00:42:01] Bill Schindler: We feel incredible for a couple weeks. And then our bodies realize that, hey, they're not, we're not ingesting these oxalates any longer. And then start to release the steroid oxalates, which puts us in a massive state of either pain or discomfort, or sometimes

[00:42:15] Rebecca: get 'em out of storage. Dangerous.

[00:42:16] Bill Schindler: Yeah, exactly. So, let me just go through a couple food or a couple things that are often caused by oxalates and then say something about the foods that they're in and then, we can move on from oxalates. I will tell you that I, changing my diet, 20 years ago, transformed my life and getting oxalates out of my diet about five years ago was just as transformative as.

[00:42:39] Bill Schindler: So, gout is, there's four types of gout. We only talk about one in the, in the medical world today, which is of uric acid. But there's a type of gout called Pseudogout, which has the same exact symptoms and is caused by oxalates. The one of the problems is if you are diagnosed with gout and haven't been tested for uric acid, get tested for uric acid because the diet that they put you on thinking it's a uric acid, type of gout, is exactly the wrong diet you should be on if it is an oxalate, related gout, kidney stones are almost always oxalate related.

[00:43:12] Bill Schindler: If you've ever got those little bumps on your fingers or somewhere that those, those cows seem deposits, on your, on your bone, Almost always oxalates, cornea issues, joint pain, arthritis, swelling. I mean, the list goes on and on and on and on, there are certain, I, I am certainly not an expert on this, so I'm not gonna speak about it at all other than knowing that there are certain female specific things related to females that can happen, with pain, especially in the pelvic region as, as a result of this, it is if you have an issue caused by oxalates and change your diet, you will literally transform the rest of your life. But there are safe ways to do it. So again, I, I would, I would point anybody towards people like Sally Norton.

[00:43:56] Bill Schindler: The other problem is they're very hard to detect. So doctors, the issues that I had, I would, I continuously went to doctors to, and they kept making me feel like I was crazy, that I shouldn't be feeling the pain.

[00:44:07] Bill Schindler: And those things weren't happening to me. And they were, and they all went away when, when I took oxs out. So high oxide containing plants are things like almonds and spinach are probably two of the highest in the grocery store, poppy seeds and sesame seeds are off the charts, nuts in general are high, but some are higher than others.

[00:44:24] Bill Schindler: So almonds are super high. Pecans and pistachios are on the low end, seeds are almost always high. So poppy seeds and sesame seeds are the worst, which, and for those of you who are eating hummus, be careful because tahini is made entirely of sesame seeds. So, on the low scale, aside for, for seeds or sunflower seeds and pumpkin seeds, spinach, Swiss yard rhubarb and beets are incredibly high but things like arugula are incredibly low. So this doesn't mean you can't enjoy your plants and your your things. You just have to be careful about the ones that you are consuming

[00:44:59] Rebecca: and consume them basically when they're in season instead of all year long.

[00:45:03] Bill Schindler: Yeah, and that, that's the other, and I may mentioned it briefly, these are plants that if we kept them in our diet, When they were around, right when we grew them, you know, spinach would grow in your, in the ground, in your backyard for like two weeks, right?

[00:45:18] Bill Schindler: And then you wouldn't have it the rest of the year. So if you ate that plant, then it's not that big of a deal. Maybe you get a high oxalate diet for two weeks and then you'd have a low oxalate diet for fifty other weeks to the year or, or whatever. But we've taken those limiting mechanisms out and not only, so one limiting mechanism is seasonality.

[00:45:35] Bill Schindler: We've got rid of it in the grocery stores. Another limiting mechanism is price, so it used to be when I was a kid, we had nuts, like real nuts like almonds and walnuts and pecans and things. At Christmas. Mm-hmm. , I remember going to my grandmother's house and we had 'em at Christmas because they were expensive and they always appeared in a bowl with the shell on it and a nut cracker.

[00:45:56] Bill Schindler: And we'd crack them and I'd spend all afternoon cracking and I'd make a handful of nuts out of the whole thing. Now we've taken all the processing away, or the processing is done so we can buy a bag of nuts and we can buy them for 10 bucks, a Costco, a huge bag of almond, and sit there and snack on them all day, which was where my issue came from, eating almonds every day.

[00:46:13] Bill Schindler: Another quick side note for anybody that, is, is doing it, we are now seeing, amazing in a, in a negative way, things happening, to our kids because of these limiting mechanisms being gone and, and what we're doing with their diets. For the first time ever, there are kids presenting with kidney stones under the age of 10, and it's happening in households where the kids are drinking massive quantities of almond milk. The oxalates are in almond milk. They're in the nut milks, as a side note, I don't think we should be eating any industrial mu seed oils. But as far as oxalates are concerned, they don't come through in the oils and they don't come through in the extracts. They do come through in the milk and they're in the nuts and they're in nut flowers.

[00:46:55] Bill Schindler: So if you want that sort of almondy flavor in something, but you don't want the almonds, you can put the extract in, get that sort of hint of that almond flavor, but not get the oxalates at the same time.

[00:47:07] Rebecca: That's a good point. Although I think the reason why people are consuming so many almonds in the almond beverages is not because they taste so great, because they're being told that it's healthier than drinking cow milk.
Modern Stone Age Kitchen: First Recipient of 12 Spoons Award

[00:47:21] Bill Schindler: It's not, and I'll tell you this, so this is, this is where we've landed and maybe this is a nice way to talk about how our family eats and how we feed the community here at the modern Stone Age kitchen, we are not,, we haven't bought into that substitution approach to diet. I mean, certainly there are reasons to be on a low carb diet and, and we eat a, a fairly low carb diet anyhow.

[00:47:44] Bill Schindler: There's wonderful reasons to it, but a lot of people wanna go on a low carb diet, but still want all those foods that they're giving up. And their way of doing that is replacing flour with almond flour or replacing sugar with, with fake, you know, chemical sugars and all of these other things. That's something we have re have resisted and, and do not do in our house, and do not do here at the modern.

[00:48:05] Bill Schindler: So age kitchen, what we've landed on is, Hey, if we're gonna eat this food, let's make sure it's the best, highest quality ingredients possible and that we're transforming those ingredients by using traditional time tested methods to transform it into something that's as safe and nourishing as it can be. So again, if you're gonna eat bread, let's get the highest quality flour we can get and put it through the sourdough process period, right?

[00:48:32] Bill Schindler: Instead of trying to make it with, with, with, you know, fake keto sugar and, and, and all these other sorts of things again. And, and when we do that replacement thing, we fool ourselves into thinking that it's healthier, but there's a whole, and maybe our waistline is shrinking, right? Maybe we look better in the mirror, but I promise you there are things going on inside of your body that you will figure out in the coming months or years if you wish you hadn't, hadn't used those fake substitutions.

[00:49:00] Rebecca: That is such an important message and I think I really am glad that you brought that up. I actually used, tried to do the keto diet, but I couldn't stand all of the fake lake substitutions, you know, that kind of thing with the almond flour and the, all the white powders and stuff, and that's kind of why I transitioned away from doing that kind of thing because the replacements I felt like weren't really all that much healthier.

[00:49:26] Rebecca: And, my husband had been on energy drinks for a while. He, because he had a really demanding job and he was getting on these energy drinks and he had been on them for several years and I was like, you know, the problem is what you eat and what you really need to do is just go on a low carb diet and eat more meat and more fat and you will have enough energy to get through the day.

[00:49:49] Rebecca: And so he listened to me, did what I said, cuz he's such a good sport, he does whatever I tell him as far as food goes, he trusts me. Like he would just take a pill if I gave it to him without asking me what it was. Poor guy. But anyways, he, he trusted me and he listened to what I said and he got off of energy drinks and he's able to get through his day and not feel so tired and stuff because what he did was just eliminated the carbs.

[00:50:13] Rebecca: And I mean, like, we're not on a zero carb diet. We're not even really on a low carb diet. He stops depending on, uh, breads and things like that, or potatoes and, you know, anyways, that's kind of a side point, but I will say that following that low carb diet and increasing the fats and increasing the amount of protein he ate, good healthy protein from, grass fed beef mostly is what helped him to get off of energy drinks.

[00:50:41] Rebecca: But anyways, I wanted to say, because you, mentioned, Your restaurant. And I wanted to talk just really briefly about that you, uh, said that you were basically offering sour dough and things like that, and I do see on your social media the delicious mouthwatering things that you're cooking up at your restaurant there and sharing for the community.

[00:51:02] Rebecca: I guess it's kind of a gateway because once you get people in there and you show them how to prepare these foods, not just what to eat, but how to eat it, and then they can transition a little bit away from maybe even eating so much sourdough into eating what you and Christina and your family eat and how you eat it.

[00:51:22] Rebecca: So I, I wanted to let you tell me a little bit about your restaurant because I know that you received the 12 spoons award and I thought that would be a very incredible great. Yeah, I know. That's so amazing. And so I thought that would kind of be a great place to end this episode. Can you tell us a little bit about that?

[00:51:39] Bill Schindler: Sure I'd be happy to. So first off, the, the Twelve Spoons Award, is, is awarded by the Western Price Foundation and they have twelve criteria that they rate restaurants and food facilities, by; things like, do they use any industrial and seed oils? Do they, you know, source at least some pastured animals and those sorts of things.

[00:51:58] Bill Schindler: And it, we didn't even know that the Twelve Spoons was around and it is a powerful tool, so check it out. It's amazing, and then we were awarded, we're the first place in the world actually to be awarded a full twelve spoons. So we met every single criteria they had, and in fact, it was so wonderful. Now, I, I will be honest, the Weston Price Foundation, the work of Weston Price and the Price Poddinger Foundation have been huge influences, on everything that I've done since I became aware of them about 20 years ago.

[00:52:29] Bill Schindler: It was almost like the tallest balloons was written for us because that's, those are the things we stand on. So very quickly, this started as a sourdough bread business that my, my now 19 year old daughter, initiated at the beginning of Covid and I was teaching at Washington College. I was a professor of archeology and anthropology.

[00:52:46] Bill Schindler: My wife was the, head of, special ed at nearby county. And we started producing sourdough bread for the community because that was the only legal thing that we could do out of our house, that was in line with anything we believed in. And then we were able to come into our current facility here in Chestertown, Maryland.

[00:53:03] Bill Schindler: And once we got into commercial kitchen, could do so much more of what we, what we believe in. We make real familiar food in the traditional way, using high quality as local as possible ingredients, and believe that we are nourishing the community with food that they can relate to, With the most, the healthiest, safe, safest versions possible.

[00:53:28] Bill Schindler: So we do all sorts of foods, the thing, these are the things we do when we don't do, so, we don't use any refined sugars whatsoever. We don't use any industrial nut and seed oils whatsoever. We source our animals as locally as possible and do, mostly completely in-house butchering, using a nose to tailed approach.

[00:53:46] Bill Schindler: We any wheat or grains we have go through the full sourdough process. Any maize that we, have is, goes through the full nixtamalization process. Any nuts or seeds or legumes that we, that we serve in any form have been soaked and dehydrated, before they've been put into any dish that we have, we concentrate on high quality animal fats, and so we do things and we make everything a hundred percent from scratch in house, the only, there's only two things that we don't make. So there's no two ingredients put together by anybody but us except for two of our ingredients; one is our old bay seasoning that, we use, that, we're working on doing that.

[00:54:27] Bill Schindler: And the other thing, believe it or not, is so funny. I'm talking to you right now because downstairs we're, we're, we're learning to make it the only other food that we don't entirely from scratch yet is chocolate, because chocolate actually already has two ingredients put together, right? It's got the chocolate and it's got the whatever kind of sugar.

[00:54:44] Bill Schindler: So we are, right now I have two kilos of sugar in, that's actually grinding up for the next 24 hours that we're gonna add some un refined sugar to for an event we're doing this weekend. So we're working on that. But everything else is made from scratch. We do woodfired pizzas every Friday, it takes us all week to make those pizzas.

[00:55:01] Bill Schindler: We make all the pepperoni, we make all the sausage, we make all the cheese, we do a fully sourdough crus so you can come in and have these pizzas. We do sandwiches and soups during the day. Now, one sandwich, for example, I really love, we're gonna have it again next week, we call it the whole hog hoagie.

[00:55:16] Bill Schindler: It was the half hog hoagie, but now it's whole hog hoagie, and we get a local pig. I bring it in, I butcher it. We make all the meats for that Italian sub come from the same animal. So we make the mortadella, the ham, the capa cola, and the salami, all from the same animal. We make the provolone for it from milk, from a, from a local dairy.

[00:55:36] Bill Schindler: So, I mean, imagine biting into an Italian sub where the entirety of that came from, you know, just, just a few miles away in one single animal. We make the vinegar, we make the sourdough bread, you know, all that. We celebrate local farmers, , and we educate through all of the food that we serve. Even though we love to nourish the community, our primary goal is to empower the community.

[00:56:00] Bill Schindler: So we have a nonprofit, which is where this, I'm doing this podcast from upstairs, which is our teaching kitchen. Our, what we really want to do is empower people to do all of these things in their own homes, and they can, I mean, all of these, all of these foods that you or anybody is serving their family, you have the ability to make in your own kitchen.

[00:56:20] Bill Schindler: And if you don't, I mean, I'm not saying you want to, I'm not saying you have the time or whatever, but, you, you have the ability to do it. If you, if you so chose, if you are serving them a food that can't be made in your kitchen, then you should probably question whether or not they should be eating it.
Where to Learn How to Prepare Foods Properly
[00:56:36] Bill Schindler: I mean, if it takes a test tube or a million dollar machine in order to make it or somebody in a lab coat, then I don't really consider that food. So upstairs we do all sorts of classes, butchering classes, cheese making classes, sourdough classes. We have online classes, we have on-demand classes. We still continue to conduct all sorts of research.
[00:56:51] Bill Schindler: So, our goal is to empower people to do it at home. And if they want to come in, then we'd be very happy to, to make the food for them as well.

[00:56:58] Rebecca: Awesome. Yeah, I was just about to say, I don't wanna imagine tasting that sandwich. I'm gonna get in my car and come up there. I wanna taste that sandwich. I'm definitely gonna do that.

[00:57:08] Rebecca: I actually started trying to make cheese myself recently and it's, it's a lot of fun. It's not as hard as I thought it would be. So

[00:57:15] Bill Schindler: it is. I I, two things very quickly with the cheese. I'd love to mention, I know we, we have, we have to, end this soon, but it is gonna save everybody a lot of time. And headache one is, If you have an opportunity to take a class, please do it.

[00:57:28] Bill Schindler: Come here, take class with us. Take a class online with us, take class with somebody else, it really helps you get over, cheese making is just not as intuitive of certain other things. We, many of us didn't grow up in making those sorts of things as easily in our countertop, so that'll help, there's a, I go over dairy in one of my chapters of the book, if you want a whole book dedicated to traditional cheese making.

[00:57:50] Bill Schindler: My, my recommendation is David Asher's book called The Art of Natural Cheese Making. It's fantastic, but one thing to be careful of, if you're going to take the time to learn to make sauerkraut or cheese or butcher or whatever it is, you obviously are interested in as much of the process as you are as the final product.

[00:58:12] Bill Schindler: And if that's, Be very careful with Google searches because for most cheeses, especially if it's mozzarella or even ricotta, which is what most people wanna make anyhow, the, the recipes online, 98% of them are fake. They're not, they're, they're making a product that seems like a similar thing but hasn't gone through the right processes to transform it into what it really should be.

[00:58:36] Bill Schindler: Certainly the flavor and the texture and the appearance of the final thing is close, but not the same, but from a health perspective, and I'm sure people listening to this are listening because they're worried about the health. It's a completely different food. It hasn't gone through the fermentation process.

[00:58:51] Bill Schindler: Most of your Google searches for mozzarella show a 30 minute mozzarella recipe; do not do it. It is a fake cheese. It is not a finished product. If your ricotta cheese recipe says, start with a gallon of milk, then stop, it's a fake recipe. I mean, ricotta's actually made from the whey left over from making cheeses like mozzarella.

[00:59:10] Bill Schindler: So do your homework again, there's a lot of places you can get information and making cheese. You will be able, once you learn how to make cheese, you'll be able to make better cheese in your kitchen than you can buy at the grocery store.

[00:59:23] Rebecca: Very good. I have not tried ricotta, but I think that this is really great information and I want to take your cheese course. So if you're listening, I'm gonna put the links in the show notes to Bill's courses. I know you have several courses. Just briefly tell us about where we can find more information. If we wanna take some of your classes, read your book, come to your restaurant, give us the low down on where we can pick up what you're putting down.

[00:59:46] Bill Schindler: Sure. So, uh, our, our, our restaurant, the Modern Stones Kitchen. You can find out information about that at modernstoneskitchen.com and follow up on social media at, at Modern Stone Age's Kitchen. For any of the, educational related pieces, you would follow me at Dr. Bill Schindler. So at Dr. Bill Schindler on social.

[01:00:06] Bill Schindler: And the website is eatlikeahuman.com and you can find information about the book there. You can order the book there for the same price you get on Amazon, and we'd be happy to sign it and send it off to you if you'd like, and all the information about the courses are on there and we're continuously updating them.

[01:00:20] Bill Schindler: We offer a lot of different types. We do a lot of one day, single day classes like, cheese making or fermented dairy or sourdough bread, that sort of thing. And we just started doing and they've been very successful and I love them, deep dives, intensive classes that are, that are four days long and you get an introduction to everything from fermented vegetables to fermented dairy, to cheese making, sourdough bread, sourdough mother, and an introduction to home butchering as well.

[01:00:46] Bill Schindler: So, we have the fir, we just finished one. The one in. January is sold out, but we just posted another one for March.

[01:00:55] Rebecca: Mm-hmm. . I saw those. Now those are the four day classes. Those are in person, right?

[01:01:02] Bill Schindler: Oh, they're in person here. I'm sorry. They are all, yeah, those are in person here. Mm-hmm, we have a beautiful teaching kitchen and a beautiful little town on the eastern shore of Maryland, and we're only a very easy to get to.

[01:01:12] Bill Schindler: We're only hour and a half in Philadelphia and Baltimore and DC and a few hours from New York City, if you're looking for online, resources, we do, we have some pre-recorded classes as well on there.

[01:01:23] Rebecca: Mm-hmm. . Yeah. Perfect. Okay. So if you're listening, make sure to check the show notes. Like I said, Dr. Bill has so much information on his website and I'm definitely gonna take one of his cheese courses, so, go ahead and join me for that I'm gonna get in there and find out what I might be doing wrong when it comes to making cheese, so thank you Dr. Bill,. I have enjoyed this conversation. I feel like I could talk to you and listen to you teach forever and I knew it would be that way after listening to you at the conference.

[01:01:52] Rebecca: So I just wanna extend my sincere gratitude for you taking, I know you have so many things that you're doing, you're so busy. So I just wanna say thank you for coming to educate us

[01:02:02] Bill Schindler: it is truly my pleasure. Thanks for having me.
About Dr. Bill Schindler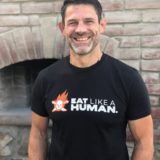 Dr. Bill Schindler is a food archaeologist, primitive technologist and chef. He travels the world with his family documenting traditional food ways and works to draw inspiration from the deep archaeological record, rich and diverse ethnographic record and modern culinary world to create food solutions that are relevant, meaningful and accessible in our modern lives.