Last Updated on June 29, 2022 by Rebecca Huff
So you kicked that sweet tooth to the curb with your low carb lifestyle, but you still have some savory snack cravings? When you feel like reaching for a bag of chips make these your go-to snack instead.
Marcona Almonds
Nuts are a perfect crunchy snack as long as you adhere to portion control! Like most crunchy foods, it's easy to overeat them. Some of the crunchiest and healthiest low carb nuts are macadamia, pecan, and almond.
Marcona almonds are like the King of Almonds in my book! This variety of almonds has a superior crunch that is perfect for when you want to add a crunch to your salad or just as a stand-alone snack.
Marcona almonds are perfect for low carb diet plans such as Ketogenic or a satisfying snack for Trim Healthy Mama. Each quarter-cup has only 2 grams of net carbs and 17 grams of fat; 83% of the calories in Marcona almonds come from fat.
My favorite way to eat Marcona almonds is in my Dino's Fig and Marcona Almond Yogurt Parfait. I have eaten this dish in moderation and remained in nutritional ketosis. High-fat yogurt can be a part of a healthy ketogenic diet, when chosen carefully, and eaten in proper portion sizes.
Find Marcona almonds at Whole Foods, Earth Fare, and Trader Joes.
Pork Rinds
These Southern Recipe Small Batch Korean Kimchi BBQ Flavored Pork Rinds are probably my all time favorite when it comes to a savory crunch! Garlic, vinegar and fiery peppers, oh my, mouthwateringly delicious. All of the flavors by Southern Recipe are amazing. Keep a bag of these pork rinds on hand to help you stick to your low-carb goals.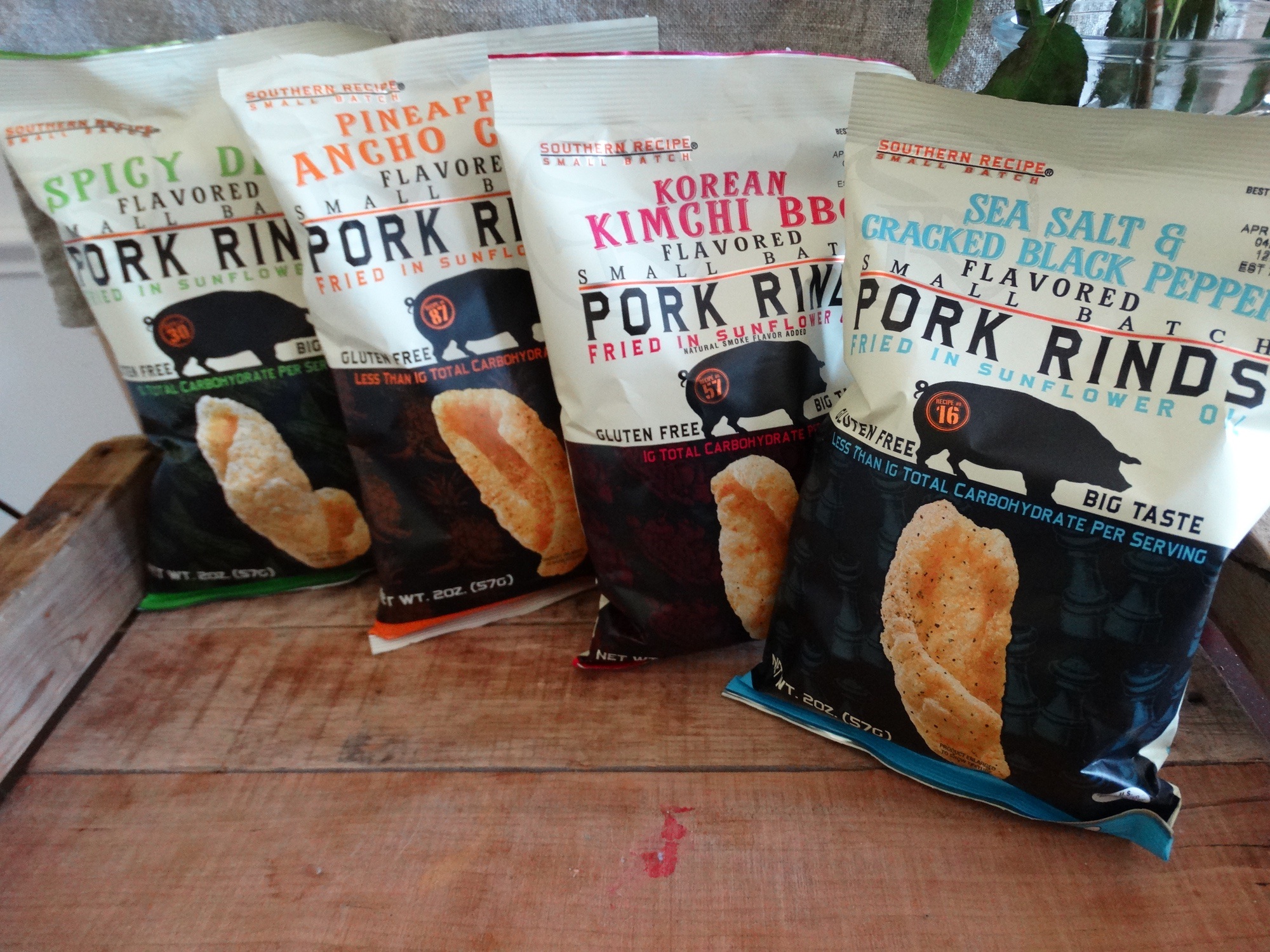 Catalina Crunch
One of my new favorites is Catalina Crunch. All of the flavors are mouthwateringly tasty, but my favorite is Cinnamon Toast. I don't eat it as "cereal" but instead, use it for that crunchy hand to mouth satisfaction. Watching a movie, having a picnic, or in the car are times when it is handy to have this snack in your bag.
The cereal is Vegan, Non-GMO, gluten/grain-free, sugar-free but full of the taste you need to kick that craving to the curb! Flavors include Dark Chocolate, Cinnamon Toast, Maple Waffle, and Honey Graham. So just buy the variety pack and cover all your flavor desires!
If your craving is more on the savory side, try the Cheese Bites. Nothing artificial, NonGMO, no sugar, grass-fed cheddar, keto-friendly CRUNCH! What more can you ask for?
Why go for the crunch?
Keeps you full longer – Crunchy foods that are high in good fats and protein take up more room in your stomach, which means you stay full, longer.

Burns more calories – Just like celery, when you crunch on Catalina Crunch, you burn calories in the process.

Prevents Overeating – According to science, crunchy foods are more pleasurable to eat and thus your brain tells your stomach you are full sooner.

Boosts Energy – Crunching on Catalina Crunch gets your blood flowing to your jaws and brain, waking you up and boosting your energy.
Use coupon code TOM10 to save 10% off your purchase when you use my Catalina Crunch affiliate link. When everyone else is reaching for popcorn or other carb-y, crunchy foods, you'll have yours without blowing your diet.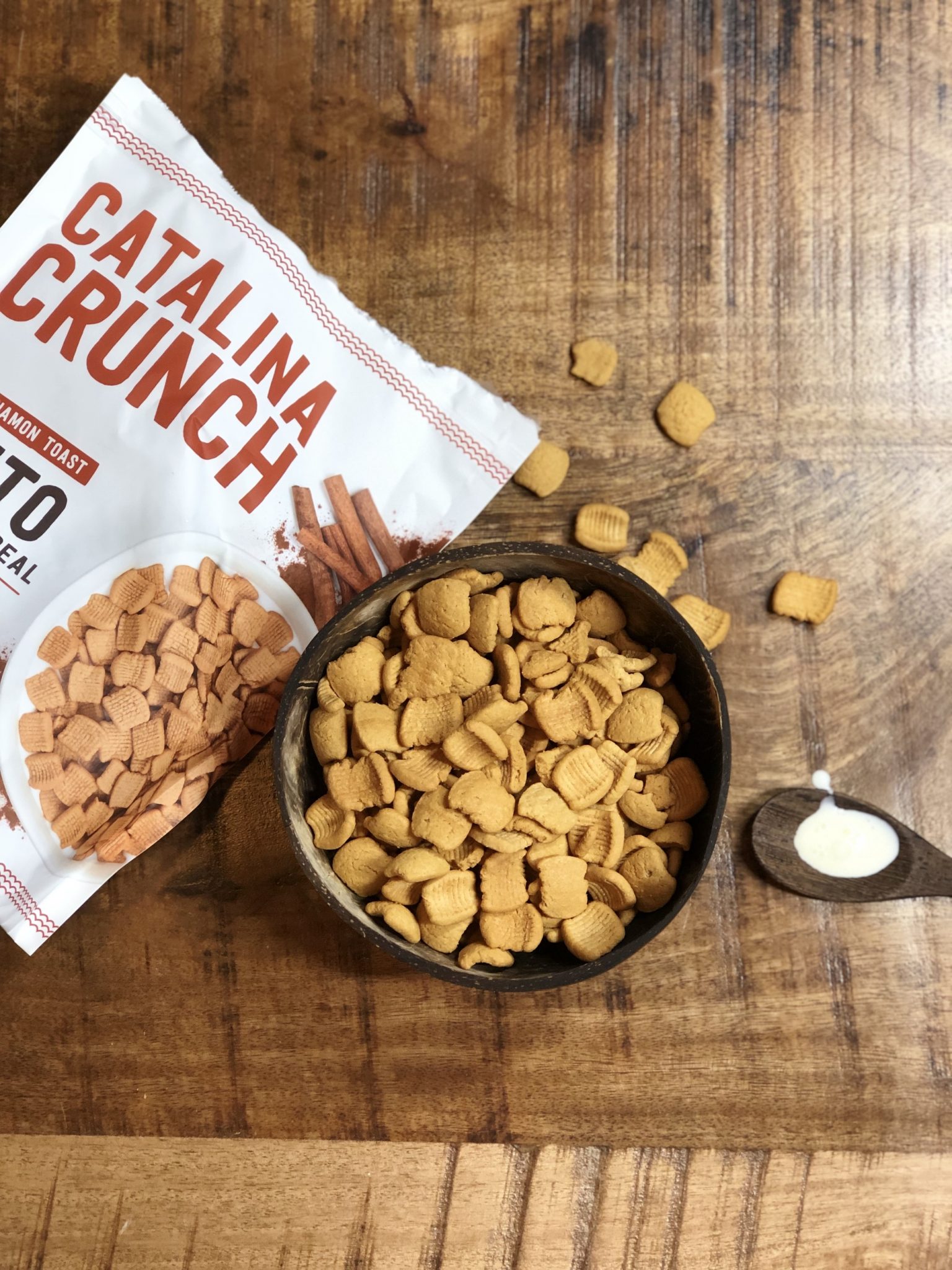 Nori
Adding some crispy delicious Nori to your snack stash will keep those crunchy cravings satisfied! We like plain and flavored. The kids (who don't care even a little bit about carbs) particularly like Trader Joe's Teriyaki and Wasabi flavors. They are tasty, but I'm a bit of a purist; Sea Snax Original is my favorite.
Sea Snax is free of artificial colors, flavors, preservatives, and genetically modified ingredients. SeaSnax is a Keto, Paleo, Whole 30 approved, low fat, cholesterol-free, crunchy seaweed snack
Pepperoni Chips
The first time I saw pepperoni chips, I admit, I thought it was kind of strange. However, I recently tasted these and found that I like them. I'm picky about my pepperoni though, so I don't make these often. If I want something to dip my guacamole (besides veggies) this works. Applegate Farms has an uncured pepperoni, free of nitrites and nitrates and made from grass-fed beef. If I can't find that one or something similar, I just skip this crunchy snack.
Cookies
So your craving is on the sweet side? Don't worry, I've got you covered.
Catalina Crunch makes a delicious cookie that is crunchy and sweet. When your savory cravings are satisfied and you want something sweet – these cookies hit the spot! They have four flavors (as of this writing) peanut butter, chocolate mint, vanilla and chocolate vanilla.
No guilt here, Catalina Crunch are made with Non-GMO pea protein and Prebiotic Fiber from plants. They contain zero artificial ingredients.
Of course, you can always go with veggies as a crunchy stand-by. Celery, bell peppers, carrot sticks, and cucumbers all make excellent healthy low-carb snacks. Another perk when it comes to vegetables as a crunchy snack is that they are available in pretty much every supermarket!
Happy crunching! Save this to your low carb, Ketogenic, or THM board!