Podcast: Play in new window | Download
Subscribe: Apple Podcasts | Google Podcasts | RSS
Last Updated on January 2, 2023 by Rebecca Huff
Looking for recipes from Gilmore Girls that you can make? I get you, and I have a solution!
You're watching Rory and Lorelai eat stacks of pancakes and drink copious amounts of coffee, and suddenly, you are ravenous. Been there, done that.
So what's the solution? Head over to EatingGilmore.com to whip up a recipe that will satisfy your food cravings!
Larisa, the creator of EatingGilmore.com is in the process of creating a recipe for every single episode of the popular series Gilmore Girls. And why not? You know they're always eating and it makes us so hungry!
In this episode, we explore our mutual love of food, cooking, cookbooks, and of course, the popular hit show Gilmore Girls.
Meet the Author behind EatingGilmore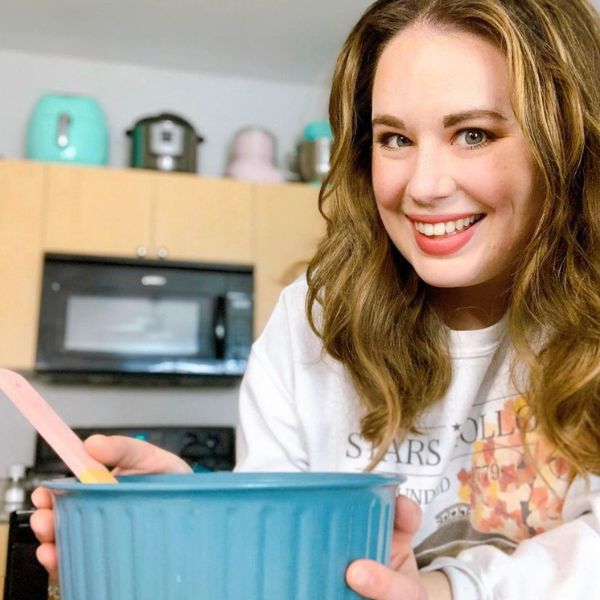 Larisa is a home cook obsessed with Gilmore Girls and is cooking her way through the series one episode at a time. Each episode she chooses a dish, drink, or meal to prepare inspired by that episode then develops a recipe to share on her website.
Cooking has always been something Larisa enjoyed and it truly shows in the food she creates to pair with each episode.
Making Recipes from Gilmore Girls – Rebecca's Favorites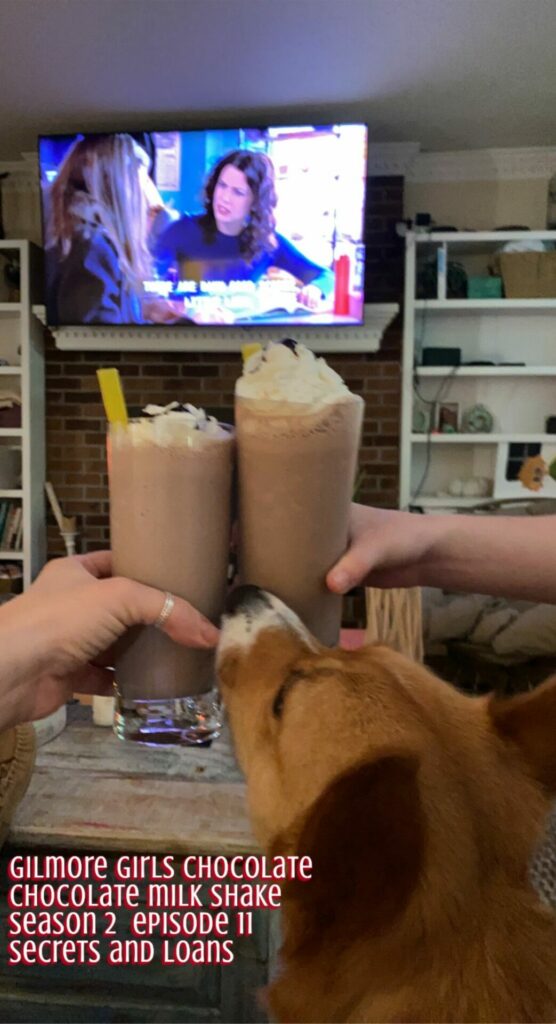 Lorelai: We should be eating, I'm hungry! Don't they want us eating? Isn't that what the point of the Hungry Diner is, to feed the hungry diner? Or is the point of the Hungry Diner to keep the diner hungry, in which case they should call it the Eternally Hungry Diner cuz you're not gonna get any food here, loser!

Rory: That would be quite a sign.

Gilmore Girls
While eating dinner in front of the tv isn't something experts recommend doing every night, an occasional dinner at the coffee table while watching your favorite show is a great way to bond with your family or friends. When you pair Gilmore Girls with one of Larisa's recipes, you can turn screen time into family bonding time.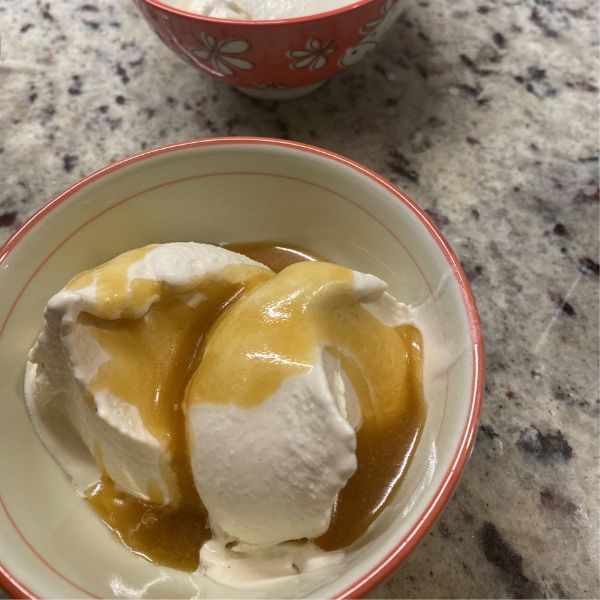 Rory: You know, there will be food there.

Lorelai: Finger food, aka snooty little balls of attitude!

Rory: Oh boy.

Lorelai: I need real food, peasant food, hearty bread, meat, cheese, little pickle chips, sauce, a special sauce. This is the food that sustains me, this is the food of my…

Rory: Oh my God, just eat the burger already!

Lorelai: How crabby!

Rory: I'm not crabby.

Lorelai: I didn't even get through my special sauce speech. That's crabby.

Gilmore Girls
Transcripts EatingGilmore
[00:00:00] Rebecca: So tell me a little bit about yourself so that you know, people can get an idea of who you are from you.

[00:00:06] Larisa: Yeah. so I'm Larissa. I am the person behind the Instagram and blog called Eating Gilmore, and essentially the project is where I recreate a dish or drink of some sort that is inspired by every single episode of my favorite TV show, which is Gilmore Girls.

[00:00:28] Larisa: That is so cool that you had the idea to do that, because I. It's interesting

[00:00:33] Rebecca: when you watch a TV show or sometimes even a movie, but I feel like it's more with TV shows and they're eating something. It always makes you want to eat too.

[00:00:43] Larisa: Yes, . I'm always hungry when I'm watching the show

[00:00:47] Rebecca: because they eat all the time and I got my coffee because I'm like, okay, we're gonna be talking about Rory and Lo Loli, so I know there's gonna be coffee involved , so I have to have my coffee.

[00:00:58] Larisa: Perfect.

[00:00:59] Rebecca: Yeah. So obviously you loved Gilmore Girls, it's your favorite show, you said. So were you already really into cooking before you started this adventure with your blog and Instagram?

[00:01:13] Larisa: Yeah, so I've kind of been cooking my whole life. It was something my mom kind of taught me a little bit when I was little and she bought me a couple of.

[00:01:25] Larisa: Children's cookbooks that kind of teach kids the basics. You know, knife safety, things like that. And I really enjoyed them. And so that kind of started when I was fairly young. And then when I was on my own in college, I kind of started. You know, diving into that a little bit more and my own kitchen, my own space, things like that.

[00:01:46] Larisa: And I think that was right around when Pinterest was starting to become really popular. So, you know, there were so many recipes just like at your fingertips that I got really. More into cooking then. And I also kind of started collecting cookbooks. That's something that my late aunt always did, and so kind of got me into enjoying reading through those, learning different recipes, techniques and things like that.

[00:02:13] Larisa: I've never been professionally trained or anything but it's always just kind of been a, a hobby that I've enjoyed.

[00:02:20] Rebecca: So you do love cookbooks and you collect them . Okay. I, I wondered because like, there's, there's people, I feel like maybe they fall on either side and maybe some people that fall in the middle.

[00:02:34] Rebecca: But I also am a cookbook collector and I have way too many cookbooks, I guess some people would say. But yeah, they're everywhere. So I was curious if you had a love of cookbooks, so it's cool to find out that you also love collecting them. Do you have a favorite.

[00:02:51] Larisa: I don't think I have a favorite, but something that I started a few years ago, when I go on any sort of big trip, I try to find a cookbook from that country or that city.

[00:03:04] Larisa: And so that's kind of been a fun travel tradition that I've done. I, it's like picking a favorite child. I don't know if I could pick a favorite cook. Because I have a lot that are really special. Like I found have you seen Julia and Julia about Julia Child? I found, I love that, that cookbook that they kind of make in that movie.

[00:03:23] Larisa: I found it at this little bookshop in Paris. So that was really special. Mm-hmm. So, yeah, just a few different, like memories of actually finding those cookbooks. But yeah, I don't think I have a favorite one.

[00:03:33] Rebecca: Oh, that's cool. I I do have a favorite. My favorite cookbook author is Christopher Kimball and I love Oh yeah, his like Milk Street cookbooks.

[00:03:42] Rebecca: And I also was on a trip when I found that first one of his cookbooks. I was in Orlando at a TaeKwonDo tournament, and I found that book and I bought it, and then I was obsessed with his cookbooks ever since then. But I, I love that you mentioned Julia and Julia because it , it reaffirms that connection between like entertainment and food. Yeah. And sometimes I used to feel a little guilty for eating food in front of the TV because they say, oh, you know, you should sit at, have a proper, you know, friendly dinner and all this.

[00:04:20] Rebecca: But you know, I've realized, and I did another podcast interview with the Family Dinner Project and she said, you know whatever bonds your family. That's okay. And so for us, it's been kind of cool to. You know, watch Gilmore Girls and prepare a food that they are also eating. And the whole thing has been super bonding for us.

[00:04:45] Rebecca: Yeah. Because like, we'll, we're like, okay, let's go check eating Gilmore and see what the food is for the next episode. Yeah. And then we're like, oh, okay, it's chocolate milkshakes. So, okay, tomorrow night we're gonna watch that episode and we're gonna make her recipe. And so then, We get everything ready and we start watching the episode and then we have, you know, our meal and we're eating with them and the whole experience is really bonding.

[00:05:10] Rebecca: So I stopped feeling bad about that and now I feel like I'm doing one step above the family dinner. It's even more bonding when you cook and eat together, right?

[00:05:22] Larisa: Yeah, exactly. And I think too, what's even, what's really special just about Gilmore Girls but I think any show that you can relate to your friends or family members is in the same way, but I think for a lot of people, especially mothers and daughters, if they're able to bond through that show, I think it's really special.

[00:05:40] Larisa: Because you can see yourself in the characters, and that's one of the big reasons that I love this show so much, is that it doesn't matter what generation you're in, you know every, there's someone in it for everyone, you know, teenagers, adults, grandmothers, you know, everyone can kind of relate to. A storyline.

[00:05:57] Larisa: So that's why they think it's really special. And it's really sweet and touching that you and your daughters cook my food together with the show. And it kind of makes it fun and interactive, right? Like, oh, they're having their milkshakes, I'm having mine. So that sounds really fun, .

[00:06:09] Larisa: Yeah, it is.

[00:06:10] Rebecca: It's actually on several levels because I think you had a nacho, was it barbecue Chicken, Dr. Pepper. Oh gosh. Those are some of my favorite. That I've made. Those are so good. , and then you have a macaroni and cheese. But yeah, we've done a few and it's, it's, so, I feel like it's just so many levels of connection because, you know, we have the show and we're cooking together and then we're sitting together watching it, and then we're like, oh, oh, I wanna tell Larisa that I made this and it was so good.

[00:06:37] Rebecca: So I'm like, now I'm connected to you. And then I've shared it with other people and now they're doing it and it's just like this network of really cool way to bond over something that's just, you know, fun entertainment. So that's kind of cool. I mentioned a couple of our favorite of your recipes.

[00:06:56] Rebecca: Clearly we haven't been through all of them, and you're a little bit further ahead in this series than we are. But what's your favorite, like, episode that you've seen so far, and what's your favorite dish that you've pair?

[00:07:11] Larisa: Yeah. So I kinda have two answers for this. One is kind of my solid, it's one I'm most proud of. And that's the pretzel basket from season two with a bit of basket episode. And it all kind of happened by chance. That's one that somehow I got right on the very first try. I'm still floored by that to this day, cuz I was like, there's no way this is going to work.

[00:07:34] Larisa: But for those of you don't know, I made a picnic basket, all out of pretzel, which was a feed of engineering. I didn't know that I, I had. And in terms of flavor, this does change depending on the day. Usually I say the chocolate andretta mose cake that Sookie makes. Mm-hmm. . In season three, I believe sometimes it blend, it starts blending together.

[00:07:57] Larisa: That one was really, really good. Yeah. So those are kind of my top two right now, but if you were to ask me tomorrow that could change

[00:08:07] Rebecca: the pretzel basket. It's like you could be on the Great British Baking Show or whatever, . They're always making things, you know? Yeah. That one took, that one took all day though.

[00:08:18] Larisa: I, I did. I actually went to London recently and we. , they have like an interactive like British Bake off experience where you get to like bake in the tent and everything. It's not the same one that they use on the show. It models it. And it was so stressful because I'm not used to having like a time constraint.

[00:08:36] Larisa: I like taking my time. I'm very slow and I like frost my cakes and so . It was actually really stressful, so I have a lot. Of praise for people who go on that show or really any cooking competition show, because it's really hard.

[00:08:53] Rebecca: and I have, I mean, I'm impressed by your recipe development skills because, you know, it's not really, I mean, cooking is one thing, and I think a lot of people can follow a recipe and prepare Yeah, a dish, but creating a recipe.

[00:09:09] Rebecca: You know, developing a recipe that matches something that you've just seen in a TV show now that takes a little bit more of a skillset, and obviously you have to be a little bit more of an experienced cook to pull that off. I mean, yeah. . I feel like a lot of times, you know, back when I first started cooking, I wouldn't be able to look at a dish and figure out how to prepare it now after what, 32, 33 years of cooking, I could do that.

[00:09:36] Rebecca: But I think that takes a lot of skill and it's very impressive. The just sheer number of recipes that you've created. Yeah. Just watching a show so that, I just think that's an amazing thing that you've done. How has doing this project how has this kind of opened up your worldview, has it changed your perspective of things? Has it, I I mean obviously it would have to have expanded your community just from your Instagram following.

[00:10:06] Larisa: Yeah, for sure. I think it's definitely. made me just appreciate the process of cooking a lot more. And I will be honest, like there's some days where I get kind of over the project just because I have been doing it for so long and it does take up quite a bit of my life.

[00:10:24] Larisa: And I don't wanna sound like ungrateful because I still really enjoy it and it's a lot of fun. But there are a few days where I'm like, oh my gosh, I have. Make this, and you know, it's with a full-time job on top of it. Like that's what I do mostly on the weekends. So if I wanna, you know, get together with friends, I'm like, okay, well I also have to make this dish and test it on everything.

[00:10:43] Larisa: But I think in terms of just, with when I put it, that outta my head of like, oh, this is another thing I have to do. But if I go back to why did I start this? Because I enjoy cooking and I love Gilmore Girls and it's fun again. I really have this appreciation for just the process of cooking. Like you can take all these random ingredients and put them together to create a beautiful dish or a really great dessert. And at the end of the day, like, yes, if eating keeps us alive. But there's ways to make it, you know, enjoyable too. Outside of just, you're doing this because you have to, if that makes sense.

[00:11:18] Rebecca: I like that answer and it made me think of something else. I just am curious, have, does it feel like there's a bit of pressure

[00:11:26] Rebecca: to get to the next thing? Because now you have this following and maybe people are like getting ahead and they're like, well, when are you gonna do, do you feel a little pressure?

[00:11:37] Larisa: Sometimes. I decided to do that cooking challenge in the fall. So that was eight weeks and I had a lot of fun getting to see everyone's creations for each of the different themes every week. And I really enjoyed that, but I know some people were like, ready for me to get back into episode by episode, and I got a lot of dms like, when are you doing the episode polls and stuff, because for those who don't know on my stories, every week when I do an each episode, we do fashion polls, episode polls, all of that. And people really loved that, but they were very eager to get back to that.

[00:12:10] Larisa: So that was like and then, So I'll share a dish and they're like, oh, well you should make this and you should make this. And I'm like, now I'm, you know, a lot closer, but this would be back in season two or three. And I'm like, I'm nowhere near that season. Like I go in order mm-hmm. . And I think some people thought I just kind of bounce around.

[00:12:27] Larisa: So yeah, sometimes I'm like, oh, well, is if this is what I wanna make, but I don't know if this is what everyone wants to see. Not too bad in terms of pressure, I think I've been able to stay on top of it and still enjoy it for the most part. I mean, like I said, there's always a day or two where I'm like, Ugh, I'm do this again.

[00:12:47] Larisa: But overall, I'm still really, really having fun with it.

[00:12:51] Rebecca: Have you found any episodes where they don't eat or mention food ?

[00:12:56] Larisa: I'm running up to that actually in one of my episodes in season six that I'm fastly approaching to still dunno what I'm making yet. For the most part, I have everything mapped out.

[00:13:07] Larisa: I dunno what I'm doing yet for that one. So I'm a little nervous. . There have been just a couple. I think the one that always stands out to me is in season three it's called Lorelai out of water. It's when she and Alex go fishing. And a lot of people thought I was going to make fish for that episode, but they didn't keep the fish that she caught.

[00:13:27] Larisa: So I was like, that just doesn't feel right. to cook the fish when she didn't wanna eat it. So I made like a coffee cocktail because they do go on like a coffee date together. So that was kind of, I guess one pass out. I'm like, oh, I could always do something with coffee . Yeah. And if I can't find anything else but I haven't really struggled too much yet with that.

[00:13:48] Rebecca: Right. Because they eat so much

[00:13:50] Larisa: all the time.

[00:13:51] Rebecca: Yeah, so I, I don't think I've ever seen an episode where they don't eat something, so I haven't got to season, we're not at six, season six, and I'd say the first time I watched it, I wasn't really. Thinking that way. But now that I found your website, now I am like anticipating, oh, what are they gonna be eating now?

[00:14:11] Larisa: Yeah. And then whether, even if they don't actually show them eating, they're always talking about about it too. So, yeah, I, it, it honestly has not been a challenge. Most of the time I have a problem of I can't decide what I wanna make, cuz. So many options. Right. Yeah. This time I'm like, Ooh, I don't know.

[00:14:31] Larisa: So , we'll see when I get there,

[00:14:34] Rebecca: especially when they go over to her parents to eat. Mm-hmm. . Now some of those dishes are like, wow, okay.

[00:14:41] Larisa: Yeah. I haven't made too many from the Gilmore Mansion because. There's the one that eat like sweet brain or sweet bread and lo lies. What's that? And Emily tells her that it's pancreas.

[00:14:53] Larisa: And I was like, Nope, nope, not, not touching that with a 10 foot pole .

[00:14:58] Rebecca: Plus she has, I think, a, a cook there, right? Cooking those meals for them, so, yeah, exactly. It's not like Emily actually prepared that dish. No. . But moving on, so you have grown just an amazing community and a very engaged and active community on Instagram.

[00:15:16] Rebecca: What else do you feel like has opened up for you as a result of your experience with cooking and developing recipes?

[00:15:24] Larisa: Yeah. I would say just, you know, I've connected with a lot of Gilmore Girls fans, but also just other chefs and home cooks on Instagram as well, which has been really fun. Mm-hmm. I.

[00:15:38] Larisa: So I started this project inspired by a another content creator. His name is Brad. I talk about him any chance I get because he is so talented. And he's currently cooking his way through the Harry Potter books. And when I was in London we actually got to meet in person, which cuz that's where he lives.

[00:15:56] Larisa: So that was really special. We haven't officially, but we do have a possible project to do together sometime in the far future. Ooh. We did brainstorm some ideas, so if that does get to happen, I'm very much looking forward to that.

[00:16:12] Rebecca: I did see where you went to London and you, you guys met up and so you were able to brainstorm.

[00:16:19] Rebecca: That's really cool. Well, I'll be definitely watching because I actually started following him after you mentioned, because I love the the idea of pairing. Yeah. What you're watching with it. And we do that with Korean dramas a lot. People are probably tired of hearing me talk about this, but Yeah. You know, with, if you're familiar with Korean dramas, you know, they're always eating gimbap or black bean noodles or something, tasty.

[00:16:43] Larisa: It looks soooo good .

[00:16:45] Rebecca: It does. And so for the last, I don't know, we probably started watching Korean dramas back in 2012. So we've been watching them for a decade. Wow. And I've learned to cook so many Korean dishes as a result of being fascinated having my appetite , you know, like stimulated by watching Korean food. And then I found a cookbook that pairs Bollywood movies with Ooh, Indian Food. It's by an author who's Indian American and he created a lot of these pairings. And it reminds me a lot of what you do. So is there a cookbook in your future?

[00:17:24] Rebecca: If

[00:17:24] Larisa: people ask me that, I mean, I never wanna say no, but I don't know. I think it would be hard to. Go through that process. I know there's already Gilmore Girls cookbooks out there. There's a really great chef Christie, so she's made three now, I believe. And then they also rec, the WB recently came out with like an official one for the show.

[00:17:48] Larisa: I don't, I'm sure there's still room for more, but I feel like that market's kind of already saturated. Been saturated. Mm-hmm. . But with our ma, possible future project, maybe that is an untapped market, but we'll see.

[00:18:00] Rebecca: Ooh, exciting. I can't wait to find out what it is.

[00:18:05] Larisa: I do post all of my recipes on my website, which is eating gilmore.com. I used to be really good about also writing on my thoughts about every episode when I was covering it. That was when I started this during the pandemic, and so I had a lot more free time. And so that's kind of one thing that I haven't done at a few seasons.

[00:18:26] Larisa: And I do miss it sometimes because, you know, I feel like you, there's some people that love the show, you could talk about it forever. But then there was times where I'm like, I don't feel like my opinion is offering anything new that hasn't already been said. So it was just kind of getting hard to be like, well, I didn't like when Rory did this.

[00:18:44] Larisa: And I think, Laura, I made a mistake here, but. . I don't know, maybe I'll go back and add more of that back in cuz I did like it sometimes. .

[00:18:53] Rebecca: I'm sure you have a lot of brands reaching out to you just because of your Instagram.

[00:18:58] Rebecca: Yeah.

[00:18:58] Larisa: Yeah. And that's another, been another final opportunity, just like getting to learn about other brands and opportunities. One of my favorites that I just did this alcohol company sent me this like, Chocolate chip cookie.

[00:19:13] Larisa: Look here. And I was a little hesitant that it wouldn't, but it, it doesn't taste like overly sweet. Like some of those, like dessert alcohols are really sweet. Mm-hmm. this one, like, honestly, this is my own opinion. It was so good. Even on its own, like you could drink it straight,

[00:19:29] Rebecca: but what is it?

[00:19:30] Larisa: Yeah, it's from drink, bake sale. You can order it through their TikTok or their Instagram. They have link in their bio. But yeah, it's a liquer that tastes like a chocolate chip cookie. You can drink it straight. I have a recipe for a adult milk and cookies ala Lorelai

[00:19:48] Larisa: mm-hmm. Recipe on my Instagram and TikTok. It's not on my blog. I just did it for a reel but, so yeah, you can drink it by itself, mix it, but it's honestly really, really good .

[00:19:57] Rebecca: That's so cool. So did you, when you started doing this and you started sharing this stuff on Instagram, I mean, it just grew organically. You weren't really trying to gain a following.

[00:20:09] Larisa: No, I, and I will say this, in true total honesty, I am still surprised at the following that I have every day. I'm like, this isn't real. Yeah. I didn't do any sort of like approach any targeting, all of those things that they say, oh, this is what works. I just did this project and I think.

[00:20:29] Larisa: What makes it has made it so successful is the love of Gilmore Girls. It's a show that so many people really and truly love and it's kind of stood the test of time, right? Like it's a little bit of a time capsule of the early two thousands, but I think that people can still connect to it today and new people are discovering it on Netflix all the time.

[00:20:51] Larisa: And so I finding that, I don't wanna say like, oh, I found my niche or whatever, but I, I do feel like that niche of Gilmore Girls re really definitely helped. .

[00:21:02] Rebecca: Yeah. I mean, I can see that, I mean, because of it being the Gilmore Girls and how popular it is, people would come and then like, as soon as they see your amazing cooking, they're like, oh yeah, definitely following her.

[00:21:14] Rebecca: But yeah, I think that could happen with other genres. Like I did a cookie my daughter had a Brewster cookie cutter, and she wanted, like from animal crossing, she wanted some Brewster cookies. Yeah. So we did that.

[00:21:26] Larisa: I love that. ,

[00:21:27] Rebecca: the U. I just made a YouTube short and it was like, like, you know, people watching it and I was like, oh yeah, of course. Animal crossing because people of animal crossing has nothing to do with my cookie making skills because I don't bake that much. and it was just a simple sugar cookie, but yeah, it's because it was animal crossing. So that does like give you like a little boost because it's a popular show.

[00:21:48] Larisa: Yeah. Kinda blending our two conversations together.

[00:21:51] Larisa: I actually made my Island Gilmore Girls Themed .

[00:21:55] Rebecca: Oh, did you really? Yeah. Oh, my daughters when I tell them that they're just gonna be you need to live in Knoxville so we can hang out . That's so funny. I have family there, so maybe I'll come visit and, but if you ever do Yeah, text me so we can hang out.

[00:22:10] Rebecca: My daughter, all like animal crossing. They all like Gilmore girls and they. Love food, so Perfect. We would have so much fun together. Yes. Yeah. Well, this has been so much fun talking to you. I knew I was gonna just love you because I love your Instagram and of course we have so many things in common from cookbooks to our love of entertainment.

[00:22:31] Rebecca: So it's just been so much fun to talk to you, and I hope we can stay in touch. If you're listening, find Larisa on her Instagram. It's just eatingGilmore. Right. Okay, so, and then your website

[00:22:45] Larisa: is eating gilmore.com. So the same thing. Super simple. Yep. super easy. And it does have two Gs. It's yes. Eating and then Gilmore.

[00:22:52] Larisa: Yes, yes. Yeah.

[00:22:54] Rebecca: Awesome. Thank you, Larissa. It's been so much fun talking to you.

[00:22:58] Larisa: Thanks, Rebecca. This has been a lot, a lot of fun. Thank you so much for having me here.