Last Updated on November 27, 2022 by Rebecca Huff
In my post describing how we use cookbooks to explore countries and cultures, I mentioned how much we love Korean culture. That's why you'll notice there are photos in this post from more than one Korean Dinner Night. Kids can learn so much about another culture just by studying the types of foods eaten in that country.
The central part of our culture night is the meal, but we surround it with much more.
food & recipes
music (Spotify has almost every type music you can imagine!)
movies, documentaries, or other shows (you can use subtitles if necessary)
books, audiobooks or hard copy
a little research on the internet or at the library to find festivals, foreign language classes, supermarkets, etc. informative websites like this one
Our local Korean grocery store is a place we visit frequently. The owner always says hello and goodbye to us in Korean, which gives us the opportunity to practice saying these words with a native speaker.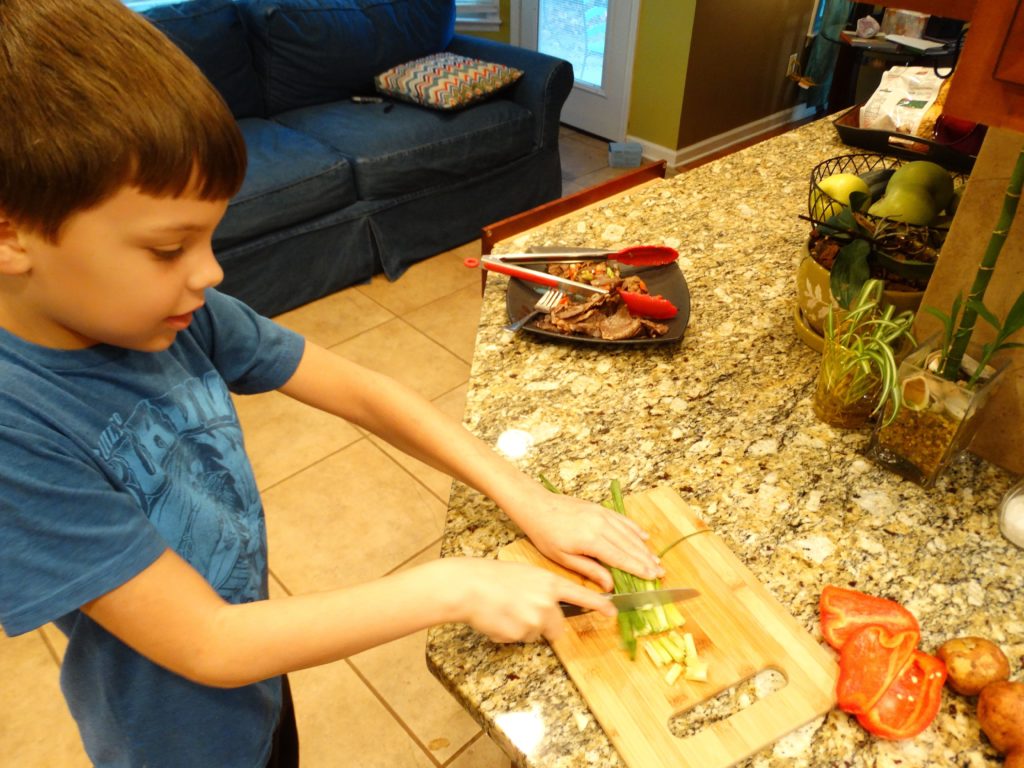 My kids like to cook with me and alone, so getting them to explore a cookbook isn't much of a problem. We have made many dishes from our favorite cookbooks on our Korean dinner night adventures. Starting children in the kitchen early will help them develop a skill that will pay off for the rest of their lives.
Before your Korean Culture Night, you'll want to make a plan. Know what recipes you'll be preparing, what foods you need and where to get them. The library almost always has lots of cookbooks to choose from no matter what ethnicity you are exploring. We check out cookbooks just to look at for inspiration. Let the kids help plan, it's part of the fun.
You can use the recipes just as they are or modify them to fit any dietary preferences. I like to revise recipes from other cultures to fit my way of eating. Since I follow a rotation of the Ketogenic and Paleo-ish Diets (I eat some dairy) most of my recipes need to be adjusted accordingly. With Asian cookbooks there's a lot of rice (substitute riced cauliflower) and also the sauces often have flour and sugar, which I will often swap out.
One recipe that we enjoy is Pa Jeon or Scallion pancakes (options for gluten-free!) but there are many Korean foods we enjoy. Our local Korean Supermarket carries Bungeoppang (붕어빵) which is a fish-shaped bread that can be filled with various items such as red bean paste and ice cream, yes together. It's so good. Here is an article that lists with pictures the Top 10 Must-Try Kid-Friendly Korean Foods over at Pintsized Gourmets.
Everyone in our family likes to eat the Korean dish Bulgogi but the sauce usually contains sugar. To make this favorite dish healthier, I substitute applesauce in place of the sweetener in my Bulgogi Sauce recipe. This sauce is perfect for Korean lettuce wraps.
Add kimchi, eggs, bibimbap, pork buns, etc. for a Korean feast!
Explore more Korean Flavors:
Learn a few phrases or greetings in Korean
Even if you don't have time to study the language fully, you can still learn to say hello, goodbye, please and thank you. These four words will prove valuable when visiting another country. Find videos and free materials on the internet, there are many to choose from.
Shawna chose to study Korean beginning at age eight. After I saw that she was serious about learning the language I bought her some Korean curriculum from Talk to Me in Korean. Each day she studies on her own, or via video chat with her oldest sister who is also studying the language.
Whatever the culture you are celebrating, learn to say hello. That is a basic greeting you can use when you meet people. Anytime I have made the effort to speak to someone else in their native language it has always been met with appreciation.
While visiting China, my tour guide asked me to "say something" to several people in Mandarin. Each time she got so excited when everyone understood me. I've never had a bad experience when attempting to greet someone in their native language. It is possible to learn a foreign language on your own.
Favorite Korean Cookbooks include:
A Korean cookbook is helpful, but not strictly necessary to prepare delicious Korean meals. YouTube and Pinterest are full of ideas. If you find that you really enjoy the food and would like to add a Korean Cookbook to your shelf here are three we have borrowed from our library and enjoyed:
Maangchi's youtube channel where she demonstrates her recipes is worth watching. She also has a second channel where she teaches Korean. The middle cookbook "Cook Korean!" is a comic book/cookbook, so the kids love using it. The third book is available free on Kindle Unlimited. All three have delicious authentic Korean recipes. Click on the book covers to see the books on Amazon.
Entertainment
When we arrange a culture night we have some form of entertainment. Check out these traditional Korean games. Audiobooks, YouTube videos, and Docudramas all work well. It's fun to watch a Korean Drama series while having a Korean food night. This works out because when you watch Kdramas you get hungry for Korean food! If you're not sure where to start with Korean Drama, or even what it is, check out my post: Kdramas for beginners.
Watching Korean Dramas led to listening to Korean Pop, or KPop as most people call it. When we watch a new Korean series, we add our favorite songs from the series to our playlist on Spotify; listen here: Korean Drama Songs We Love.
A few of our favorite Korean books include:
Whether you listen to audio or read them aloud with your children, or allow them to read alone, these books give a glimpse of Korean culture in wonderfully written stories. We have most of our books like this on audio, so we can listen when we are in the car, or during our nightly routine. Click on the image to preview the book on Amazon.
Expand your cultural intelligence
If you visit a large city such as New York or San Francisco spend a couple of hours in Koreatown. If you ever get the opportunity to eat at an authentic Korean BBQ Restaraunt you won't regret it! Two of our favorites have been in New York and L.A. See our recommendations and reviews on TripAdvisor.
Stay connected with happenings in your city to take advantage of festivals. Where we live each year we go to the Asian Festival, Hola Fest, India Fest, and Greek Fest. This is a great opportunity to taste food from other cultures, listen to music, try on traditional clothing, and lots more fun and educational activities. One year my girls had the opportunity to try on Korean Hanbok.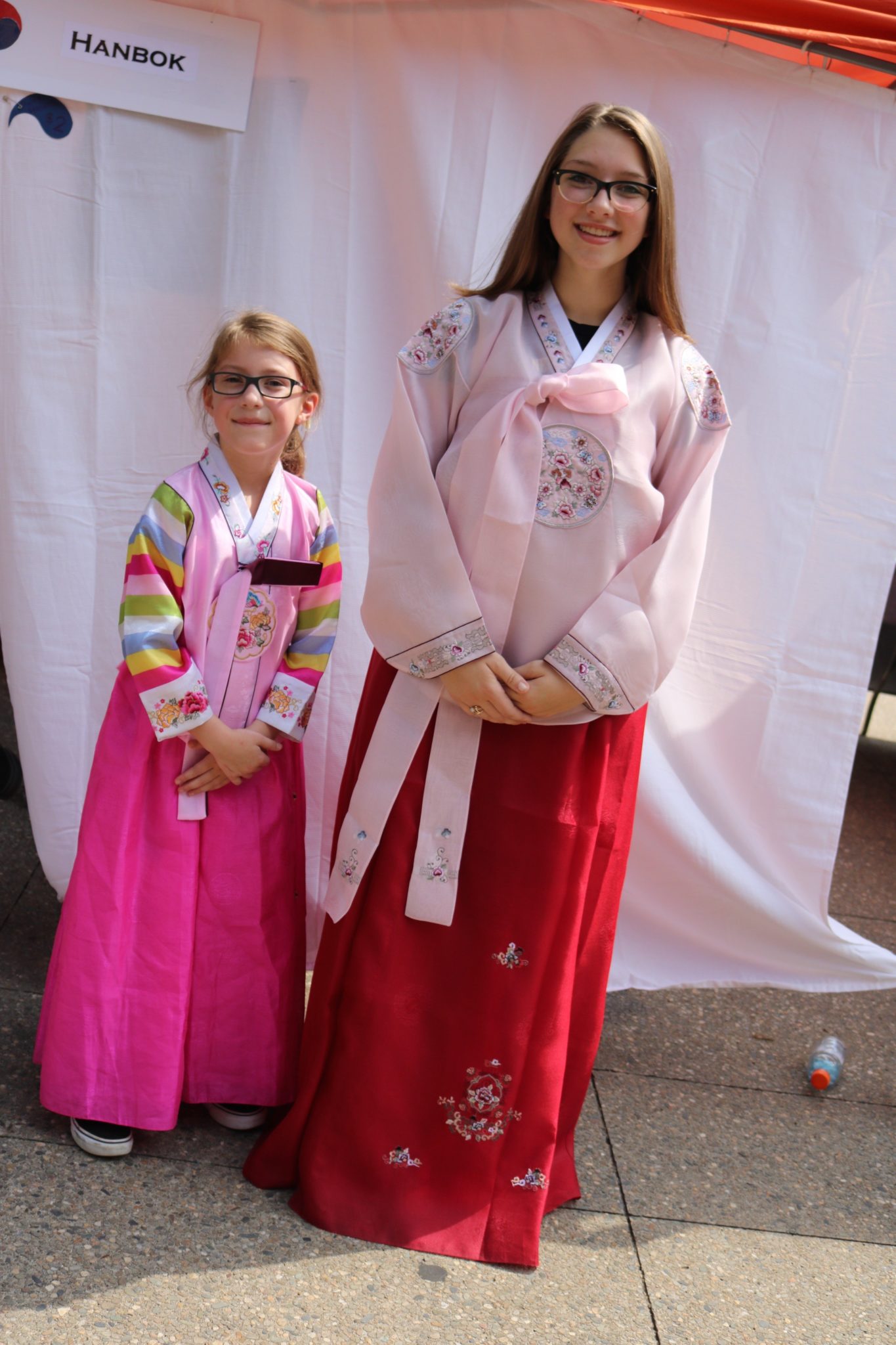 Implementing a few of these ideas will really help to improve cultural intelligence or CQ. Wondering how high your cultural knowledge is? Test your CQ and find out. Teenagers and young adults might also like to test their cultural business knowledge of various countries. Study abroad programs are becoming more popular and accessible to students, so do some research to see what is available.
I hope this gives you the inspiration to start your own cultural nights at home. This is just a little bit about how we do it but you will come up with what works for you and things that your family will enjoy. Just use your imagination.
What to read or watch next? Here's a video demonstrating Kimbap, a popular food in South Korea.