Last Updated on June 29, 2022 by Rebecca Huff
Ever wonder what kids can do in the kitchen to help out?
Maybe you haven't thought about what kids can do to help in the kitchen at all. You may be asking yourself why would I want my kids to be in the kitchen!? I know when my children help out in the kitchen it usually involves at least one mess or spill. If you deal with those messes now they will pay dividends in the future! So let's talk about what kids can do to help in the kitchen and why we want them to help.
One thing that has lowered my worry-meter as my children have gotten older and moved out on their own is the knowledge that they have the skills to shop for and prepare healthy meals. It happened entirely by accident as I never thought ahead to the day they may leave home!
When they got out on their own from time to time, they would thank me for teaching them to cook, do laundry, etc. Regarding roommates who did not know how to do those things, they saw the struggle during the learning process and were grateful. How much easier it is to grow up learning to do all of these things little by little than it is to have to figure it out all at once!
I'll never forget moving off base and suddenly being responsible for all our meals as a newlywed then realizing that I knew very little about cooking. Of course, I went right out and bought myself a "basic" cookbook and started studying. That was before the world was available at our fingertips just by typing a few words on a keyboard.
Still, I find a physical book that you can plop on the kitchen counter or curl up on the couch with, the best way to study. Unless of course, you know someone who would be willing to teach you in person, which would be the best and most favored way to learn cooking basics. Don't be afraid to ask! I love when my children or their friends ask me to help them learn something in the kitchen. For me, it's one of the best ways to bond with your friends and family!
Still, this is not why I instructed my children. I taught them because it was fun, I could use the help, and I liked to spend time with them. The fact that they learned the skill of preparing their own food from scratch was just an added bonus.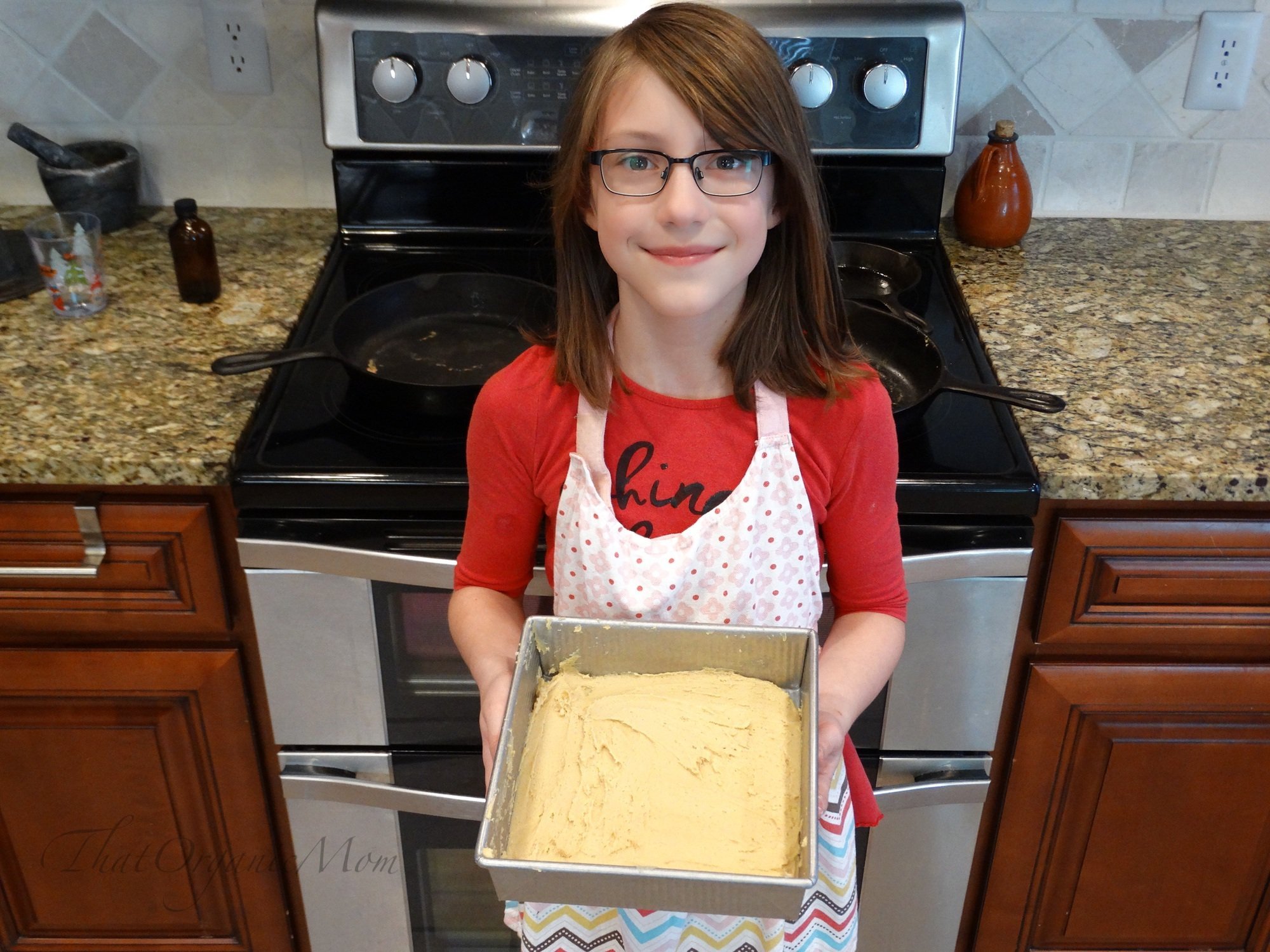 Now, as I encounter young moms they often ask how do you know what kids can do to help in the kitchen? Listed below are some ways I allow my kiddos to contribute to the meal preparation process. If you'd like, I made this Kids Helping in the Kitchen Ideas List into a handy printable.
What kids can do to help in the kitchen
Babies
As long as they are not in the way of danger, babies can learn a lot by observing parents in the kitchen. Placed in a highchair, a bouncy seat, or another safe spot babies will enjoy playing with a wooden spoon and a bowl while you make dinner!
When appropriate they can even taste ingredients as you go along. This is the foundation for raising children who want to be involved in meal preparation. Talk to your baby and tell them what you are doing as you do it. Chatting is more for you than for the baby as it gets you into the habit of explaining as you go.
When my oldest child was a very young baby, I talked to her no matter what we were doing. I told her these things as I would speak to a friend, I didn't use "baby" talk.
Toddlers
As babies grow into toddlers, they will be ready to help out a bit more. Take advantage of their natural curiosity by getting them interested in kitchen tasks. Allow your toddler to assist you by:
washing fruits and veggies
ripping greens into bite-size pieces
removing herbs from stems
stir the pancake batter
sprinkle in the spices
use a pastry or basting brush (not with hot foods)
load and unload spoons and forks in the dishwasher
wipe counters with a soapy rag
hold the dustpan for you
Preschoolers
At this age, kids will be developing their fine motor skills. They have a strong desire to do it themselves! You may hear, "Mommy! I do it!" Allow them to help you with supervision, here are a few suggestions:
Set the table (careful if you have breakables!)
Mix things in bowls
Learn to use a plastic knife for lettuce, bananas, avocados and other soft foods
Peel eggs (after they've cooled to the touch!)
Load dishwasher with unbreakable items
Measure dry ingredients and level
Put icing on a cake (don't expect perfection!)
Start using a rolling pin for pie crusts, and cookies
Elementary Age
Help put away the groceries, what goes in the freezer, fridge, or pantry and how to store food items.
Use tools such as garlic press and can opener.
Slice bread or cut into cubes, grate cheese, peel cucumbers and carrots, thread food onto skewers, and grease baking dishes.
Use a mixer and cook on the stove with supervision.
Load and unload the dishwasher, run a sink of soapy water, wash dishes by hand.
Shape meatballs or burgers by hand.
Make simple dishes like blondies, brownies, grilled cheese, scrambled eggs, or mac-n-cheese from a box
Put things on the table. Yes, children have been setting the table for centuries, but also have them take the condiments you'll need, a pitcher of water, etc.
Toss a salad together. If you buy bagged lettuce they can dump it in a bowl, top it with some cherry tomatoes, or whatever you like and put that on the table, right? Even if you buy whole head romaine, they can rip it up into a bite-sized salad without help.
Put ingredients away. After we measure out our baking soda, salt or whatever, the energetic little people can carry them back into the pantry.
Teenagers
Learn to make a grocery list including items that need to be replenished and items for upcoming meals
Plan a meal or meals
Create a meal plan and grocery list according to a budget (older teens)
Look for healthy recipes and follow instructions to create a dish
Know how to read a food label and determine which foods are healthiest and which are junk food
Most helpful tasks:
Number one is when they empty the dishwasher before we start cooking so we can load our dirty dishes as we go. That means when our blondies are ready to come out of the oven we get to sit down and enjoy them without worrying about a mess!
Number two is when they grab Rosemary or another herb from the back yard. Yes, my kids know the difference between lavender and rosemary! They became self-taught herbalists while reading Erin Hunt's Warriors Series and wanted to become medicine-cats. (child-directed learning at it's finest)
Ideas to make kitchen help more enticing are listed in my post about getting the next generation into the kitchen. Some things that my children liked were having their own apron, their own signature dishes, music, and choosing their own recipes. Let me know what you think, what do your kids like to do in the kitchen to help out with cooking?
PS ~ Pin this post and share it with your friends!