Last Updated on June 29, 2022 by Rebecca Huff
The Korean drama or Kdrama, industry is off the charts right now!
Korean dramas are increasingly gaining popularity here in the US. It's exciting because more people watching them means more demand which means fans can watch them sooner.
This blog post is going to fall under the "My Favorite Things" section of my blog because it really has nothing to do with Health and Wellness. I wanted to share because it is something that I have a sincere interest in and that I share with a few people close to me. Anyone who spends much time around our house will end up seeing at least a few kdramas.
Over the years, I have had an interest in Chinese films, then Chinese dramas for two decades. About a decade ago, I started watching Bollywood films when I discovered Jodhaa Akbar starring Hrithik Roshan and Aishwarya Rai in 2008.
As my taste for entertainment changed, I discovered the Korean Drama. We had not had cable or satellite tv since the early 2000's, so I wasn't "into" any of the popular American series that most people I knew were interested in.
The first Kdrama we watched was The Great Queen Seondeok. Everyone loved it. My own favorites are historical dramas which are called Sageuk, referring to any drama based on Korean History.
Sageuks are typically long, epic dramas with very complex story lines filled with love, betrayal, and deception, with some degree of martial arts and sword fighting. Then there's the beautiful Korean clothing, called hanboks and elaborate hairstyles that are real eye catchers. (source)
Most Korean dramas are extremely tame when compared to American tv. Sex scenes are pretty much non-existent. Even a kiss is usually close-mouthed and more of a lip press than a kiss. Curse words are pretty rare in historical dramas, maybe "wench" and "bastard" but not much more.
Some of the modern dramas may have a few curse words scattered around but it's pretty rare in most of the ones I have watched. I can't say for sure about all dramas because I haven't watched them all….yet…
Here's a list of Historical Dramas that we enjoyed
Queen Seondeok
Scarlet Heart Ryeo
Daebak
Dong Yi
Yi San
The Princess's Man
Moonlight Drawn by Clouds
The Flower in Prison
Iljimae
God of War
The Duo
Merchant Kim Man Deok
Queen for Seven Days
Jung Yi, Goddess of Fire
Here's a list of Kdramas that are not historical; we just call them modern dramas in our house.
Dear My Friends
Heirs
Shopping King Louie
Boys Over Flowers
Beautiful Gong Shim
Uncontrollably Fond
Coffee Prince
Band of Sisters (Unni is Alive)
We have watched period dramas from China, Taiwan, Japan and England as well but my favorite is most definitely Korean. Here is a list of a few Asian dramas that we have enjoyed that were not Korean.
Assassinator Jing Ke (no longer available but the story of Jing Ke was recently done in an even better production: The Kings Woman – it's from a different perspective but the costumes, sets, and music were spot on!)
Legend of Zhen Huan (Empresses of the Palace)- a whopping 79 episodes if you watch it on Viki.com and personally I think it is well worth it, the costumes are fabulous and the acting is on par with Korean dramas in this particular series. (This series is also available on Netflix in a very much shortened series as Empresses of the Palace. If you can't decide whether to watch the long or short version this post might help… but I vote for the long version)
Tiger Mom
Downton Abbey
Reign
Love Forward
Love, now
Princess Weiyoung (image below from Drama Panda)
The General and I (Chinese Drama with beautiful costumes, excellent music!)
Song of the Phoenix
One thing I have noticed is that the guys (at least in our family) aren't as into dramas as the girls are. We have watched a few with the guys, including The Great Queen Seondeok, and my 10-year-old son really liked Daebak. Here's a list of dramas that men might like.
Watching a series together, even if we are separated by hundreds of miles, is one way my daughter and I stay connected. Sometimes we watch a series simultaneously so we can talk about it together. Kind of like a book club only for dramas. haha … I asked Macey what starter dramas she would recommend. Her reply was, "Boys Over Flowers, Coffee Prince, Heirs, My Love From Another Star, Warrior Baek Dong Soo…"
My daughters Ivy and Shawna also enjoy watching kdramas with me. I think it has increased their interest in learning about other cultures. They were so excited to have the opportunity to try on traditional Korean Hanbok at the Asian Festival this summer.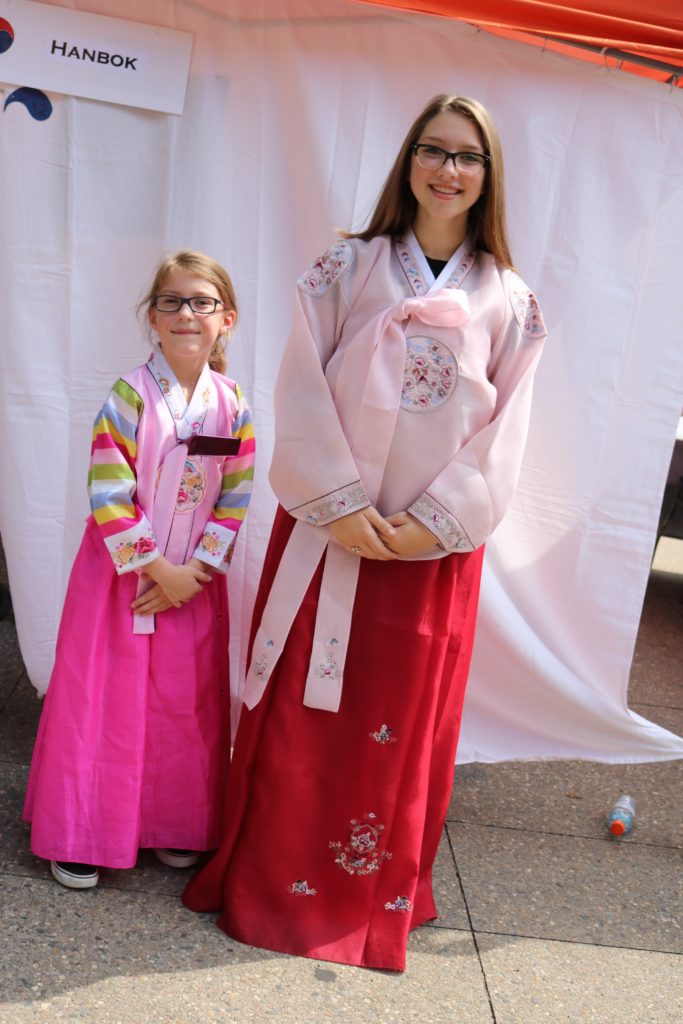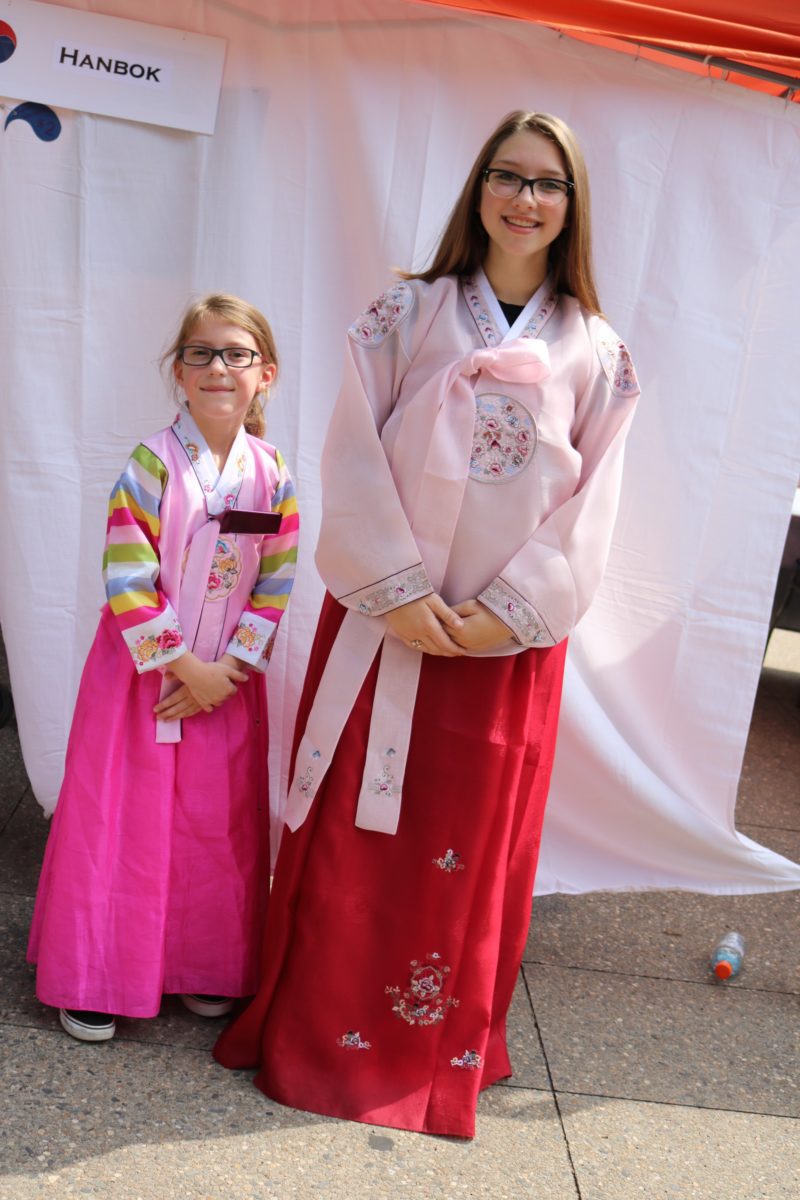 Where I watch dramas
Viki (on Roku or computer) – with the free account you can watch plenty of dramas, but there will be ads. For a small monthly fee, you can have the ads removed. One thing I prefer about Viki is most of the shows are rated.
Kocowa – *Added this suggestion in 2018 after Dramafever shut down*
(No longer available, sadly Warner Brothers closed down the Dramafever site/channel (on Roku, the app on my phone, or computer) – with the free account you can watch plenty of dramas, but there will be ads. For a small monthly fee, you can have the ads removed.
Sometimes, I use the Dramafever app on my phone to watch dramas while I am doing cardio at the gym.
Where to get the scoop on dramas
There are lots of blogs about kdramas but I'd rather spend my "free time" watching them… though sometimes I want to see what a fellow drama lover thinks about a series before I start watching it. Other times I want to get a better understanding of what happened in an episode by reading what someone more knowledgeable has written about it. So these are the Drama Bloggers I follow:
Drama Panda (if you prefer to watch only Chinese Dramas, Drama Panda has a great list of 2016 Best Chinese Period Dramas here)
I started an Asian drama board on my Pinterest a while back so I could keep track of series that I wanted to watch, you will find some funny kdrama memes and also recommendations there.
I prefer to watch a series from beginning to end, one at a time. This is actually something that I really prefer about Asian dramas. Unlike American series which tend to leave you hanging from season to season, I have found that Asian dramas allow me to have closure. There is usually a set number of episodes and they are filmed and aired in a complete set as opposed to in "seasons".
As much as I enjoy the BBC series, they also leave you hanging… Downton Abbey, Reign… so I try to wait until the series is complete before I watch it. Occasionally, I mistakenly start a series that leaves me hanging and I don't like it! Haha Recently, Poldark…
After this post, you might be thinking that all I do is watch dramas! This is a list of some of the dramas I have watched over the last six years so it's really not as crazy as it sounds. On a daily basis, I probably watch one episode a day.
There have been times in my life when, to be honest, I just needed an escape from reality. When my sister died, when I had mono (which means strict bed rest for 6 weeks!) or when we've stayed in because of bad weather… (the only good thing about winter). So, while I don't suggest sitting in front of a drama for weeks on end, you might find kdramas a nice escape if you ever need one and you can't buy a trip to Asia.
SaveSave
Update 2021 – With so many Korean dramas now available on Netflix and other streaming, we're back to "seasons" and I've been hooked into watching an incomplete drama, then having to wait for the future seasons to come out. With Viki, you can easily see which titles are still on air, meaning they are still in production. On Netflix, they may say "coming soon" but you don't know whether they plan to take a break between seasons or not unless you investigate, and then you still may not know. We prefer to watch a drama once we're sure it is completely finished. Some of the more recent ones we've watched include Mr. Sunshine, Love (ft. Marriage and Divorce), Mine, Sky Castle, Crash Landing on You, Romance is a Bonus Book, and When the Camellia Blooms.