Last Updated on June 29, 2022 by Rebecca Huff
My family loves Trader Joe's Scallion Pancakes! I always wished they were gluten-free, so I set out to make my own version. Pa Jeon is the Korean name for these delicious onion pancakes as they originated in Korea and are a popular snack. They can be filled with seafood and other items, and are typically made with rice flour. I figured, if Trader Joe can make them with wheat flour, I can make them gluten-free!
These are low-carb, Ketogenic, and Trim Healthy Mama friendly and there are choices, so make the version that fits your diet and lifestyle. There are several ways to make these, which I will explain later in the post. Please read this part so you can make the version that fits your personal macros. For now, the recipe!
You can watch me make these on YouTube here. Most likely, you can make them with ingredients already in your kitchen. However, if you want to boost the flavor, consider stocking your kitchen with Korean Pantry Staples, such as seaweed for a nice change of taste.
As far as the Trim Healthy Mama variations, you can use this recipe as an E (energizing), FP (fuel pull) or S (satisfying)… But first let me show you how to make these delicious Korean Pancakes, known in Korea as Pa Jeon.
Step by Step to Make Korean Pancakes or Pa Jeon
Watch the video and read the instructions below.
Step One: Slice green onions (scallions) or whatever onions you have on hand. I have used chives, green onions, shallots, and a variety of onions.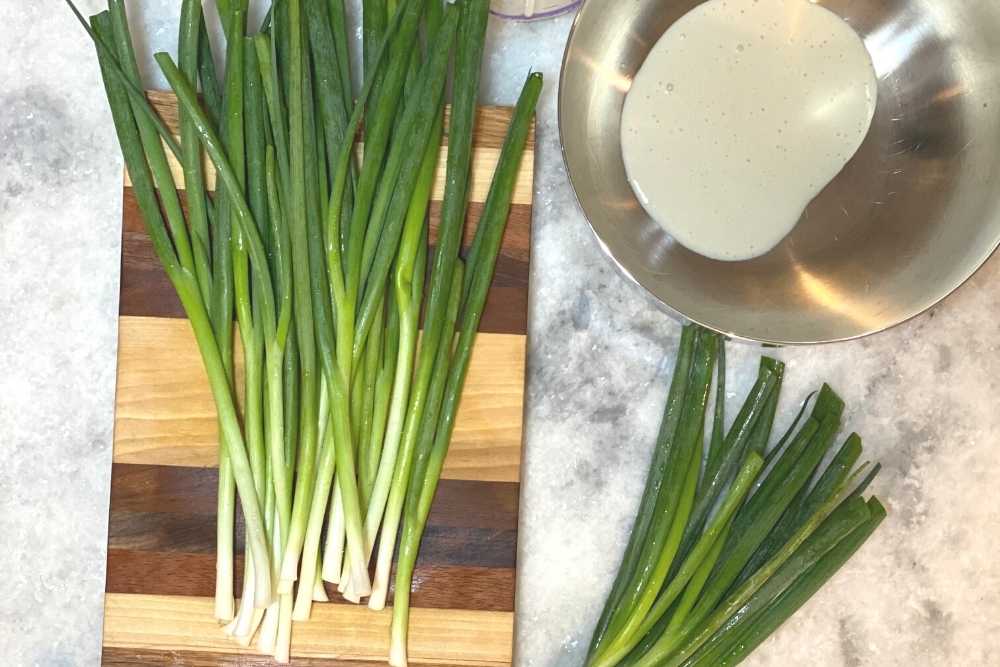 Step Two: Mix Miso and water, mixing well, then add eggs and Baking Blend mixing until combined. Miso adds a LOT of flavor to this recipe, so if you leave it out you might want to add in some other flavoring ingredient such as this Better than Bouillon. Please look for miso in a local health food store and buy organic, something like this miso. Remember it only takes a little to add a lot of flavor.
Step Three: Spray pan with cooking spray. For Trim Healthy Mama's: IF you want to make this an S (fats for fuel) then you can use butter or coconut oil or even a little bacon grease, for E (low-fat) skip the oil, or use a short spray and use a non-stick skillet.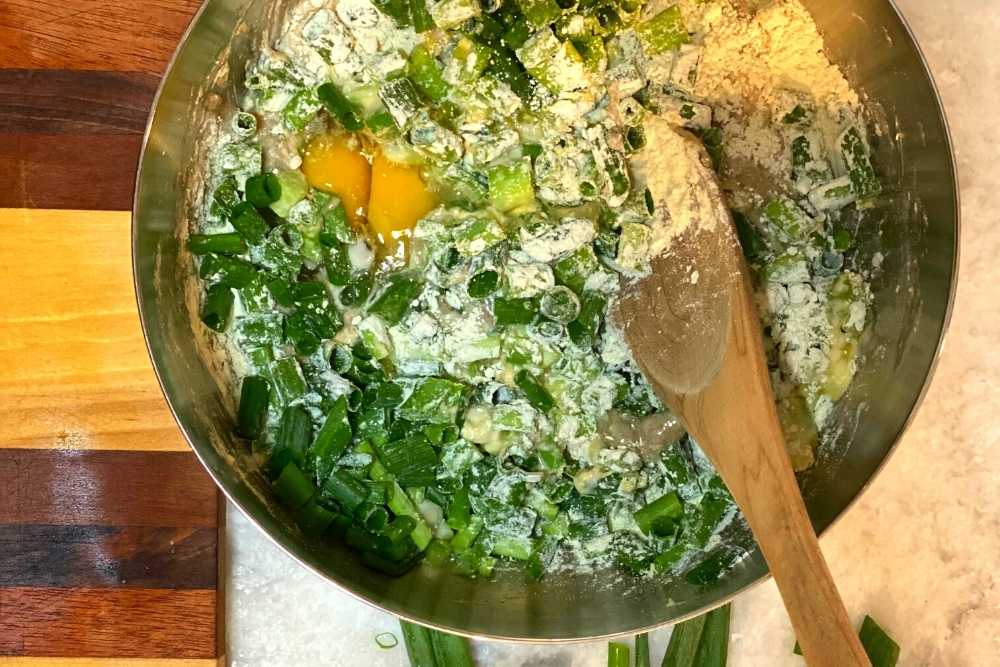 The rings are optional, but I like doing it this way as it makes the pancakes more uniform; turn on the heat to medium and put wide mouth mason jar rings in the pan. Once the pan is hot, add the scallions or onions to the rings — by the way, you can ONLY use metal for this, never ever use plastic or cookie cutters that might melt — not that I've ever done that in the past... 😉 If you don't want to use the rings, just pour the batter in the pan like you normally would pancakes.
Step Four: Add batter to rings, and divide evenly using a 1/4 cup measuring scoop or spoon.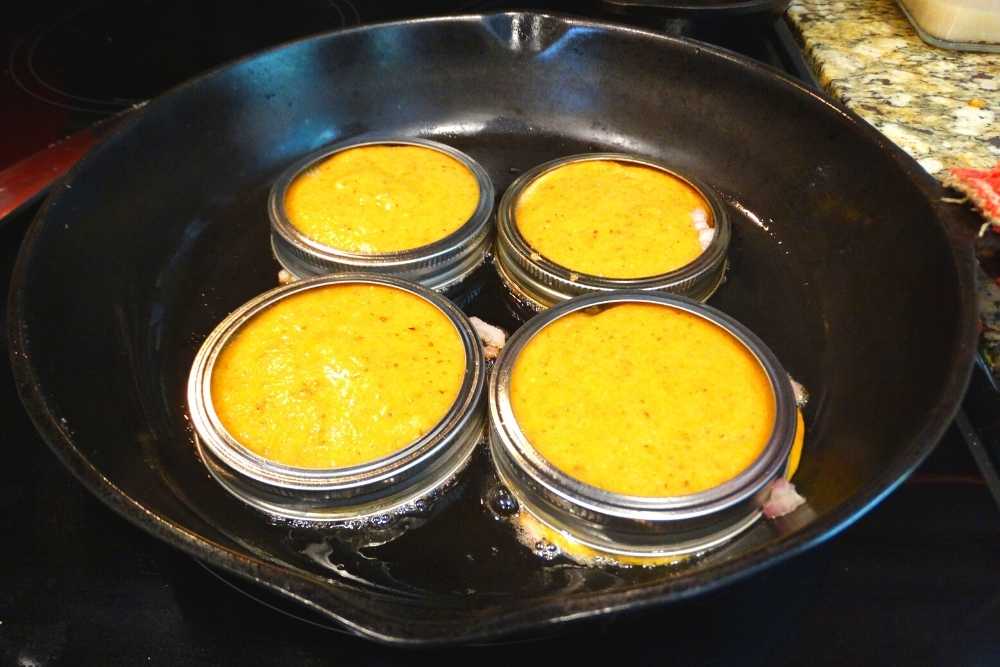 Step Five: Using tongs, remove rings before the batter sets (or it will stick to rings) about half a minute to a minute after adding the batter. It will spread out just a little but not too much. When one side is browned nicely, flip and brown the other side.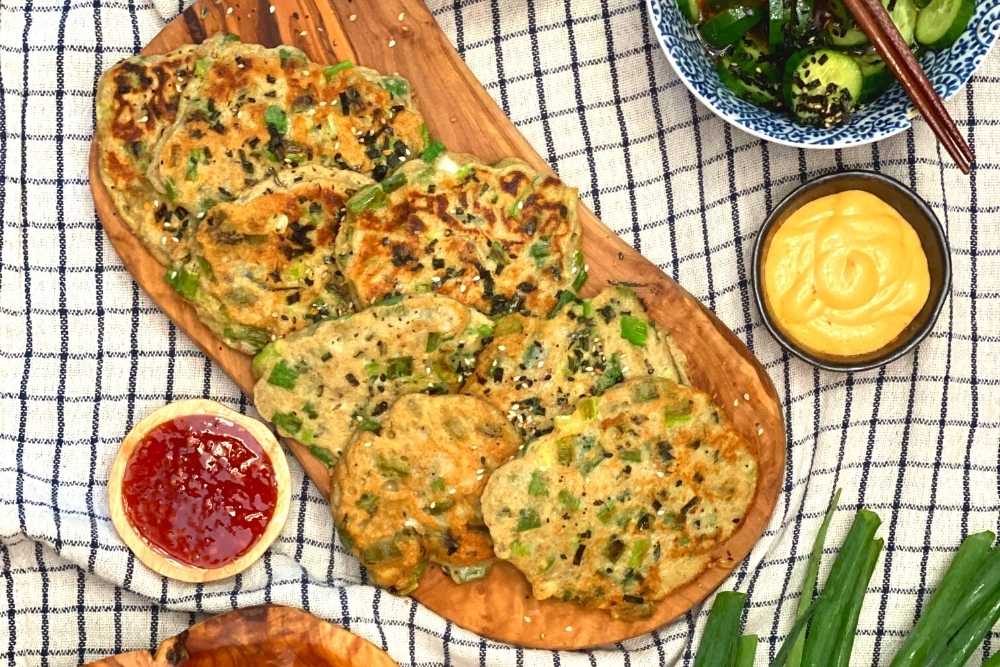 How do these compare to Trader Joe's in taste? Phenomenal! I actually preferred the gluten-free version. If you follow a low-carb or Ketogenic diet, use the S-version below. (You can also just make them with all-purpose flour, Einkorn flour, or wheat flour!)
Before I begin, if you are not sure what S, E, and FP are, these are references to the Trim Healthy Mama Plan for healthy weight loss. The plan alternates fats or carbs for fuels, you can read more about how the plan works here.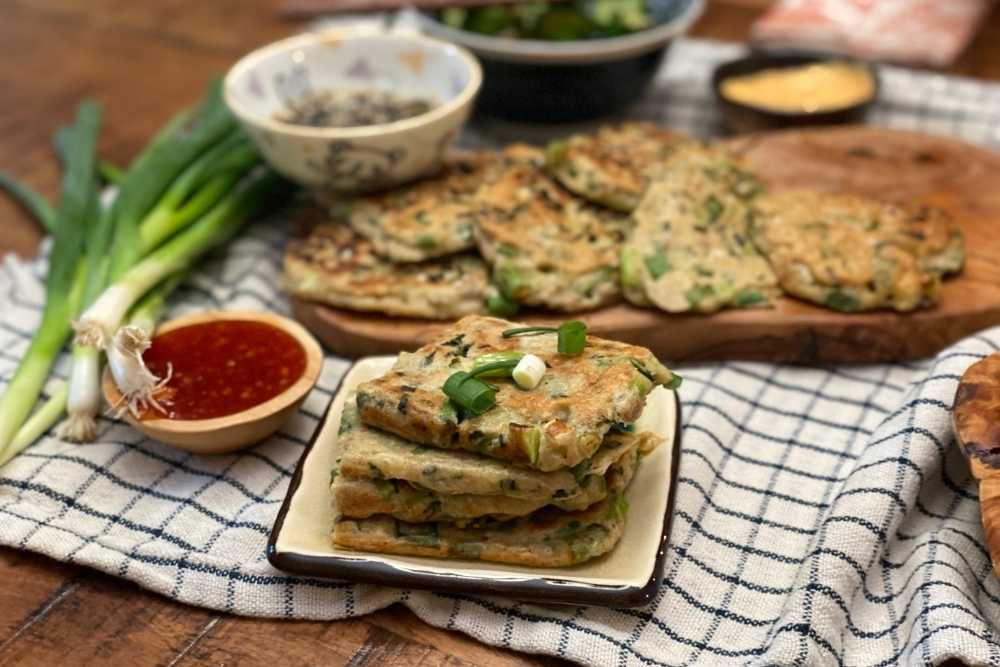 Macro variations:
To make this recipe a Satisfying version (low-carb, Ketogenic) use 4 eggs and you can even top it with sour cream or a bit of cheese and a side of bacon.
To make this recipe an Energizing version (low fat), use 2 eggs and 4 egg whites. Do everything else exactly the same. You can use a little fat-free sour cream.
To make this recipe a Fuel Pull (low carbs and low fat) use 8 egg whites.
This recipe makes four servings, although my kids can eat more than one serving and with their growing bodies, they can eat several!
To see more recipes go to my Weight loss page, although this Korean Pancake recipe is not only for Trim Healthy Mama's it frankly makes a wonderful back-to-school breakfast. These can be made ahead and stored in the fridge for 3 days or in the freezer for 2 months. Simply take them out and reheat on the stove, in the oven or however you would normally heat foods.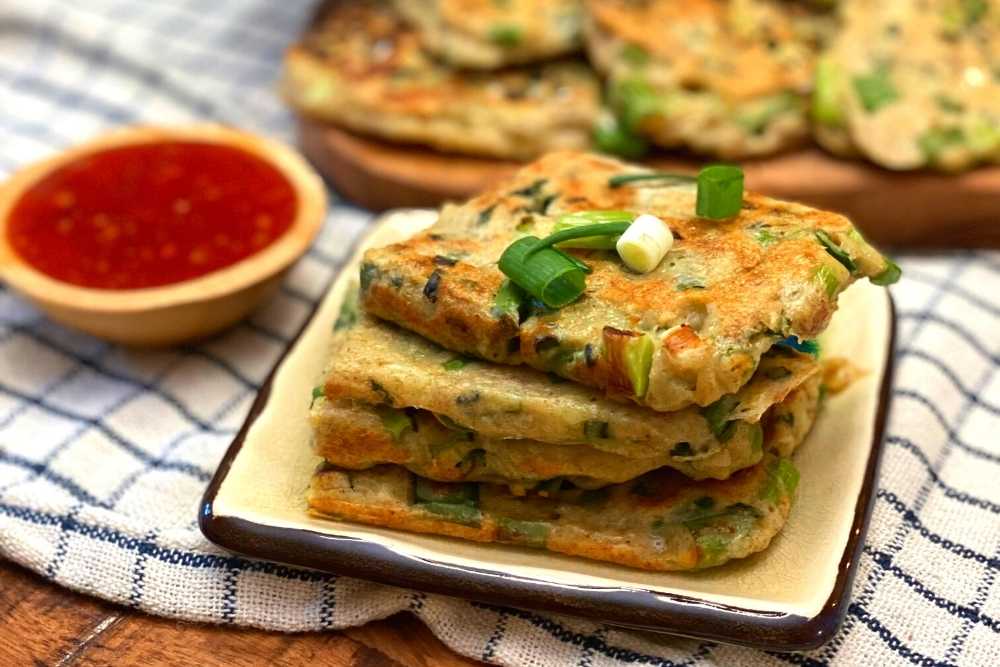 Trader Joe's Copy Cat Scallion Pancakes

Dairy Free

Gluten Free

Keto

Low Carb

Sugar Free

Trim Healthy Mama
see blogpost for variations for S, E, and FP
Ingredients
2

whole eggs and 4 egg whites OR 4 eggs

1/2

cup

of flour of your choice

baking blend, gluten free, all purpose, wheat

1

tablespoon

of water

1

tablespoon

of miso

any kind will do – if you do not have miso just add an extra tablespoon of water but also add a dash of soy sauce or salt

one bunch of green onions

washed and cut in 1 inch pieces OR any onion diced small

salt and pepper to taste
Instructions
Mix miso and water well in a bowl

Add eggs and mix well

Add Baking Blend, plus salt and pepper

Spray pan with cooking spray

Over medium heat, cook scallions or onions in pan till slightly softened

In four equal parts add batter to pan (as in pancakes)

Let cook till brown, then flip and finish browning the 2nd side.
Let's take a look at the numbers.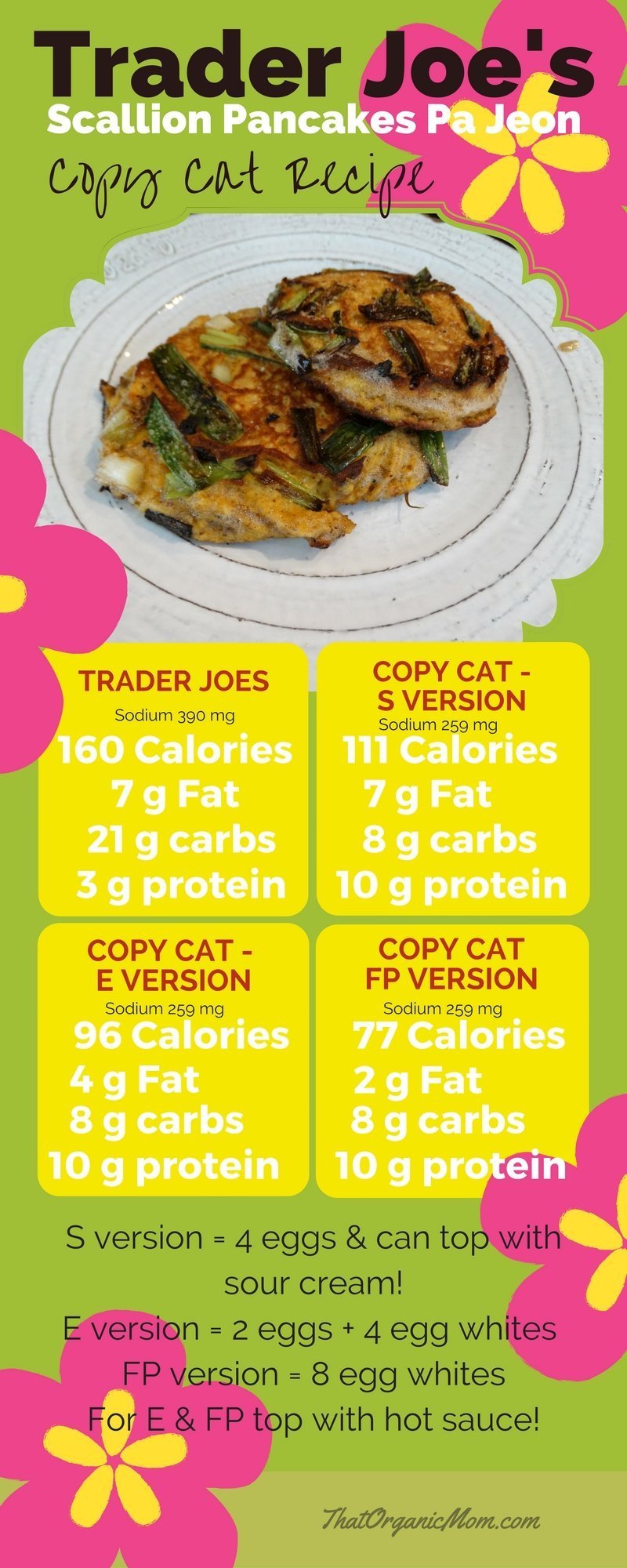 Like this recipe? Try these too: