Podcast: Play in new window | Download
Subscribe: Apple Podcasts | Google Podcasts | RSS
My guest today has successfully homeschooled her four sons through high school. I had the honor of meeting one of her sons through my work.
Gina was tired of trading time and brainpower for lifeless learning … so she set out on a journey to reclaim the joy and potential rewards of what she now refers to as A LIFESTYLE OF LEARNING.
Through the years, Gina has found that successful homeschooling isn't about recreating the public school classroom.
Her website GinaHamby.com is where she shares how she went from overwhelmed "newbie" homeschooler to seasoned homeschooling mom, helping many others see their ability to successfully homeschool their kids, all while building a stronger, happier, and healthier family.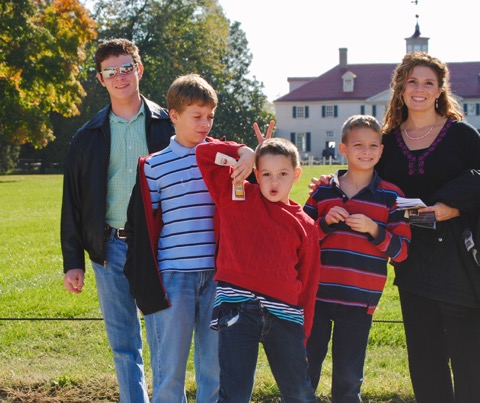 Gina has homeschooled her children for 15 years. She shares a lot of wisdom when it comes to home education. More people are homeschooling than ever before. That's why I've invited Gina on the podcast today, to answer this question that seasoned homeschoolers get all the time.
"Is Homeschooling Hard?"
The thing that I love about homeschooling is also part of what makes it hard for parents to get started; it looks different for everyone. While traditional school here in America looks pretty much the same from one public school to another, homeschool varies.
We know why many people are considering homeschooling in 2020, but pandemic aside, let me start by asking, what ARE the benefits of homeschooling?
Benefits of Homeschooling
Allows you the time to truly mentor your children through living life together day in and day out, which will help to impart your values and beliefs as they are forming into future adults.
Flexibility to teach and learn what you want, when you want, how you want to. Ex. boys loved learning about nature study/outside. They loved conquering, building, studying. So we tailored their studies towards learning how to survive in the wilderness, grow their own food, which also imparted an entrepreneurial spirit that led to our family farm business.
You get to create independent thinkers. The goal is not to cram facts and teach to the tests, but to create independent thinkers that can problem solve effectively through life.
There's no way we can touch on everything but what are some ways that homeschool parents can go about educating their child?
Home Education
Both Gina and I have each educated four children through adulthood but I still have two children left to go! I asked her to share answers to some of the top questions she's been asked over the years:
What does schoolwork look like for a homeschooler? Gina shares thoughts about what a typical day looked like for her family.
What is homeschooling like?
Touching on the benefits of mentoring, the concept that will create successful homeschooling is about immersing your children in daily life with you. Not necessarily making homeschooling one more thing to add to your overwhelming list of things to do. It is working alongside them to morning chores, sweeping, kitchen chores, preparing food.

Gina Hamby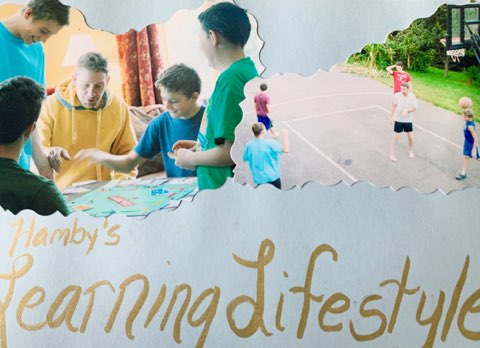 How do we choose a homeschool curriculum?
Gina mentions this briefly in the podcast. Homeschooling families are unique and each will have different challenges and situations they face. Working moms and dads can also have happy well-educated homeschooled kids. Listen to this episode to hear the ways Gina suggests parents can make this work.
Is virtual school the same as homeschooling?
Oh goodness no! Virtual school is just public or private school online. Even harder to concentrate; even more boring for the children. Prolonged screen time is detrimental to a child's developing brain. Children learn best through all their senses, as in in-person learning. Virtual learning does not allow you to cater your curriculum or learning to your child's strengths or interests, it's a sure-fire way to burn your child out academically. This is how kids come to hate learning and become adults that would rather be told what to do rather than think independently.

Gina Hamby
What about learning through field trips?
When I was homeschooling my boys, we were part of a homeschool field trip group. This was more of a time for hanging out together, seeing things together, and having lots of fun. However, there were times when we did field trips on our own. You don't need to have a group to have an awesome field trip experience. This is good news in the age of coronavirus. In fact, my kids would often learn more and be more engaged with the field trip when they were not distracted by the silly chattering of their friends. Some of our most memorable field trips were just us on our own.

Gina Hamby
In my experience, what Gina says about field trips is spot on. For the last three decades, I've taught my children so much just adventuring on our own. When we lived in Florida, our family had an educational outing every other weekend. We used a series of books called "One-Tank Road Trips" (the original three volumes appear to be out of print but it was something like this book on Amazon.)
These trips were mostly just our family, sometimes an uncle or nana would come along. We learned so much. Now, living in Tennessee, I've recreated the same one-tank road trip tradition for my two youngest children. (Although our traveling has slowed down during the pandemic, we've spent more time creating this past year. My youngest daughter started a small business selling clay figures on Etsy.)
In 2019, my husband and I took our children to China. That was a major field trip and they learned so much! My daughter even learned basic Mandarin Chinese.
Every trip we take becomes an educational experience, just like Gina mentions in the podcast about her own family.
Our family vacations often were used as a learning experience. The month before we left we would check out books from the library and watch travel videos about that state, learning their culture, weather, animals, etc.

Gina Hamby
Do parents need elaborate lesson plans?
Just like no two students are the same, no two homeschooling parents are the same. Some of us do better without rigid structure, while others may feel they need that. The idea here is that you don't have to stress yourself out spending half of every day creating extensive lesson plans. The idea here is to not make your homeschool day so complicated that you feel overwhelmed trying to get through each one!
No. I was a more spontaneous teacher/learner, I am a social butterfly myself, so creating a lesson plan overwhelmed me personally. What I did do was decide at the beginning of the year for each subject, what would be the theme/curriculum. So if I knew I needed to get science covered for middle school, perhaps that year I wanted to human health (first aid, herbal remedies, etc. ) Or let us say my boys were in high school and I am going to plan their high school math year out, and I know I want them to be a functional adult, knowing how to handle money properly, then I would look for a very practical math curriculum, like Dave Ramseys Foundations of personal finance. Lesson plan, no, outline, yes.

Gina Hamby
What is a school year?
We teach our children all the time, not only during designated hours, days, or months – we don't stop learning in the summertime! As homeschoolers, we have the benefit of not stressing when life happens, and the benefit is imparted to children's behavior with year-round schooling.

Gina Hamby
Do we need a designated schoolroom?
Some years I had a little space for homeschool carved out of my home, but I've never had an entire room just for homeschooling. As for Gina, she suggests learning nooks, corners, and baskets spread throughout the home. Designate a home base for school books/projects. Could be closet shelves a corner etc. Each kid should have a basket or tote.
You can see an example of the education basket on Gina's Facebook page here.
The beauty of learning baskets is seen here. We have a place for binoculars, a birdfeeder book to identify our feathered visitors, birdseed to fill the bird feeder, and so forth.

Gina Hamby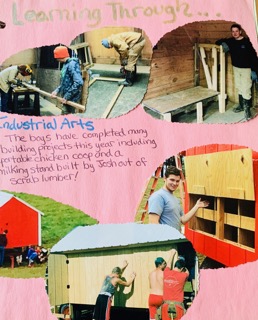 Will I be grading worksheets all day?
Ew, gross, no. You can test, but I did not test a lot because I was working alongside them most of the time and could tell if they were grasping what was taught. When I did tests, it typically only occurred in math and science. Besides, worksheets and tests are dry and boring, necessary at times for language and math. Kids would often fill out what I learned today sheets.

Gina Hamby
How long should I expect my six-year-old to sit at his desk?
Not long! Maybe 5-10 mins, after that you're probably killing him, especially if he is a boy. (Gina mentions active breaks after each subject in the podcast!) Much of the learning at this stage was hands-on, reading books, and discussion. Here's an example – leaves are falling, grab a leaf, talk about why the leaf fell, talk about the seasons, what kind of tree etc.

Gina Hamby
What about high school, how do you teach them and what changes?
This is when you start conversations with your kids: What do you love, what interests you? It is a time when you can really start teaching towards their interest and life goals/careers. It's also for you as a mom to say, what do I wish I had learned in those last years of school? Do I wish I learned how to balance a budget? How do I cook a week's worth of meals? How to do simple home repairs, like fixing a leaky sink or changing your own oil, or fixing your flat tire.

Gina Hamby
Keeping records is for sure one of the hard things that a homeschool mom may feel stressed over during the first year of high school. Gina shares her thoughts about high school and what worked for her family in the podcast.
For most states, you are going to start keeping track of credits and being sure you get all the credits/subjects that your state requires for graduation. Sounds intimidating, but quick example. In Maryland, we need three math credits, which could be anything like consumer math, and algebra, and geometry.

Gina Hamby
How to teach a high schooler
I asked Gina to share some real-life stories about her family, but because we tried to keep this under an hour, I suggest you follow her on Facebook. Also, subscribe to her blog, the encouraging videos she sends out have helped me, and I've been doing this homeschool thing for decades! Gina has a heart for encouraging moms and it really shows in her video messages!
My son Ryan hardly touched textbooks (except math and language arts) until he was in 10th grade. He knew he wanted to be an RN, so we catered his studies towards the medical field, such as health-related sciences. Once he had a direction/goal, he took off. Many kids, when you give them an end in sight, (finish this, get through college and start earning $30/hr) and they will have motivation and drive that will propel them forward with a voracious drive for learning. Because they know they will be an adult making their own money at the end of the journey.

Gina Hamby
More examples from Gina's story:
Ryan finished high school at age fourteen. He did CLEP (College-Level Examination Program) exams to quickly complete high school and college credit during what would have been his 10th-grade year. Ryan was an RN practicing in a hospital at 18, he was my most drive one. Around age 20, Ryan decided he wanted us to start a family farm business selling grass-fed clean meats. Where did that desire come from you may ask? Backtrack to when my boys were younger, we heavily studied early American history, boys developed a love for self-sufficiency, homestead, and creating their own future! The land we lived on provided us the ability to homestead. When Ryan's coworkers started mentioning that they would like to buy chicken from us, an idea was born and a business was birthed. Because our homeschooling didn't extinguish their love of learning, they were ready for the adventure of entrepreneurship.

Gina Hamby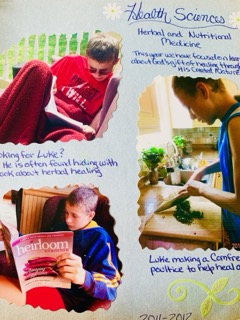 Is getting help from a local school an option?
Gina mentioned the example above and she shares lots of stories on her website.
As for me, collectively my six children have taken advantage of outside opportunities when it worked for us. Some have been dual-enrolled at a community college during high-school. Mine have also attended specific classes at a private school (some will let your child go to just one) or gone to a co-op. One attended high school at a private school and decided that was best for her. You do what works for your family and their own particular needs.
We've hired a private tutor, set up a classroom in the back of our mortgage business, lived off-grid in the woods in a cabin with no running water or electricity to show them how to survive. Our school day has included learning to cook on a wood stove, over a campfire, and even harnessing solar power.
What's the most important lesson you've learned about being a homeschool family?
Gina touches on the important lessons she has learned in the podcast. She mentions the mini-course Debunking the 5 Most Common Homeschool Myths. With the time constraint, we couldn't get to all the wonderful things about homeschooling that we'd love for you to know.
With that in mind, I've put together a list of a few of my favorites from her website's Hope and How-To Section:
If you need help or want to gain clarity in your homeschool journey, you can work with Gina one-on-one. She can help you spark your homeschooled students' love for learning, as well as help you to become more effective as a homeschool mom.
You can find Gina at GinaHamby.com where you'll receive much encouragement. I highly recommend signing up for Gina's free mini-course Debunking the 5 Most Common Homeschool Myths.
Other resources we mentioned: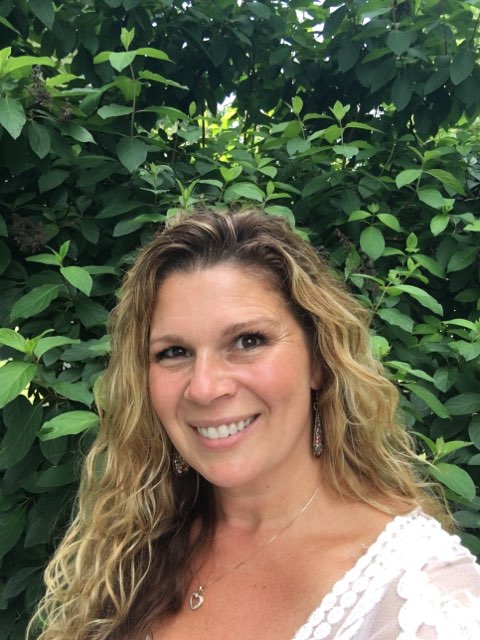 Gina Hamby is known throughout the homeschool community for:
Her hope-filled "you can do this" encouragement
Practical tips
Solutions for your homeschool journey
With over 15 years of homeschooling experience and successfully graduating four sons, Gina is on a mission to inspire YOU to know that "Wow! Homeschooling really is possible for my family."
A State Homeschool Evaluator, Family Herbalist, and former Register Nurse, Gina and her husband, along with their four sons, are nestled on a small homestead in Northern Maryland where they operate a sustainable farm business specializing in grass-fed meats. When not outside contentedly working the land, she loves spending time with the family and friends God has blessed her with.