Last Updated on June 29, 2022 by Rebecca Huff
My favorite soups are made, again and again, it's a winter tradition! Who doesn't love sitting down with a piping hot bowl of goodness on a cold wintry day?
Who doesn't love sitting down with a piping hot bowl of goodness on a cold wintry day? Since winter is upon us, I decide to share some of my favorite healthy soup recipes with you! Get out your soup pot and get ready to nourish your soul as well as your body!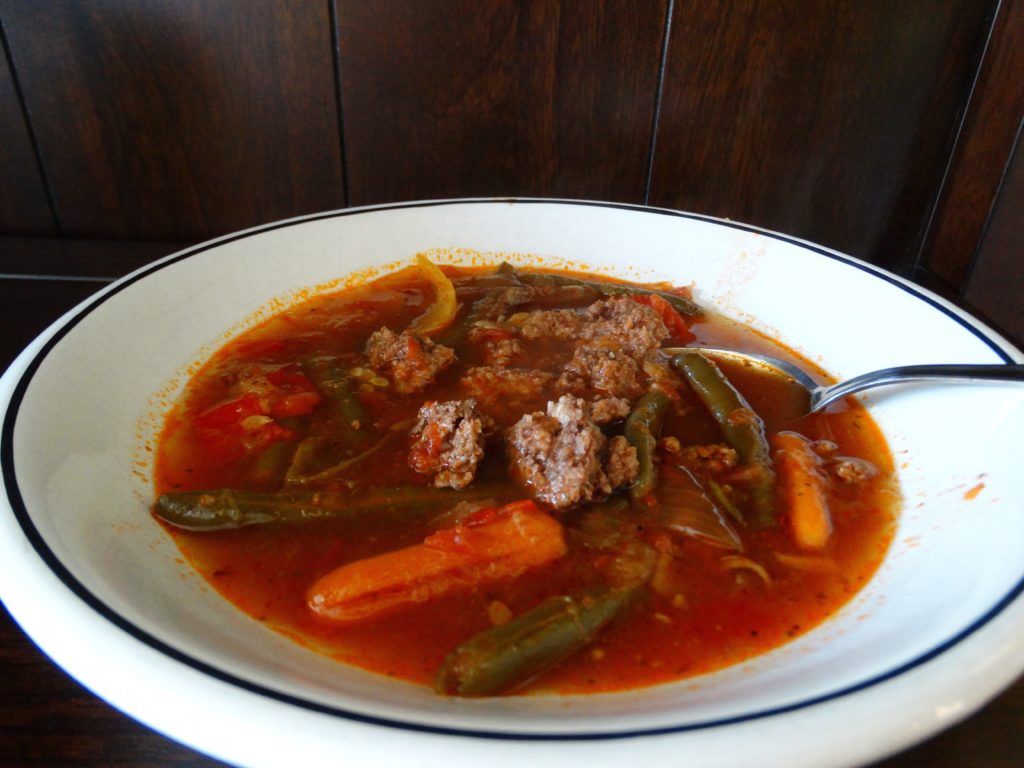 Favorite Soups
This Slow Cooker Chicken Soup with leeks is so yummy you might forget that it is also superb for your health!
I don't understand why the picture shows a bowl of soup with noodles because it doesn't call for pasta, but this Get Well Chicken Noodle by Dr. Oz is perfect for helping your family get over a cold. One thing I add that isn't listed in the ingredients is a clove of garlic.
To feel safe and warm on a cold wet night, all you really need is soup.
~Laurie Colwin
I'm a huge fan of Maangchi and her cookbook and youtube channel are among my favorites for Korean food cravings. If you want to incorporate some healthy mushrooms in a soup try Beoseot-deulkkae-tang (Mushroom Soup) for something distinctly delicious. Maybe you are a fan of kimchi and want to try this spicy Kimchi Soup recipe on your next Korean night!
Good soup is one of the prime ingredients of good living.  For soup can do more to lift the spirits and stimulate the appetite than any other one dish.
~Louie P De Gouy
Dr. Hyman has a great Tuscan White Bean Stew recipe that is full of healthy ingredients and tastes so delicious! I always double it for our large family.
I live on good soup, not on fine words.
~Moliere
If you're looking for something simple that works in the summer as well as the winter, try this simple vegan Zucchini and Onion Soup. I discovered this recipe while following The Candida Diet.
Between soup and love, the first is better.
~  old Spanish saying
This Thai Chicken Soup is remarkably healthy and full of flavor. It does call for one tablespoon of coconut sugar, but you can leave that out if you are avoiding sugars or following a diet such as the Whole 30 Diet.
An old-fashioned vegetable soup, without any enhancement, is a more powerful anticarcinogen than any known medicine.
~ James Duke M.D.
If you're looking for a simple everyday soup to boost your health try Miso Soup! It doesn't get any easier than a simple bowl of bone broth for good health.
Soup is the song of the hearth…  and the home.
~ Louie P De Gouy
Even though it's called Summer Chipotle Chili, this recipe is perfect all year long. It's very hearty and filling, plus it's full of fiber and good for you nutrients. Bonus, it's gluten-free, dairy-free, and sugar-free!
For a very unusual soup that is soup-er slimming, try Trim Train Taco Soup! It's unusual in that it has some unconventional ingredients that you might think would taste odd but it's actually one of the better soup recipes I've tried especially considering it is weight loss friendly. If you follow the Trim Healthy Mama diet you might be familiar with this recipe. Also, try my souper soupy freezer meal prep video and recipes which will help you stock your freezer with some THM Friendly soups!
There is nothing like soup. It is by nature eccentric: no two are ever alike, unless of course you get your soup in a can.
~ Laurie Colwin
Ever made soup with fruit? This Turmeric Carrot Apple Soup is gluten free and vegan and boasts one of the healthiest spices you can consume! (if you're not practicing veganism, you can substitute regular yogurt in place of the coconut yogurt with very good results) While you are checking out the soup recipe, browse around because YUM!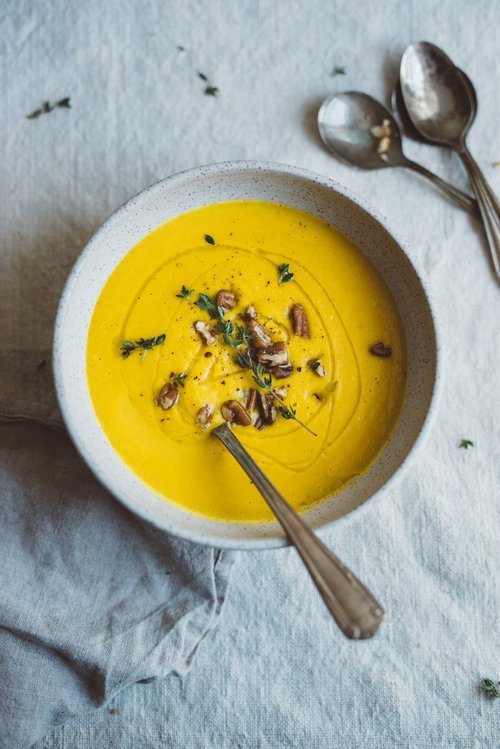 If you are a soup lover like I am you might enjoy having a soup recipe for every day of the year! Then you'll have plenty of favorite soups! Williams-Sonoma is one of my preferred stores to visit at the mall, and this book does not fail to delight with 365 recipes to keep you souped up all year long! It includes some delish gazpacho recipes perfect for hot summer days!