Last Updated on June 29, 2022 by Rebecca Huff
**the advice in this post is not intended to take place of reading the Trim Healthy Mama book. The authors suggest you refer to their book: Trim Healthy Mama Plan Book and Trim Healthy Mama Cookbook**

Week 19 on Trim Healthy Mama in 2016
Hard to believe we are this far into our journey this year (2016)! Seems like we just got started. I was looking back at Week Four of this year on Trim Healthy Mama, when I announced my daughter's engagement, now here we are less than two weeks away from her wedding day! I'm so excited about the soon to be newlyweds.
One question I get asked a lot is: So, how does this work? I have found a lot of people want to get a basic understanding of the plan so they can either 1) get started ASAP or 2) decide if it's doable for them. I have created a cheat sheet to help friends in the past, which is located in my Week Four Menu plan. Today I am sharing an infographic that I hope will help at a glance. (at the bottom of this post)
Since the wedding almost here we will be traveling soon, so I wanted to review my traveling tips. I want to make sure that I am staying on plan while we are celebrating. Though I am willing to give myself grace and settle for good enough if I happen to enjoy champagne and cupcakes.
Yesterday was my son's 19th birthday, and I did accept a very thin slice of his cake, but after two bites I stopped because it wasn't even worth cheating over! I think after years of being off sugar, my tastes have certainly changed.
Tonight is our weekly THM Ninja Group meeting and we are having a fun Grill Out! The Ninjas have been such an amazing group of ladies that have really helped me stay on track this year and I am so thankful to be sharing this journey with them. Each one has a special skill or strength that adds to our group and I just love them ALL.
This upcoming week I'm going to try the new Trim Train Taco Soup for the first time. I prepared some items to take with me on my upcoming trip, such as Trim Bouillon Mix p. 491 which I like to just add to hot water, it's easy to sip instead of snack when on a Road Trip.
I also made up more Muffin in a mug mixes in baggies with printable instructions. I am taking my Ranch Seasoning mix, p. 492, Trimquik p. 494, and some homemade baking blend for breading things, pancakes and maybe I'll even take my donut pan. When we go out of town for more than a couple of nights, we stay at an Airbnb so that we can prepare our own food instead of eating out at most meals.
I'm also planning to make the Raspberry Scones recipe that came out in the latest Trim Healthy Mama ezine.
If you'd like to see more of my own Trim Healthy Mama posts, just head over to my Weight Loss page. This week I wanted to make an infographic that would help us to see the differences between what makes up an E meal or an S meal. This is just a basic snapshot, to get a fuller understanding, I highly suggest reading the book! I know plenty of people who have managed to lose weight without reading the book, but I do think it is important for long term success to really get a good grasp on the concept.
Did you know that this site is about so much more than weight loss? There are many posts that could help a mama out! Come back frequently to join the monthly challenges! You might enjoy the Healthy Kitchen Challenge, or everyone's favorite: The Sleep Challenge! If you are interested in getting healthy and not just losing weight you could Start Here.
You'll find plenty of sugar-free recipes and tips in the Cooking Section.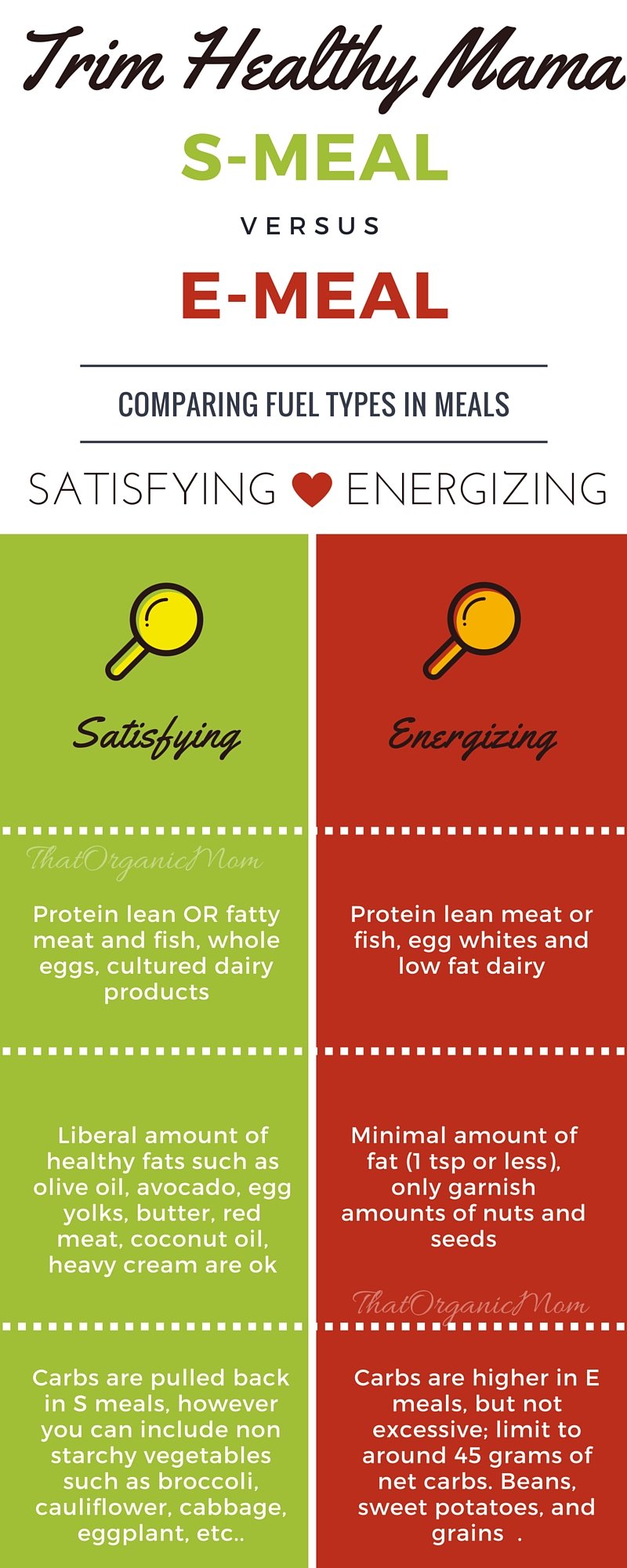 Don't forget to pin this infographic so you can refer back to it later.