Last Updated on June 29, 2022 by Rebecca Huff
Thai Cuisine
International cooking has always fascinated me. I love experimenting with flavors from other countries. My son Harmon loves tacos, so I'm frequently trying to come up with "different" types of Tacos. The plan is to have Taco Tuesday without the same "traditional" tacos every week!
I'm sharing more details, but if you just want the recipe, I can relate. So, I'm putting the recipe at the top. If however, you like to know more about why and how then scroll on down! Plus, you don't wanna miss the details on the healthy ingredients!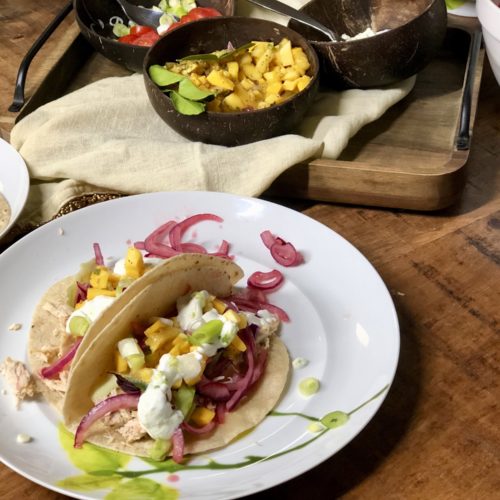 Thai Chicken Tacos with Beet Infused Pickled Onions

Gluten Free

Keto

Low Carb

Sugar Free

Trim Healthy Mama
Not your average taco! Beet infused pickled onions are the bomb, y'all. Get in my belly!
Ingredients
16

ounces

Chicken

breasts or thighs - whichever fits your diet plan

Mushroom powder

optional seasoning for chicken

1/2

tsp

dried orange peel

optional seasoning for chicken

1

tablespoon

Chile Lime

optional seasoning for chicken

Lime Leaves

a couple *see notes

1

cup

Yogurt

I prefer Siggi's Triple Cream

Lime

juice and zest

2

cups

cabbage slaw or shredded cabbage

sliced radishes

1

tablespoon

minced garlic

Salt and pepper

Purple onion

1/4

teaspoon

beet root powder *see notes

1

tablespoon

toasted sesame oil

2

ounce

Rice Vinegar

divided

1

teaspoon

minced ginger

2

tablespoons

Harmless Hunny

or other sweetener of choice *see notes

green onions

for garnish

Pineapple Mango Salsa

optional

tortillas

gluten-free, low-carb, wraps, whatever you like
Instructions
To an instant pot, add one cup of chicken broth (or just water), chicken, Chile Lime seasoning, Mushroom Seasoning Blend, orange peel, Lime Leaves, salt and pepper.

Alternatively, cook chicken in an a crock pot, oven, or stove top. You could also use this method, which is how I always have prepared chicken on hand. (Or if you don't wanna cook a chicken, just use a rotisserie chicken!)

In a small bowl, mix 1 ounce Rice Vinegar, 1/4 tsp beet root powder, 1 tablespoon Harmless Hunny (or Pyure Stevia Powder or Liquid to taste - measurement will vary depending on the sweetener you use)

Peel and thinly slice the red onion, place in small bowl with the mixture from step three (one ounce of the vinegar, Harmless Hunny (or pure stevia), and beet root powder.) Let the onion mixture marinate and pickle while you prepare the other ingredients.

In a small jar, mix sesame oil, one ounce of vinegar, ginger and one tablespoon of Harmless Hunny and pour over cabbage, toss to coat and set aside.

Make Lime Crema, by mixing yogurt, lime juice and lime zest together, set aside.

Shred the cooked chicken by pulling apart with two forks, add more salt and pepper if necessary.

Warm tortillas, build tacos by putting chicken on a warm tortilla, topped with the cabbage slaw, sliced radishes, beet infused onions and lime crema. Thinly sliced green onion goes on top as a garnish. 

Serve with Pineapple Mango Salsa if desired.
Notes
Lime Leaves are availabe in the herb section of some grocery stores. If you have a hard time finding it there, check out your local Asian Supermarkets.
Beetroot Powder is found in bulk sections of stores like Three Rivers Market and other Zero Waste Style Stores, but you can also find it on Amazon.
Trader Joe's has a great Chile Lime seasoning blend that I use sometimes. Other times, I mix my own. If you can't find Chile Lime Seasoning, just use chile powder and a squeeze of lime! I also add a dash of Trader Joe's Umami Mushroom Seasoning Blend.
If you like to make bulk foods, go ahead and make an instant pot full of the chicken and use it in other recipes throughout the week. 
You can also make Avocado Lime Crema to top these.
First, the inspiration for the beet infused pickled onions came about after I bought some beetroot powder in bulk at my local coop, Three Rivers Market. If you aren't sure where to find it locally, try something like this from Amazon.
I plan to add the beetroot powder to various dishes for the benefits that come from beets. Not surprisingly, beets are rich in compounds that improve blood flow and can lower blood pressure. Beetroot powder has folate, potassium, iron, manganese, calcium, iron, fiber, and is rich in antioxidants. Why wouldn't I want to add it to my food!?
I also love the color of beets. Adding the powder to the pickling liquid for the onions gives them the most vibrant, beautiful color.
How to sweeten the low carb way
To keep the dish lower in carbs, I used Harmless Hunny by Pyure.
I started using Pyure products recently after receiving a free sample. Since then, I've been incorporating more of their products into my cooking. I'm a big fan of their stevia because they make it with organic Stevia Leaf Extract.
One of my children has a real sweet tooth. To help keep my family healthy, I often use Pyure in place of sugar in some of our desserts. The Harmless Hunny is perfect drizzled on a bowl of Siggi's Triple Cream Yogurt.
Make sure to become a TOM Tribe Member so you'll get updates as I share more sugar-free recipes in the next few weeks. Alternatively, you can get every post delivered to your inbox here. If you're curious why you'd want to avoid sugar, read this article about avoiding metabolic syndrome.
About Thai Flavors and the Inspiration for this recipe
Thailand has five regional cuisines that represent the five main regions of Thailand: Bangkok, Central Thai, Isan, Northern Thai, and Southern Thai. 
Many of the popular dishes in Thailand may have originated in China. Later India began to have an influence on Thai cooking with their use of dry spices.
Whatever the origin, we like Thai flavors, which usually include some of the following:
chilies
garlic
tamarind
green curry
lemongrass
shallots
fish sauce
kaffir lime
shrimp paste
palm sugar
Thai Basil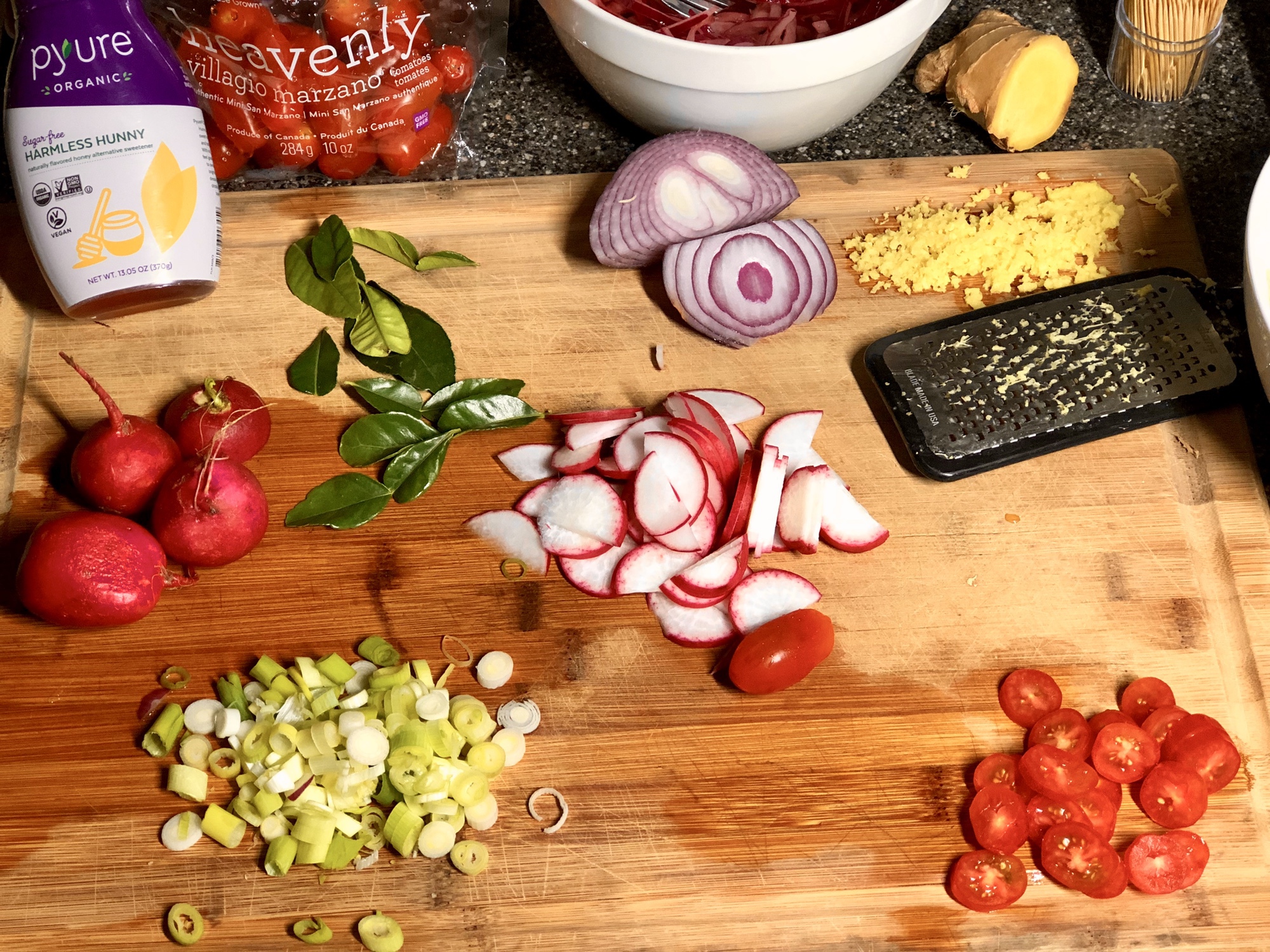 Cabbage and other green leafy vegetables are used in Thai cooking frequently, and I think cabbage slaw pairs well with tacos!
Pineapple and mango are two common fruits found in Asian markets, which is why I included it in this recipe. If you don't want to make your own, many grocery stores such as Whole Foods carry a pineapple mango salsa in the produce section.
Although, if you are following a Ketogenic diet or another low-carb type diet, you may want to skip, or only use a moderate amount of the pineapple-mango salsa as these fruits are higher in carbs.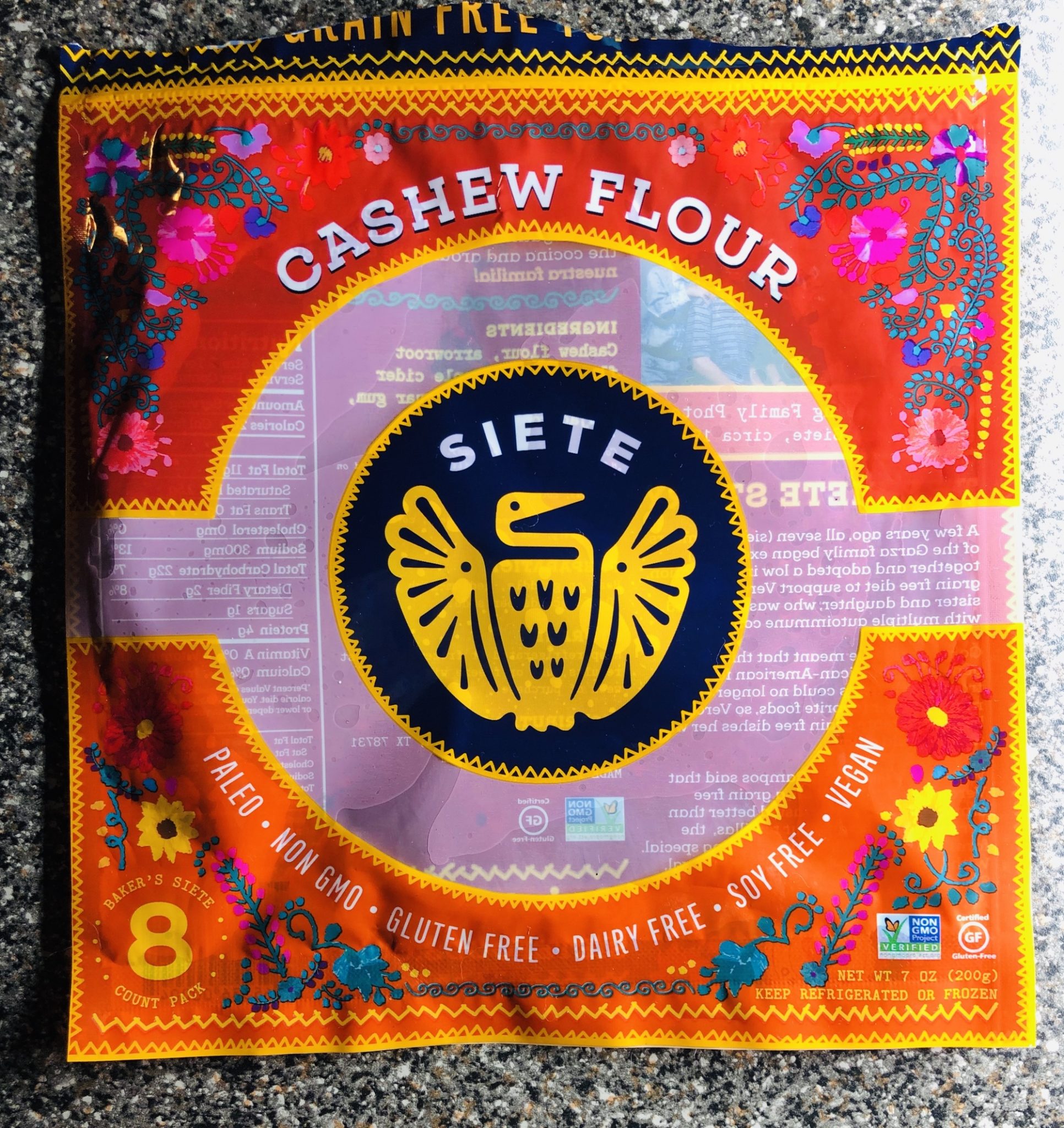 These Cashew Tortillas are perfect for those following a grain free, gluten free, or Paleo eating plan. They are also soy and dairy free (and Vegan – although obviously, this recipe is not) although they do have some carbs. To let you know how good similar to traditional tortillas they taste, my 11-year-old daughter didn't even realize they weren't flour tortillas. I have a witness. (Hi Amanda)
To keep the carb count down on this dish, I would use the THM Wonder Wrap Recipe.
Also, for a lower carb count, top the taco with the pickled onions and sliced tomatoes in place of the pineapple-mango salsa.
A special Thank You to my friend Amanda who came over and helped me in the creation of this recipe!
Save this recipe to your Taco Tuesday, low carb, eating healthy, or other Pinterest board!