Avocados are full of health benefits which is why I suggest that you would want to find a few easy ways to eat more avocado! The fruit (yes, it's a fruit) is full of fiber and healthy fats, making it a good choice.
Avocados are for more than just guacamole
Like many people, I love guacamole, but I remember an aversion to trying the dish the first time I was introduced at age nineteen. My (at the time) Cuban boyfriend had invited me to a gathering of some of his friends. Everyone was speaking rapid-fire Spanish. The bowl of "green stuff" was proudly displayed in the center of the table and I whispered "what's that?" to him out of sheer curiosity. He explained and showed me how to eat it and of course, I was hooked.
The next taste of avocado I got, outside of the bowl, was in a sushi roll in Atlanta.
You know there are many variations on traditional guacamole, for example, my Salt Block Guac is a fun way to eat an avocado. Beyond guacamole though, what can we do with the wonderfully creamy avocado?
I've listed 9 ways to eat avocado that does not include guacamole below. Speaking of guacamole, I have to say that if you are a cafe or restaurant owner, and you have "Avocado Toast" on the menu; you should serve just that, not "Guacamole Toast," please, and thank you. Maybe I'm splitting hairs but there is a distinct difference between the two.
1 Avocado Toast
Oh gosh, you were expecting me to suggest something a bit more unique than avocado toast, weren't you? Hang in there, friend. I'll knock your socks off in just a minute, but for now, I have to give "Avocado Toast" its due diligence.
Yes, Avocado toast has been a popular menu item for a while now. A quick browse on social media will confirm it. We can't skip it because, well it's still around and we love it.
All of my kids eat it but my daughter Haley especially enjoys avocado toast. When we go out of town together, both of us being foodies, we love to try different cafes and coffee shops. On a recent trip to New York, we both enjoyed a fantastic avocado smash toast at a popular coffee shop. (Yes, it was lightly mashed avocado (smashed to help it stay on the bread, it was not guacamole!)
First up we have avocado with prosciutto, goat cheese, jalapeños, tiny yellow tomatoes, micro-greens, and a sprinkling of red pepper flakes. You can recreate this at home, easy-peasy.
Next, we tried the bacon, tiny tomatoes, microgreens, with a drizzle of olive oil. So tasty! Again, no problem to make something like this at home. Especially if you grow your own micro-greens.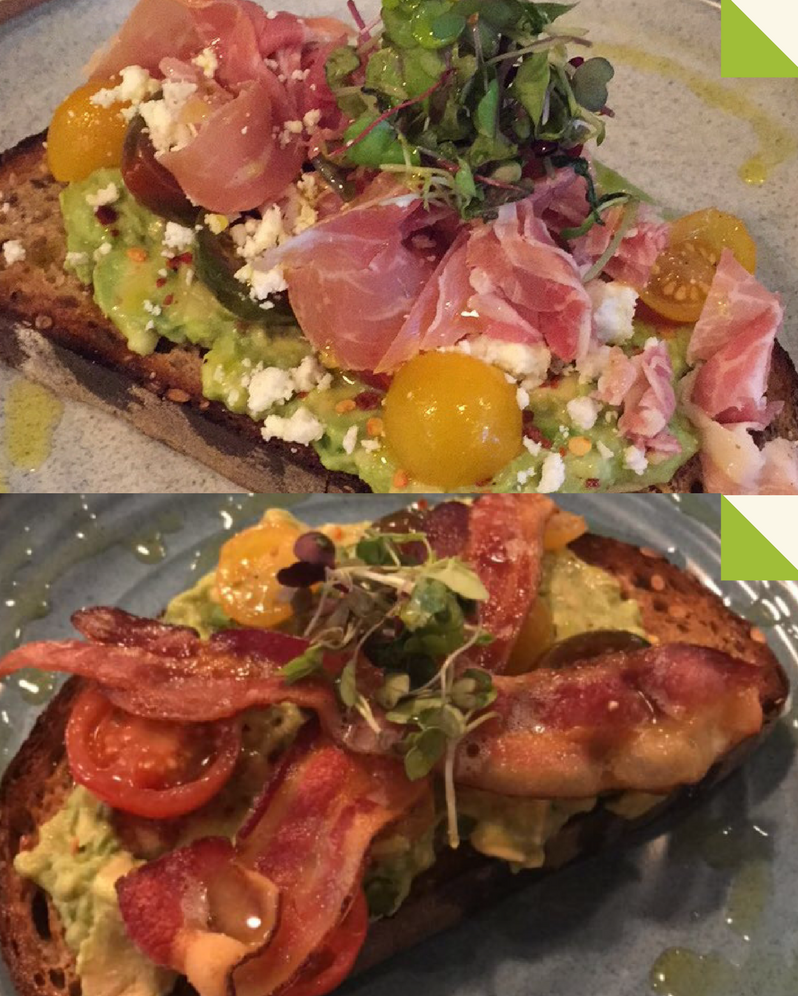 Other Avocado Toast Ideas
First of all, if you are making avocado toast, use quality bread. But if you are low-carb, why not try a BLT with no toast! There are plenty of gluten-free or low-carb bread options available.
Secondly, use a "perfectly ripe" avocado. I know how hard that can be, but you don't want an overripe one or one with bruises and stringy bits.
How about Avocado Toast with roasted tiny tomatoes plus fresh basil and balsamic vinaigrette? Or a watermelon radish with red onion and a sprinkling of quinoa?
Amazing steamed or pickled asparagus with a boiled egg and chives! Even better if you use sriracha mayo on top!
Use your imagination to come up with combos that include microgreens and other superfoods.
2 Avocado Smoothies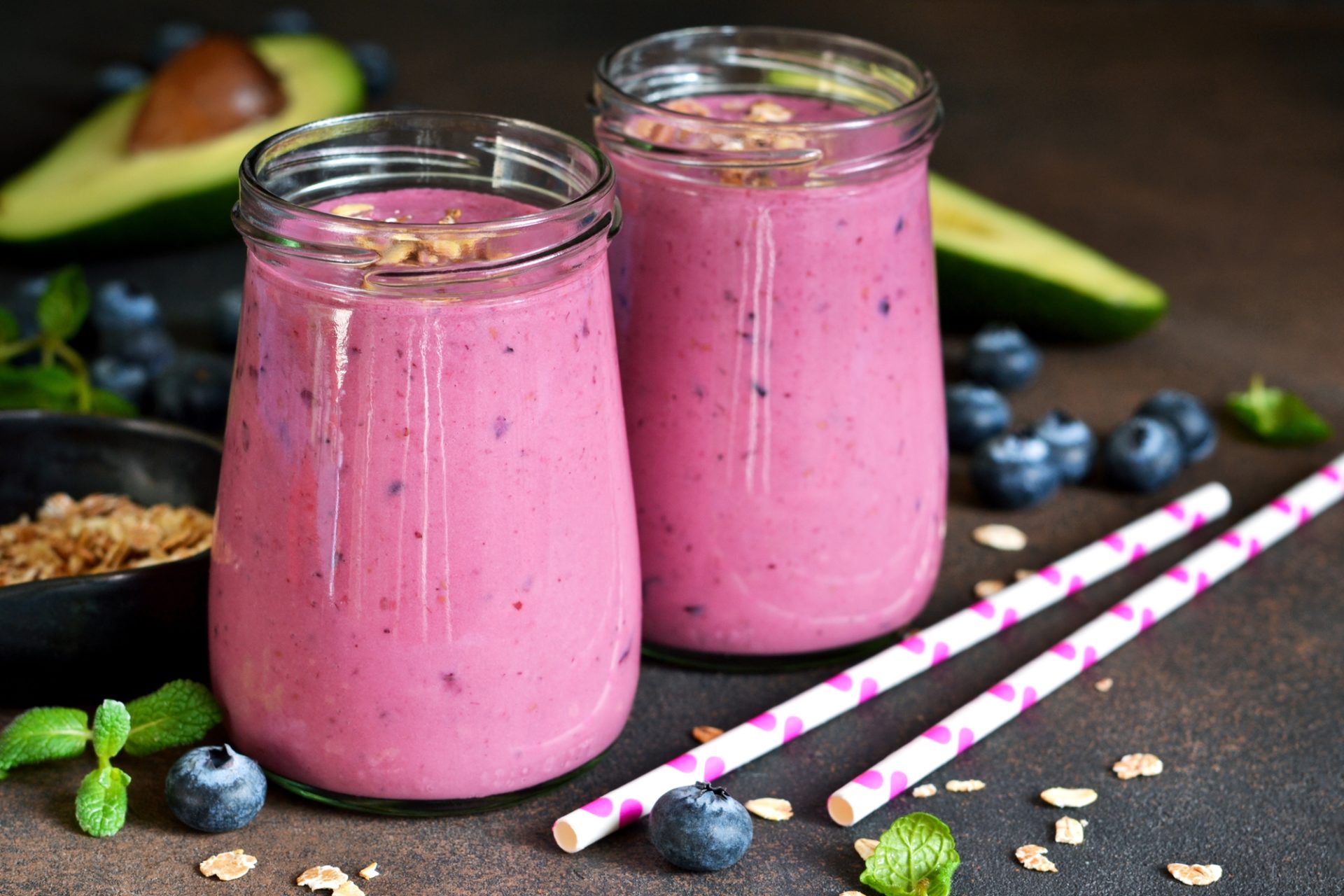 One thing that is amazing about avocado is that it works for sweet or savory dishes. The creamy avocado can take place of milk or greek yogurt in a smoothie for those who are lactose intolerant.
Two of the five smoothie recipes in this post contain avocado, but try adding half an avocado to your favorite smoothie recipe. It's almost undetectable.
3 Avocado Hummus
At first glance, you might think I'm talking about guacamole here, but I'm referring to an avocado and chickpea combo. This of this more like an avocado dip than guacamole. It's not hard to make at all, but this is the recipe I like to use
4 Avocado Pudding or Mousse
A food processor is useful for making this pudding recipe, but you can get by without one in a pinch. I've used my Vitamix blender and in a pinch, an immersion blender, though I don't think it does as good of a job. So, if you have a food processor, use it!
5 Avocado Salsa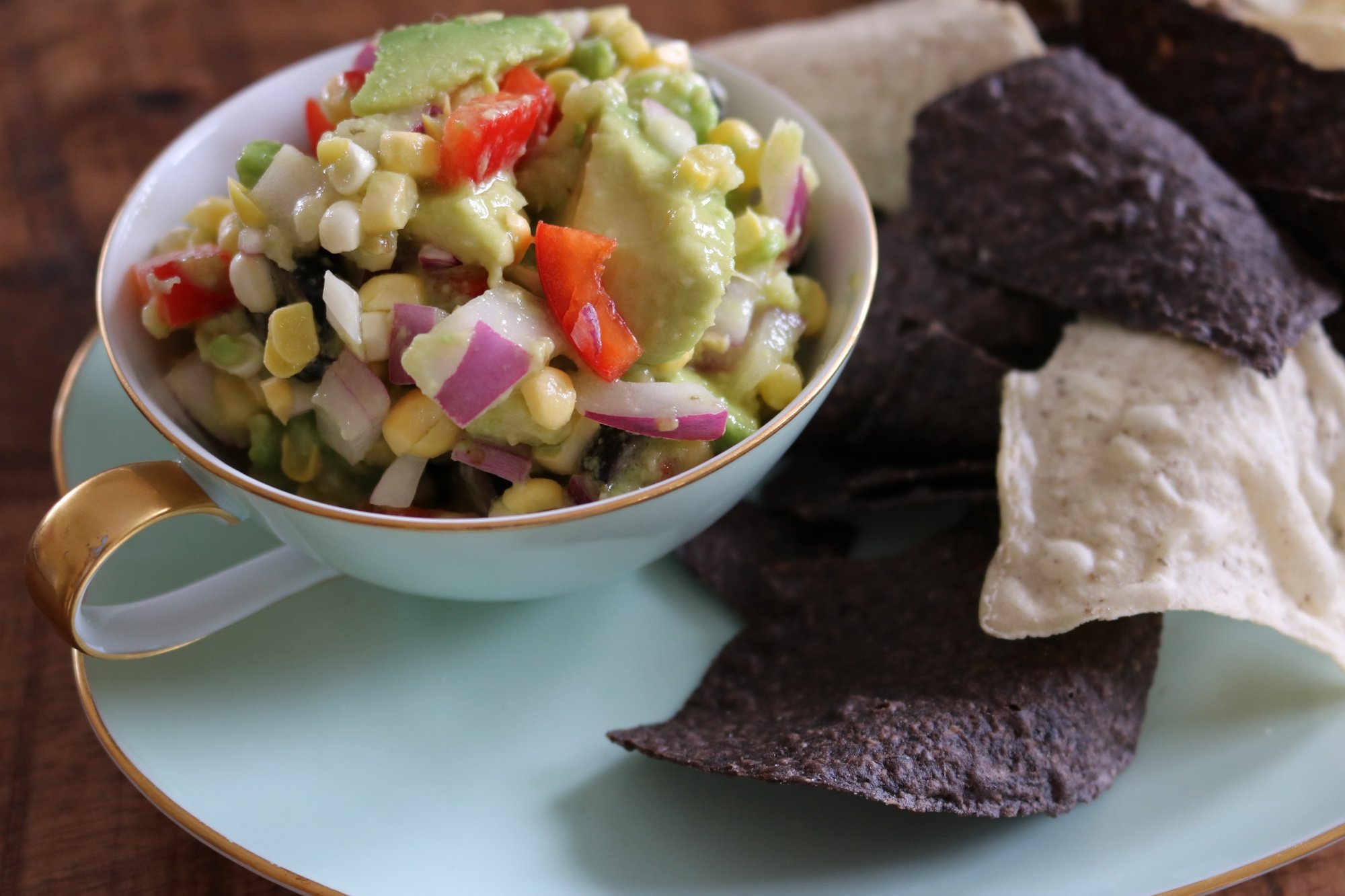 My Avocado Salsa Recipe is one I've been making for parties and other gatherings for years. Okay, I know, shameless promotion of my own creation, be prepared fo more. Sorry, but I had to cause you're going to love it. Everyone does. Except for my friend, Georgia, but that's only because she is allergic to red bell peppers. Try, it! Promise me you will.
Yes, it's eaten with chips much like your standard guac, however, it's a different and perhaps more unique way to use avocados.
You'll use diced avocado for this recipe, so choosing just-ripe avocados with a good bit of firmness will help your salsa stay salsa and not turn into guacamole! If you find some that are a bit under-ripe, you'll be good to go.
I use the smooth-skinned Florida avocado when I can find them versus the Hass avocado for this dish but it's not crucial. The Hass avocado tends to have a creamier texture and the Florida avocado tends to hold its shape better, but if you can't find the Florida variety, just look for almost-ripe Hass avocado and the dish will be perfect.
When I serve this avocado salsa it is with crispy tortilla chips as well as cut veggies for dipping. Celery has a nice crunch and works as a useful tool for getting avocado salsa in your tummy! If you are following a Ketogenic diet, you'll want to pull back on the corn, although raw corn does not have as much starch as cooked corn.
Can I just take a minute to tell you how fabulously this pairs with BBQ anything? If you take it to a gathering, don't expect to bring any leftovers home.
You can also serve my avocado salsa alongside your favorite tacos, whether you make vegan or traditional Mexican tacos, this will be the highlight of the dish. My mouth is watering as I type thinking about how delicious this is on top of a big plate full of nachos!
If you like it, you can add a little hot sauce on top. Oh, and last of all, if you like the stuff, try sprinkling some fresh cilantro!
6 Avocado Egg Salad or Chicken Salad
This is a delicious combination and for those who have never tried the egg and avocado combo, please put it on your menu plan right now!
You don't have to put this on a sandwich, you can always serve it as a side dish with your main meal or in a bento box.
7 Avocado, Goat Cheese and Bacon Crustless Quiche – Low Carb and Keto Friendly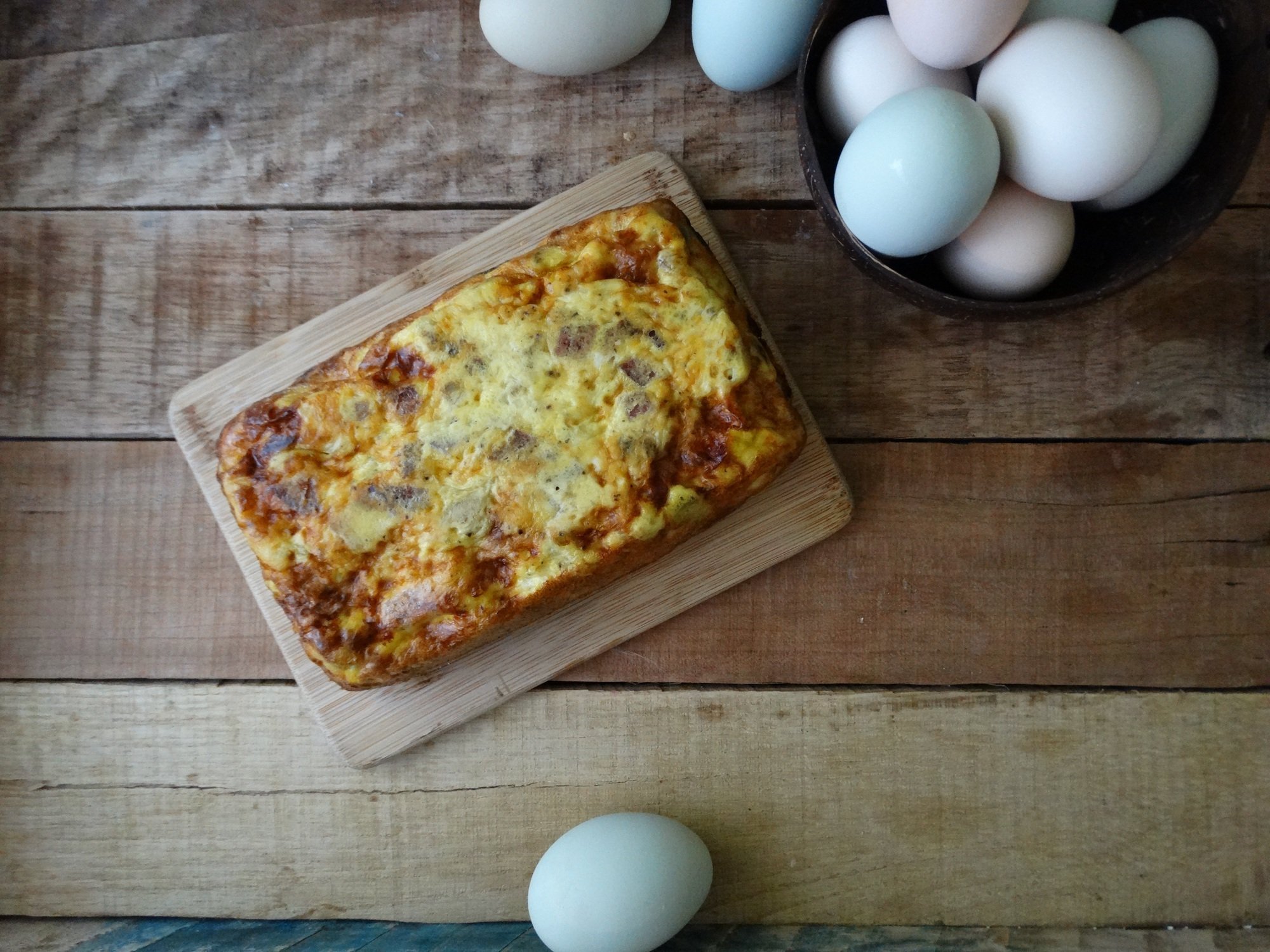 You can add a crust to my Avocado, Goat Cheese, and Bacon Crustless Quiche if you're not following a low-carb diet plan, or if you like you can use a keto pie crust. I like to keep it simple by leaving off the crust. Perfect for meal prep, make one, and have your breakfast taken care of all week long.
8 Avocado Ice Cream
Say what? Am I seriously telling you that people put avocado in ice cream? Why yes, yes I am! You know the wonderful thing about ice cream is the creaminess and avocado lends much creaminess to this recipe. If you have an ice cream maker, you'll have a batch of ice cream whipped up in no time.
If you google "avocado ice cream" you're going to find hundreds of recipes that use sweetened condensed milk – avoid those. Instead, try this Mexican Chocolate Avocado Ice Cream that uses coconut cream and avocado.
For those of you who do not have an ice cream maker, try this Super Simple Avocado Lime Ice Cream Recipe. Just pour the blended mixture into a shallow metal tin or glass container. Cover with plastic wrap and freeze for at least 6 hours or overnight.
In an attempt to try every flavor on the menu, my youngest daughter recently tried an Avocado Slushie from a Boba shop within walking distance of our home. Let's just say it was not a big hit – for either of us, but I don't blame the avocado. Perhaps bubble tea and avocado can make a nice pairing, but not this time!
9 Avocado Fries
Avocado fries are becoming quite popular. I've seen versions of them in multiple cookbooks recently. Perhaps my favorite is using parmesan cheese for the coating. Why not try several varieties and see which one you like best?
Keto Avocado Fries (with Parmesan and almond flour)
Air Fryer Avocado Fries (uses pork rinds and almond flour)
10 Drinkable Chocolate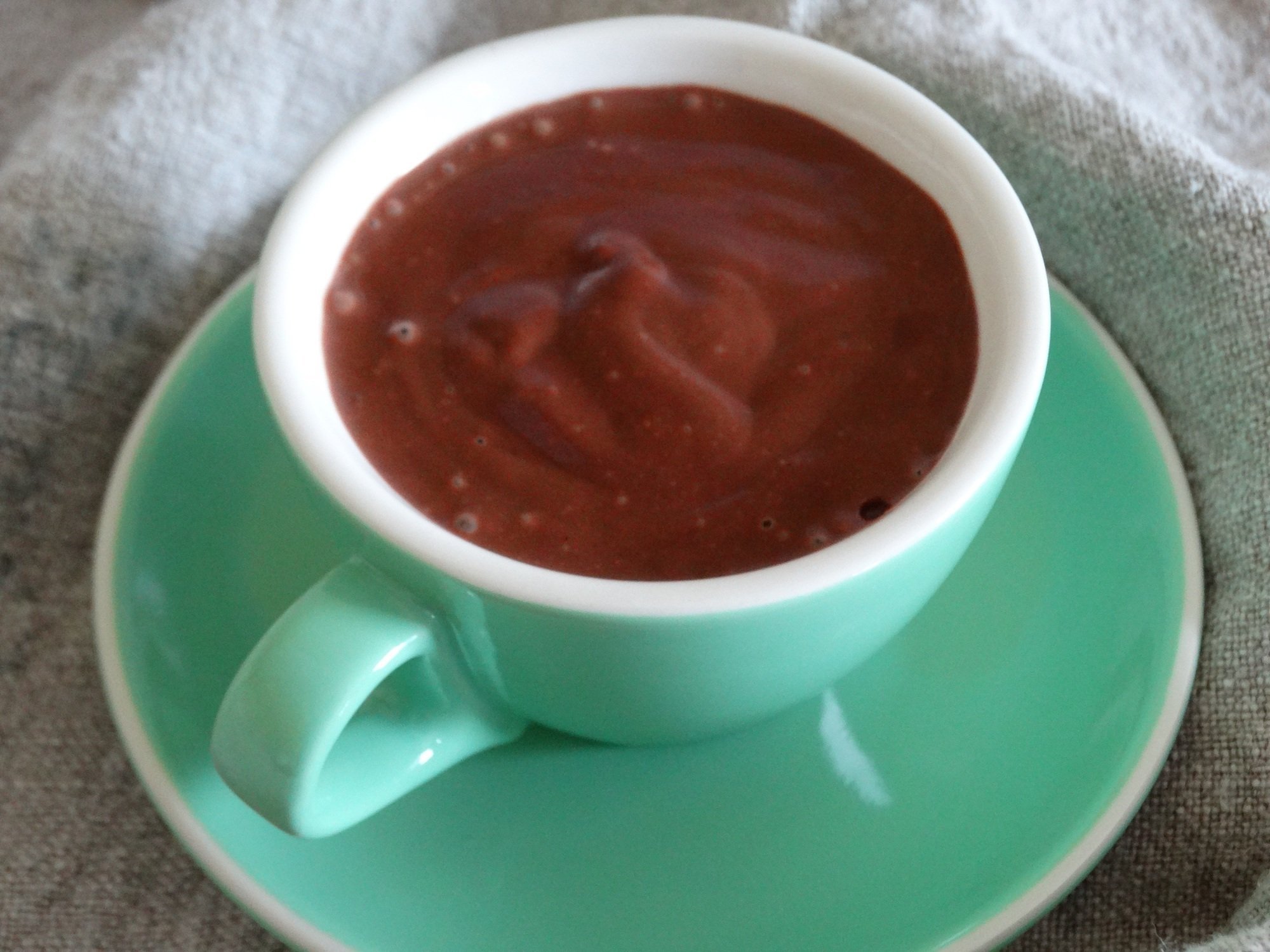 My KetoCocoa is a Copycat Recipe of Starbucks Chantico – I'm dating myself with this one, but oh well, it's delicious. You can thin this down or thicken it up depending on how much avocado and cream you add. Try it though, it's reminiscent of a melted chocolate bar.
11 Avocado Lime Crema
Probably the easiest avocado sauce you can make for your tacos, burritos, enchiladas, fish, chicken, and pretty much everything else you want to add a punch of flavor to is Avocado Lime Crema. Drizzle or dollop it on everything!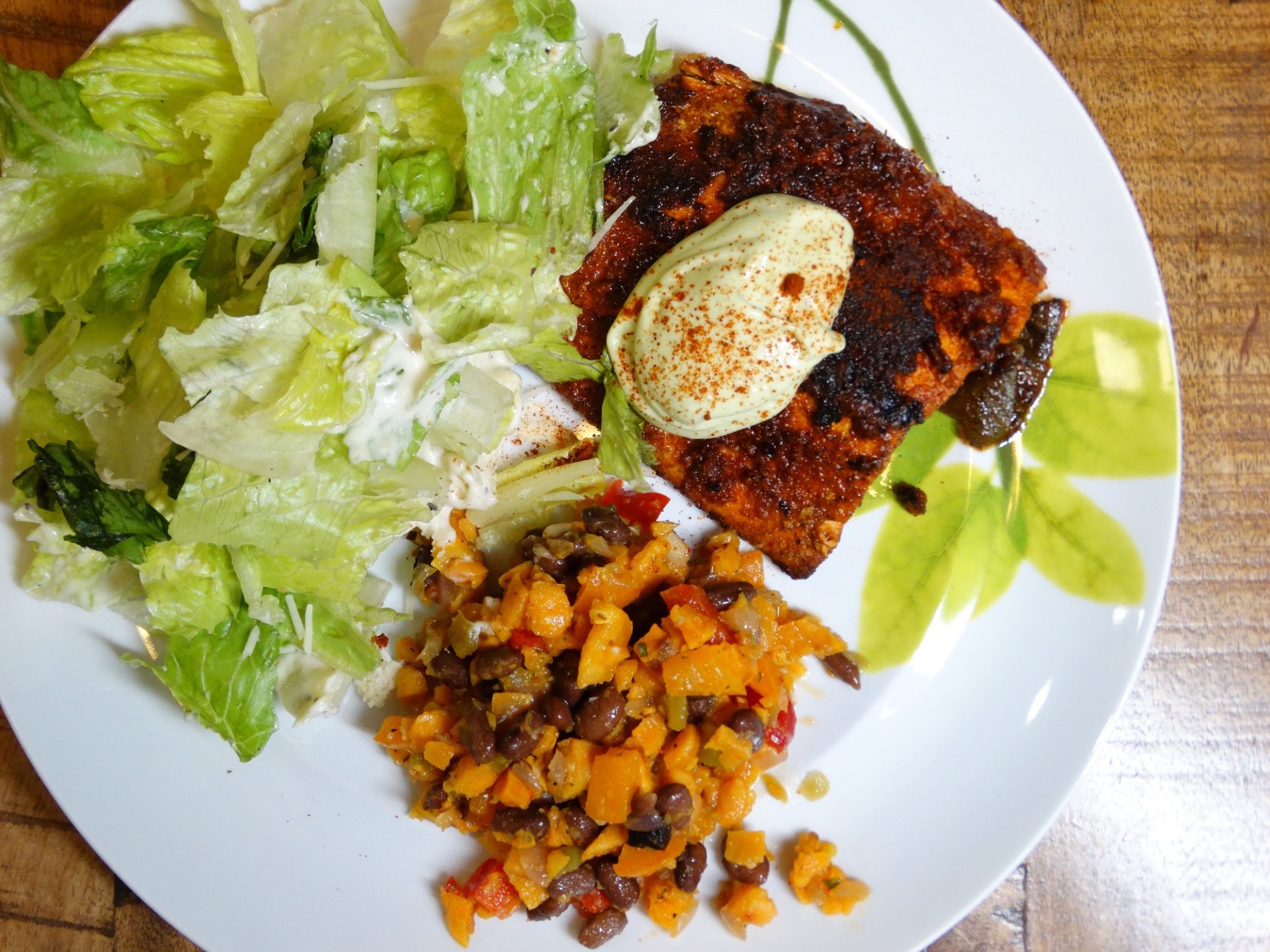 There are so many ways you can use avocado. Follow my Pinterest board for more ideas and recipes for brownies, salad dressing, appetizers and other tasty dishes.
If you'd like to explore a bunch more avocado recipes, take a look at a cookbook featured in the TOM Online Cookbook Club by the title, An Avocado a day. I have tried quite a few avocado recipes out of this one and it has inspired me to create my own as well. You will adore this cookbook book if you're a fan of avocado or if you are looking for more easy ways to eat avocado.
Can you eat too many avocados? Considering the health benefits it couldn't hurt to eat an avocado a day. Some might suggest that if you're trying to lose weight you might want to go with half an avocado per day. Although, if you're following a ketogenic diet, an avocado a day might be a great idea, as long as you're also getting healthy fats from other foods.
SaveSave