Japanese Rolled Eggs or Omelette
My first experience with Japanese cuisine was at a sushi bar in Atlanta, Georgia in 1993. From the first bite I was madly in love and I've been introducing people to sushi since that day! Japanese food is one of my favorites because it is minimal, clean, and delicious.
Traveling to other countries to enjoy the local cuisine is obviously the best way to gain an appreciation for the skills and various flavors each location has to offer. When you can't travel, why not explore other countries from home? Choose a few cookbooks, a documentary, and get ready to travel!
While my family enjoys traveling, it's not always possible, which is why we frequently traverse countries and cultures using our imagination. Today, let's explore a popular Japanese food that you can make at home.
So what is Tamagoyaki?
In Japan, Tamagoyaki appears as a popular breakfast dish, street food, and in bento boxes.
Egg is Tamago in Japanese, and to fry or grill is yaki, so technically speaking it's a fried egg, but not really. You could consider it as a type of Japanese omelette. Although, Tamagoyaki is not folded over; instead it is a rolled omelette.
Tamagoyaki is usually sweet whereas other types of omelets and even some in Japan are typically savory.
The sweetness comes from the addition of mirin which is a type of rice wine similar to sake. Mirin is higher in sugar though and has very low alcohol content. The sweetness is a natural result of the fermentation process.
By the way, you will not want to substitute rice vinegar as it is a completely different taste, sour vs. sweet. Plus, it makes the egg curdle a bit.
When making Tamago for sushi or nigiri, it is sweet. When combined with the vinegary sushi rice, it makes a fantastic combination.
What does Tamago taste like? We think it tastes lightly sweetened almost delicately fluffy, not quite as silky as custard, but close.
Tamagoyaki is delicious warm or cold, even room temperature as many people add it to a Bento Box as a side dish.
Most grocery stores carry everything you need to make Tamagoyaki Nigiri or Sushi.
Choose quality ingredients
The eggs you choose for your Tamagoyaki are important because they are the main ingredient. High-quality eggs will give you the best results. When I can get farm fresh eggs, I choose Happy Eggs Heritage Breed with Amber Yolks.
Dashi is a type of stock that is frequently used in Japanese cooking. Most often it is made from kombu (dried kelp) and sometimes the addition of bonito flakes and mushrooms. Some dashi is made with a variety of dried seafood. You can buy dashi in an Asian supermarket just like you buy bone broth at a grocery store. If you can't find dashi, you can substitute with chicken broth.
Sweet pickled ginger is the perfect accompaniment to nigiri sushi. Choose natural pickled ginger and avoid the pink ginger as it is artificially colored and sweetened with artificial flavors. Wasabi can be added as a condiment and pairs beautifully with the tamago nigiri.
Tamagoyaki Nigiri
Nigiri refers to a small bit of protein, usually fish, atop a one bite serving of vinegared rice. The translation means "two fingers" because of the size. In this case,  a small strip of nori is wrapped around a slice of the rolled eggs on top of a small amount of sushi rice.
Serve the Tamagoyaki Nigiri alongside a small amount of soy sauce, wasabi, and pickled ginger.
Make sure to choose good quality nori, which has a subtle sweetness and no fishy smell. Quality nori is crisp when dry then soft and sweet when used with rice. Nori should not be rubbery or chewy; instead, it should almost melt in your mouth.
If you plan to eat Japanese foods at home, learn how to distinguish Good vs Bad nori! https://howdaily.com/nori/
What is Tamago sushi?
You don't need to be a sushi chef to make this dish! No need for knowledge about sushi-grade fish, either. You will want to read a few sushi recipes to get an idea of how to make sushi rice.
Refer to my sushi rice post for instructions, including the rinsing of rice, which many people overlook. If you have a rice cooker, by all means, use it to make your sushi rice. I've been using this Zojirushi for two decades and it's still going strong and is absolutely worth the investment.
Use a full nori sheet to make tamagoyaki sushi. Place rice on the nori sheet in the same way one would make any other sushi roll, then add strips of sliced tamagoyaki and roll. Once the roll is complete, slice, and enjoy!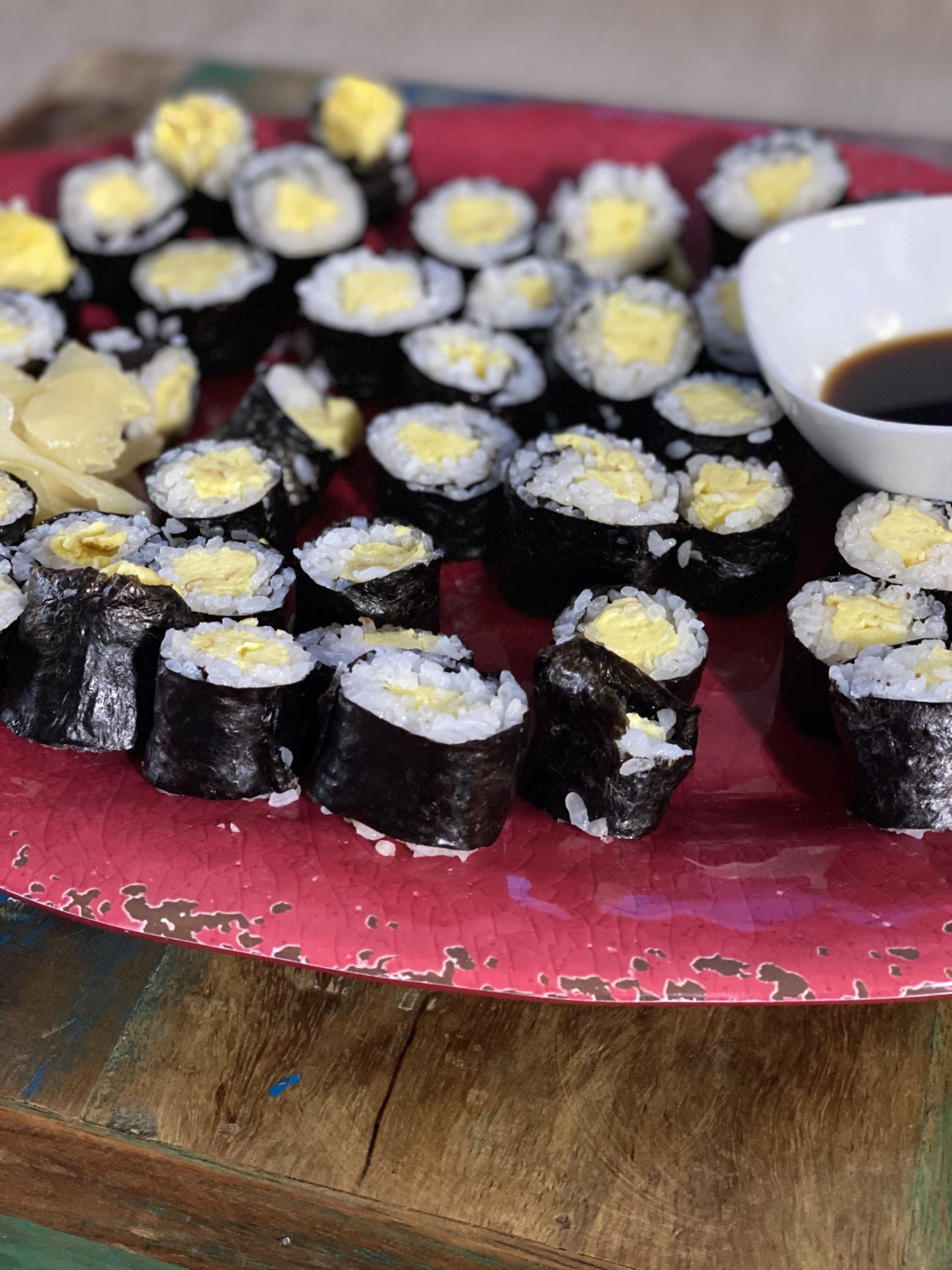 Shopping List
6 eggs
2 tablespoons mirin
2 tablespoons sugar
1/4 teaspoon salt
1 tablespoon dashi
oil for pan
Nori to wrap
coconut aminos or soy sauce to dip
pickled ginger
1 recipe of sushi rice
wasabi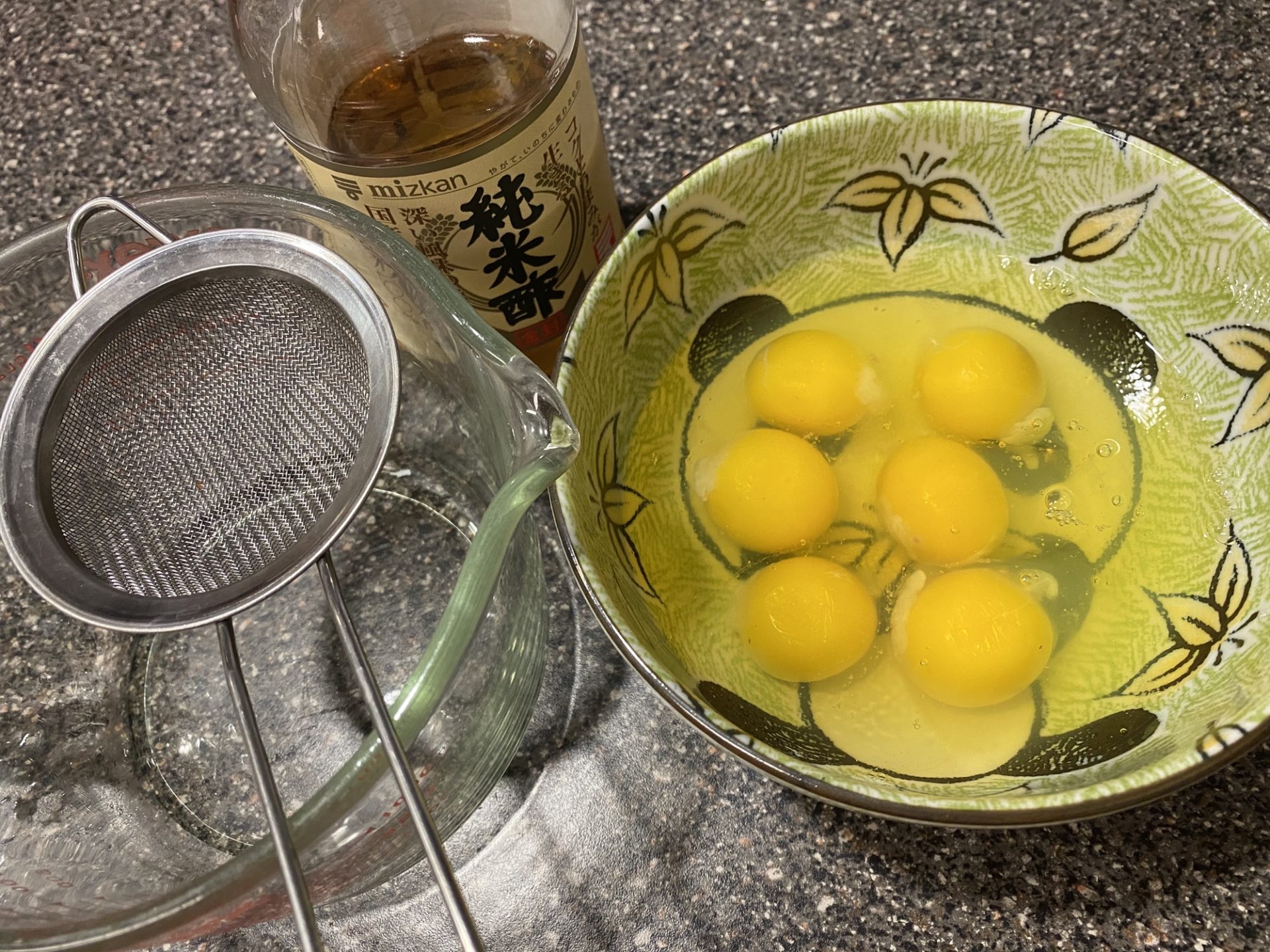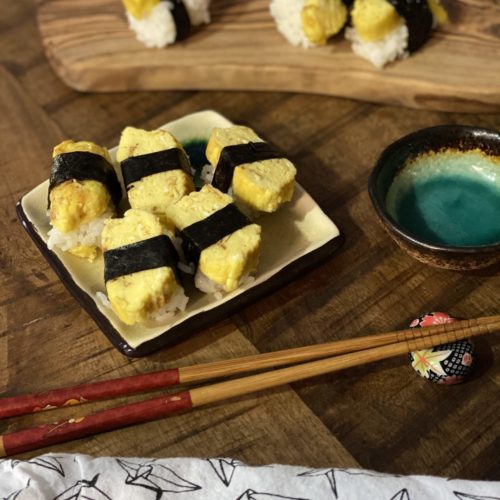 Tamagoyaki
Delicious Japanese style omelette which can easily be made into Tamago Nigiri or Tamago Sushi.
Ingredients
6

eggs

2

tbsp

mirin

2

tbsp

sugar

or alternative of your choice

¼

teaspoon

salt

oil

for cooking

1

tbsp

dashi

or broth
For Nigiri or Sushi
2

sheets

Nori

for wrapping

1

batch

sushi rice

see link in notes

pickled ginger

optional for side

wasabi

optional

coconut aminos

optional, for dipping
Instructions
In a medium bowl, combine the dashi, soy sauce, and sugar, stir until the sugar dissolves. Add the eggs to the bowl and mix (don't over whisk) to combine. Strain the egg mixture using a medium-mesh sieve over a measuring cup with a spout. Stir and move the eggs with a spoon to get most of the liquid through, a small amount of the thick whites may remain in the sieve.

Use a rectangular tamagoyaki pan called a makiyakinabe or tamagoyakiki to make this rolled egg dish. If you don't have one, a regular pan will do. Oil the pan before cooking, to prevent sticking. Using a paper towel or reusable equivalent, wipe the sides of the pan with oil to make sure the eggs don't stick to the sides.

Heat the frying pan over medium heat.

Pour a thin layer of the egg mixture into the square frying pan, when it starts to set, roll and add a new layer.  A Japanese cook would roll the eggs up using chopsticks, however, you can use a spatula or whatever you feel comfortable with to get the job done.

Cook and roll one thin layer of the egg after another until the mixture is used up. Depending on the size of your pan and how many eggs you use, this process may be repeated multiple times.

Roll the egg mixture and leave it to rest, then slice and serve; either in Nigiri or Sushi recipe, or just add to a Bento box!
Nutrition
Calories:
131
kcal
Carbohydrates:
10
g
Protein:
8
g
Fat:
6
g
Saturated Fat:
2
g
Cholesterol:
246
mg
Sodium:
307
mg
Potassium:
91
mg
Sugar:
8
g
Vitamin A:
356
IU
Calcium:
37
mg
Iron:
1
mg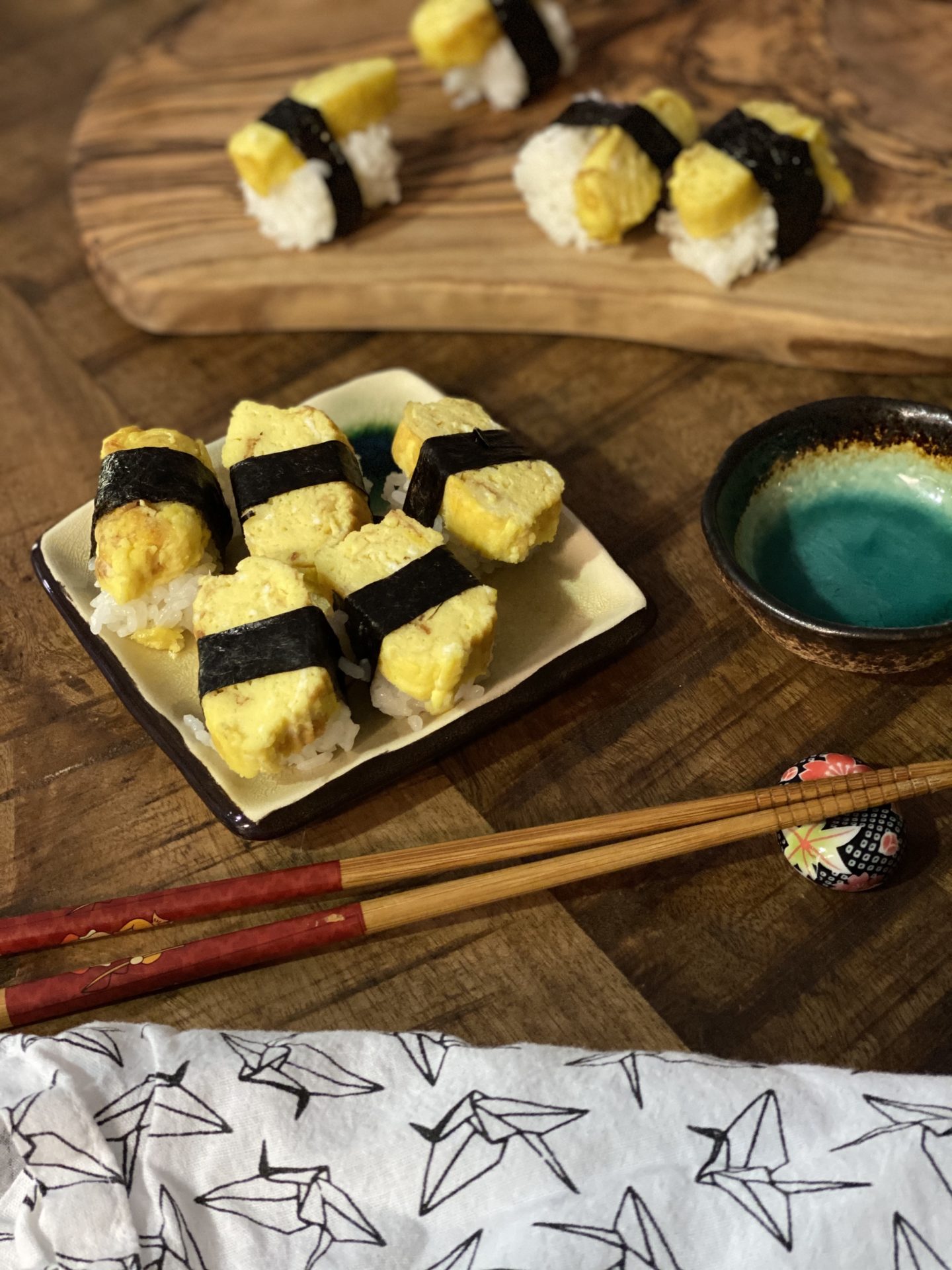 To explore other Japanese Recipes, here are some cookbook recommendations from my cookbook club: