Last Updated on June 29, 2022 by Rebecca Huff
I'm so excited to share this review of the Bollywood Kitchen Cookbook! Yes, another new cookbook on the shelf, and you're going to adore this one!
Imagine you are sitting down to a scrumptiously delicious and amazingly aromatic Indian meal…and here's the kicker – it's at YOUR kitchen table. You will feel so fine when you're whipping up authentic Indian dishes while listening to my Bollywood Movie Favorites Soundtrack.
Soon, you'll want to create your own colorful tablescapes and invite your friends over for dinner and a movie. They will be so impressed and appreciative of the bold flavors of your Indian cooking! You will even surprise yourself.
Bollywood, for those who aren't sure, is a type of Indian Musical Film that combines the words Bombay and Hollywood and is the Indian Hindi-language film industry based in Bombay, now known as Mumbai. Most feature expertly choreographed fight scenes, stellar song-and-dance routines, lots of emotionally packed drama, and of course, actors you grow to love. Think extravagance, glamor, expensive costumes, and sets with over-the-top cinematography.
Bollywood Kitchen: Home-Cooked Indian Meals by Sri Rao
With the popularity of Indian food in America, many have tried what they believe to be Indian comfort food. However, according to the author, these pale in comparison to the authentic dishes he grew up on.
Sri Rao is not only an author but also a filmmaker and lifestyle expert in New York City. He has been a successful television screenwriter for over a decade, in both comedy and drama. "He stands uniquely positioned at the intersection of Hollywood & Bollywood as one of the few Americans to have worked in the mainstream Indian film industry." ~ IMBD
The author's mom moved from India to America; she prepared Indian meals during his childhood. Now in this cookbook, he shares authentic dishes based on his mom's recipes but updated for the modern, American kitchen.
All my life I've been bridging cultures. Ancient and modern, traditional and contemporary. I'm passionate about telling stories that blend my rich Indian heritage with my American point of view.

Sri Rao
More than just a book of recipes: Movie and Recipe Pairings
I have to say first off that I love that this is a hardcover book. Even if you don't enjoy cooking, the movie recommendations alone and gorgeous film photographs make this a beautiful coffee table book. Not to mention, having it displayed at your cocktail parties will show your friends how cultured you are.
If you want an idea of how delicious the author's recipes are, you can also try Chocolate Chai Affogato from his website NewYorkSri. We made this one time and again, and everyone loved it.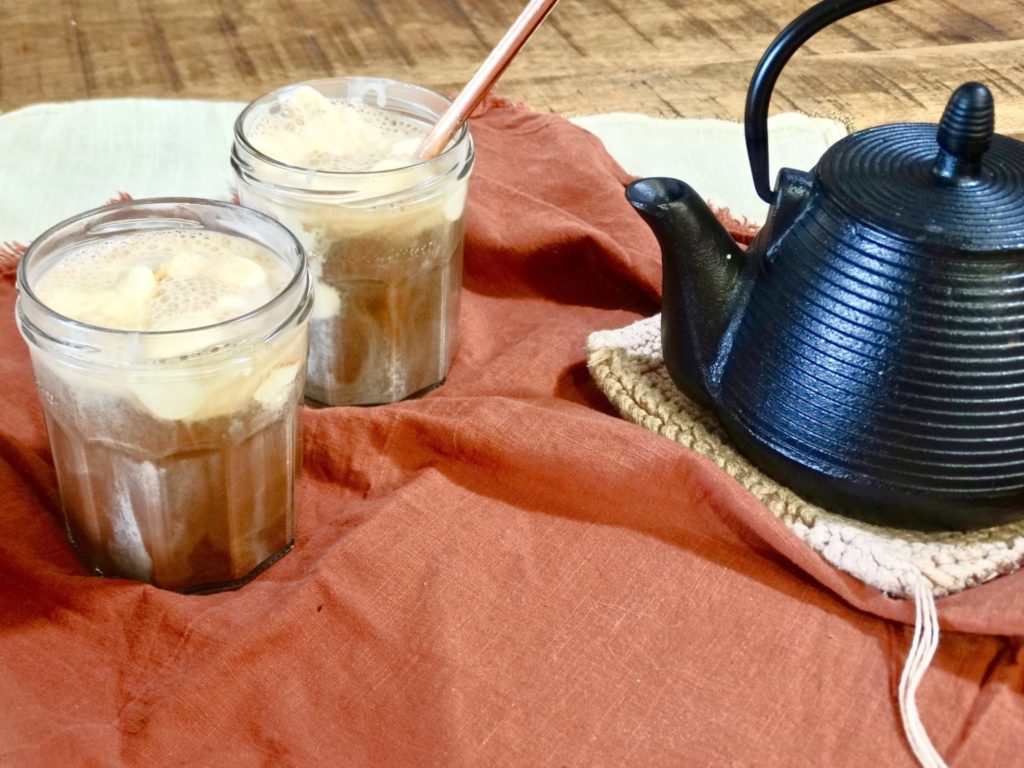 The section for the "uninitiated" is where you'll want to start if you've never seen a Bollywood movie. You'll discover the skeleton here; like the fact that an average film has between 5-7 songs. Yes, this is why most are around three hours long.
So, yes, they're longer and most of them have dance numbers and bold colors but that's why we love them; the hallmark of Bollywood. Watch two or three and tell me you don't want to learn some new dance moves!
Bollywood Kitchen Favorite Recipes
Food and entertainment in technicolor! If you'd like a tour of Indian Food along with a complete indoctrination into Bollywood, this is the book for you. Not all of the films are from recent years, but we were able to find them available for streaming.
Bollyburgers with Gangs of Wasseypur
First meal: Dinner was Bollyburgers with sweet potato fries and garlic-cilantro dipping sauce, followed up by a delicious Mango Lassi. This was paired with Gangs of Wasseypur. (At the time of this writing, the movie is available on Amazon.)
Pretty cool that I had everything on hand in my kitchen to make the main dishes of this meal without making a special trip to the grocery store.
You'll understand why this burger and fries combo was paired with this particular movie once you start watching. Between the gangsters and gunfights, it is action-packed hours (and hours!) of Bollywood excitement. Just like the meal – with the robust spices added to this burger and the hit of smoky charcoal from my grill, it was just right. (Even better as leftovers!)
When you start mixing the spices for the burgers, you might be tempted to leave some of them out thinking that cinnamon does not belong in a burger. You would be wrong, my friend. Trust the magic. Get a nice fresh mango for your salsa too, don't skimp on that.
If you're cutting back on carbs, skip the bun and just eat the burger with a fork. You'll have a few carbs with the earthy and delicious baked sweet potato fries and mango.
We tried the Mango Lassi, page 104, on a different day. I cut the recipe in half because I was only making servings for two, and we still had a bit leftover. So, we froze the leftover Mango Lassi in popsicle molds. The tart flavor of the yogurt paired with the very Indian flavor of cardamom was outstanding. Perfect for a summer snack!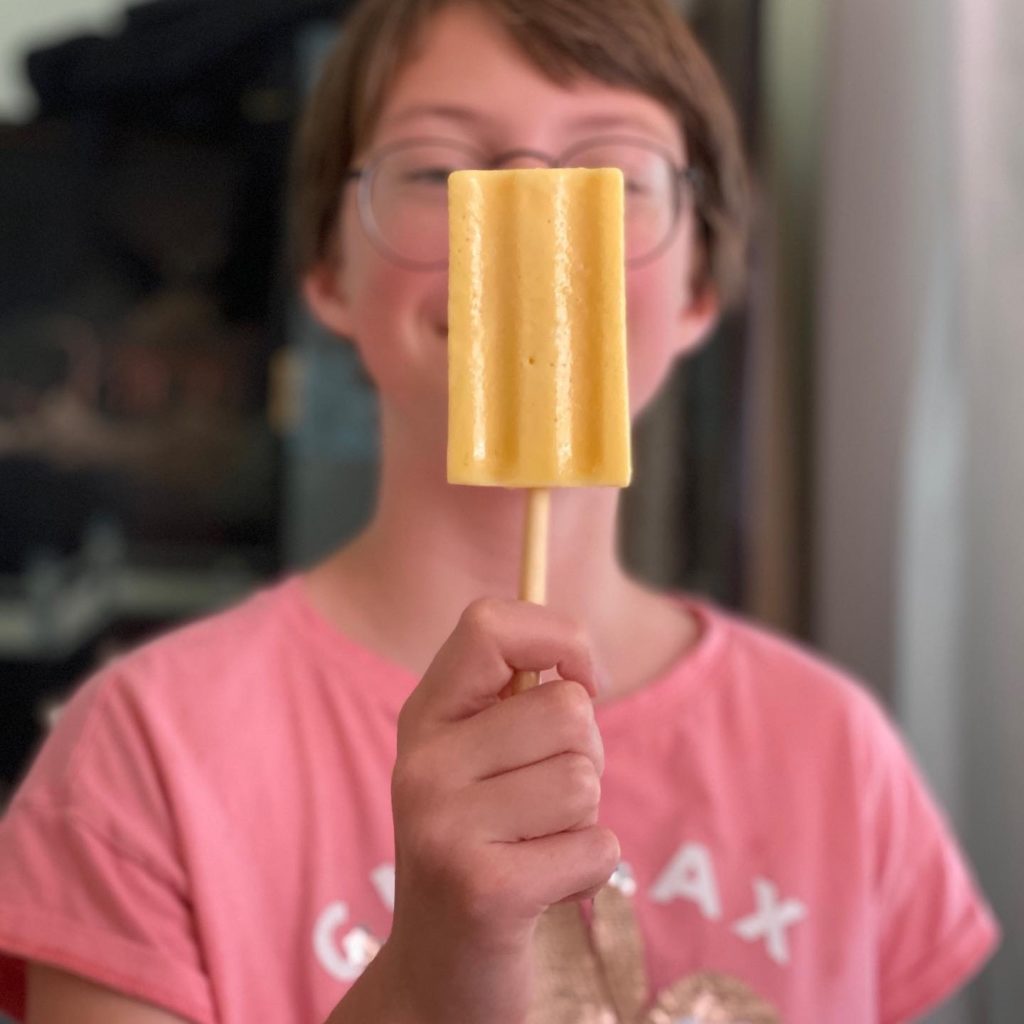 Keema (Sublime Ground Beef Curry) paired with the movie Devdas.
Grab a box of tissues. I watched this opulent movie a long time ago so I know you'll need them. If you want to start with a classic film, this one will work. It has top actors and a melancholy story about three people who love one another intensely. Unfortunately, the love triangle is usually the basis for heartbreak. Outstanding acting, based on a book written in the early 1900s.
With a movie as luxurious and classic as Devdas, you need a meal to match. This is, hands down, my mom's most popular dish, beloved by everyone who has tasted it. It also is a textbook example of American assimilation. Traditionally, the recipe calls for mutton because beef is rarely eaten in India. But when my mom moved to the States, she adapted the dish using hamburger meat to create something that feels familiar and comforting to us as Americans, while at the same time exotic and exciting with its full-bodied flavors.

Sri Rao The Bollywood Kitchen
Ground beef curry is one of my favorites, not just from this book, I've tried it from others as well and it's a personal favorite. You will find this is a good place to start if you're just experimenting with Indian cooking.
Juicy Morsels of Boneless Chicken Simmered in Aromatic Spices with the movie English Vinglish
According to the book, there's a significant backstory about the actress in this movie; we loved that the author included the story because it made the movie even more meaningful.
The reality of this particular movie accurately portrayed the struggle of many women across the globe. Shashi is an unforgettable character who lacks respect from the people in her family. In particular, a teenage daughter who is embarrassed by her mother.
Fitting that I watched this with my twelve-year-old daughter who was saddened by the behavior of the daughter in this movie. She felt so much empathy towards the mother and commented on it throughout the movie, which gave us a lot to talk about.
The food: I didn't have coconut powder, so I used coconut flour and it worked – the chicken was so tender and juicy! Just like Sri says, it's even better the day after. The string beans with peanuts and Indian dried red chilies were an exciting new way to try the green veggie that rarely gets more than butter and salt on the dinner table.
We rented this movie from Apple TV and as with many Bollywood films, it was suitable to watch with my kids. This movie definitely fits into the "feel good" category and is an excellent place to start if you're "uninitiated."
Pan-Seared Cod and Chitrannam with the movie Guru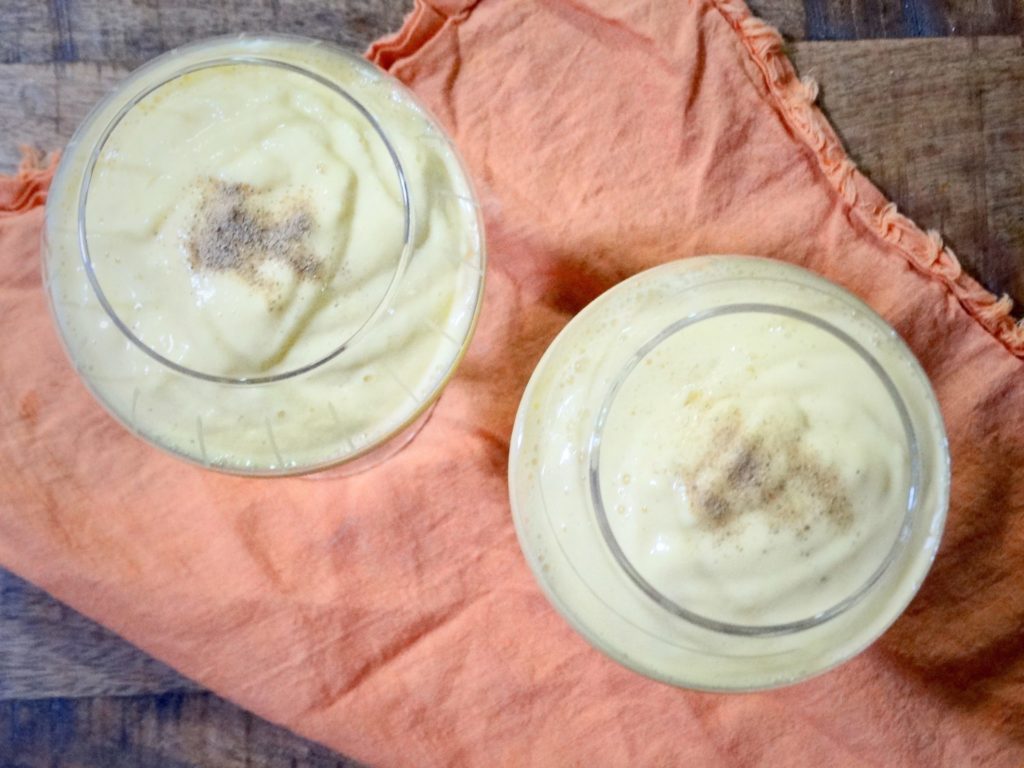 We found this rags to riches story on Netflix and devoured it (along with the Mango Lassi's from another section.) I can't say enough about the stars in this movie. Aishwarya Rai Bachchan was the first female actress we were enchanted by in Jodhaa Akbar way back in 2010 when we first started watching Bollywood movies. Abhishek Bachan, the lead actor in the film is her husband, although they were just dating during filming. He is the son of legendary Amitabh Bachan and critically acclaimed actress Jaya Bhaduri Bachchan. The level of acting in the film is definitely A-list!
On to the food. The pan-seared cod did not get a fair trial from my kitchen for two reasons. One, I could not locate curry leaves and two a shopper chose the fish for me. As much as I want to love all varieties of fish, sometimes the texture just gets me. This was one of those times. Maybe I'll try again with a thinner, fresher piece of cod when I can find the curry leaves. The fish recipe that did score high on my card was the masala-crusted salmon.
Also, sadly, I could not locate the dondakaya (Ivy gourd) called for in the side dish recipe. One of only a few recipes I tried which had ingredients that weren't easily located. So don't worry about that when you are thinking of grabbing a copy of this book. All the other recipes have ingredients that are found in a local grocery store in the United States.
Vegetable Hakka Noodles with the movie Queen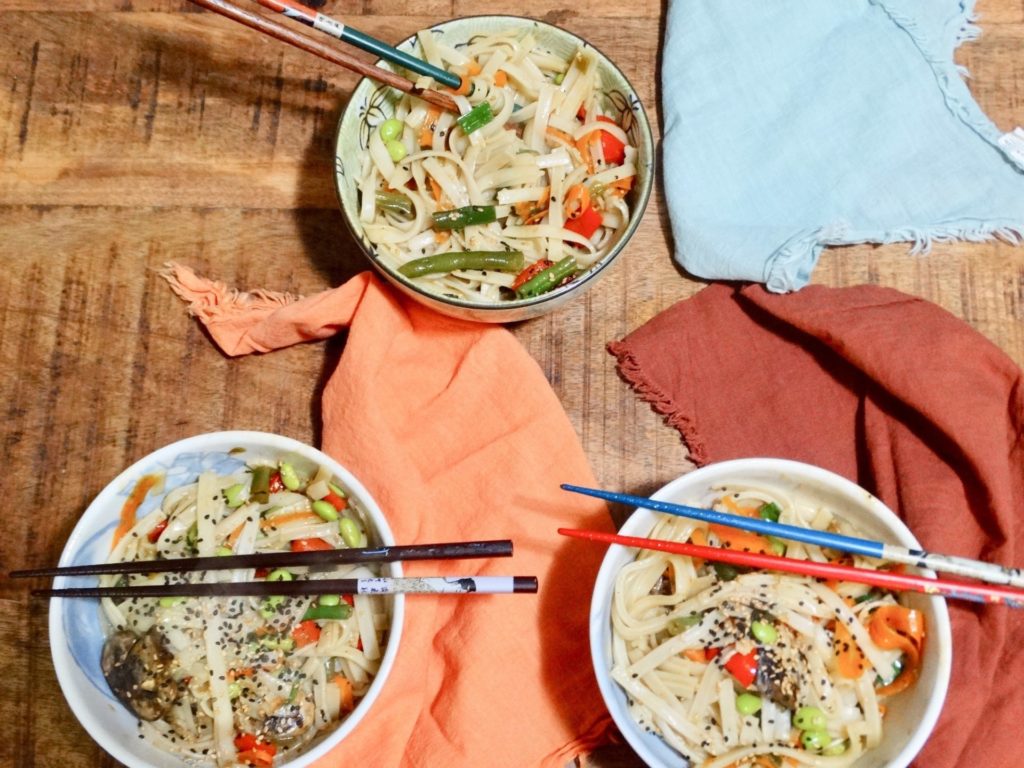 First, the food; the Vegetable Hakka Noodles and Hyderabadi Chaaru (sweet and sour lentil soup) recipes are perfect for Vegans. The noodle dish is considered Indo-Chinese and according to the author, India has amazing Chinse food. Makes sense, considering both have ancient cultures that have ties going back to the Silk Road.
My kids love noodles, and this Lo Mein dish was no exception. Garlic, ginger, and red chilies give the dish a fiery, Indian flavor. If you aren't used to spicy-heat, you might consider reducing the number of red chilies you add to this dish. Also, if you follow a gluten-free diet, you can easily substitute rice noodles in this dish, as we did.
These recipes certainly have flavors that pop, especially the ones using tamarind.
Tamarind is a pod-like fruit that is very popular in Indian cuisine. If you're an avid cook, you may have tried it in other recipes. For those who haven't discovered its use in more complex preparations, I highly recommend finding this unique treasure to add to your arsenal of flavors. For easier storage and use, I purchase this particular concentrated tamarind paste in a jar as opposed to the dried fruit. (Usually can be found at Whole Foods.)
Those who like a bit of meat with their meals will appreciate that the author included Crab Cakes with Tamarind Mayo.
Bollywood Kitchen Cookbook Recipes we tried (without watching the accompanying movie)
The dinner menus and movie pairings are well thought out and a pleasure to prepare and of course, to eat! Obviously, there's no reason why you can't try the recipes before watching the films or vice versa.
Imagine you plan a dinner party and ask each of your friends to contribute one dish made from a recipe in the book, choosing one movie to watch as you share the meal. Because what's better than dinner and a movie? Enjoying both with your closest friends (or your cookbook group!!)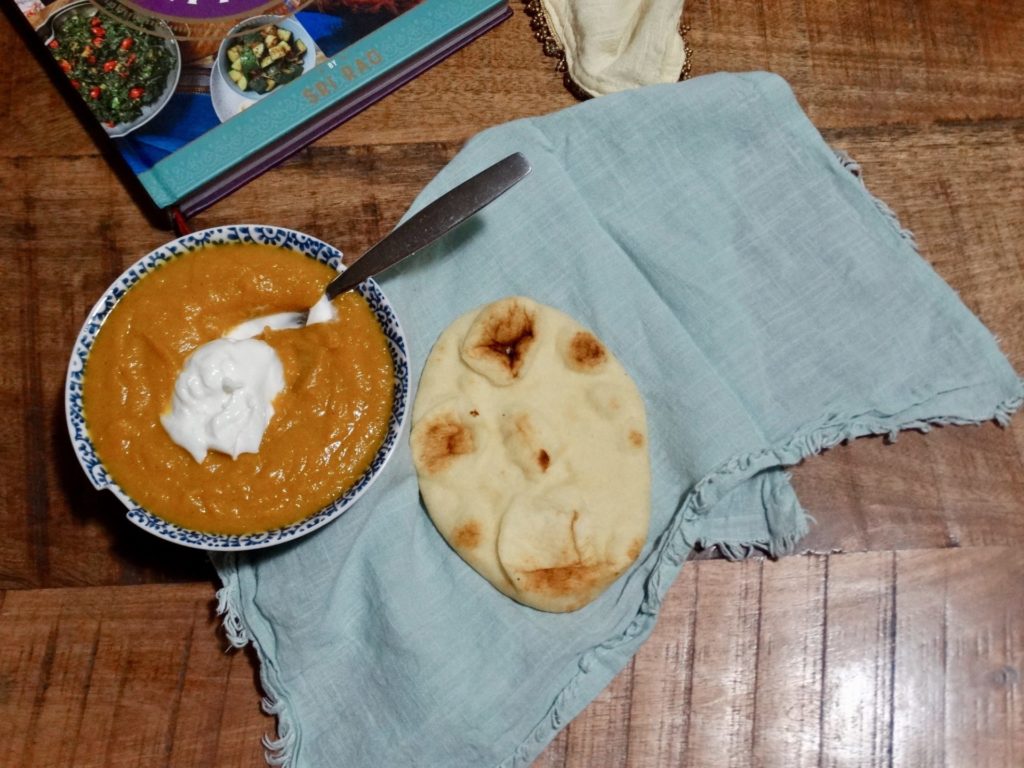 Other recipes we tried:
Butternut Squash Soup
Coconut Salmon Sticks
Spicy masala dusted popcorn
BBQ Chicken Drumsticks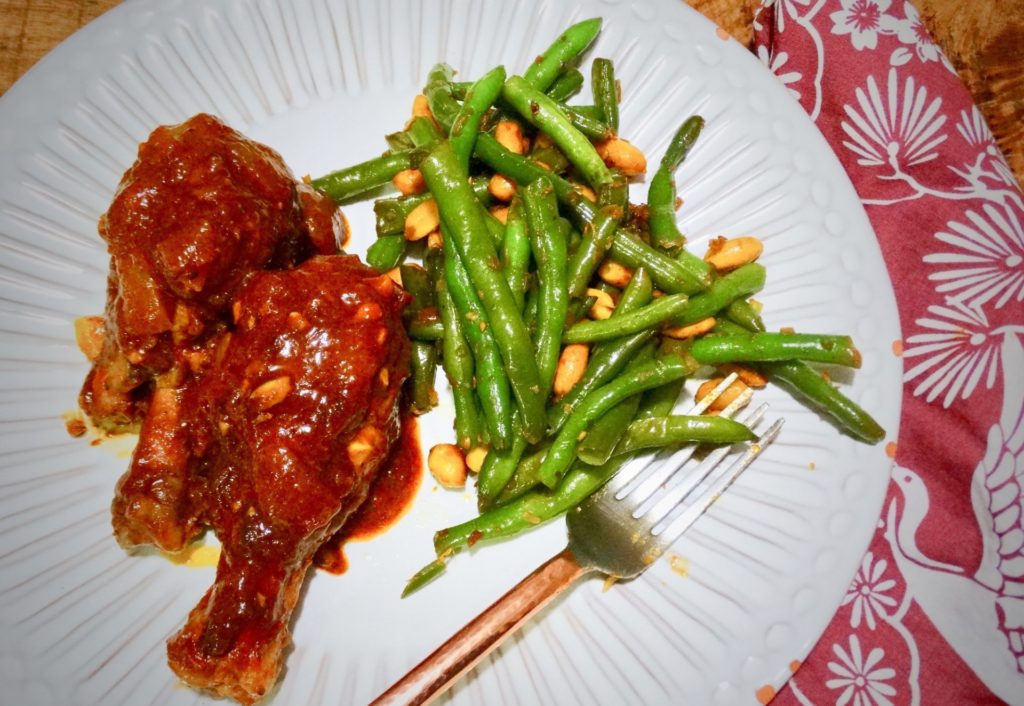 Unforgettable Bollywood Films on our list
My daughters and I have been watching Bollywood films for over a decade. We started to indulge in Indian cinema with the release of Jodhaa Akbar in 2008. Since then we've been hooked on the colorful costumes, song and dance scenes, and of course, plenty of drama.
Along with our love for these films came a healthy curiosity for Indian cuisine. We started to explore real Indian food from the local India Market and we've been Indian food lovers ever since!
So, in addition to the Bollywood films listed in the book, I'd like to share a few of our favorite Bollywood movies. Lucky for us, one of our local theaters shows Bollywood movies regularly, but many of these are still available to stream digitally.
I Hate Luv Stories
Wake Up Sid
Barfi
Jodhaa Akbar
Jab Harry met Sejal
Dilwale
Bang Bang
Dhoom
Chennai Express
Veer Zaara
War
Kites
Kyun Kaise Ho Gaya Na
Bang Bang
War
Favorite Bollywood Actors
Hrithik Roshan
Ranveer Singh
Shah Rukh Khan
Aishwarya Rai Bachchan
Katrina Kaif
Amitabh Bachchan
Akshay Kumar
Deepika Padukone
Ranbir Kapoor
Priyanka Chopra
A Tasty Bite Online Cookbook Club
I'm adding this one to the shelf for the cookbook club because the recipes are delicious and fun to explore. Members will find that the typical American kitchen is a good place to prepare Indian-American food like Sri Rao has written about in The Bollywood Kitchen.
Grab a copy from your local bookseller or on Amazon.
Hardcover, 320 pages
Published November 7th, 2017 by Houghton Mifflin Harcourt
ISBN-13/EAN: 9780544971257
ISBN-10: 0544971256