I've been making this recipe forever, and by that I mean nearly twenty years! It's just so good I have to share it with the TOM Tribe.
Recently, my grandma passed away at age 90 and through my reminiscing of her, food came to mind. She was an amazing cook and I grew up eating her nurturing food which I feel like has contributed to my love of creativity in the kitchen as well as motherhood.
Every holiday was a huge feast at my grandmas house. She made most of the dishes, but her three daughters also contributed some special dishes that became family favorites year after year. Once my cousins and I grew up we all spread out and started families of our own. Eventually, my cousin Amy asked everyone in our family to contribute their special recipes to add to a family cookbook she planned to print and share with each family member.
One of the recipes I contributed was this Avocado Salsa. When I lived in Savannah, Georgia I came up with this mixture for the many gatherings I had at my humble little home and often took it to church gatherings! I think you will love it as much as we all did.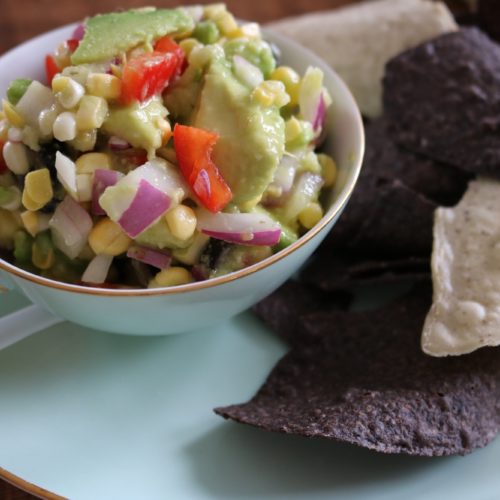 Avocado Salsa

Dairy Free

Gluten Free

Vegan

Vegetarian
Move over guacamole, your sassy cousin is in town! Avocado salsa is here to sweep you off your feet. Take it to your party or potluck but don't expect to bring any back home!
Ingredients
16

ounces

fresh

or frozen corn

5

ounces

sliced ripe olives

if canned, please drain

1

red bell pepper

chopped

5

garlic cloves

minced

1/3

cup

olive oil

or avocado oil

1/4

cup

lemon juice

3

tablespoons

apple cider vinegar or white wine vinegar

1

teaspoon

dried oregano

salt and pepper to taste

4

medium to firm avocados

diced

1

purple onion

diced
Instructions
If using fresh corn, use a mandolin slicer or knife to remove the kernels from the cob. Do not cook the corn first, use it raw.

In large bowl combine the corn, olives, bell pepper and onion.

Separately, combine garlic, oil, lemon juice, vinegar, oregano, salt and pepper, mixing well.

Pour the liquid mixture over the corn mixture and lightly toss to coat.

Cover the mixture and refrigerate until ready to serve.

Just before serving add the avocados and stir gently.

Serve with chips, veggies, or on top of grilled meats!
If you're not a huge fan of garlic, you could cut back a little bit or leave it out altogether but I have to say that it really takes the flavor to another level. Garlic is also very healthy to eat so I try to add it to as many dishes as I can. My kids can devour this entire recipe in an afternoon.
Use whatever type of tortilla chips you prefer. If you are grain free, don't worry, there are still chips out there for you! Here's just a couple of the different ones we've used. If you prefer, you can always use veggies to dip the salsa.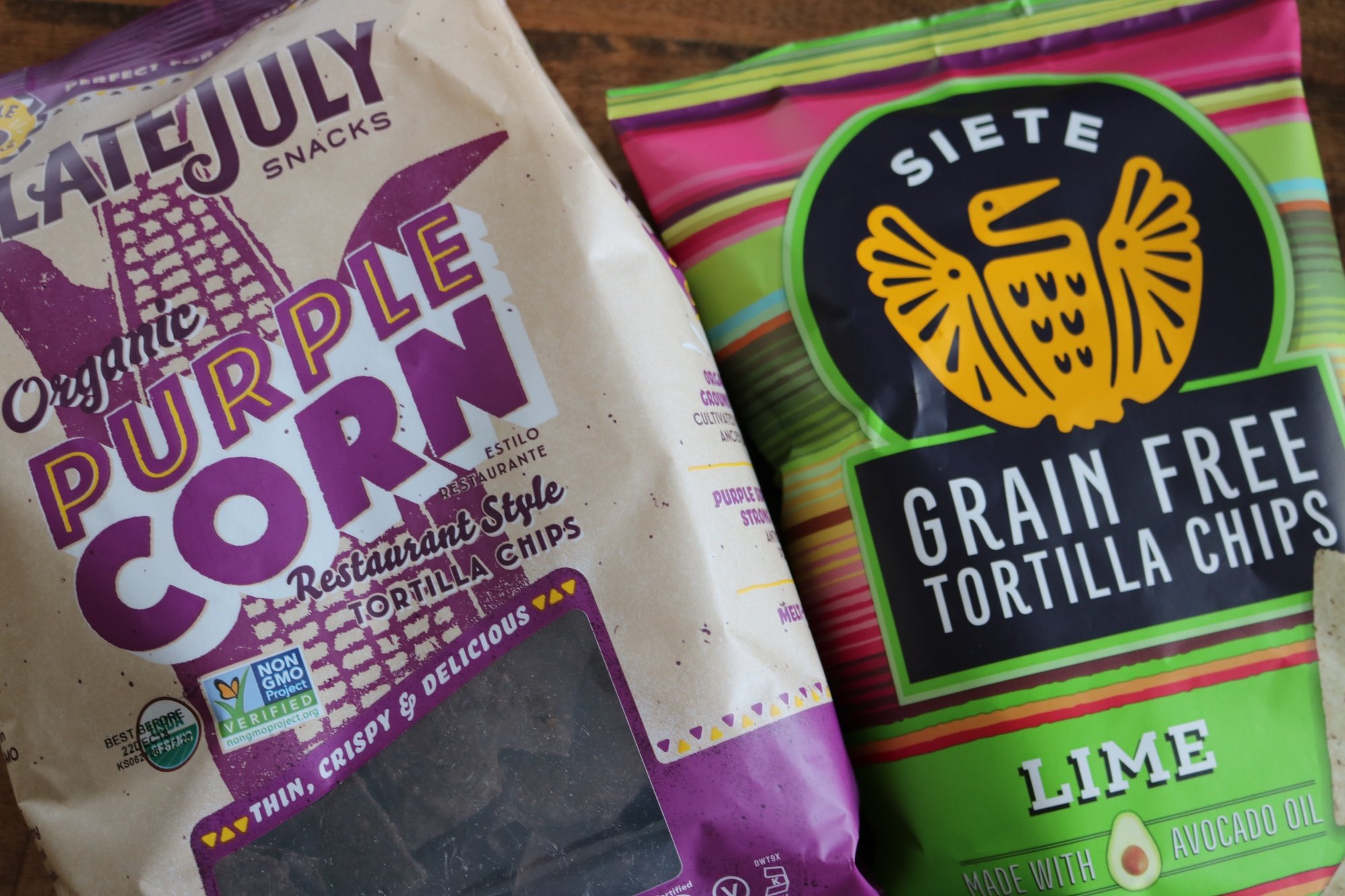 The salsa also tastes great on top of grilled chicken, fish and beef.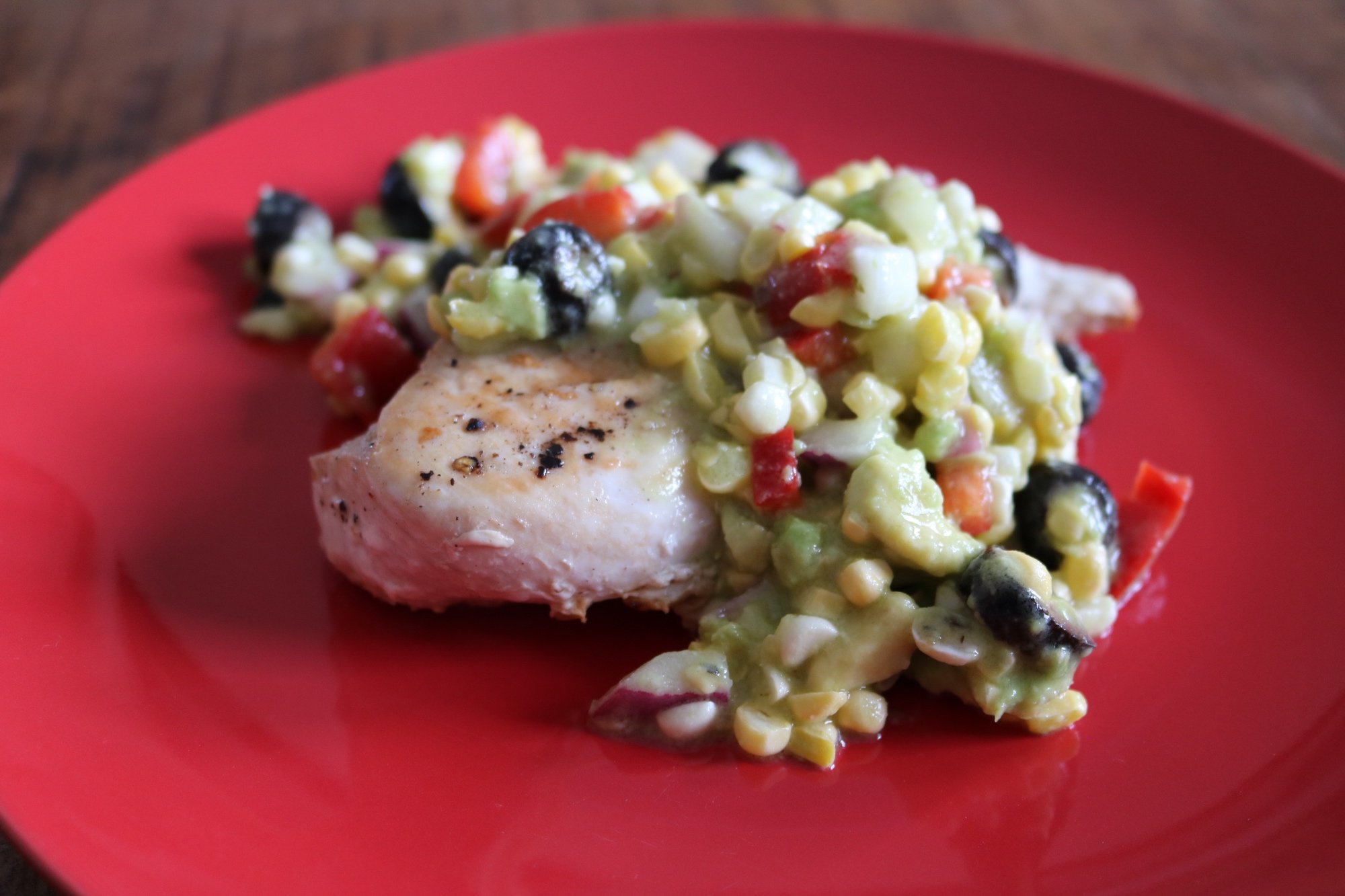 I'd love to hear what you think after trying this recipe!