Last Updated on June 29, 2022 by Rebecca Huff
Later than breakfast, earlier than lunch, brunch is the meal you can pull out all the stops. With brunch, you can go fancy or scale it back and keep it super simple.
The fun thing about brunch is that you can incorporate your favorite breakfast ideas, serve appetizers, whip up comfort food; anything goes.
Inspiration for Brunch at Home
You can have so much fun with brunch because it's flexible, right? You can have a theme such as comfort foods of the south. Traditional foods like bacon and eggs work well.
Try making Eggs Benedict with your own twist by adding a little extra, like caviar, and call it a Gatsby style. Traditional hollandaise sauce isn't nearly as hard to make as you might think.
Don't wanna go traditional?
Instead, you could go with cultural themes. A Mexican theme could have tacos with small tortillas – they make slider size.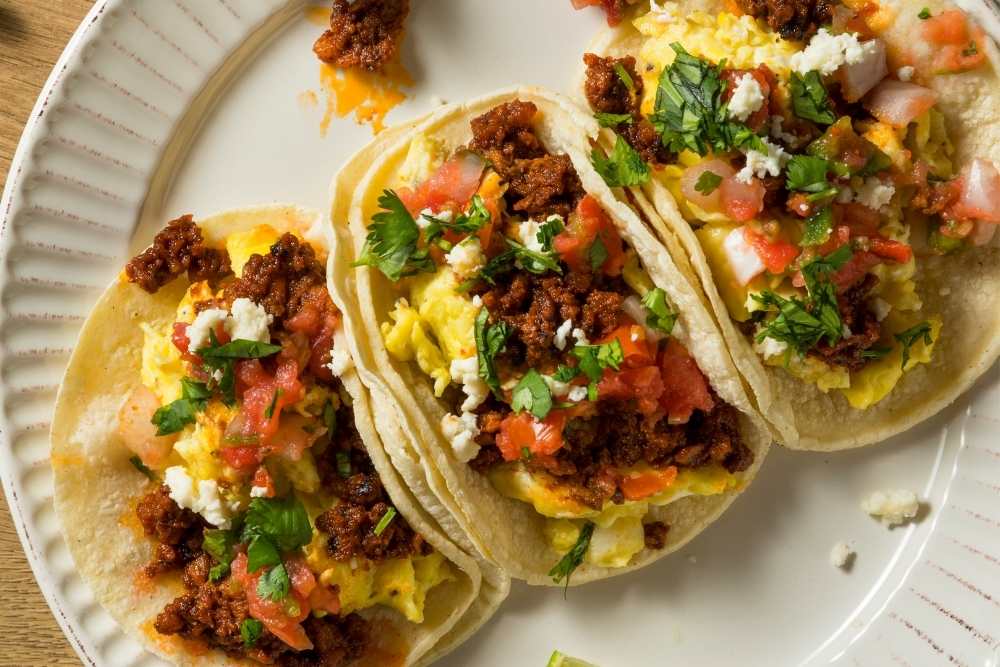 Try a Korean or Japanese-themed brunch and serve gimbap or sushi rolls. Bibimbap also makes a delicious brunch.
Another fun idea is to do a brunch bar. Try these ideas:
burrito bar – try Mexican breakfast burritos with scrambled eggs and a variety of toppings and fillings. You can offer "build it yourself" burritos using larger tortillas. Mix things up and use quinoa instead of rice.
slider bar – Use small buns or English muffins. On the brunch bar, display an assembly line of meat, cheese, vegetables, spreads, and pickles.
crepes – make lots of crepes then have a bar with fillings and toppings, both sweet and savory. (Like nut butter and strawberries for sweet or feta and olives for savory, just to name a few.)
pastries such as scones, coffee cake, buttery croissants are always a hit
parfait with a variety of toppings like fresh fruit, granola, honey, maple syrup, and nut butter (The kiddos can help with these, watch my daughter demonstrate how we make parfaits here!)
The Breakfast Bible Cookbook Review
I'm sharing some brunch at home ideas inspired by the Breakfast Bible Cookbook, but you can eat them any time of the day you like.
These brunch at home ideas are maybe a bit more involved than what you'd want to prepare on a weekday when you're heading to work early. Still, they're worth experimenting with on the weekend, then you might find something you want to carry over to a weekday.
When you think about it, brunch is the best of both worlds; sweet and savory, breakfast and lunch. When you get right down to it, recipes really don't have to be served at specific times! You can eat soup for breakfast or eggs for dinner, right?
The Breakfast Bible cookbook caught my eye because I'd been searching for a cookbook that was all breakfast recipes. We tend to get in a rut of just eating eggs or oatmeal. The subtitle is "100+ Favorite Recipes to Start the Day" which is the inspiration I needed.
As soon as I opened The Breakfast Bible, I knew I'd be taking it home. Two reasons, there are lots of photos and they used my favorite font which makes it easy to read. Two things that will make me put down a cookbook really fast are a hard-to-read font or no images.
Another thing I appreciate, there are plenty of recipes for breakfast but they all have a brunch feel to them. Of course, all the images are drool-worthy.
Brunch Ideas
The four brunch recipes that stood out to me as easily the best ideas for a crowd were:
Load your Own Bagels – seven sets of suggested ways to top a bagel.
Perfect Waffles (with seven topping/pairing ideas)
Perfect Pancakes (with ideas for toppings)
Whole Grain Breakfast Toast (with four different tantalizing toppers that aren't just avocado!)
For my husband's birthday, I prepared a brunch spread using the toast inspiration, which you can see in the video below.
We served the toasts on sourdough, rye, and sprouted grain bread. You could easily put another piece of toast on top and have a breakfast sandwich that is easy to pack and take along on a morning picnic or just to work.
In addition, I used the bagel and waffle ideas in a brunch buffet. A tip for the bagels, if you're serving a large crowd, you could provide alternatives, such as gluten-free bagels and non-dairy cream cheese. Sweet potato sliced thick and baked can also be used in place of bread for the toast idea. It has been trending as of late to make "sweet potato toasts" in recent years.
Contents of the Breakfast Bible
The cookbook is divided into five sections and within those sections, you'll find the best brunch recipes to mix and match.
Fruits & Grains – Chia Seed Pudding isn't new but having it in the cookbook was a good reminder for weekday breakfasts. (I also make this in the video, but I forgot to take a final video shot!)
Eggs – How to perfect your egg game. The basics of scrambled eggs, fried eggs, omelets, and more advanced eggs benedict. Variations of frittatas that will have you eating more veggies.
Pancakes, Waffles, & French Toast – your typical starch fare, but everyone loves a carb now and then.
Bread & Pastries – Cinnamon rolls, donuts, banana bread, zucchini bread, pumpkin bread, you name it.
Beverages – If you drink alcohol, you'll find some ideas for brunch buffet mixes here. I
Recipes we enjoyed
I loved all of the frittata ideas and my kids enjoy quiche, so when making the frittata, I doubled the recipe. In the second half, I used a pie crust to make a quiche version. Easy peasy. You can do the same in reverse. If you have a quiche recipe you love but would rather skip the crust, just turn it into a frittata.
That's another little secret for having a successful brunch at home. Always make extra! Quiche and frittata both taste wonderful reheated, so no worries if you have leftovers.
Also, both quiche and frittata can be frozen and reheated. Seal it well and it will store for about three months in your freezer. When you are ready to eat the frozen quiche or frittata, don't thaw it, just pop it in the oven and cook as usual. Be careful not to let it over brown.
Other recipes we tried and loved:
shredded hash browns with tips for getting them crispy, plus the recipe includes bell peppers for extra nutrition, color, and taste.
peach & almond dutch baby with a variation for brown butter and caramelized apples (and I realized that what I call a German Pancake is the same as a Dutch Baby so I looked into it and German Pancake came first. According to my findings, a restaurant owner's daughter couldn't pronounce the word "Deutsch" (German Language) so she called the pancakes "Dutch" and the term was coined. On a side note, my kids thought that was a silly name and we continue calling them German Pancakes ? You can see my daughter Ivy demonstrating how easy they are to make in a casserole dish, along with our favorite buttermilk syrup in this video.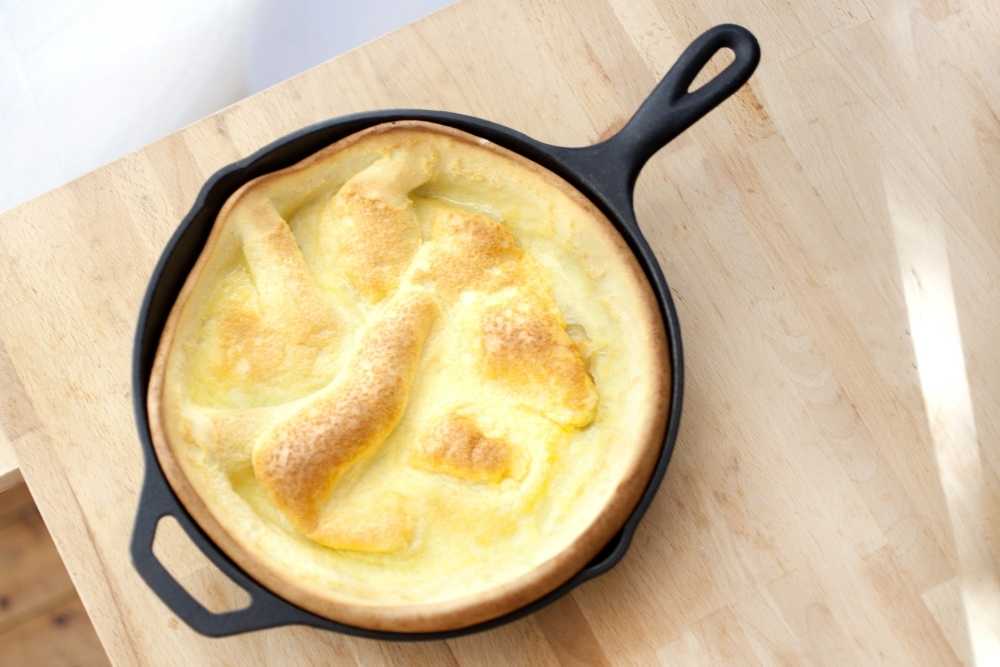 Drinks for Brunch
There are two drinks that stand out at brunch: Mimosas and Bloody Marys. One restaurant I enjoyed in the past had a DIY bloody mary bar with a variety of rim salts and garnishes. On pages 114-115 you'll find recipes.
Breakfast Casserole
I make a very simple french toast recipe for holiday mornings that you can prepare the night before and you won't have to get out the griddle. This one is made in a casserole dish and is one of the most-watched videos on my youtube channel. Someone commented that it was basic, and that is true, you can use your imagination and what you have on hand to make it "extra" if you like.
Add cardamom and cinnamon to give it a chai flavor, or drizzle a mixture of peanut butter with maple syrup to give it a completely different taste. You could mix chopped pecans, brown sugar, and cinnamon and sprinkle it on top, then mix a cream cheese frosting similar to what you'd put on cinnamon rolls, then drizzle it on top.
If you like to do "bar-style" brunch you can make several dips and serve them with toasted baguette slices. My favorite is spinach artichoke dip.
Here are some recipes you could incorporate into your brunch menu.
Want more inspiration? Checkout my Cookbook Reviews
Pin this post: