For many of us, fall is a time for pumpkin spice! Recently my son asked that I make homemade bagels and teach him how. His favorite is everything bagels and we often drive across town to Old City to grab a couple to eat in the park while we talk about politics. Well, he talks, I listen.
He has lots of opinions about things and is a sponge when it comes to new information. Advanced taste in good food is another thing he has and there is no better example than the humble bagel.
Once he got a penchant for freshly baked bagels, he became a bagel snob. Store-bought (read: old, stale, inferior) bagels would sit and mold in the pantry if I brought them home from the grocery store. He couldn't bring himself to eat them anymore.
One weekend, after driving over twenty minutes one way downtown to enjoy a fresh bagel together he came to a realization. Satisfying his taste for bagels was not a cost nor time, efficient activity.
This sometimes once a week habit was something that cut into his already packed day. He's all about efficiency. (Can't imagine where he gets that trait 😉 ahem…) Not to mention the cost was around $20 for three bagels with cream cheese. Three, because even though this was our time alone together, we always brought home a bagel for his sister.
Thinking about the forty-ish minutes of driving along with the twenty bucks, he suggested that we learn to make bagels at home to satisfy his carbohydrates cravings and save money, gas, and time away from home.
I found my favorite yeasted dough recipe, which I use in my mom's Kraut Burger recipe, and I made some adjustments. Tested, re-tested, and realized it's not that hard to make bagels. Perhaps the little shop we typically visit uses a chef-approved bagel recipe, perhaps one they traveled to Germany or Austria to discover.
I'm here to tell you that you don't need to be a chef or a baker to enjoy your own homemade bagels. All you need is a recipe that works and a few ingredients.
I started out by making Harmon's Everything Bagels which are top-notch and so savory! But because it's fall and I had the pumpkin pie spice blend in my cabinet, I decided to create some pumpkin spice bagels. They turned out beautifully.
I'll admit that I'm not a PSL (pumpkin spice latte) fan, as I don't actually like to drink sugar in my coffee (or any other beverage for that matter!) But I do like the blend of cinnamon, nutmeg, ginger, cloves, and allspice that makes Pumpkin Pie Spice what it is. Sometimes I will even sprinkle it on top of my "unsugared" coffee or chai tea.
It doesn't matter if you are a pumpkin spice-aholic or you never touch the stuff, these bagels are amazing and you need to get some on your table right now!
So what I'm saying is, you CAN make homemade bagels. It's not that hard. The hardest part is sticking to one serving size! They don't have to be perfect. It's okay to mess up and try again. After all, flour is not expensive.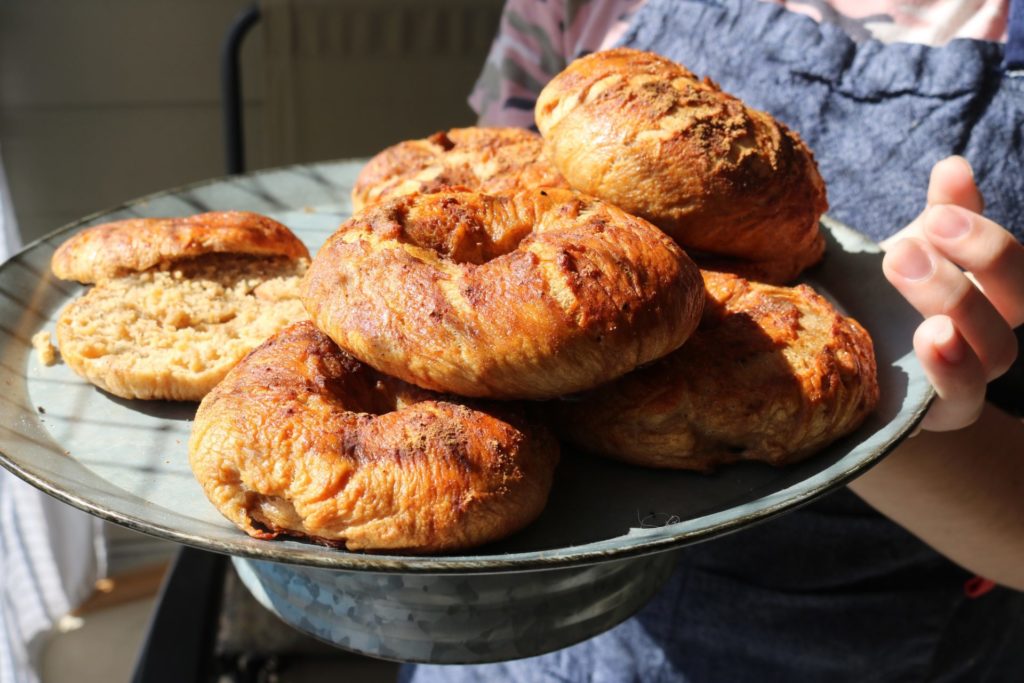 Homemade Pumpkin Spice Bagels
With these oh-so-fine homemade pumpkin spice bagels baking in your kitchen, you won't need to light a scented candle! Your entire home will smell like happiness!
As for topping these bagels, I recommend the following:
Cream cheese mixed with real pumpkin (mix in a food processor)
Peanut butter, a drizzle of maple syrup, then a sprinkling of pumpkin pie spice
Slice, then pop them in your toaster till golden brown then spread with butter and sprinkle with ground cinnamon
Sub out 1/2 cup of the flour for whole wheat flour
Slice, then spread a thin layer of butter, sprinkle with brown sugar or coconut sugar, then toast till caramelized on top
Before shaping, toss in a few mini chocolate chips
Make them pumpkin spice-cinnamon raisin bagels by tossing in a handful of raisins and an extra sprinkle of cinnamon
Cook down some pumpkin puree to make pumpkin butter adding some pumpkin spice flavor as you go.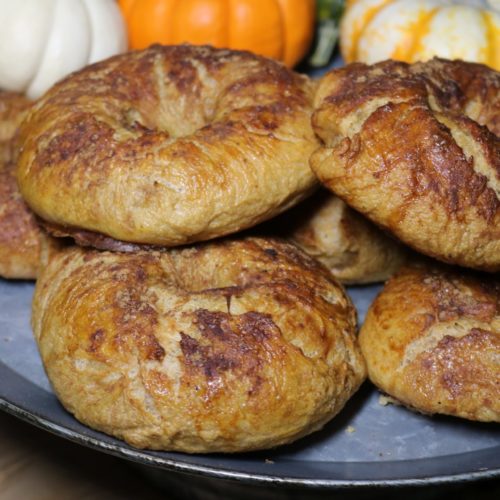 Homemade Pumpkin Spice Bagels
With these oh-so-fine homemade pumpkin spice bagels baking in your kitchen, you won't need to light a scented candle! Your entire home will smell like happiness!
Ingredients
4

cups

organic bread flour

sifted

1 ½

cups

pineapple juice

room temperature

1 ½

teaspoon

salt

1 ½

teaspoon

instant yeast

½

cup

coconut sugar

divided use

2

tbsp

honey

1

egg white

1

tbsp

maple syrup

3

tbsp

Pumpkin Spice seasoning
Instructions
Mix and knead together the first four ingredients plus half the coconut sugar — by hand, mixer, or bread machine — until the soft dough forms a nice ball. If you're using a stand mixer, using the dough attachment, mix at low speed for 6 to 8 minutes.

Cover with a clean dry towel and set aside in a warm spot in your kitchen while the dough rises for about one to one and a half hours.

After the dough has risen, sprinkle 2 teaspoons of Pumpkin Spice on a lightly floured surface (add the spice to the kneading surface along with the flour) turn out dough onto this surface, punch down, knead for a minute, then divide into eight equal pieces.

Work each of the eight portions into a ball then poke your finger through the middle and stretch lightly to shape like a bagel, do each of the eight pieces.

Preheat oven to 425 degrees farenheit.

While the bagels are resting, in a large pot (I use my Le Creuset Dutch Oven)bring 2 quarts of water to a boil along with 2 tablespoons of honey. Once the water is boiling, drop in bagels two or three at a time in being careful not to overcrowd.

Cook in the boiling water for one minute, then flip the bagel one time in the boiling water and boil 1 more minute.

With a slotted spoon, remove the bagels to a baking sheet lined with parchment paper.

Mix maple syrup and egg white to create an egg wash, then brush the tops of each bagel with this egg wash. Then sprinkle with a pinch of the remaining coconut sugar and a sprinkling of the Pumpkin Spice seasoning.

Bake for 20-25 minutes until browned on top.
Notes
If you want to make these and don't have pineapple juice, just substitute water and increase the coconut sugar to 1/3 cup.
A note about yeast. Active dry yeast should be dissolved in water first before adding to the flour mixture. Instant yeast can be mixed right into your dry ingredients. Using bread machine yeast means you have to give the dough two rises before baking.
Grab your kids and get in the kitchen and learn to make bagels. When they come out of the oven, try to wait a minute, even though it's hard, for them to cool off a bit.
Then, slice them open and smear on some cream cheese! Top with pumpkin butter if you like. Either way, they taste absolutely amazing.