Last Updated on June 29, 2022 by Rebecca Huff
This book has been on my radar for a while, so I finally picked up a copy. Right off the bat, I loved what Kimball writes in the introduction.
Rules are a mixed blessing. They are useful in building a foundation of knowledge, whether in music or cooking. But they also create boundaries that can dampen improvisation. The New Rules is our attempt to do both, to create a communal starting point for a new way to cook…while also inspiring home cooks to abandon rigid culinary notions drawn from America's European roots and ersatz adaptations of Chinese, Italian and Mexican cuisines.

Christopher Kimball, introduction Milk Street: The New Rules
He goes on to explain 75 New Rules that will "change the way you cook."
If you've been home cooking for a few decades, you are fairly well versed in the rules of cooking. Maybe you skip over the step-by-step instructions when you are making your old favorites. This book is for you, and it's for you too, new home cook! The simple techniques in this book will bolster your confidence in the kitchen even if you're unfamiliar with the "old rules."
The New Home Cooking Rules
The seventy-five "new rules" were interesting to read and changed the way I think about the way I cook and how to build flavor and find shortcuts. I won't say that I will adapt every single rule – adding crunch to my eggs (not by leaving in eggshells haha) wasn't one I'm keeping, although I see many cooks use this technique. Crisp fried eggs aren't for me, but they may be for you! That's what we are finding out by experimentation.
I appreciated that the new rules are listed at the front of the book and the layout of this section is very aesthetically pleasing. If you're hoping to take your skills in the kitchen to the next level, spend some time on these four pages. You'll start getting more compliments on your meals.
Below are a handful of the "new rules" I'll be keeping. Obviously, I can't list them all, but here are my first five favorites.
Top Five New Rules:
No. 7 Bloom Seasonings in Fat for Bigger Flavor
No. 27 Go Low for the Perfect Poached Egg
No. 44 Stick with Single-Sided Searing
No. 50 Roast on Baking Sheets, Not Roasting Pans
No. 74 Tenderize Beef with Baking Soda
Each rule is explained in detail and used in the recipes throughout the book. You will learn more about the dominant taste, texture, and sensation of recipes and how those elements make up the foundation of a dish.
The ingredients in the recipes are easily found in your average supermarket; although there are a few you may have to search for such as Pomegranate Molasses or Aleppo pepper.
Dubbed "a playbook that makes cooking fun again," the new flavors you will discover among the pages will have you looking forward to spending time in the kitchen. Those who are blessed to gather around your table will think you are the best cook on earth!
Why Christopher Kimball is uniquely qualified to create New Rules
Why is Christopher Kimball positioned to come up with these new rules? How is he qualified?
Although he graduated with a degree in Primitive Art, Kimball did later attend cooking school. He then founded Cook's Magazine which later he re-launched as Cook's Illustrated, among other publications and radio shows. He also hosted and produced America's Test Kitchen and Cook's Country, which were tow of the highest-rated cooking shows on television.
In 2016, he created Christopher Kimball's Milk Street, located on (surprise!) Milk Street in Boston, Massachusetts and has since expanded to include a cooking school and product line.
"BOSTON, Dec. 12, 2019,/PRNewswire/ — Christopher Kimball's Milk Street announced today that it is expanding its cooking school and kitchen product program nationwide beginning with three independent retailers: Las Cosas, Santa Fe, NM; Cooking at the Cottage, Louisville, KY; and Port Plums, Newburyport, MA.
At each location, staff are trained to teach the Milk Street Way-helping home cooks use Milk Street's simple, bold recipes based on extensive travels around the world."
Like many entrepreneurs, Kimball has put together a team of talented people to help him achieve tremendous success. If you've watched any of Kimballs shows or perused one of his cookbooks you will have no doubt that he is uniquely qualified to change the rules when it comes to simple recipes and techniques paired with bold flavors from around the world.
Kimball has been nominated for the James Beard Award more than half a dozen times and has been the winner twice, in 1996 and 2019.
There is no tomorrow. Time cannot be saved and spent. There is only today and how we choose to live it. The future is unknowable and unpredictable; it offers no clear path to happiness. Science will not save us. Each of us, then, needs to cobble together a daily routine filled with basic human pleasures, wedded, to be sure, to the best that modernity has to offer. It is a life of compromise rather than extremes. It is a touch of the old and a taste of the new. And cooking, it seems to me, offers the most direct way back into the very heart of the good life. It is useful, it is necessary, it is social, and it offers immediate pleasure and satisfaction. It connects with the past and ensures the future. Standing in front of a hot oven, we remind ourselves of who we are, of what we are capable of and how we might stumble back to the center of happiness. Effort and pleasure go hand in hand.

― Christopher Kimball
If you haven't watched the TV Show: 177 Milk Street, go find it and enjoy binge-watching a few episodes tonight.
Milk Street: The New Rules: Recipes that will change the way you cook
So the big question is: have I changed the way I cook after reading The New Rules. The answer? Yes, why yes I have.
Even though I consider myself a well-taught home cook, I found so many treasures. Like the tip about marinades and sauces. Kimball suggests you first season the meat before cooking, then later as a sauce for the finished dish. (Refer to rules and recipes first to understand the technique!)
He demonstrates this rule perfectly in the Japanese Ginger Pork (Shogayaki) recipe on page 245. After returning the meat to the pan he adds the reserved marinade, brings to a simmer and allows the mixture to thicken. How many times have I poured "used" marinade down the drain and thought "what a waste of flavor." Now I know how to avoid that.
These are just a few of the techniques I learned from this book, and as I don't expect you'll want to be reading my review for hours, I shall move on.
Cook Perfect Eggs Every Time: New Techniques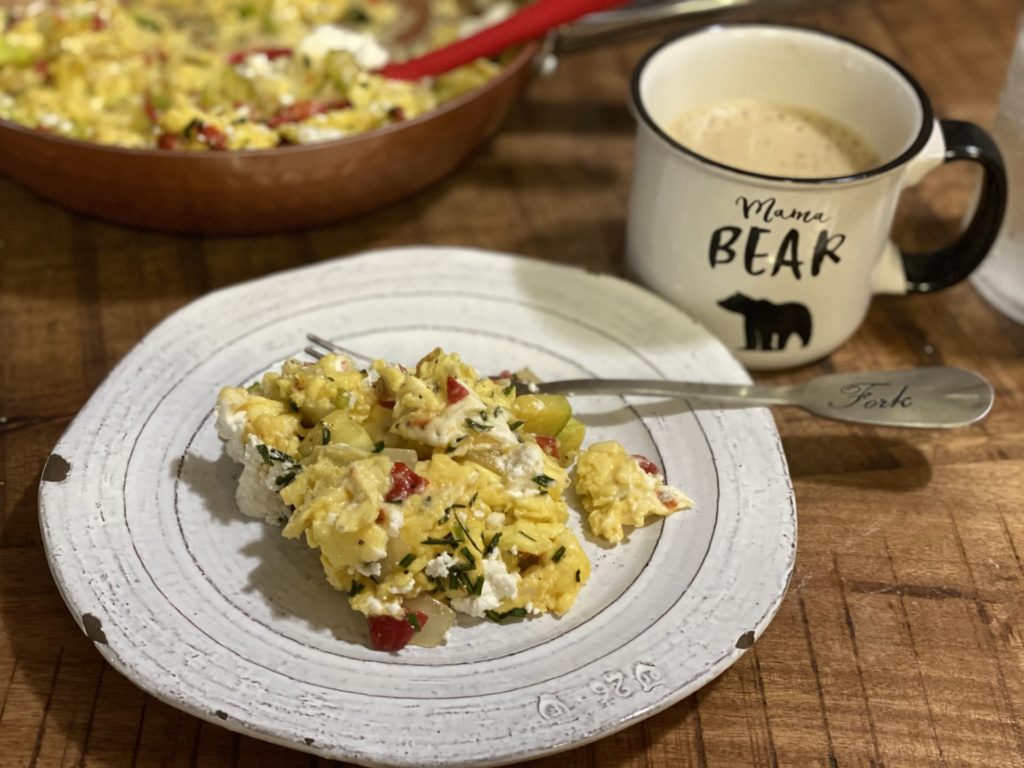 You don't have to go to cooking school to take advantage of the versatility of eggs. With The New Rules, you'll learn everything from how to fry or poach eggs to how to make open and folded omelets. I've been making scrambled eggs all of my life, but I promise you I became a better cook when I read page 143.
You'd think there's not much new you could learn about scrambled eggs, but the technique outlined results in moister, fluffier eggs that actually cook faster.
Surprisingly, the section that I used most was the eggs section. Before I picked up a copy of this cookbook, my daughter and I had already watched how to scramble eggs on Kimball's cooking show. This simple change revolutionized scrambled eggs in our house.
While I didn't think much about it, assuming it was a simple "fats" swap (olive oil in place of butter) it was so much more than that. Trust me, don't try it until you read the instructions.
My (at the time) eleven-year-old daughter wanted to give this technique a try. Without being privy to what she had learned in virtual cooking school, my husband commented, "these are the best scrambled eggs I've ever tasted in my life."
He wasn't exaggerating. They really are.
There were plenty of egg recipes and we tend to eat a lot of eggs. It was a nice change to try so many different omelet recipes with flavor combinations I'd never explored.
Omelets are much easier than you think, especially once you get the hang of it (or try open omelets!) I will admit, there were a couple that I just turned into scrambled eggs in the beginning, but now I can flip an omelet like nobody's business.
Turkish Poached Eggs with Garlicky Yogurt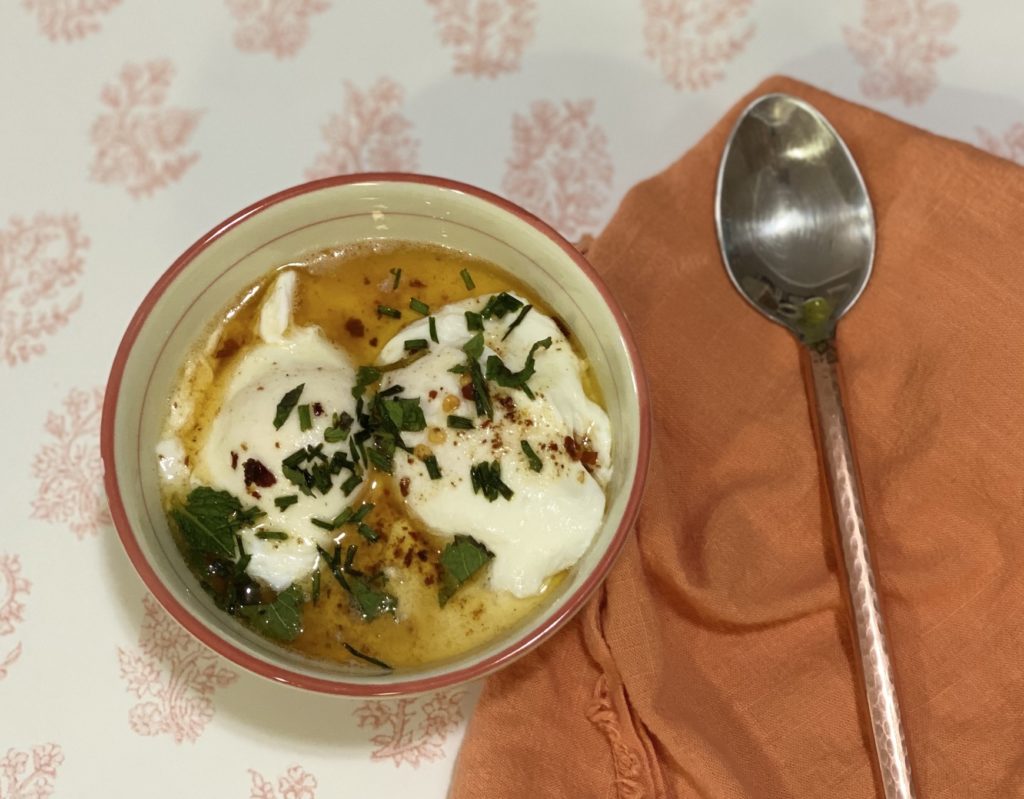 This dish went over well at Sunday brunch. Yogurt with poached eggs was definitely a combination I had never thought of before. While the ingredients may seem unlikely, the results are typical of his recipes – uniquely delicious.
One of the egg techniques for poaching eggs is that you use less liquid in your pan; I used a low sided skillet for this and it was much easier.
Herbed omelet with Tomatoes and Blue Cheese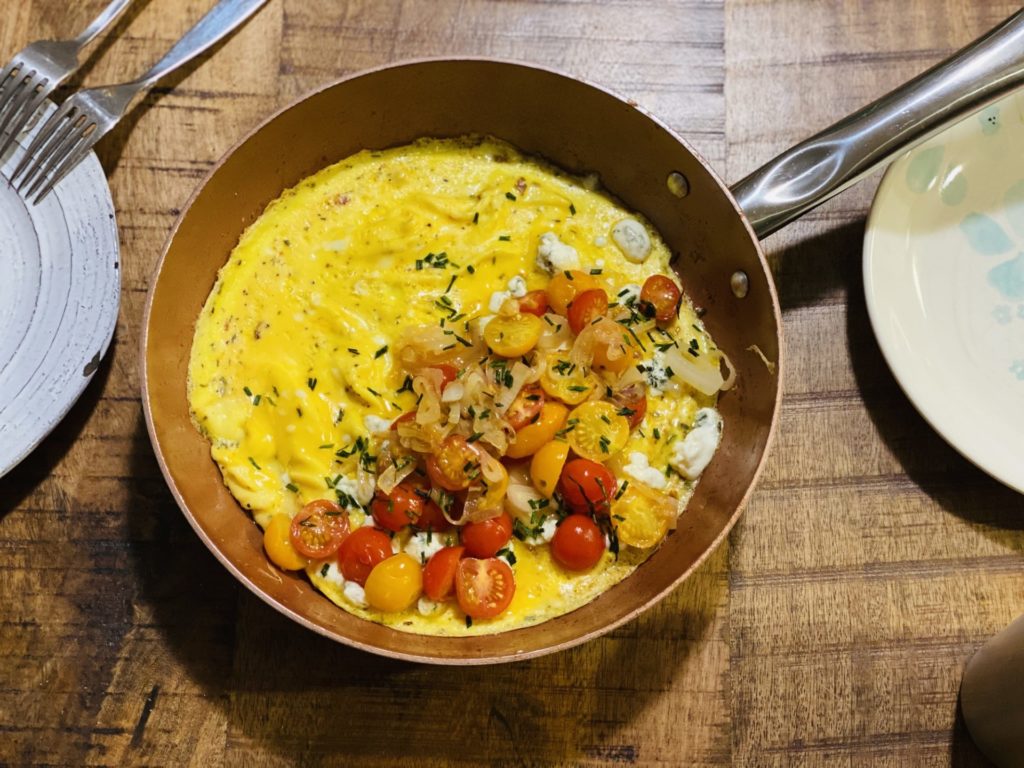 Another delicious omelet to add to your repertoire. Cause really, can you ever have too many omelet recipes in your breakfast arsenal? This one reminded me a bit of buffalo wing flavors with the blue cheese and tomatoes. Top this savory omelet with the best hot sauce you can find.
Southeast Asian-Style Mushroom Omelet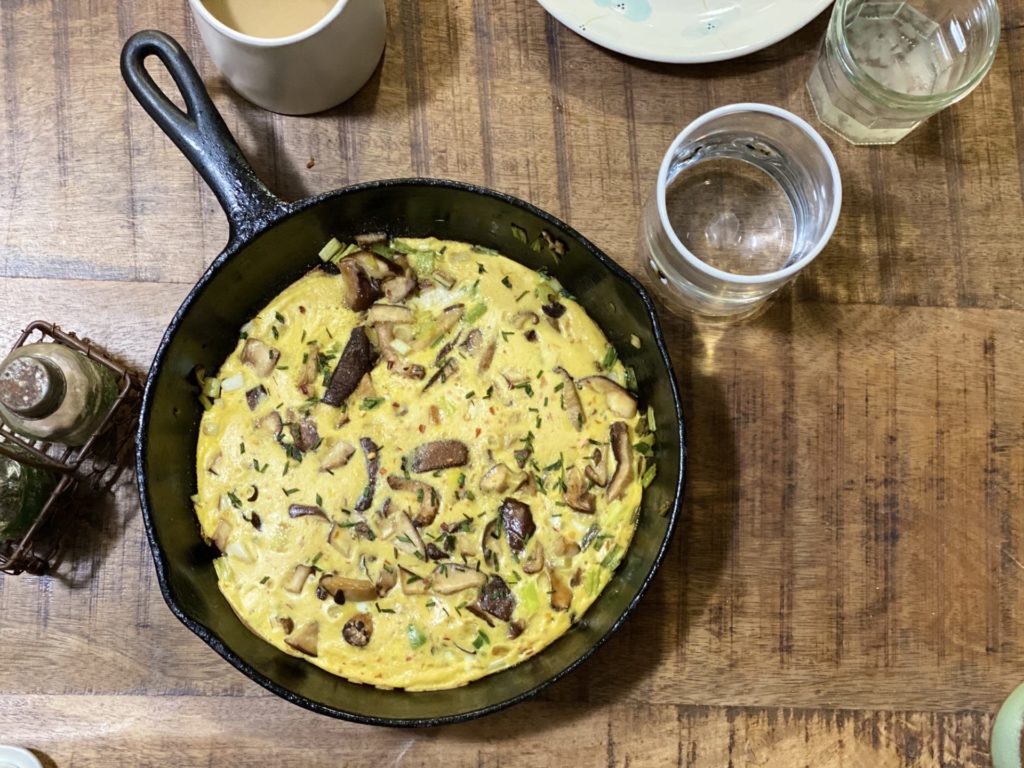 I love Asian-style foods and especially when it's unexpected. Big flavors punch up this omelet and make breakfast exciting. I love scallions in eggs and tend to add them whether the recipe calls for them or not.
If you don't like mushrooms, don't skip over this recipe! I'm the only one in my family who loves mushrooms, so I just left them off my husband's portion. Although, plenty of times I don't leave out the mushrooms and encourage him to try them anyway, sometimes he likes them, sometimes he saves them for me. All I'm saying is, this omelet is worth trying with or without the mushrooms!
Omelet with Mushrooms, Mustard, and Gruyere
The flavor combination in this omelet was unique. I rarely buy Gruyere cheese so this was something new for me. The smoky flavor of the cheese in combination with the whole grain mustard works so well.
Zucchini and Goat Cheese Omelet
What's not to love about an omelet with goat cheese. In fact, I made this omelet for a weeknight dinner a couple of times. Omelets are the perfect weeknight meal, they're quick, inexpensive, filling, and delicious.
The New Rules Recipes for Keto, Low-Carb, and Trim Healthy Mamas
Many of you ask for recipes or cookbooks that pertain to a specific diet plan. If you've ever asked me for this, you know what my response is: adapt the cookbooks you have. Recipes are a launchpad for your own ideas and creativity. You'll find plenty of recipes to use as is and some that you can make minor tweaks to, such as swapping out the sugar.
There are so many delicious recipes in this book that work for those who follow a low-carb lifestyle. Whether you cycle your carbs (like in the Trim Healthy Mama diet) or you avoid them altogether as do most Ketogenic dieters, you'll find something in this cookbook to enjoy.
Along with most of the eggs section above. There were many other low-carb recipes that I really loved. You can also download my menu plan that is Keto compliant.
Vietnamese Chicken Salad with Sweet Lime-Garlic Dressing (Goi Gà)
As usual, I replaced the white sugar with erythritol. I made this dish for dinner guests along with the spicy potatoes with peanuts and scallions and it was a huge hit, everyone had second helpings (and someone had thirds!)
If you are sensitive to spice you might cut back on the jalapeno peppers as I did for my husband. The roasted and salted peanuts really finish this dish off well. Leftovers taste even better.
I've made this recipe twice and plan to make it part of my regular rotation. Although, when I made this the second time I only used half the fish sauce called for in the recipe and thought it tasted much better. I noticed in a couple of recipes they were heavy-handed with the fish sauce, so I started to reduce it in other recipes too. Perhaps it's a personal preference, I like fish sauce and use Red Boat in many of my own recipes, just not in such large amounts.
Traybakes
Chicken can be bland if you don't take the time to season or use a method that will make it into something special. Which is why I loved the two traybake recipes I tried. The only trays I had were completely flat, so I went out to buy a special tray just for traybakes!
Talk about simple recipes, traybakes are so easy to prepare! Just season everything, throw it on a tray, bake, then finish it off. See the before and after photos of the chicken with roasted poblano and tomato salsa below.
Chicken and Cauliflower Traybake with Roasted Garlic-Yogurt Sauce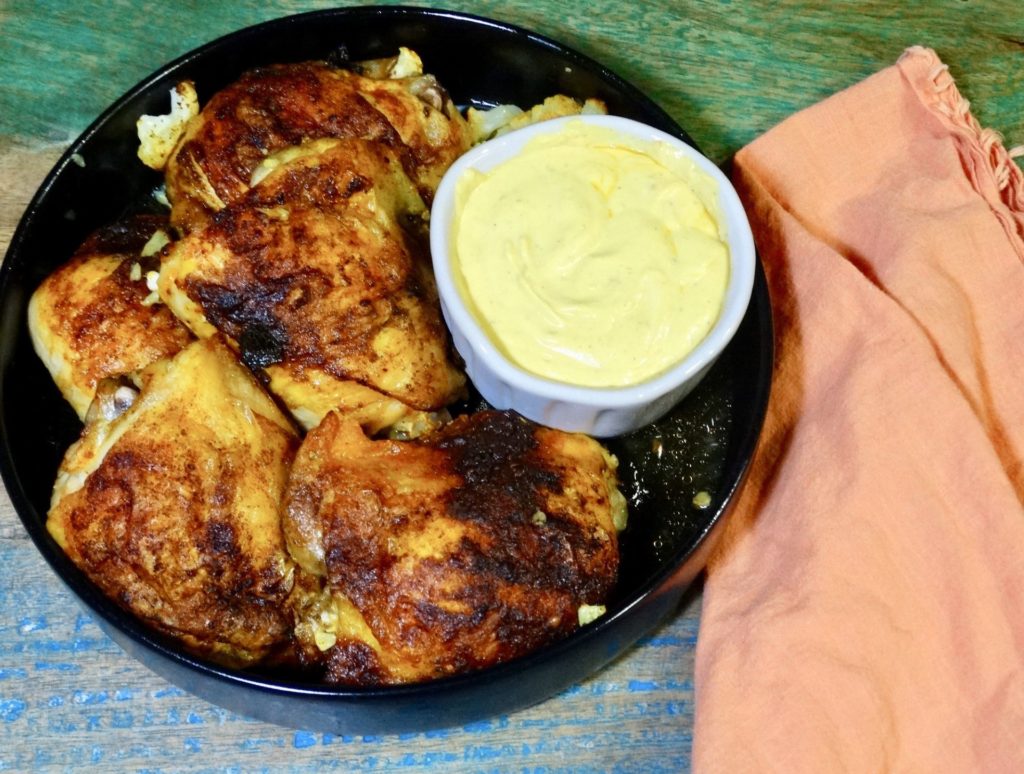 My family devoured this and complimented me over and over on the "sauce" that went with the chicken and cauliflower. Couldn't have been any easier to make! The cauliflower has a dual purpose in that it is a side dish and the base of the sauce. I love to use yogurt in my meals because it is so healthy (when it's plain, that is) and important for gut health.
Chicken Traybake with Roasted Poblano and Tomato Salsa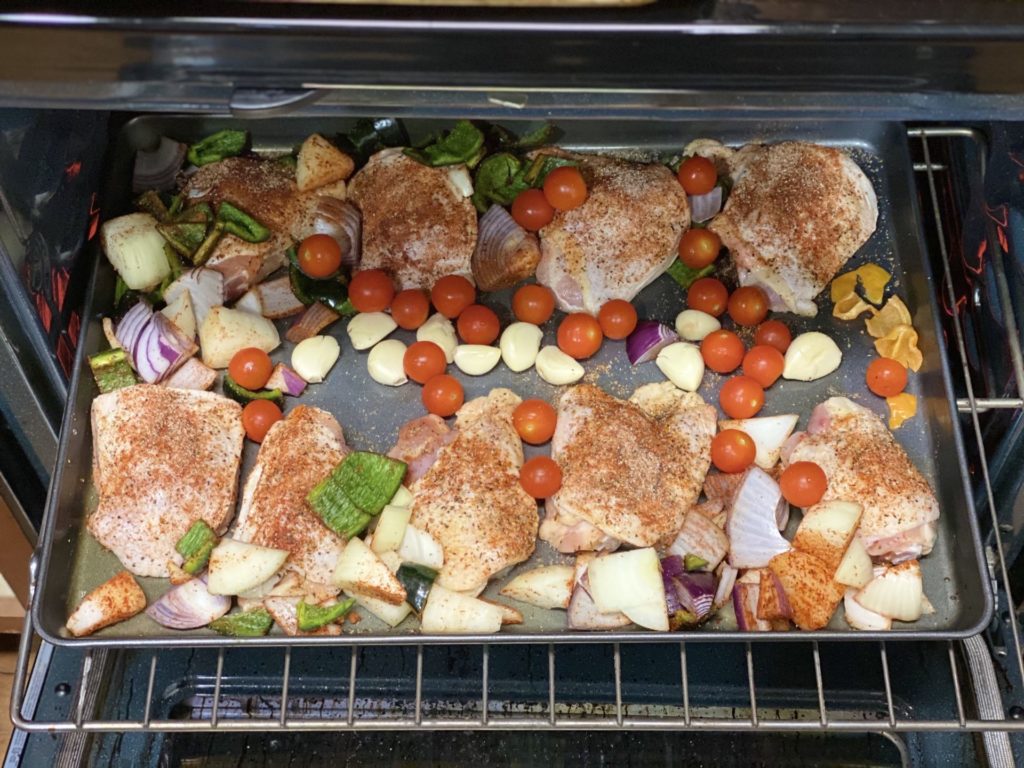 This was the second traybake I tried and one of the tastiest meals I've tried! I'm not even a huge fan of chicken, but something about baking all of the ingredients together on the pan creates so much deep flavor. The tomato salsa is heavenly. It was just spicy enough for me; I only used half of one habenro pepper.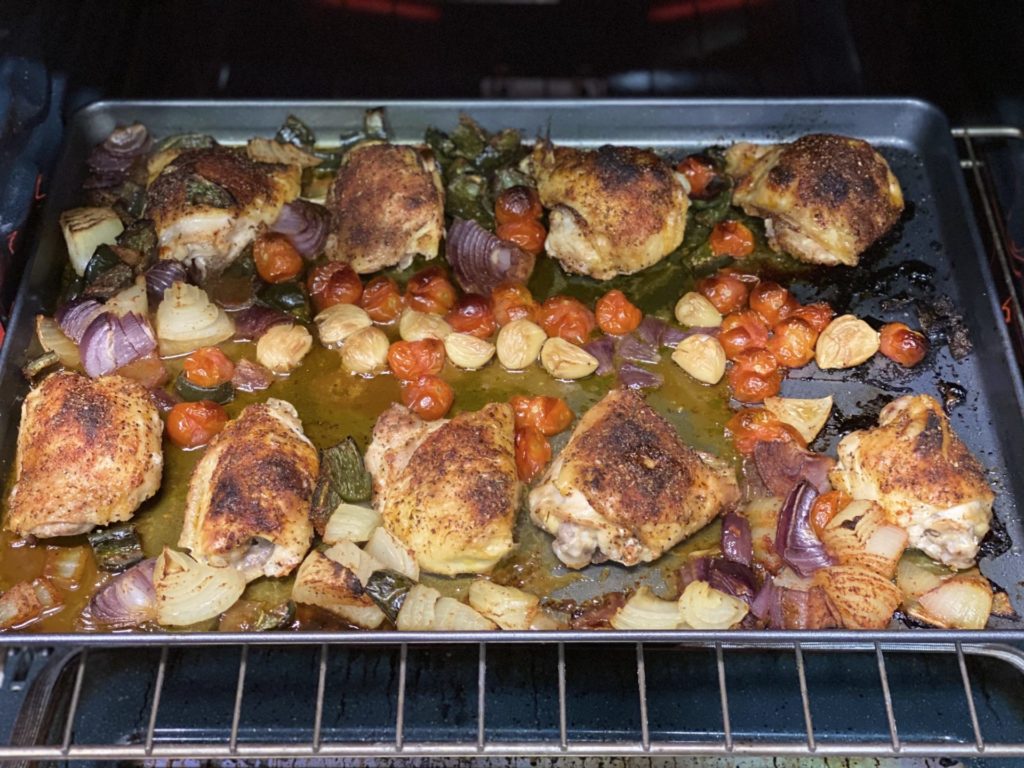 Southern Thai-Style Fried chicken
This recipe is inspired by the southern region of Thailand. The key is in the seasonings, not only directly on the chicken but also in the crust.
Don't skip the Tangy-Sweet Chili sauce it's absolutely delicious. I couldn't find peanut oil for frying so I used avocado oil instead and I'm not sure if that changed the flavor but it was unbelievably good. Again, I cut way back on the fish sauce, but if you like it, go for the full 1/4 cup.
Vegan Choices
The vegetable section has an extensive section on blanching and roasting vegetables along with a chart that helps you prevent overcooking. Don't skip the ice bath!
Vegans can swap out the butter in vegetable dishes that call for it. Garbanzo beans take center stage in the recipe: Hot-and-Sour Curried Chickpeas which is a take on Khatte chole, a popular Indian street food. The quick pickle creates a nice tartness along with a crunch that pairs well with the mild taste of chickpeas.
Charred Broccoli with Japanese-Style Toasted Sesame Sauce found its way onto our dinner table multiple times in the past few weeks. I love making this with broccolini too! The sesame sauce is good on other vegetables as well, double the recipe and keep some on hand.
Vegetarians will want to try the spiced stir-fried asparagus and the recipes for creamy polenta with savory sauces. The tip for preparing polenta will result in the creamiest, easiest polenta and a lot less stirring. This is found in the section with beans and grains,.
Other tips and Mentionables
The Boost Flavor Fast section on pages 270-271 is worth mentioning. I've been using Gochujang, miso, and soy sauce for years and find that you can combine them in many ways and varying amounts to add instant umami. These items are covered thoroughly in this section.
In the very back of the book is a section on how to Build Better Cocktails. The book is worth buying just for this section alone. In it, you'll find everything from warming cocktails for cool evenings to Drinks for Summer Soirees. You'll learn about smoked cocktails and how to use salt properly in mixed drinks. Last, the tips on how to be a better shaker will up your bartending game at your next girls' night in!
Summary
By now, I'm sure you have worked up a voracious appetite and possibly feeling a Thirsty Thursday coming on! I know I have and I am!
Whether you are planning a special dinner party or simply looking for delicious comfort food, you'll find plenty of recipes in the pages of this cookbook to satisfy every need.
So do I have anything negative to say about the book? Well…
I thought because I loved Milk Street Tuesday Nights that I would love The New Rules just as much. While I like the food that I've made using the cookbook, I'm not a fan of the format the editor chose for setting up the recipe instructions. Although, I have a feeling it has something to do with the encouragement to improvise.
Instead of numbered steps, there are paragraphs below the ingredients section that are a little bit harder to follow. At first, I thought it was just me, end of the day, having a hard time focusing, but then my daughter complained to me about it and I realized it was a real thing. While it wouldn't stop me from purchasing the book, and it hasn't kept me from making dozens of the recipes, I do prefer the old format.
So this is really my one complaint. I hope in the future they'll stick to the traditional format, more like the Milk Street Tuesday Nights cookbook. That one is my all time favorite cookbook and can see why Christopher Kimball has had not one but two tv show success stories and awards.
Raving Reviews
"Revises standard culinary practices, honoring time-proven techniques while abandoning rigid constraints… Dishes are light, bright, and vegetable-forward… Kimball's writing, unrivaled for clarity and precision, inspires confidence in every home cook."―New York Journal of Books

Read my review of Milk Street: Tuesday Nights or join the Tasty Bite Online Cookbook Club and share your own opinions of the Milk Street Cookbooks.
Find the hardcover edition of Milk Street: The New Rules: Recipes that will change the way you cook on Amazon or at your local bookstore. JAMES BEARD AWARD FINALIST — Become the best cook you know with this playbook of new flavors, new recipes, and new techniques: Milk Street's New Rules, with 200 game-changing recipes driven by simple but transformative insights into cooking.