Last Updated on June 29, 2022 by Rebecca Huff
The Nolah Nurture is the best mattress for teenagers; this post will explain how we came to this conclusion.
Sponsored Post
Best Mattress for Teenagers and Kids
As much as 90% of the teen population in America is sleep deprived. In addition, during the teenage years, there is a shift in the circadian rhythm. This shift leads to later bedtimes and the desire to sleep in more. Yes, it is true, your drowsy teen actually needs to sleep later in the morning! Read more about teen sleep hygiene here.
One of the best things I can do for my teens is to give them what they need to get a good night's sleep. That includes a supportive mattress, along with blackout curtains and possibly some white noise. But let's face it, very little can wake a sleeping teenager, am I right?
How well you slept last night has a lot to do with how much sleep you'll get tonight. That's because when you're chronically sleep deprived or getting poor quality sleep, exhaustion sets in. Tossing and turning because you can't get comfortable, then waking up stiff and sore, or worse, with back pain, can keep you from feeling refreshed in the morning.
Getting a solid night's sleep is of the utmost importance for growing kids. The right mattress is crucial. Especially during the teen years when children go through several growth spurts and may experience growing pains.
So how do you pick a quality mattress?
For years, we've slept on memory foam mattresses. This year we replaced my daughter's with a latex hybrid with a patented coil system. We couldn't be happier with our choice.
The Nolah Nurture is made up of seven layers that include a 6" support coil layer and Talalay latex. The layers are topped with wool, then completed with a GOTS certified organic cotton cover.
Made with kids and teens in mind, it is a double-sided, health-forward mattress with all the top safety certificates.
The firmness options are part of the double-sided, flip mattress design. Yes, it's flippable!
Just beneath the organic cotton cover is a layer of premium wool. The layer of wool serves to add cooling and breathability while also serving as a natural fire barrier. (Because we don't want flame retardants sprayed on anything we'll be coming into constant contact with.)
If you take a look at wool under a microscope you'll see pinecone-shaped scales over the fibers that hold the wool together. This makes wool uniquely resistant to burning. Wool is also breathable making it more comfortably cool than sleeping directly on a foam mattress.
Since fibers are crammed together and entwined an environment is created with very little oxygen. Wool is a breathable fabric, which keeps you cooler when you sleep.
In the middle of this double-sided mattress are the support coils and Talalay latex, the comfort layers, to help relieve pressure points and allow support for growing bodies.
The Nolah Nurture is a comfortable mattress that is perfect for combination sleepers.
Benefits of the Nolah Nurture include:
GOTS organic cotton and wool
OEKO-TEX 100 Class 1 Certified (this means every single material used in the product has been tested for harmful substances and that the article, therefore, is harmless for human health. It is the world's best-known label for textiles tested for harmful substances.)
100% Made in the USA (right in Colorado!)
Has two sides each with a different firmness level
Targeted support using Tri-Zone(TM) coils that comfort the body, especially the lower back, which some mattresses fail to provide. These Tri-Zone coils offer even weight distribution and reduce motion transfer.
Hybrid Mattress Construction
The Nolah Nurture combines ultra-durable, stabilizing pocketed coils with super durable Talalay latex. Talalay latex is a more advanced and superior type of latex made from rubber trees. This, opposed to memory foam which is a man-made product. In addition, Talalay latex doesn't off-gas. Meaning there is no need to "air out" the room when you first open your new mattress as no harmful chemicals are involved.
In addition, Talalay latex is known for its conforming ability which cradles an adolescent's joints and back to provide good spinal alignment. The natural latex provides pressure relief for countless hours of sleep; especially important since a child's circadian rhythm changes as they hit the teen years.
The top layer is quilted and soft to the touch, however, we still added a mattress protector, as I do for all our mattresses. Even if your mattress comes with a lifetime warranty, this keeps it cleaner than using a sheet alone over a mattress.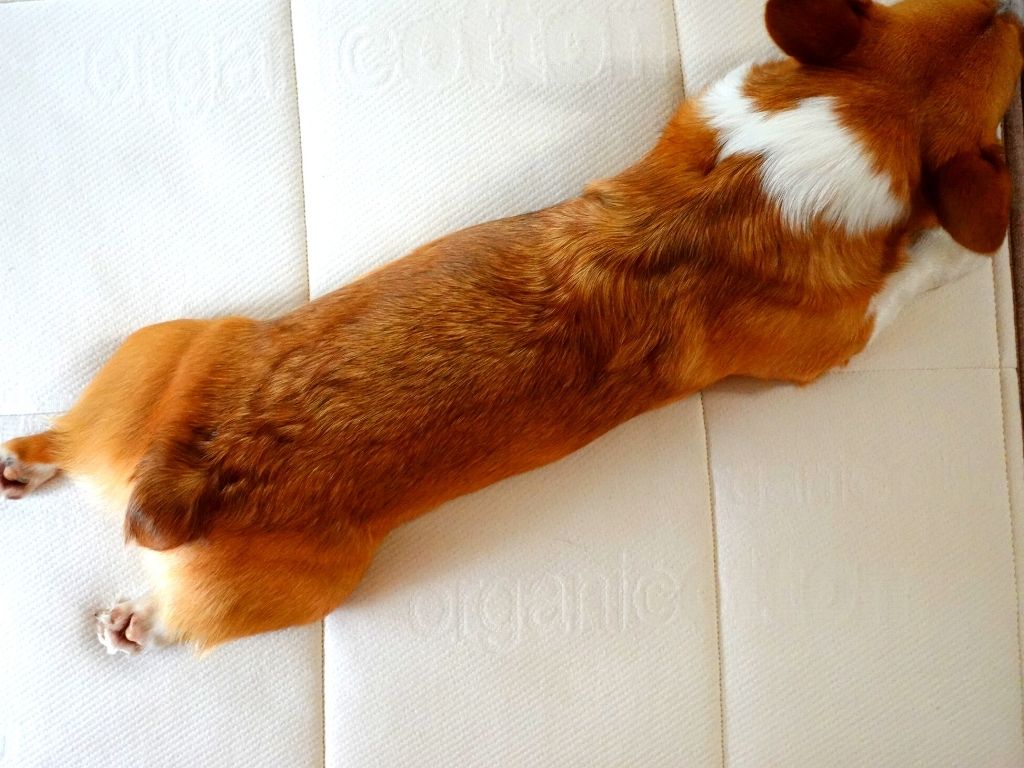 That's why a hybrid mattress was our top pick for a twin mattress for our teens. Hybrid models typically have a layer of memory foam in addition to a layer of coils. "Traditional memory foam and innerspring mattresses are notorious for their lack of support."
In the Nolah Nurture, both the stabilizing coils as well as the natural latex conform to the unique shape of the body allowing them to have comfortable sleep, night after night.
The coils also allow for better airflow and less sweating than in 100% memory foam mattresses.
Best Flippable Mattress
The double-sided design of the Nolah Nurture lets kids decide their bed's firmness level based on their sleep preferences and where they are in their development. Regardless of their size and age, your child will find comfort in this cushioning and supportive hybrid mattress.
When we received the Nolah Nurture I was pleased to find that it was a flippable mattress. The mattress was going on my daughter's bed. She wasn't sure what type of mattress best suited her preferences.
With a flippable mattress, she can try both soft and firm to see which side gives her a good night's sleep. In fact, she says it's the best bed she's ever slept on.
One perk she mentioned in particular that she appreciates is that the mattress has a bit more edge support than her previous memory foam style mattress. In her exact words, she doesn't "slide off like with the other mattress." She likes the light bouncy feel that comes from the coils and latex because she doesn't feel stuck when changing positions during sleep.
Even on the soft mattress side, it offers a solid support system with its high-quality contouring that makes it the best mattress for teenagers.
The luxury firm side has a firmness level around 7-8 that would qualify as a medium-firm mattress, excellent for back and stomach sleepers. Meanwhile, the plush side is a 4-5, a bit more like a medium soft mattress, perfect for side sleepers.
If you're a parent with several children, you may have passed a mattress from one child to the next as we often have. With a flippable mattress, you have options that will please both children who are either back sleepers or stomach sleepers.
Teens and adults alike will appreciate the responsiveness of this mattress no matter which sleep position they end up choosing. With two firmness levels, it provides optimal comfort and support for the different stages of your child's growth.
Easy to Set Up in Minutes
The Nolah Nurture was easy to set up. It came in a fun box that kids can use to play with and recycle later. We simply removed the mattress from the box, positioned it on the bed, unwrapped it to allow it to expand fully and we were done.
You can use the Nolah Nurture 10″ mattress with any type of bed frame such as a box spring, platform, or an adjustable base. However, if you use a slatted base or slatted box spring, the slats should not be more than 4″ apart for optimal support.
We have used mattresses directly on a slatted wood base layer for decades and this mattress works perfectly.
My daughter likes it on the soft side. Still, she was thrilled to know that she can flip it over if she changed her mind.
Trial Period
In addition, you can test a Nolah mattress with their 120-night sleep trial. If you don't love it they'll send a driver out to pick it up and donate it to a local charity.
I just added the Twin XL to my shopping list for my teenage son! After my daughter began sleeping on her new mattress, we realized he needed a mattress upgrade as well. That's when I began reading the reviews for this mattress and saw the many rewards it has received.
A soft, cool, and pressure-relieving sleeping surface for growing kids.

Parents
If you're concerned about the online mattress vs. an in-store shopping experience, think about the 120 day trial period vs. the five minutes you lay on a bed in the store. Another reason I prefer to bed shop online is that there are no salespeople around while I'm trying to decide.
One other important note, you can opt to add accident protection. For a small fee Mulberry Protection will cover your mattress. Totally worth it in the case of scratches, stains, rips burns, and other common accidents from children or pets. (This is separate from the lifetime warranty it already comes with at no additional cost that covers defects.)
Teens: Full Size vs. Twin
By the way, both the Nolah Nurture Twin and Twin XL will support body weight up to 200 lbs. If you need the mattress for an adult who is above 200 pounds, choose the Nolah Original. This one is the same size mattress (Twin or Twin XL) with support for up to 300 lbs.
After browsing the site I noticed the Nolah also comes in three sizes. I considered getting him a full size mattress. In the end, he opted for a twin so as not to use up too much space in his room.
I will say we noticed the slightly higher price point for a mattress. We felt it was worth the comfort in knowing our kids would be sleeping on non-toxic, organic cotton and wool. In addition, we appreciate that it is 100% American Made and are willing to pay more for that alone. We've dubbed it the best mattress for teens.
This mattress review expresses my family's experience.
Best Mattress for Kids and Teens is the Nolah Nurture Flippable Mattress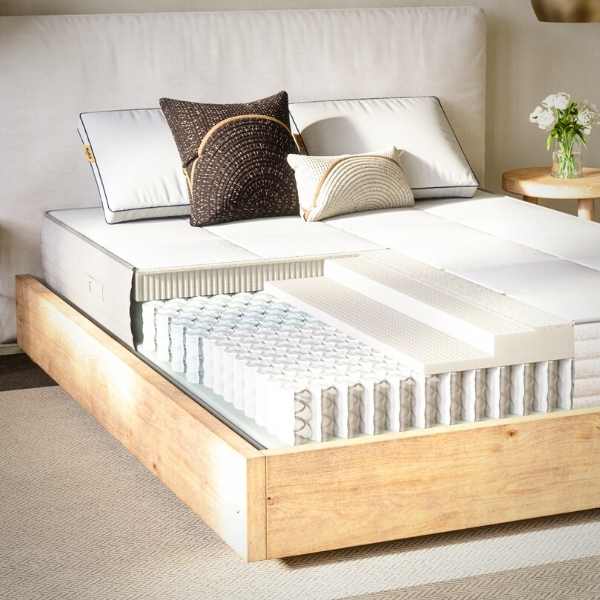 Product Name: Nolah Nurture
Product Description: An organic mattress designed for the needs of growing kids and teens. The Nolah Nurture 10" mattress features natural Talalay latex and comes wrapped in a GOTS-certified organic cotton cover. Because it offers two-sided flippable firmness, you can flip from plush on one side to firm on the other as your child's needs (or preferences) change. Changing the firmness level is as easy as flipping it over to the other side. We've dubbed it the best mattress for teens.
Brand: NolahMattress
Comfort

Durability

Materials

Price