Last Updated on June 29, 2022 by Rebecca Huff
So you want to stock a Japanese pantry and make some delicious and nutritious Japanese food? Traditional Japanese cuisine was officially recognized as a UNESCO Intangible Cultural Heritage in 2013, with good reason.
If you love exploring Japanese cuisine as much I do, you probably have more than a few dishes you enjoy when you're at a Japanese restaurant. Maybe you prefer eating at home, but sometimes that craving for Japanese food strikes. You might already even have a few Japanese cookbooks on the shelf?
If you plan to prepare any of those recipes you're going to want to make sure you have the ingredients on hand that you'd find in any pantry in Japan. But how to navigate the variety of condiments and other ingredients when you're not that familiar with them?
Don't worry, I've got you covered. First, you might want to do a quick web search to see if you have a Japanese supermarket nearby that you could explore. If not, you'll likely still find most of what you need at the average grocery store. Most of them now stock common items in the "international aisle."
About Japanese cuisine
You may be a bit intimidated by Japanese cuisine because of the over-the-top dishes you've seen at popular restaurants. However, with a properly stocked pantry, you can make unbelievably delicious dishes and truly memorable meals.
Get ready to go beyond miso soup and sushi.
Japanese home cooks prepare an array of side dishes that include pickled veggies, seafood, and other types of meat along with many seasonal ingredients. It's no wonder it's considered one of the healthier cuisines.
Elements of Japanese Food
The four elements of Japanese foods are:
Ingredients – The island of Japan has a high population, so the inhabitants must make the most of their natural resources. We see this in the unique approach to skillful use of food.
Culinary Approach – Presentation is key and basics are important as is avoiding wastefulness. (Learn to make Dashi!)
Nutritional Content – Very balanced with less emphasis on meat and more on vegetables.
Hospitality – "Japanese food is arguably the most important part of Japanese culture."
The basic composition of the typical Japanese meal, rice with ichijū sansai ("one soup and three side dishes"), is said to have ideal nutritional balance. Nippon.com
In the book Totto-Chan: The Little Girl at the Window, these four elements are described simply by the school's headmaster when he instructs the parents on sending lunch to school for their children.
this headmaster asked parents to include in their children's lunch boxes "something from the ocean and something from the hills." "Something from the ocean meant seafood – things such as fish and tsukuda-ni (tiny crustaceans and the like boiled in soy sauce and sweet sake), while "something from the hills" meant food from the land – like vegetables, beef, pork, and chicken. Mother was very impressed by this and thought that few headmasters were capable of expressing such an important rule so simply. Oddly enough, just having to choose from two categories made preparing lunch seem simpler. And besides, the headmaster pointed out that one did not have to think hard or be extravagant to fulfill the two requirements."
I read this book to my children years ago and that phrase has stuck with me. "Something from the ocean and something from the hills" when I think about Japanese food.
Traditional Japanese Dishes
Umami basically translates to "deliciousness" and is achieved with foods like kombu or dashi.
Sushi – vinegared rice and fresh fish with vegetables.
Sashimi – thinly sliced food, traditionally raw fish, however it can be beef or another food.
Tempura – battered and fried vegetables or meat, shrimp is a popular tempura-battered food.
Yakitori – bite sized bits of chicken on a skewer. You can check out my yakitori grill here.
Okonomiyaki – savory vegetable pancake grilled as you like it.
Sukiyaki – a hot pot dish that includes meat or tofu and vegetables in a broth of soy sauce, mirin rice wine, and sake
Shabu Shabu – thinly sliced meat in boiling broth served with dipping sauces.
Donburi – rice, vegetable, and meat bowl.
Udon Noodles – thick noodles served either in a broth or cold with dipping sauces.
Tsukemono – pickled vegetables.
Tonkatsu – breaded and fried pork chop served with sauce and green veggies.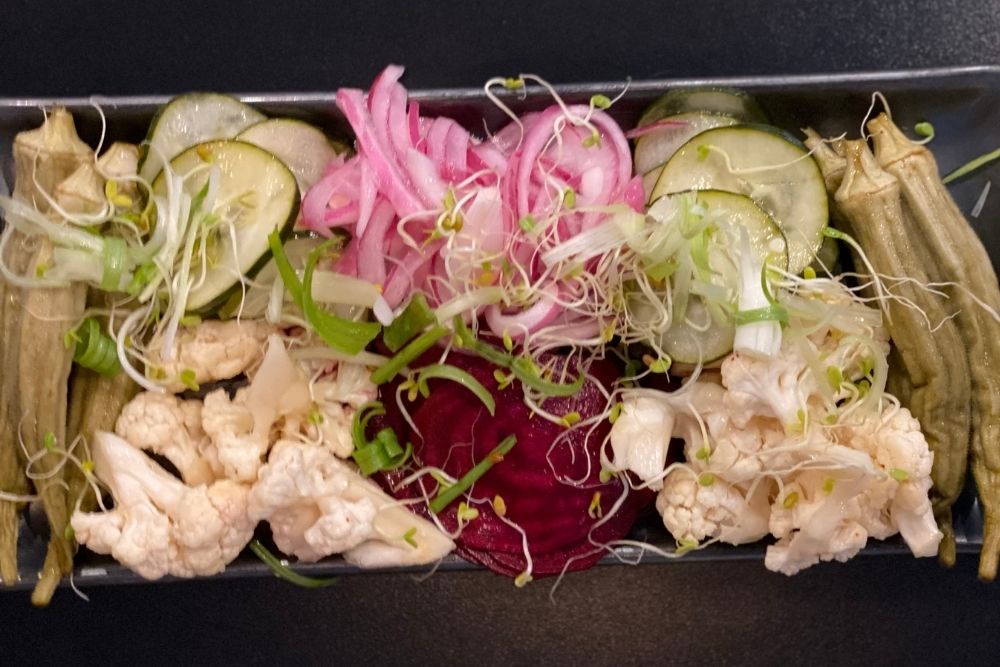 Ingredients commonly used in Japanese Cooking
Wasabi is Japanese horseradish. When ground it takes on a delicious yet spicy flavor that is quick to dissipate. You may have seen it alongside pickled ginger when you order sushi. You can make it at home; wasabi can be found in pastes or powder
Nori is seaweed pressed into flat sheets that are then used in sushi or hand rolls.
Soba is a type of noodle usually made with buckwheat or a blend of buckwheat and wheat. Soba noodles are healthier than regular white flour pasta.
Soybeans can be used fresh as in edamame or fermented in tofu or miso.
Yuzu is a Japanese citrus fruit that tastes like a mix between a lime and a lemon, but has a much more interesting flavor. The fruit is about the size of a tangerine with a bright yellow skin like lemon when it's ripe. Yuzu is often used in vinegars and sauces, including some delicious hot sauces.
Dried Shiitake Mushrooms – often used to make dashi broth and other savory dishes. Lends the umami flavor to dishes without using seafood for vegans.
Dried Bonito Flakes (katsuobushi) – The first time I ate these they were waving to me from atop my Americanized sushi roll, oddly named "pizza roll" which you can probably still get if you are in Knoxville or Nashville and can visit Nama. While it might be disconcerting to see movement on your food after it is plated, don't worry! The dried fish shavings are so paper-thin that they move when placed on a hot dish due to the steam. It's delicious, trust me.
Panko breadcrumbs are used in breading tempura such as meat, vegetables, and seafood. Incredibly crunch, panko is excellent for frying as it is dry, light, and less greasy other breaded foods.
Sake is a beverage made from rice and water; frequently referred to as Japanese rice wine, though it is more similar to beer. Japanese cooking sake takes the place of wine in glazes and other
You may have heard about purple sweet potatoes eaten frequently in the Blue Zone of Okinawa, Japan. This vibrant and delicately sweet tuber is now found in many supermarkets in America. I've created a few recipes using purple sweet potatoes here. You'll find they are quite versatile and may want to include them in your pantry staples list.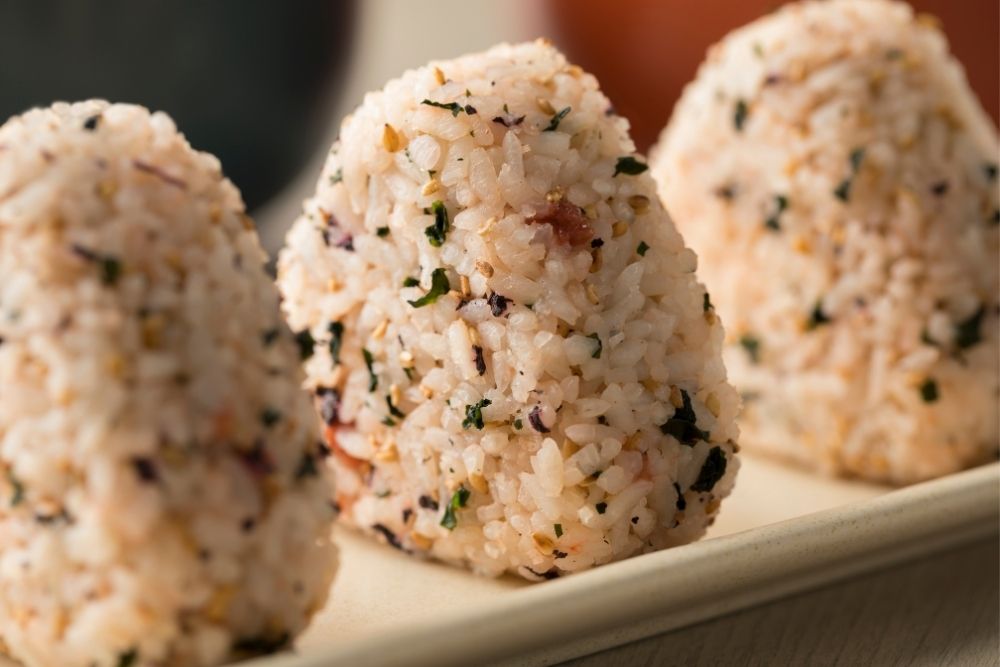 Popular Japanese Recipes
Miso soup – a tasty soup made with miso paste and dashi, often with the addition of seaweed and tofu. Read more about adding miso soup to your table and the health benefits here.
Onigiri – delicious rice balls, although they can be other shapes such as the photo above. Try my simple smoked salmon onigiri recipe.
Yakisoba – Stir-Fried Japanese Noodles is a classic and popular stir-fry often sold as street food (without broth) which is cooked on a giant griddle.
Mochi is Try this easy homemade mochi recipe for a traditional Japanese dessert. You'll need mochiko (sweet rice flour) to make this dish.
Daikon is a popular root vegetable in Japan. You'll love Simmered Daikon Radish with Chicken in Yuzu Sauce and it's Paleo, so naturally gluten-free.
Crispy Rice Salmon – try this delicious crispy rice recipe. It is a perfect two-bite appetizer or main course. Pan-fried sushi rice cakes topped with smashed avocado and spicy salmon. Yum!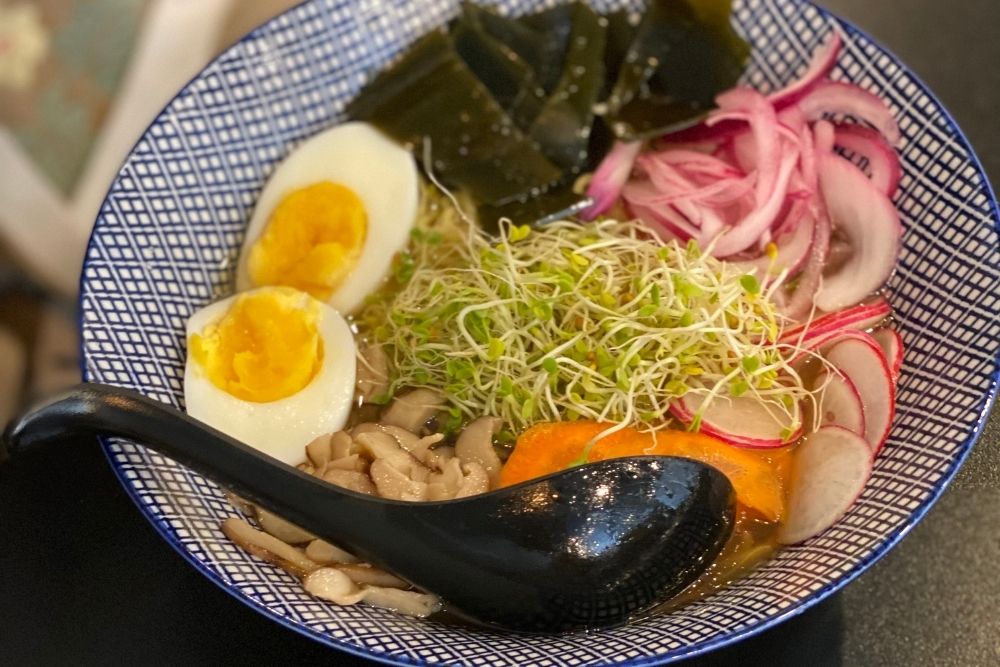 Ramen is a popular noodle dish that most Americans have heard of and tasted. But Japanese ramen is elevated way above what you'll find on the supermarket shelf. There are four categories of Japanese ramen that vary by base flavor:
shio (salt-based ramen)
shoyu (soy sauce-based ramen)
miso (soybean paste-flavored ramen)
tonkotsu (pork bone broth ramen).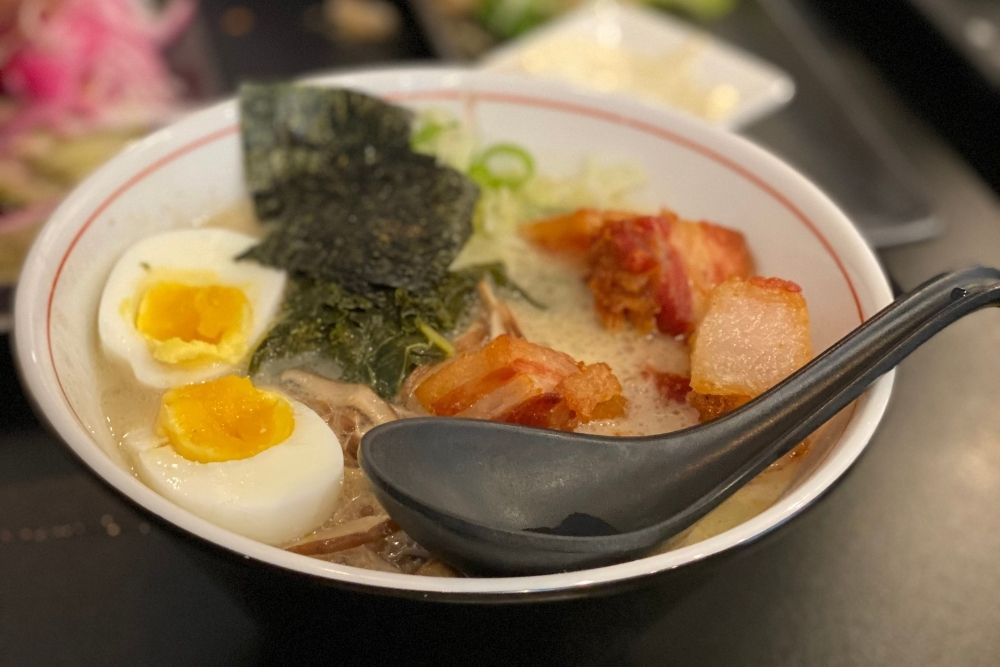 The Japanese Pantry
Here I've compiled a list of common Japanese ingredients that you'll want to stock so you can whip up lots of tasty dishes.
Sesame seeds – tan or black sesame seeds are used as garnish and also as a main ingredient in some dishes
Rice vinegar – light mellow flavored vinegar, used in sauces and of course for sushi rice.
Sesame oil – toasted sesame oil is used in sauces and for flavoring in dishes.
Wakame/kelp/kombu/nori – a variety of seaweed is used in Japanese cooking.
Short-grain rice – mixed with vinegar to make sushi or eaten in other dishes. Japanese rice might be short translucent grains, ordinary long grain rice, or even brown rice. (White rice or brown rice in some form is found at almost every meal!)
Tamari is a gluten-free soy sauce that is made strictly from fermented soybeans, with no wheat; it is a by product from miso production. If you have gluten intolerance you might choose tamari instead of soy sauce.
Shoyu – Japanese style soy sauce – a special aspergillus mold is added to steamed soy beans and roasted wheat to produce a "koji" mash to which water and salt is added which results in soy sauce. (I think brands like Kikkoman soy sauce tend to be a bit sweeter than tamari)
Miso – white miso, red miso, or yellow – a variety of different types of richly flavored paste made from soybeans that have undergone fermentation. Miso is a staple ingredient in Japan and you'll want to include it in your pantry for many extraordinary dishes.
Shichimi Togarashi – A popular Japanese spice blend which traditionally includes sanshō or Sichuan peppercorns, red chili peppers, black sesame seeds, dried orange peel, white sesame seeds, ground ginger, poppy seeds and nori seaweed. Think of it as Japanese pepper. Shichimi togarashi can be found in most supermarkets nowadays.
Japanese Cooking Stocks, Marinades and Dipping Sauces
Marinades and dipping sauces are an integral part of many Asian cuisines and that is certainly true for Japanese cooking.
Americans have their own way of eating Japanese food, and one of the most popular sauces you'll find is rightly named "yum yum" or shrimp sauce. We've been making our own home version of this sauce for nearly two decades using this yum yum sauce recipe (with a sugar-free option).
Teriyaki is another popular sauce, commonly used on chicken but try it on vegetables and other foods as well.
Ponzu Sauce is a blend of citrus, soy sauce, katsuobushi (bonito flakes), kelp, mirin and rice vinegar.
You'll also want to learn to make dashi as it is the base of many recipes and dishes.
Another delicious sauce we often add to Japanese recipes is made from peanut or almond butter, you can find it here.
Cookbooks with Authentic Japanese Recipes
Don't you love exploring a new cookbook? The enjoyment I get from leafing through the pages, especially if it has plenty of good photos is unparalleled by any other book. Thankfully, our local library has a plethora of cookbooks that allow me to explore foods from around the world. My shared love of cookbooks is why I started the Tasty Bite Cookbook Club!
Mastering the Art of Japanese Home Cooking by chef Masaharu Morimoto. This cookbook will teach you how to make traditional dishes with attention to detail. You'll learn the right ratios of ingredients in sauces and the right order to add seasonings to a dish. You'll be empowered to adapt and create your own dishes once you build your pantry making some of the recipes from this book.
I also recommend the cookbook Hiroko's American Kitchen. This cookbook has 6 easy sauces that you can whip up to help you make the 125 recipes contained within the cookbook. Then you can branch out and make other dishes.
If you already stocked your pantry for Korean or Chinese cooking, you'll have some of the pantry essentials needed to prepare some popular Japanese dishes.
Harder to find, but can be ordered online
These ingredients aren't necessary for most traditional Japanese dishes, but you might see them called for from time to time. I've found them either at a local Japanese market, Whole Foods, or online. Don't stress though, unless you're planning to make your own miso or mochi the few following ingredients are just extras!
Koji
Koji is hailed as Japan's "national fungus," koji mold plays a foundational role in much of the country's traditional cuisine.
You can buy it from Cultures for Health to ferment foods at home. You can also find Organic Brown Rice Koji Powder online (try Amazon) to use in tenderizing meat or even sprinkled in baked goods. It's incredibly healthy as are most fermented foods.
Shio Koji is a traditional Japanese ingredient made with fermented rice malt (koji) and salt (shio). The enzymes contained in shio koji break down proteins to draw umami out of meat and fish.
Ume Plums, Umeboshi, Plum Paste
Umeboshi Plums or Plum Paste is one of my personal favorites; I keep it stocked in my fridge.
Japanese cuisine is complex in flavor and one of the ingredients used to achieve this flavor is the cured ume plum. Often with the addition of shiso leaves.These salt-cured ume plums pack a real punch of flavor. Add one to your sushi rice while cooking to lend a complex savory note.
Umeboshi plum paste can also be used in sauces and other dishes. They have a sour, fruity, salty flavor that might make you pucker up! (My mouth is watering just thinking about eating one!) Add to salad dressing and blend well or just eat them as a snack, they're great for your digestion.
In addition, try ume plum vinegar which has not only a tart/sour profile, but also adds a bit of saltiness to your dish. Drizzle a bit on fish, splash some on steamed or roasted veggies, and swirl it into soup.
Sansho Japanese Pepper is another seasoning that you can order online. It has an aromatic, tangy or lemony flavor without being hot. The sansho pepper leaves a strange tingling feeling in your mouth that is quite enjoyable!
Final Thoughts
Don't feel overwhelmed by this list if you're newly stocking your Japanese pantry. You can easily get started with as little as rice, miso and vegetables. Throw in some soy sauce and nori and you're good to go. Oh, and if you're ever in a Japanese grocery, don't forget to grab your Maneki Neko!