Last Updated on June 29, 2022 by Rebecca Huff
My son loves fresh bagels and trips to the local bagel shop. In my Pumpkin Spice Bagel recipe post, I shared my motivation for learning to make bagels at home. Even though I don't eat too many bagels myself (carb load!) I enjoy making them for my kids.
Everything bagels are one of the tastiest flavors in the variety that we've found available. They also happen to be Harmon's favorite flavor. He is the motivation for these bagel posts. If it weren't for my kids it would be so much easier to avoid carbohydrates!
I know so many people prefer to skip reading and go straight to the recipe so if that's you, feel free to move ahead, but I'd like to explain why I am sharing these recipes.
My kids and well, other members of my extended family, come to my website to grab recipes of foods that I've made. They also understand my way of explaining how to make things in the kitchen.
When I was a child, there were certain foods that my mom made that I enjoyed and wanted to make when I became an adult. I've repeatedly asked my mom for those recipes, and eventually, I asked her if I could put one of them on my website. For example Mom's Kraut Burgers.
Other recipes, I've been making for my family for decades, and now that they are grown and on their own, they want to make them in their own kitchens: such as the Healthiest Bar Ever Recipe for the Family.
So that is why I have these recipes on my website. So my family can find them and make them no matter how far away they are.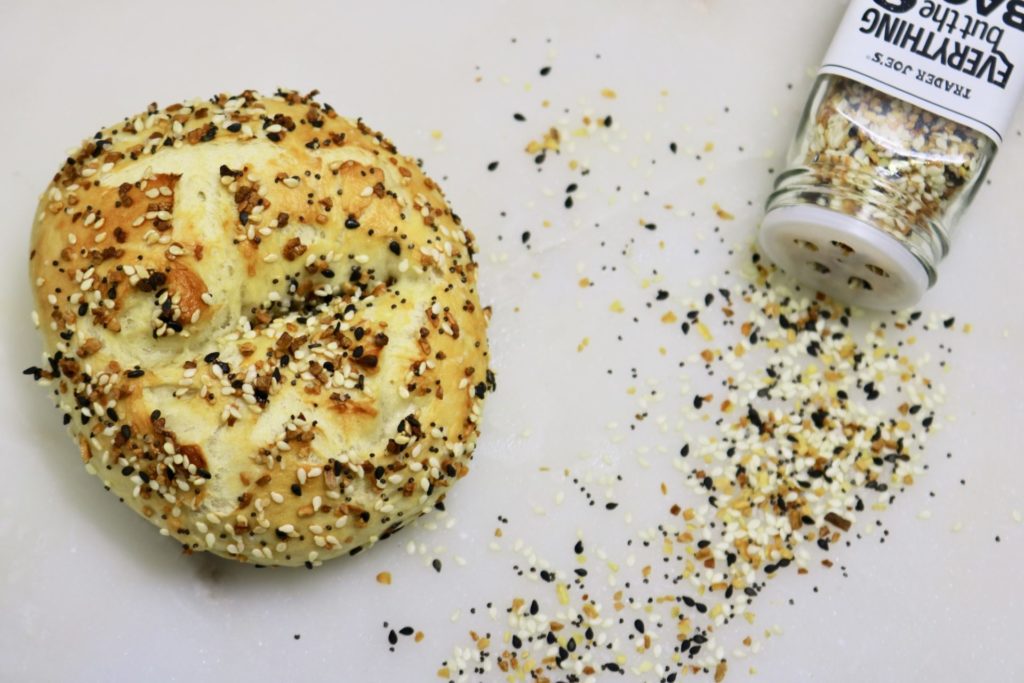 Notes about everything bagels
It's really not that hard to make bagels. Actually, the process is quite enjoyable. I wouldn't whip up a batch of these on a weekday morning before work or school. They're easy enough to make over the weekend though when you can do something else while the dough rises.
Don't be afraid to try these, is all that I'm saying. If you have a bread machine, you can even make the dough on the dough setting. After it rises, turn it out on the floured surface and knead more flour into it because you don't want the dough to be too puffy or soft. A bread machine or stand mixer will do fine for the most part but to make your bagels chewy, you'll need to add in more flour by kneading.
Bagels are dense and they need to be able to hold up in the water bath. So go ahead and knead in a bit more flour during that process, but not too much! Balance is key.
As for the everything seasoning mix
What is everything bagel seasoning? Usually, it's a blend of poppy seeds, sesame seeds, garlic flakes, and sea salt.
Costco has everything bagel seasoning in bulk, and if you're a huge fan like we are, that might be the way to go.
However, if you don't have a membership or don't need that much seasoning, go for Trader Joe's smaller bottle of everything but the bagel seasoning. I've used both and the taste is very similar, though Costco's blend might be a touch saltier.
If you don't live near Costco or TJ's you may need to buy the blend online (it's way more expensive on Amazon than in the store!)
We use an entire Trader Joe's sized bottle on our bagels as we sprinkle the tops and bottoms of all eight of them. If that's too "everything" for you, just sprinkle on as much as you think you'll like.
Alternatively, you can mix your own using 2 tablespoons of everything except for the salt. Depending on what type of salt you use and how salty you like things try 1 to 1 and 1/2 tablespoons :
white sesame seeds
black sesame seeds
poppy seeds
dried garlic flakes
onion flakes or dried minced onion
salt flakes or other coarse salt
Working with dough
I use my Kitchen Aid mixer and the large bowl with the dough hook attachment to knead the dough and it works beautifully. You can experiment with different amounts of wheat flour added to all-purpose flour. Just remember that whole wheat flour is denser than plain white flour. It results in a heavier end product as well, so you'll want to use less overall.
Bagel dough is denser than other breads such as loaf bread or cinnamon rolls, so keep that in mind when you are adding in the extra flour.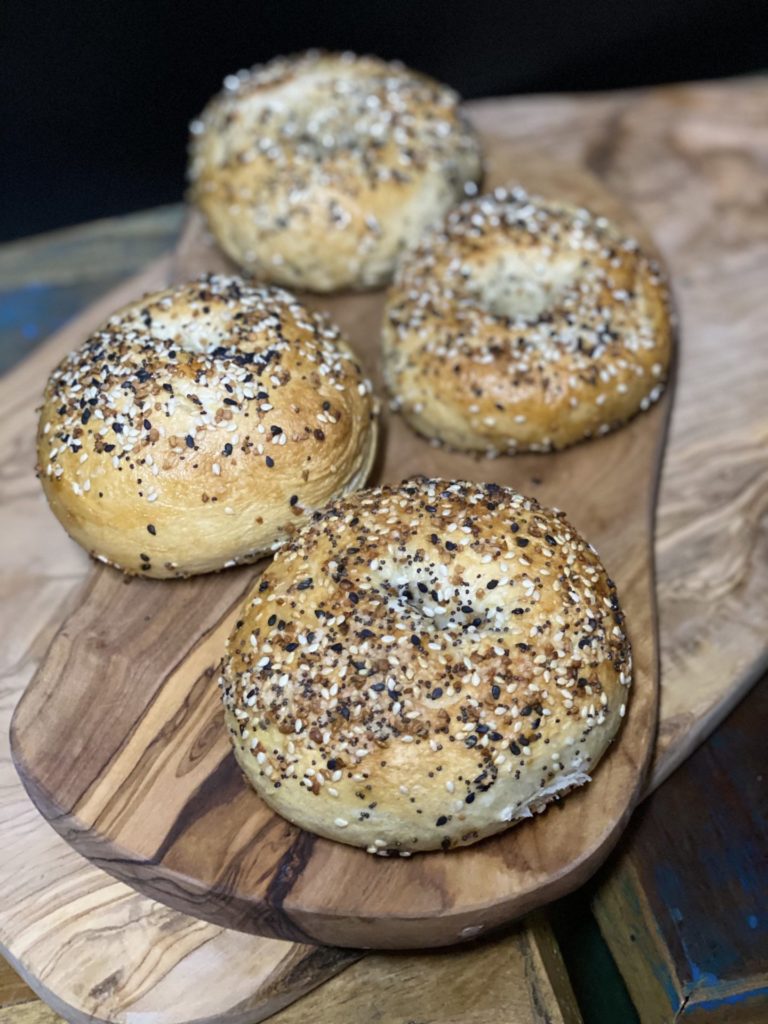 Tips
Don't overcrowd the boiling water by adding too many bagels at one time. Use a slotted spoon to remove the bagels from the boiling water.
Line your baking sheet with parchment paper to cut down on the mess
Active dry yeast should be dissolved in water first before adding to the flour mixture. Instant yeast can be mixed right into your dry ingredients and used at room temperature. Using bread machine yeast means you have to give the dough two rises before baking. If that's all you have, you can let the second rise be after you shape the bagels and before you boil them. Let them rise on a lined baking sheet covered with a second sheet of parchment and a kitchen towel to keep them from drying out.
The egg wash works better with a bristle basting brush than with a silicone style.
To turn the dough balls into bagel shapes, simply poke your finger through the middle then spin in a circular motion, either in the air or on a lightly floured surface.
Bread flour works better than all purpose flour for making bagels due to the higher gluten content.
If you want same size bagels, divide the dough into equal pieces on a scale as opposed to eye balling it. Works much better.
Preheat oven while you start the boiling water in a large pot. A nice hot oven makes better bagels.
Allow the bagels to cool on a wire rack before slicing.
Bagel toppings
My kids love the combination of cream cheese and chives, so that is what we typically mix for topping these. You can let your imagination guide you. I still prefer to toast the bagels before serving, to get that crispy crunch on the top and bottom of a golden brown bagel.
Try a thin smear of cream cheese with veggies on top such as sliced bell pepper and thinly sliced tomato. Sliced avocado also pairs well, as does smoked salmon or bacon.
One note about cream cheese: if you can get locally sourced cream cheese you will be thrilled with the combo. However, if you can't, whipped cream cheese works best. The typical rectangle of cream cheese straight from your fridge will be too hard to spread on a hot bagel. It will stick to your knife and slide right off the hot bagel! I like to let mine sit out for a while before trying to spread it on the bagels.
Hot, fresh bagels straight from the oven are absolutely delicious when toasted and slathered with cream cheese, then sprinkled with chives. If you want you could sprinkle a little more everything bagel seasoning on top.
Prep time for bagels is about 15 minutes, but remember you need to let them rise, then shape, boil, and bake, so the total time is between 2-3 hours. Just keep in mind that you aren't actively working the entire time. During the rise time and cook time, you can sit down and put your feet up. The first time you make them may take a bit longer, but after that you'll see how it works and move through the steps quickly.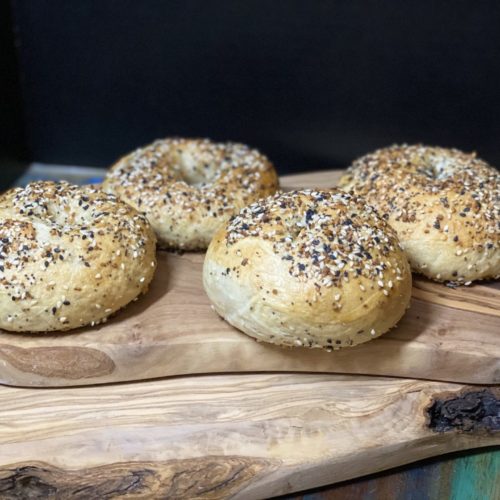 Homemade Everything Bagels
Crispy, crunchy and oh so delicious – everyone's favorite – the everything bagel!
Ingredients
4

cups

bread flour

sifted

1 & ½

cups

pineapple juice

room temperature

1 & ½

tsp

salt

1 & ½

tsp

instant yeast

2

tbsp

honey

1

egg white

8

tbsp

everything seasoning
Instructions
Mix and knead together the first four ingredients — by hand, mixer, or bread machine — until the soft dough forms a nice ball. If you're using a stand mixer, using the dough hook, mix at low speed for 6 to 8 minutes.

Brush the inside of a large bowl with olive oil.

Remove the dough ball and place it into the large bowl, cover with a clean dry towel, and set aside in a warm spot in your kitchen while the dough rises for about one to one and a half hours.

After the dough has risen, punch it down and divide it into eight equal pieces.

Roll each portion into a smooth ball then poke your finger through the middle and stretch lightly to shape like a bagel, do each of the eight pieces.

Preheat oven to 425 degrees Fahrenheit.

While the bagels are resting, bring water to a boil in a pot with 2 tablespoons of honey. Once the water is boiling, drop bagels in, being careful not to overcrowd.

Cook in the boiling water for one minute, then flip the bagel one time in the boiling water and boil 1 more minute.

With a slotted spoon, remove the bagel to a baking sheet covered with parchment paper or Silpat mats, brush with egg wash (egg white) and sprinkle with the seasoning blend.

Bake for 20-25 minutes until browned on top, remove to a wire rack and allow to cool slightly before serving.
Notes
You can substitute water and 3 tablespoons of sweetener if you don't have pineapple juice.
A note about yeast: active dry yeast should be dissolved in water first before adding to the flour mixture. Instant yeast can be mixed right into your dry ingredients. Using bread machine yeast means you have to give the dough two rises before baking. If that's all you have, let the second rise be after you shape the bagels.
Nutrition
Serving:
1
g
Calories:
274
kcal
Carbohydrates:
56
g
Protein:
9
g
Fat:
1
g
Saturated Fat:
1
g
Sodium:
1234
mg
Potassium:
148
mg
Fiber:
2
g
Sugar:
9
g
Vitamin C:
4
mg
Calcium:
15
mg
Iron:
1
mg
Update: 2021 I've added sourdough to my repertoire of bread recipes here at home. Nothing beats avocado toast made on sourdough bread. Homemade everything bagels with cream cheese and smoked salmon is a close second. If you're not a diy type of person, do a search near where you live for an artisan bakery where you can try fresh out of the oven bagels.