Last Updated on June 29, 2022 by Rebecca Huff
Eating miso can help contribute to health, here's 12 secret benefits you may not know about.
Miso is a traditional Japanese fermented food made from soybeans. You may have tasted miso if you ever ate out at a hibachi grill or Japanese restaurant. If you tried miso soup and didn't like it, I would like to urge you to try making your own. The quality of homemade miso soup is usually much better than what you will find in most restaurants.
Maybe you are wondering if you should be eating soy? According to Dr. Mercola the four types of soy that are healthy include:
Tempeh, a fermented soybean cake with a firm texture and nutty, mushroom-like flavor.
Miso, a fermented soybean paste with a salty, buttery texture (commonly used in miso soup).
Natto, fermented soybeans with a sticky texture and strong, cheese-like flavor.
Soy sauce, which is traditionally made by fermenting soybeans, salt and enzymes; be wary because many varieties on the market today are made artificially using a chemical process.

The only soy with health benefits is organic soy that has been properly fermented, and these are the only soy products I ever recommend consuming. After a long fermentation process, the phytate and "anti-nutrient" levels of soybeans are reduced, and their beneficial properties become available to your digestive system. (previous article on mercola.com was removed)
Benefits include:
Is an excellent source of B vitamins most notably B12, which is good news for vegetarians and vegans.
Can improve the quality of blood and lymph fluid.
Reduces risk for breast, prostate, lung and colon cancers.
Strengthens the immune system because of the creation of immuno-supportive substances during the fermentation process.
Helps to lower LDL cholesterol
Contains all essential amino acids, which makes it a complete protein.
Stimulates the secretion of digestive fluids in the stomach, improving digestion and elimination.
Aids in the digestion and assimilation of other foods in the intestines.
Restores beneficial probiotics to the intestines.
Promotes a healthy pH in the digestive system.
Can help to chelate heavy metals and expel them from the body.
Anti-aging properties due to the antioxidants contained.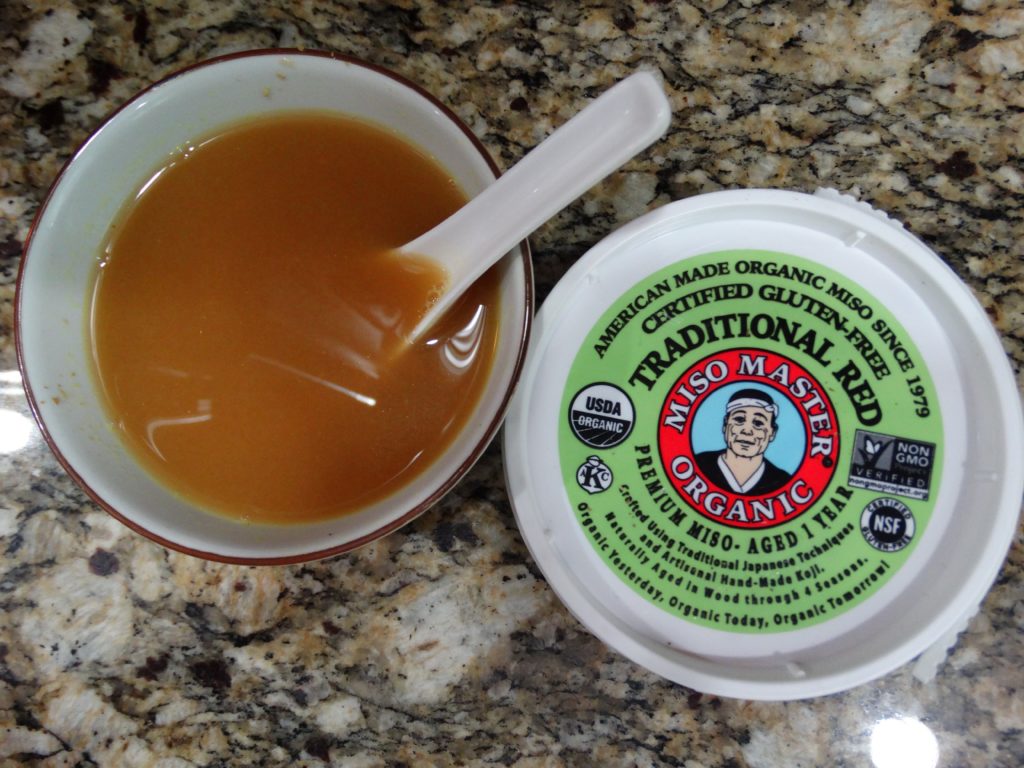 Certified organic miso made with sea salt is the best choice if available. Miso should ideally have a fermentation time of between six months and two years. Source The darker varieties are usually fermented longer.
For daily benefits, I simply add miso to my homemade bone broth and drink before meals to enjoy the wonderful benefits described above. However, it can be used in sauces, glazes, soups, casseroles, dips and lots more. If you would like more suggestions on how to consume this amazing food read this article. You could also try this recipe for soup that will have your skin glowing with youthfulness!
Different types of miso
I have used white, yellow, red and chickpea misos. My favorite is probably red, but if you are starting out you might want to begin with a lighter variety such as the white, often referred to as sweet miso. It is not sweetened, it just has a milder flavor. Make sure your miso does not have any added junk, the ingredients list should only be four or five ingredients; soybeans, water, salt and a grain (rice or barley, etc.). I prefer organic miso due to the fact that I want to avoid any genetically engineered soy.
Do you use this healing food? If so what is your favorite way to use it?