Trim Healthy Mama Menu Plan
My girlfriends and I are following the THM plan to lose a few pounds during the new year, so to share my plan with them and to be accountable for sticking to my plan I will be posting my menu plans on here one week in advance. I plan to also post some of the photos on my Pinterest Board so you can follow along if you like to see how the recipes turn out.  Just click on the link below and then follow.
Follow ThatOrganicMom's board THM on Pinterest.
Special Ingredients and Cookbook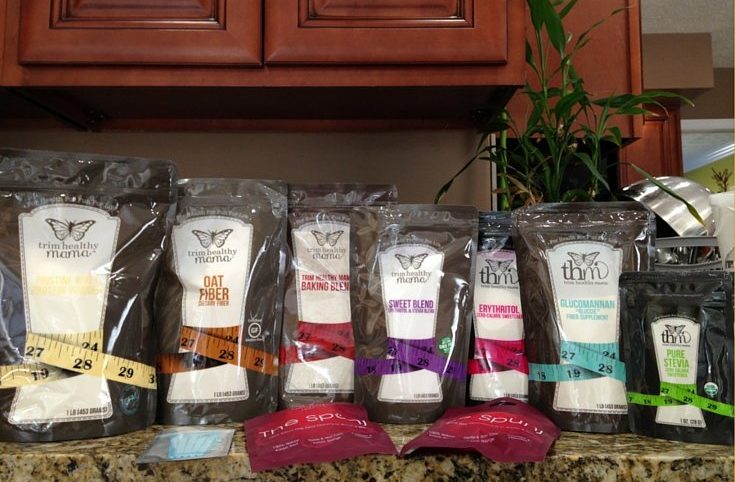 Using special ingredients to follow the Trim Healthy Mama plan is completely optional. However, some recipes using glucomannan, stevia, sunflower lecithin, etc. are really delicious and enjoyable! I recommend buying a few special ingredients as you go along instead of stocking your entire pantry on day one!
You can find the items I use for Trim Healthy Mama in my THM Amazon Storefront.
If you don't already own the new cookbook, I highly recommend it as it is filled with beautiful professional photos that will have you drooling and longing to get in the kitchen! Click on the picture below to look inside my new FAVORITE cookbook!
Sunday
Breakfast
Quiche with no crust and no cheese, lots of veggies + nutritional yeast for flavor (FP)
Lunch
Apple, Celery and Cottage Cheese Salad (E)
Snack
Pay Off Day Candies (S) p. 381
Dinner
Ridiculous Meatballs and Spaghetti (S) p. 40-41
Monday
Breakfast
Pina Colada Swirl with Nuts (S) p. 249
Lunch
Sweet Dreams Apple Cinnamon Oatmeal (E) p. 248
Snack
Bust-a-Myth Banana Cake (E) p. 298
Tuesday
Lunch
Chicken Broth Soup with leftover meats and veggies (FP)
Snack
Trimtastic Chocolate Zucchini Cake (S) p. 296
Dinner
Wednesday
Breakfast
Green eggs and Ham (scrambled eggs with spinach and ham added) (S)
Lunch
Taste of Thailand (S) p. 290
Dinner
Wicked White Chili (E) p. 37
Notes:
leftover cake for snack
Thursday
Breakfast
Welcome Back Waffles (S) p. 263
Lunch
Waldorf Cottage Cheese Salad (E)
Dinner
Rice and Beans (E) + veggie or side salad
Notes:
leftover cake or yogurt or shake for a snack
Friday
Breakfast
Greek Pudding – Breakfast Swirl (S, E, or FP)
Notes:
cake, yogurt, chia pudding or shake for snack leftover salmon for take to work
Saturday
Breakfast
Fussless Fuel Pull Quiche (FP) p. 151
Lunch
Sweet Dreams Peachy Cream Oatmeal (E) p. 247
Snack
Chocolate Monkey Crepes (E) p. 267
Dinner
Wipe Your Mouth BBQ (E) p. 43
If you've never heard of the Trim Healthy Mama weight loss plan, you might want to grab the accompanying plan book:

Also, go to Week Two, Three, Four, Progress, and Week Eight! Let me know what you'd like to hear more about in the comments below and don't forget to subscribe to my newsletter. Check out my Weight Loss page and if you are overwhelmed, Start Here. To download my ebook just go to my Home Page and scroll to the very bottom.
Pin this post to your Trim Healthy Mama Board!