Last Updated on February 11, 2020 by Rebecca Huff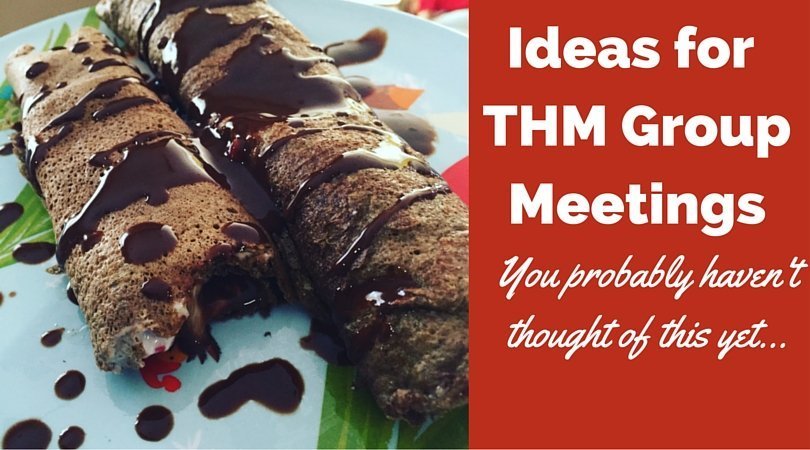 I love creating community… grouping like-minded people together and planning meetings is one of my "things" ya' know? I enjoy helping people and meeting new people who share common interests. I've had lots of groups in the past, but one of the most enjoyable has been the THM Ninjas group!
We've had some great success with weight loss, building friendships, having someone who will talk you through your days when you are lacking motivation or just the inspiration that comes from knowing you are part of a group of people who are experiencing similar struggles. I know you can get a lot of support from the Facebook groups and I really do enjoy spending time on there. Nothing can take the place of real life interaction with real people!
Since our group has been meeting and coming up with various themes for our meetings to keep it fun and interesting, I wanted to share some of the different types of group meetings you can have.
We created a "secret" Facebook group where we can share info about our upcoming meetings such as time and place and where people can comment what they are bringing or just ask questions. The only requirement to join the group is to have been to at least ONE meeting.
The THM Group meetings usually go from 6-8 pm and we could go longer, but we all have lives full of work, children, spouses, etc. so whether they are at a meeting room or other location, or at someone's home we try to wrap it up at 8 o'clock!
Let the Funning Begin!
Meet and Greet – At our first meeting we all simply sat in a circle and introduced ourselves and shared how we got started on Trim Healthy Mama. At the first meeting, we did bring some snacks. We ate either S or E and took home a serving of the other type meal. That way we didn't end up with a crossover!
Oh, and at your meet and greet, bring some name tags! I managed to memorize the names of ladies from our first group when I had only previously met one of them, (hi Kim!) and let me tell you it wasn't easy!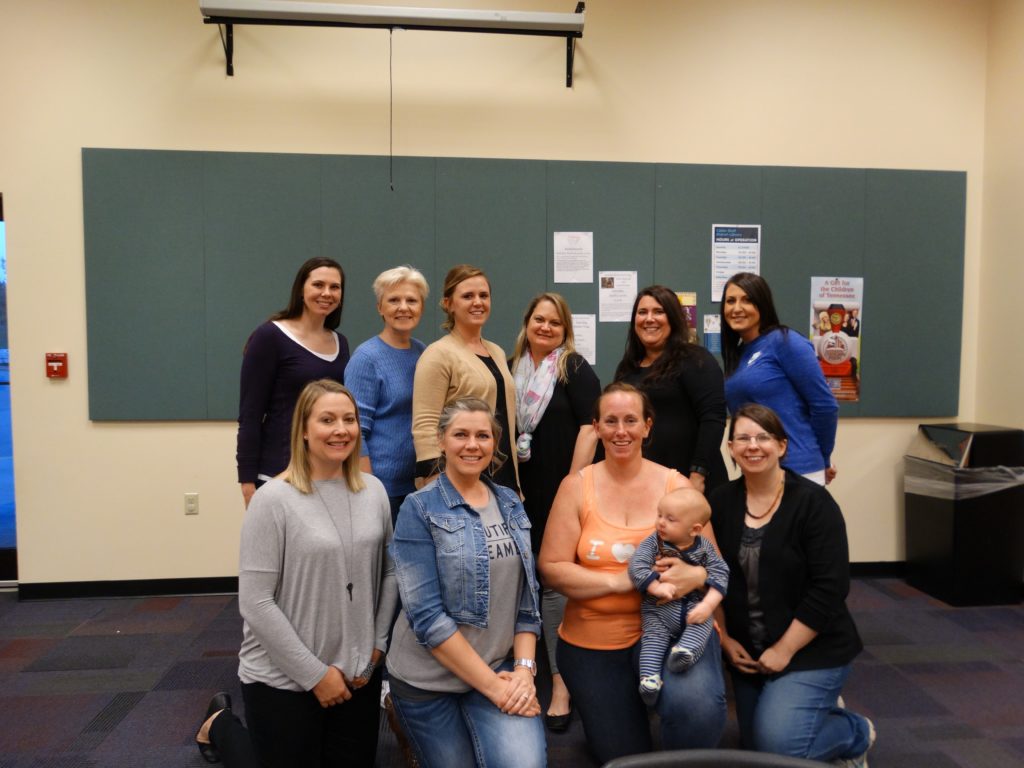 Menu Sharing – some people really enjoy creating menu plans and grocery list, others not so much. It's nice if the people who create them can share theirs with the people who don't. If there is one blogger among you, then you're probably going to end up with some materials. Nice!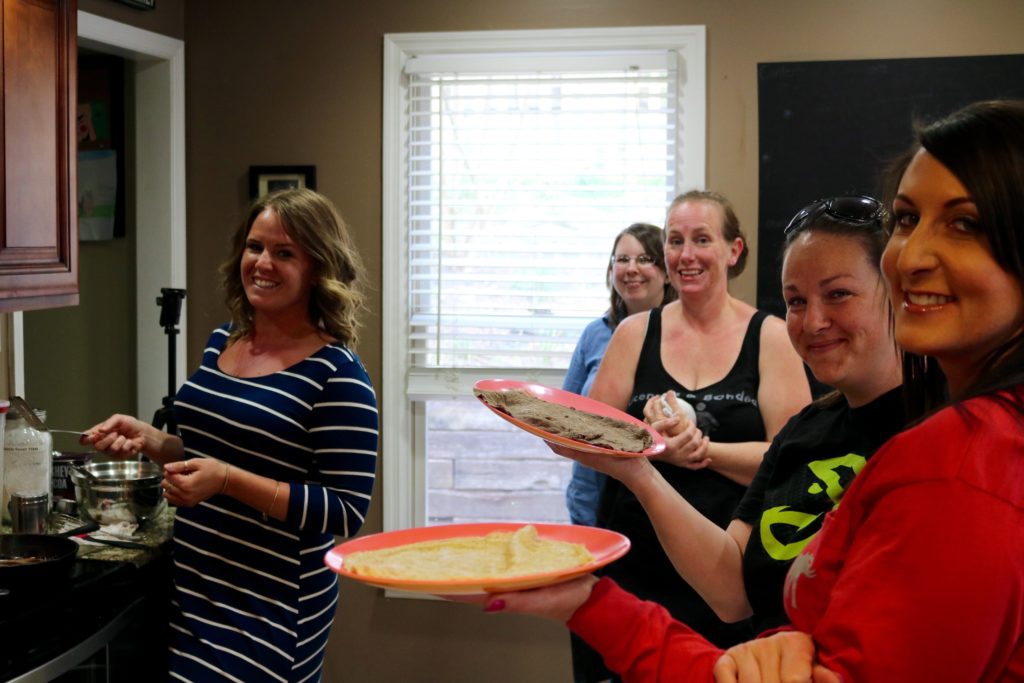 The group gathers around as Kaylee shows everyone how to cook the Wonder WrapsS meal potluck – pretty self explanatory. Everyone brings a meal that fits into the satisfying category… It's great if everyone can bring something, but even if one or two people don't there's always enough to go around.
E meal potluck – yup, you guessed it, everyone brings an Energizing meal to share with the crowd.
Jalapeno Burger Grill Out – Either one person can supply the meat or everyone can chip in a little and bring it to make burgers from the New Cookbook. Some people can bring sides like toppings and side salads or if one person is good at making alternative bread that would be awesome. We ate ours just right off the plate… it was a huge hit!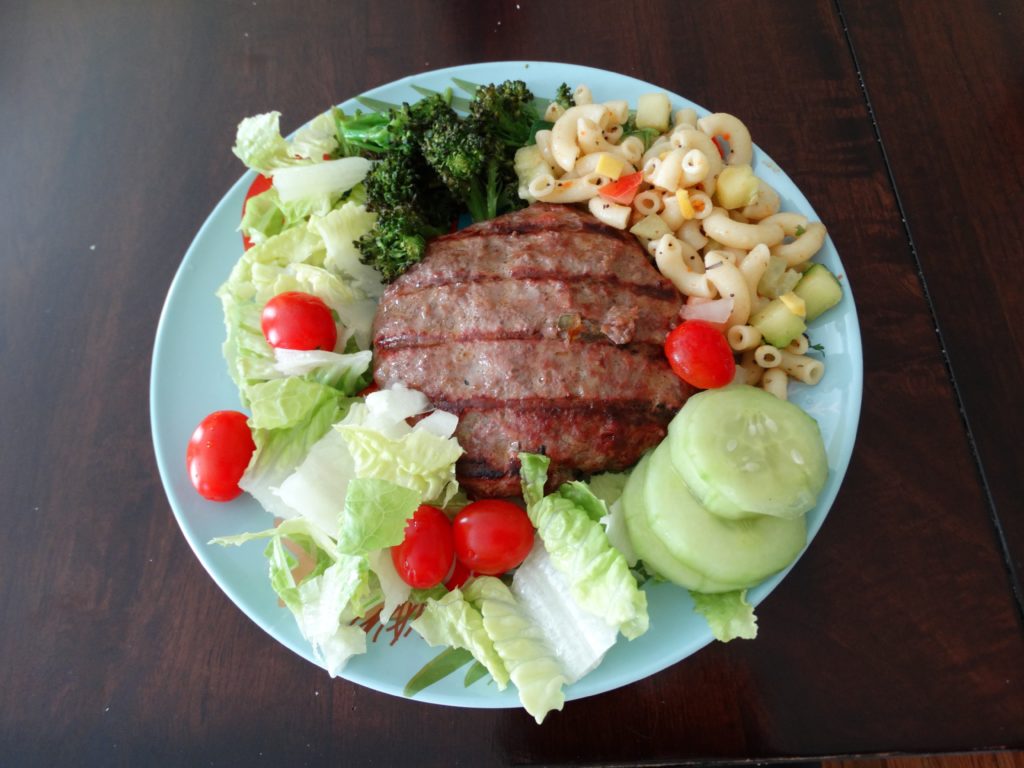 Wonder Wrap Demo and Party – If anyone is an expert at making the fabulous Wonder Wraps they might be nice enough to do a demo for those who are nervous about trying them. I just love making wonder wraps and coming up with different ways to use them. I have two skillets that I make them in and I just have so much fun doing it.
I recommend doing two sets of Wonder Wraps. One savory and one sweet.  My mom came up with the idea to make cocoa wonder wraps.  Simply leave out the savory spices and add 1-2 tablespoons of cocoa powder to the mix.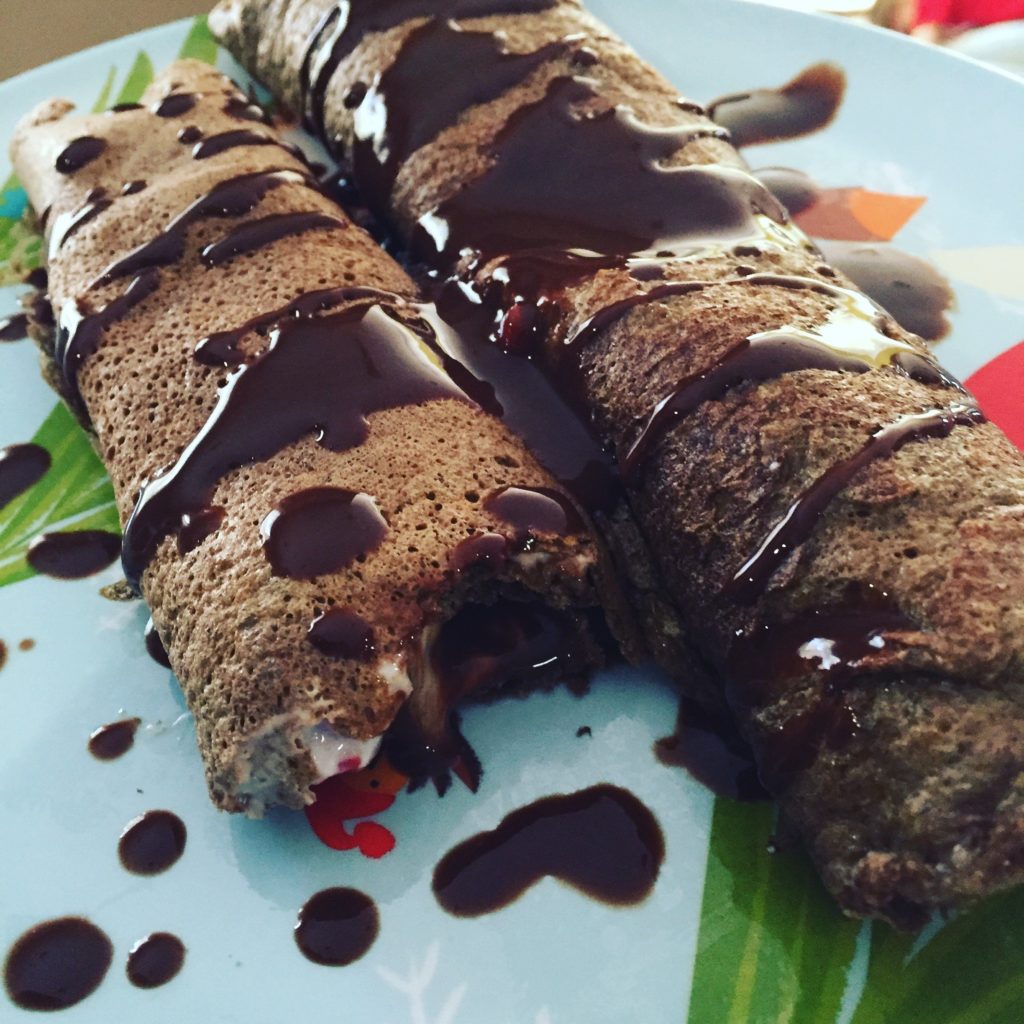 Our Favorite Things Swap – I borrowed this from Oprah, only I scaled it down a little bit. Don't you just adore trying other peoples' favorite things? For this one we set a $10 limit/per item and 5 items per person AND required an RSVP.
So for example 10 people RSVP that they are coming. Each of us select and purchase five of our favorite on plan items. For instance, my mom has a Tazo Peach tea that she really likes for making Good Girl Moon Shine… she brings five boxes of those to the swap.
At the swap all of everyone's "Favorite Things" are arranged on a table or counter. Everyone who is participating will draw a number from a hat. Then in numerical order, each person who brought 5 items. can go through the line taking ONE item. Then they go through again until everyone has gone through and taken five items that they want to try.  This way everyone who brings five of the same favorite items goes home with five new items to try.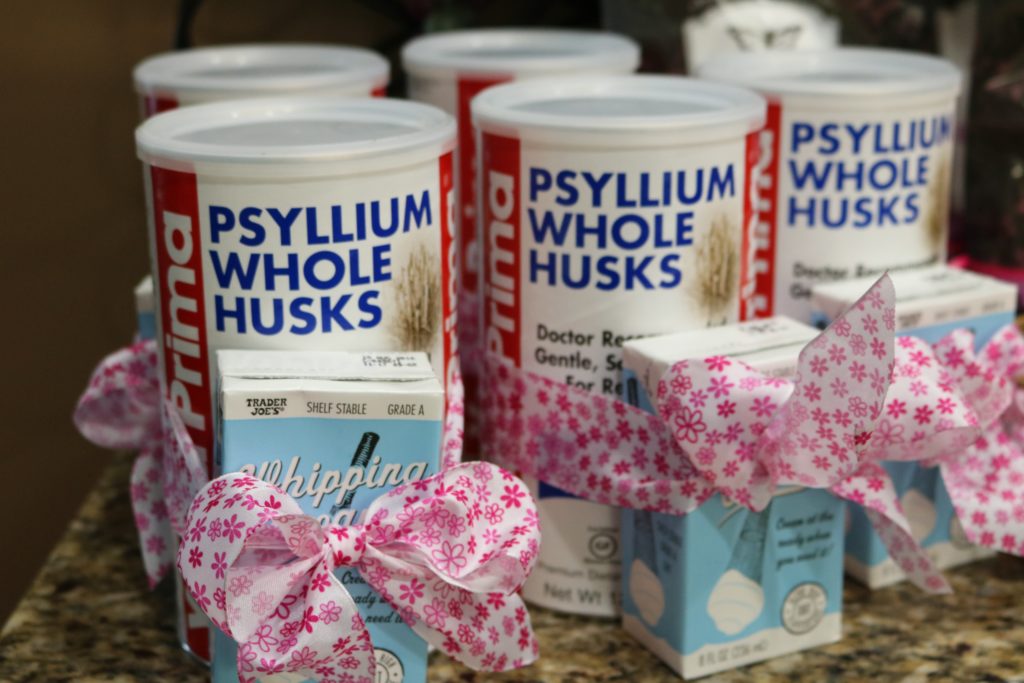 Dessert Exchange – This is one of my favorites. Everyone makes their favorite dessert, it can be S or E. In addition, everyone brings a container big enough to take a few servings of dessert back home with them. At the meeting, chat and share progress, maybe go over a concept and then everyone can have a serving of dessert and take a few servings home with them! My Chocolate Peanut Butter Balls always disappear quickly.
Baked Goods Swap – This works like a cookie swap at Christmas, only instead of sugary cookies, we swap THM treats!  Simply have each person make enough of one kind of THM baked goodie to share (if the recipe they used is not in the book, they should bring a copy of the recipe to share with the group). At the party, sample the treats, then trade and package them in appealing assortments. Everyone leaves with goodies — and plenty of new recipes.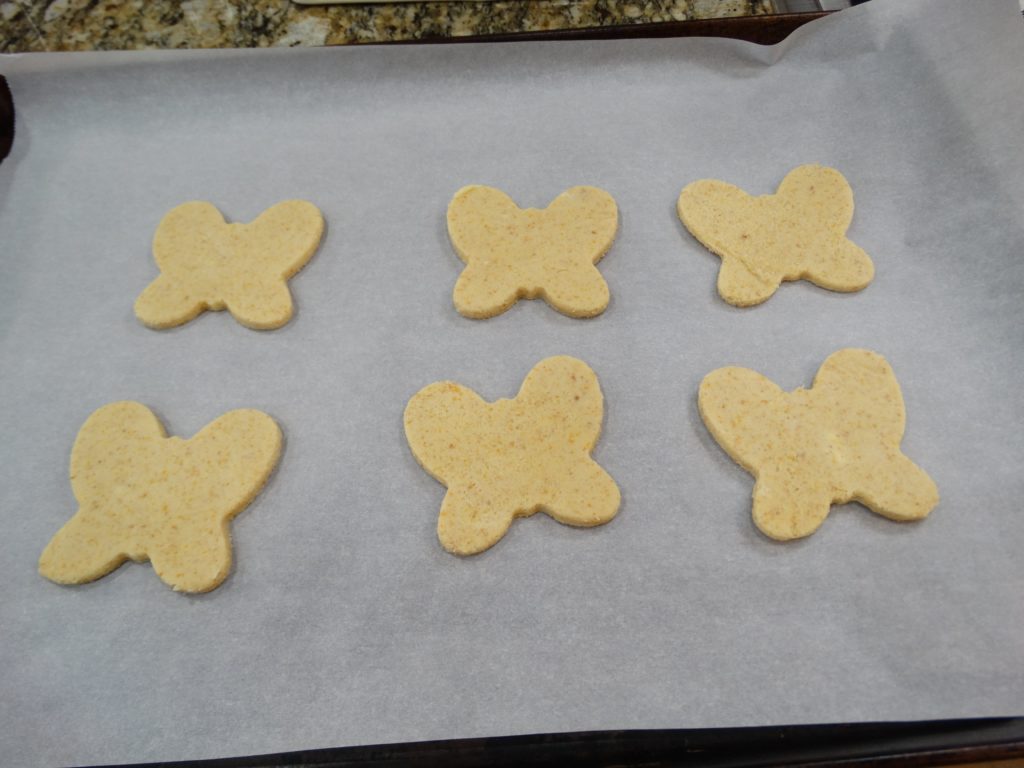 Recipe Exchange – This one is great if you have a bunch of really creative cooks in your midst. I have several in my local group, so this is one that is perfect for us. If you have a blogger in your group, you're gonna have some new recipes to try for sure! One of our group members, Nancy, is really creative and she cooks a lot like I do, she just adds a bit of this and a dash of that and just really has a great imagination in the kitchen. I love her concoctions! She actually made the best Dreamfields Pasta for our Jalapeño Burger night!
Pinterest Potluck – This one is risky! haha If you're like me and have had your share of Pinterest Fails, you might be leery of this one! Everyone brings a dish and the link to their favorite Pinterest recipe. If you have a pretty good group going, you could even have a Pinterest Collaboration board where you allow members of the group to contribute by pinning recipes to the group THM Board.
Family BBQ – Why not bring the spouse and children? This idea was brought up by a fellow homeschooling mom who lives right around the corner from me, Ceri is so thoughtful and always offering to bring me a serving of whatever yummy thing she has recently made! She even offered to let me borrow her silicone bundt pan when I couldn't find mine.
For the family cookout, you will probably want to bring a few crossover dishes for the spouses or children who do not need to lose weight. It's easy to add some nice sourdough bread or grilled sweet potatoes alongside any meats and cheesy dishes you are preparing. Quinoa Salad, rice pilaf, baked beans or breads are great crossover items for a cookout.
You might consider having a separate table for "kid friendly" desserts made with coconut sugar, honey or maple syrup or off plan items. Those are some things I would bring for my super slim kiddos.
Girls Night Out – For girls night out, someone in the group needs to have a good grasp on how to eat out while staying on plan. Everyone meets up at the designated time at the designated restaurant and everyone eats on plan together! Simple and fun. This is a great way to learn how to continue eating on plan while traveling. I'm really big on getting together with my girlfriends and will use any excuse to spend time with them!
Date Night – If the hubbies are on board, I thought it might be fun to go out in a group setting. Find a restaurant that offers a whole food type menu or one that is willing to substitute steamed broccoli in place of rice or potatoes. Then have a sweetheart night. Not only do the girls get to hang out together and stay on plan, but the spouse gets to see what it's all about! This works great if Tuesday is your man's day off (like mine!) or if some girls end up missing the gathering because their husband wants you all to himself (hi Karrie, we missed you on date night LOL!)…
Sweet Potato Bar – The hostess bakes enough sweet potatoes for everyone and the guests all bring toppings. This would be an E-meal, so it's best if everyone sticks to bringing only E toppings.  I am crazy about my sweet potato with chicken, Franks Red Hot and a garnish amount of Parmesan cheese. I can get a giant bag of sweet potatoes at Costco pretty inexpensively and I shop there a lot so it works for us.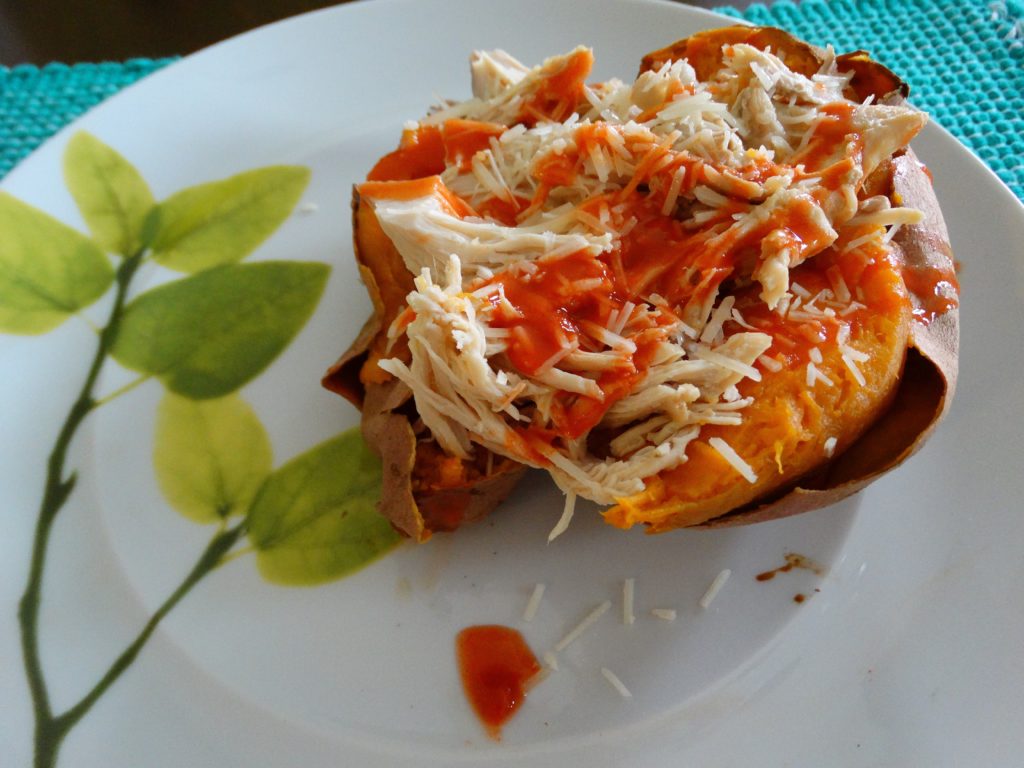 Weekend Brunch – For a change of pace, everyone can get together for brunch. Items to bring could include various types of eggs, pancakes, Big-boy smoothies (although, personally I like to call them Big Girl Smoothies…but that's just me) and other breakfast favorites. It seems to work best when everyone brings part of the meal.
Luncheon – This is a great idea for something a little fancier than your usual gathering. This one could include fancy dishes and all the trimmings. I suggest each person bring a really special dish and all the better if seated outside under a canopy of trees and lights on a breezy day! Everyone wear fancy hats!
Pizza Party – Who doesn't love a pizza party? Why shouldn't we have a pizza party just because we are trying to lose weight? No reason we should get left out of the pizza scene! A few people can bring crusts and others can bring the toppings, or everyone can just bring ingredients and meet up to make the entire pizza as a group.  Although, this may take a little longer than 2 hours from start to finish, so plan accordingly.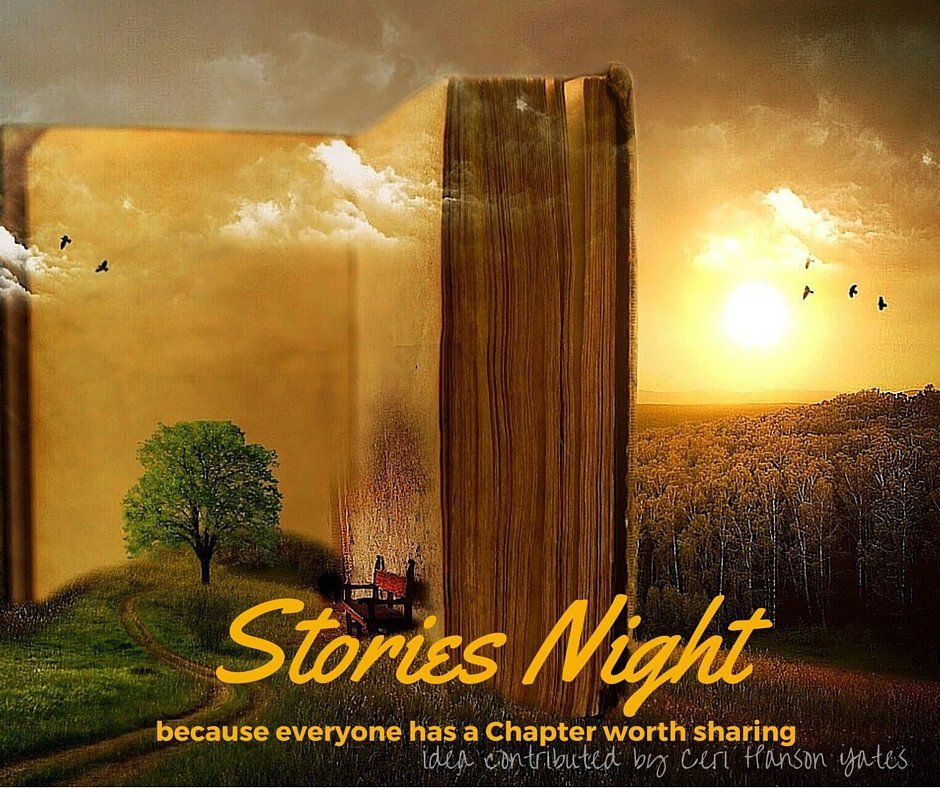 Stories Night – This idea was contributed by Ceri Hanson Yates, a member of the THM Ninjas group. Everyone come prepared to share a Chapter from your Life Story.  I love this concept. Your life is a book, you fill the blank pages.  On Story Night, I think it would be fun to include some E snacks, like Bust-Myth-Banana cake and Air-Popped Popcorn with Yucky! Thanks for the idea Ceri!
Picnic in the Park – Many of us have children, which means often when we meet, we have to find a way to distract the kiddos, make sure Dad is home or we have alternative childcare! If possible it's great to include the children. Especially if there are any single moms or even single working moms in the group who struggle to make it to meetings after work when they've already been away from the children all day. For the picnic, everyone can bring on plan E items for sandwiches. Either one or many moms can even bring peanut butter and jelly (check for peanut allergies first!) for the children to enjoy. I love a great sourdough bread and have been attempting to come up with a gluten free version that I can share.
Condiments Exchange – I saw a post in the THM Facebook group where a Texas group got together to exchange condiments. I'm going to explore this idea as well.
Spice Blends Night – Recently during a Pantry Makeover I realized how beneficial it is to have your own junk-free spice blends. So many of the ones on the supermarket shelf have sugar, fillers such as cornmeal or wheat gluten, and table salt. Better to make our own together! For this gathering determine how many people will be attending and split the cost evenly. Purchase bulk items such as garlic powder, paprika, sea salt, onion powder, pepper, etc. at Costco or Sam's Club as well as bags, jars or other containers to divide them into. Later, after we do this in our group, I will share the recipes, shopping lists and "how to" as well as some photos.
How awesome is it that at our "weight loss meetings" we actually bring and enjoy eating food together? As I read back over my notes and put them here to share with my readers, I realize these ideas do not sound like weight loss group meetings at all! Well, that's the beauty of Trim Healthy Mama. Food Freedom!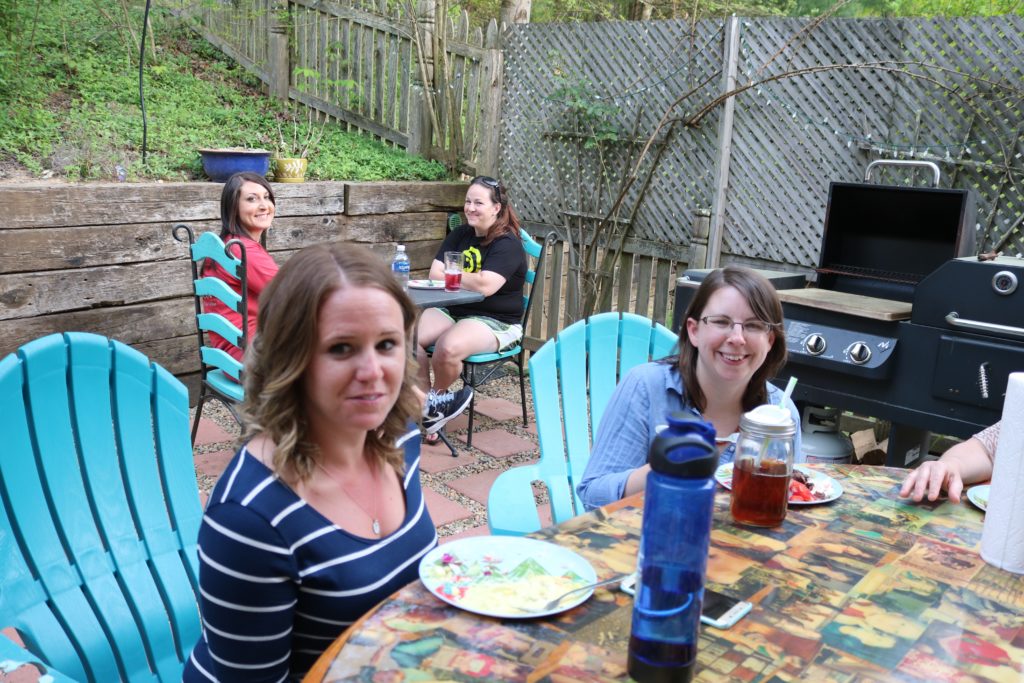 As our group continues to meet and grow, I will be sharing more ideas and pictures of our group gatherings. The ninjas are out there and they will be sharing! Watch for the hashtag #thmninja on all your social media!
What fun ideas would you suggest for a Trim Healthy Mama Group Gathering? Share your ideas with me in the comments below. If we do them, I'll add photos to this page so you can see how it went! If you're in the Knoxville area and would like to be part of our group email me for details at [email protected]
If you're just getting started with Trim Healthy Mama or if you have no idea what I'm talking about, please start at this page!