Last Updated on October 18, 2017 by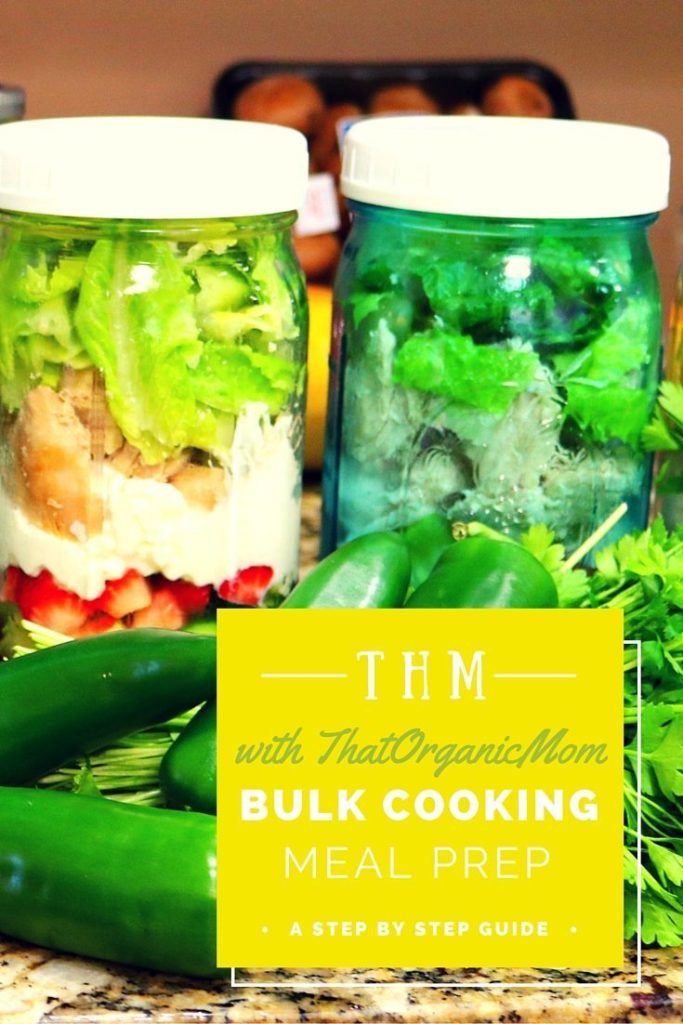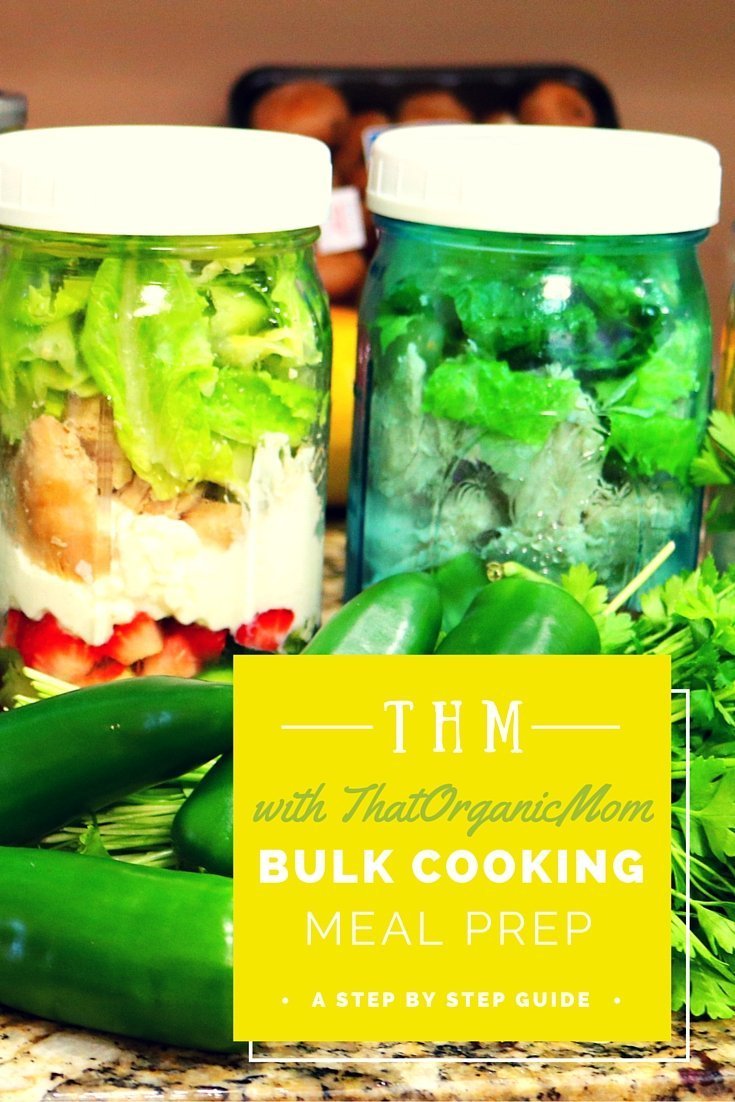 Recently, I did a Pantry Makeover for one of the Ninjas in our local Trim Healthy Mama group. During our time together we discussed getting together to do a bulk cooking session to stock up on trim healthy meals and make life easier during the week.
It took a lot of planning to come up with the meals I felt would freeze well, creating a grocery list, and planning out an efficient step by step instruction sheet that would guide us through the day as quickly as possible. So, since I have already done the work I have to share it with you! I'm certain you could totally do this alone, but it is definitely more fun to do with a friend or spouse. If you have teenagers, get them in the kitchen to wash and prep as you go. It is a great bonding experience as long as you keep your sense of humor.
Before you get started, please read through the entire post or print the packet and read through it so that you have a full understanding of the plan before you get started. There are a couple of options that you will need to decide before you get started.
I did our shopping the day before our kitchen day. I went to Costco, Trader Joe's and Kroger. It took me about two hours. You will need a Trim Healthy Mama Cookbook for the recipes, which you can purchase by clicking the photo below.
I also created a couple of labels you might find useful:
FREE Printable Recipe Labels for Freezer Meals this will print well on Avery 5395. Yes, these are name badge size labels, but you use what you have when you are decluttering and not buying new stuff because you are paying off debt! You can also simply print on plain paper and cut out and tape on.
FREE Printable for Volcano Muffin in a Mug baggies this will print well on Avery 8160. I did this so that we wouldn't have to get out the cookbook every time we wanted to whip up a muffin in a mug real quick. If you don't have label paper, just print it on regular paper and use tape to stick it on, I've done that plenty of times.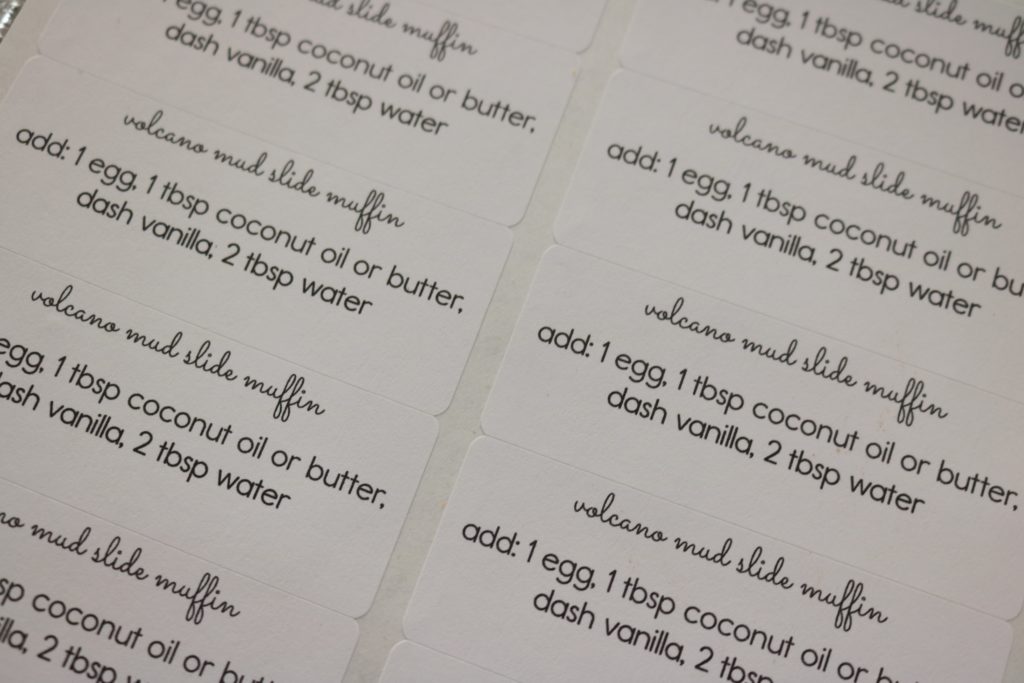 FREE PDF of Plan including Menu, Grocery List and Step by Step Instructions.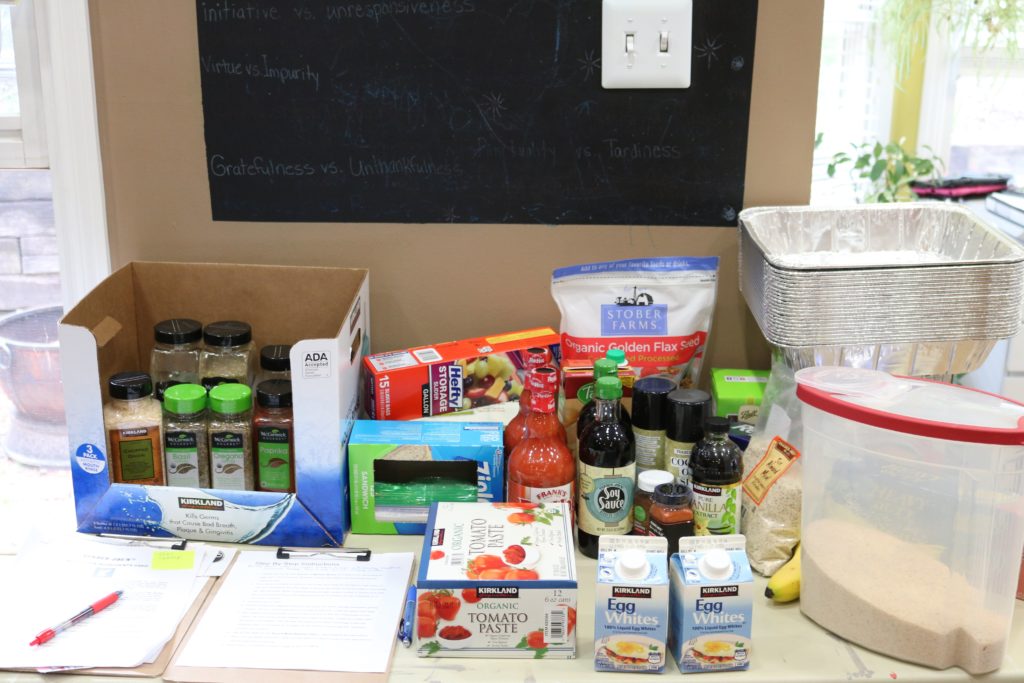 I used a small folding table set up in my kitchen to hold some of the items that I didn't want cluttering my precious counter top space. Mostly spices and canned items as well as storage items. I bought spices in bulk because I like to make my own spice blends.
On the far right (photo above) in the clear cereal storage container you will notice my Psyllium Flakes… this is as low as I ever let it get because I eat Wonder Wraps on a daily basis. Not only are they full of fiber and protein, but they are also an easy vehicle to get food in my tummy! When I am on the run, I just throw some food in a wrap and go!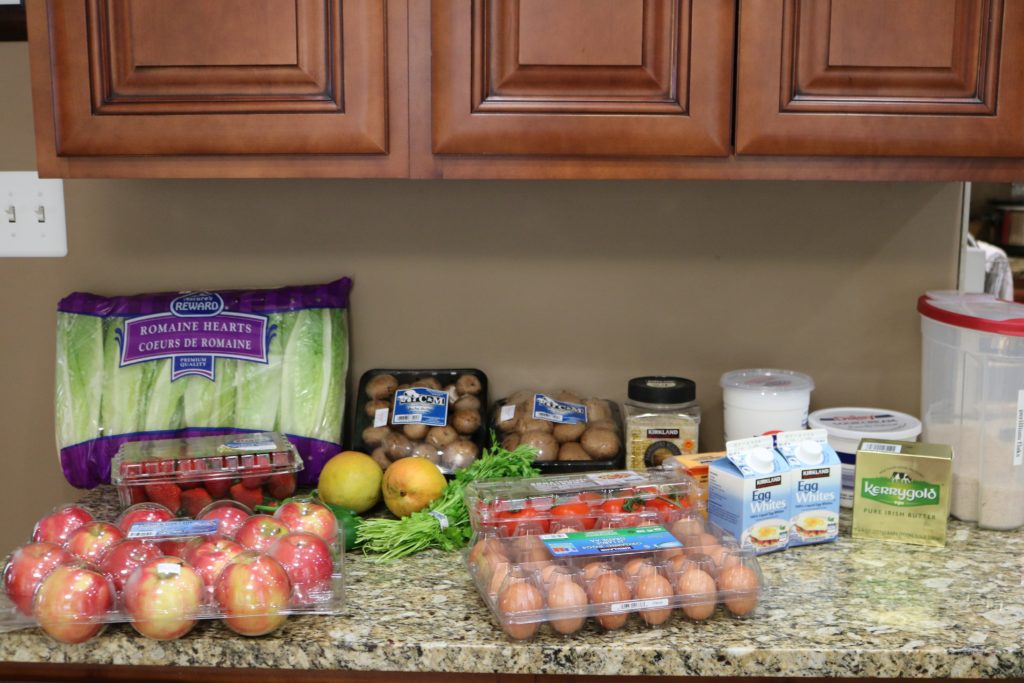 I purchased more apples than were necessary but I knew that our kiddos would happily eat the extras. Also, could have easily just purchased one package of mushrooms, but  these won't go to waste.  I bought eggs at Costco, even though we have a few backyard chickens.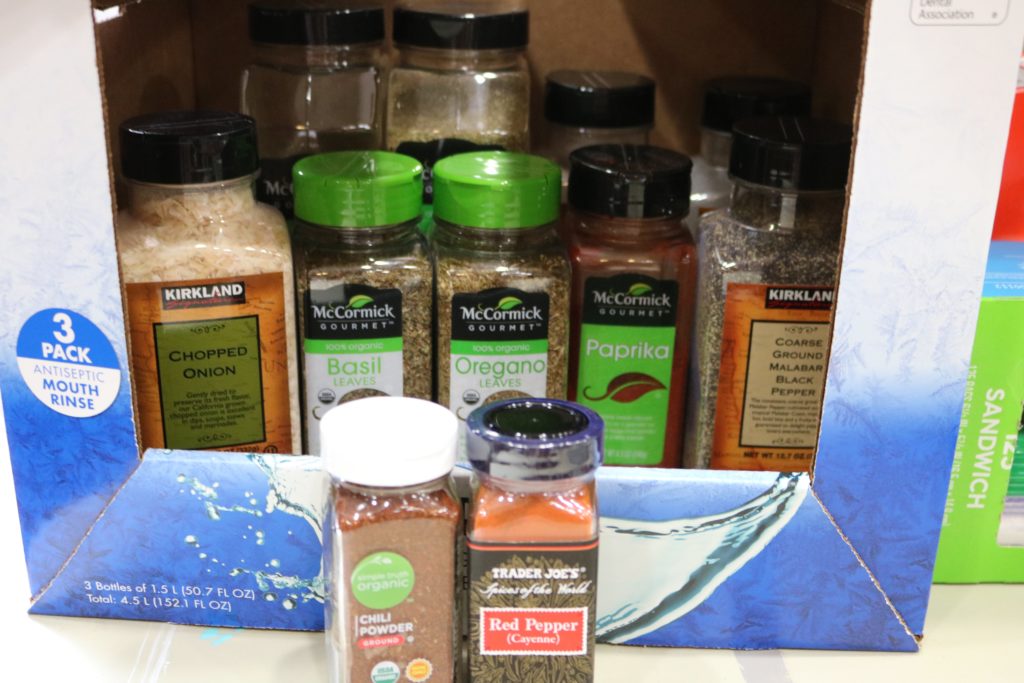 Not all of the spices I use on a regular basis are available at the same place, so I try to keep a running list of the most used spices. I also gave away spice blend packets at our Mother's Day THM Ninja celebration, so I had plenty of extra. In the future, I will try to compile a list of spices that I use to create my spice blends and maybe some recipes for spice blends that I use frequently.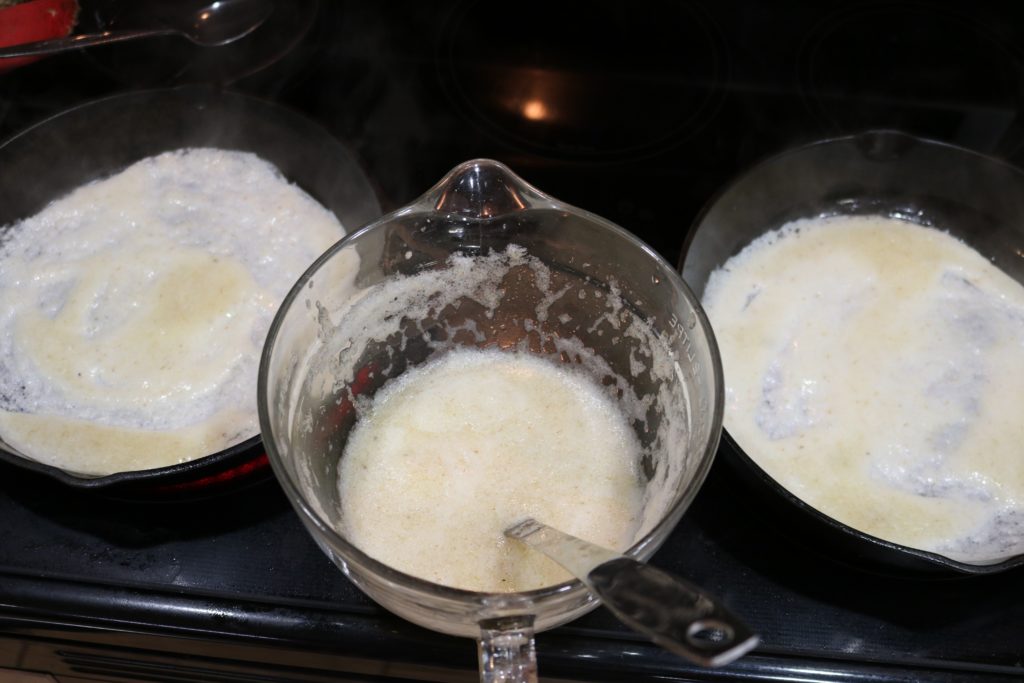 I made my Wonder Wraps at the start because it's easier to just go ahead and cook the meat in my skillets afterward rather than cooking the meats first then cleaning before making wonder wraps.
I have a few other YouTube videos in my Trim Healthy Mama Playlist if you want to check them out click here.
Once we got started, I didn't think to stop to take pictures, so I really don't have a lot of "in the process" photos to share. However, when my Ivy (from Ivy Wants Food) is out of school for the summer, I'm sure she will help by taking photos for us. I love summer! I have lots of plans for summer!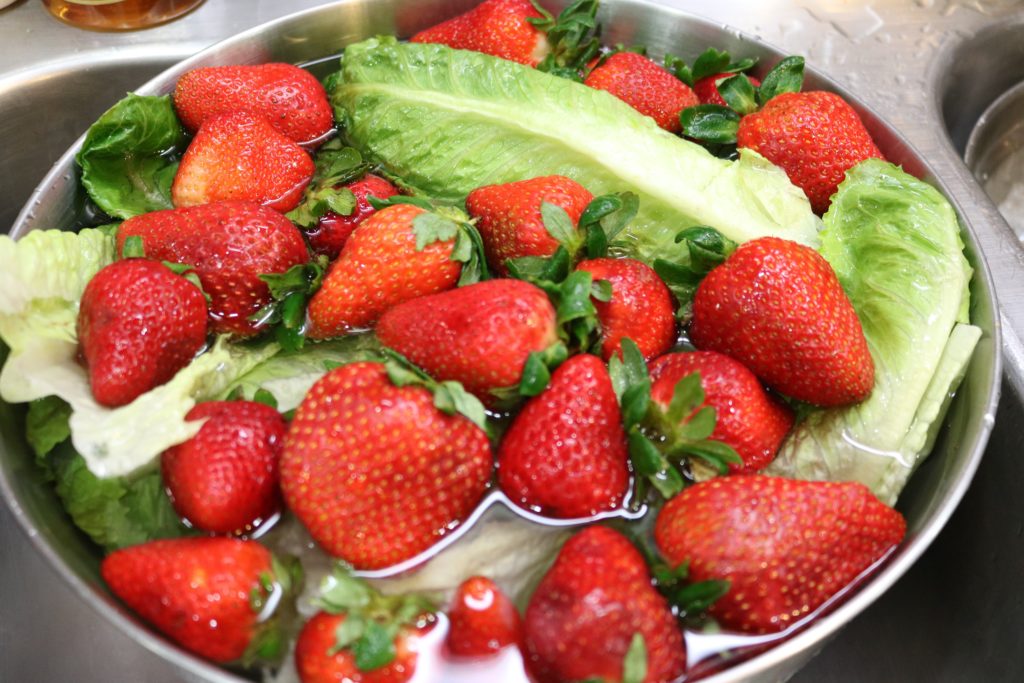 I washed and prepped the fruits and veggies and greens early to get them chopped and ready to add to the jars. I always give them a good cleaning!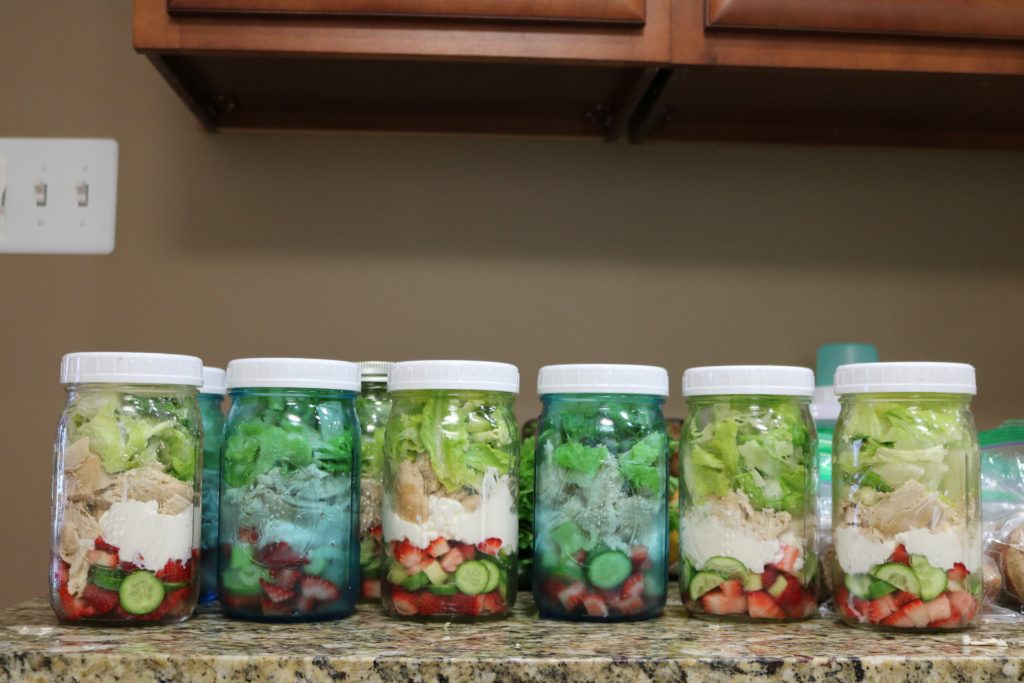 Since this was a joint cooking project, Spring brought her blue jars and I used clear ones. I like to use these one piece plastic lids (pictured above) instead of the two-piece metal lids.  This is the Fuel Pull Salad in a jar. You will be amazed at how much salad fits into one of these jars! I just ate my first one and I'm completely stuffed. You may notice that we did not put the salad dressing in our jars. We both are fine eating salad without dressing and so we didn't make one this time.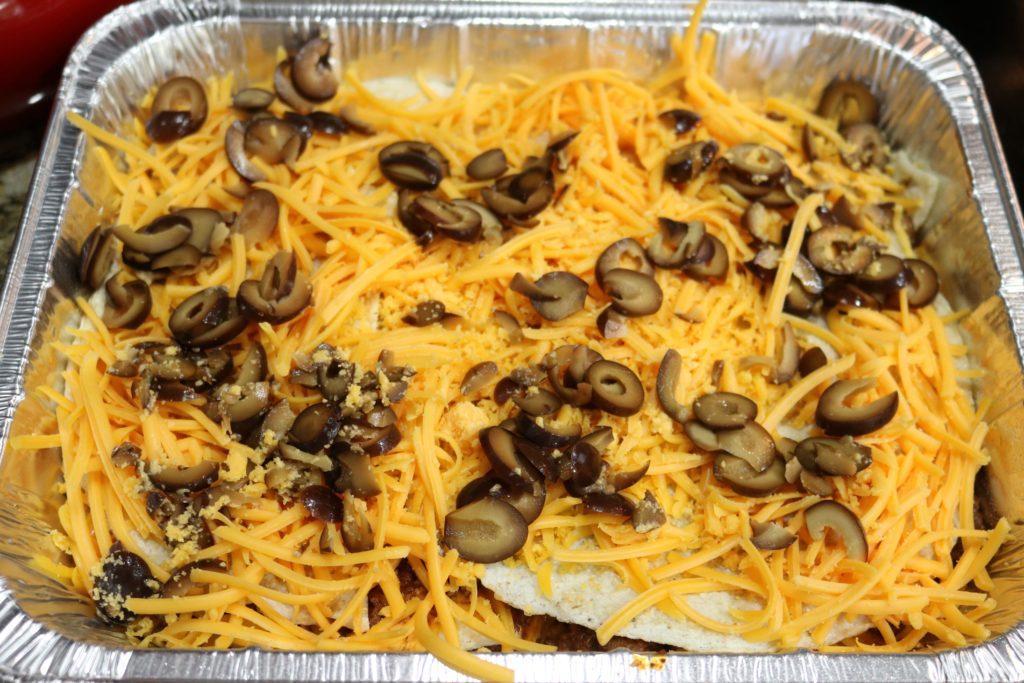 The Wonder Wrap Enchiladas came together beautifully! I sliced the olives and shredded the cheese using my Kitchen Aid Food Processor, which makes bulk cooking/freezer prep and meal prep so fast. I try not to buy a lot of cheese that is pre-shredded because it is usually more expensive and also coated with cellulose powder to keep it from clumping. I've found it really doesn't take that long to shred my own.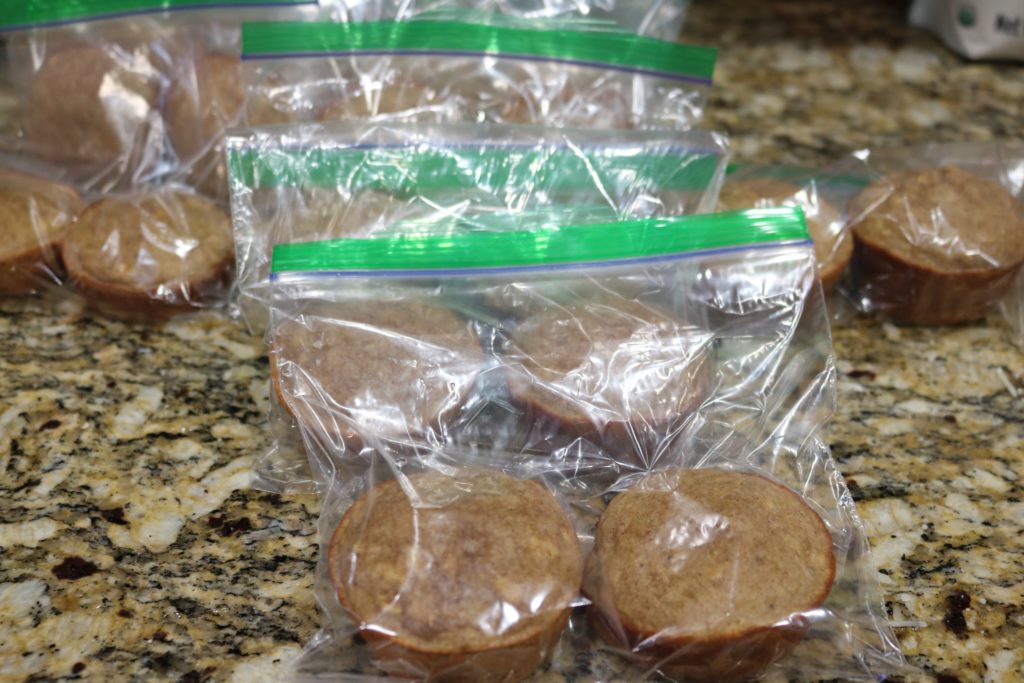 I decided that the NEXT Bulk Cooking day we are going to make a batch of Bust a Myth Banana muffins for us (using Gentle Sweet) and ONE batch for our kids using coconut sugar! They started eating up our stash before we even cleaned up the kitchen! Of course, I let them have them, but since my children don't really need to lose weight (they could actually stand to gain a few pounds) I would rather not waste my Gentle Sweet on them!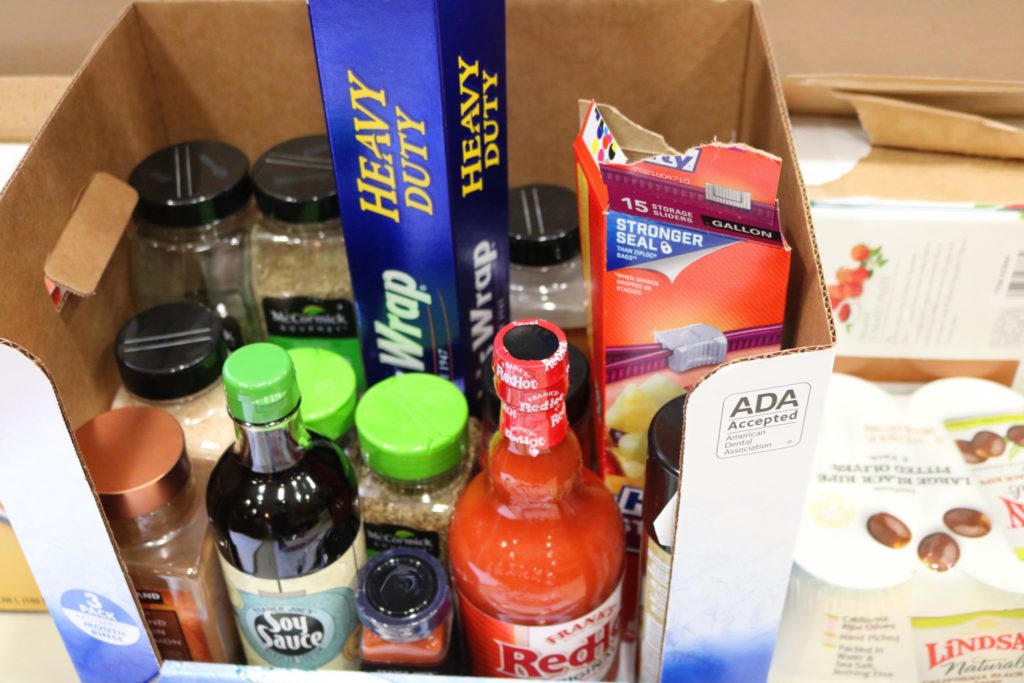 When we were finished there were several ingredients that we had leftovers of, because I buy in bulk. We decided to save all the stuff that belonged to both of us (like the black olives, chicken broth, etc.) so that we could do another bulk cooking/freezer prep day in the near future and use up these items.
So make sure you stay in the loop by downloading my ebook Two Month's of THM Menu Plans, which will sign you up for my newsletter.
To see all my posts relating to Trim Healthy Mama go to my Weight Loss page.
You'll find lots of great stuff on my website besides THM, things like organizing and decluttering tips, homeschooling ideas, motherhood, pantry makeovers, packing lunches and blogging and lots more! If you're feeling overwhelmed, you could always Start Here.
Thanks for visiting!
xoxo
Rebecca
ThatOrganicMom
*all Trim Healthy Mama store links have been removed from this post, I apologize for any inconvenience*