Himalayan Salt Block Salmon
You'll impress everyone with this salt block salmon recipe, so prepare yourself to receive much praise when you serve this dish.
In my Himalayan Salt Blocks for Beginners post, I share how to care for your salt block. That article is from 2016 and is still one of my most popular posts. Guess what? I'm STILL using the same salt blocks. Proof that if you take care of your salt block it will last for a long time!
If you've only been using your salt block for presentation, I'd love to encourage you to consider cooking on it. Look for usage instructions that may have come with your salt block for heating procedures.
To use your salt block in the oven safely, the first time follow these steps:
Place the clean and completely dry salt block in the oven on a lower (but not lowest) rack, place rack with a baking sheet on the rack below to catch any drippings. (if you're cooking on it)
Turn oven on to the lowest temperature and let warm for about 30 minutes.
Increase the oven temperature by 50 degrees every 20-30 minutes until you reach 550 degrees Fahrenheit.
Allow salt block to remain at the high temperature for half an hour, then turn off the oven. Leaving the door closed, allow the salt block to come back to room temperature.
The salt block is now ready to be used for cooking.
Anytime you prepare to use your salt block for cooking, increase the temperature gradually. Although, as you use it you can increase the temperature in smaller increments. I usually raise the oven temp about every 5-7 minutes until it reaches the desired temperature.
You may hear some crackly sounds in the oven while your salt block is heating the first time. This is normal and it should not be a problem. (Your salt block probably came with instructions, refer to those for care and usage instructions.)
Grilling with a salt block
It is much harder to regulate temperature with a charcoal grill, so it might be useful to heat the salt block in the oven before placing it on the grill. If you do this, make sure you wear gloves that can handle the heat when you transfer the salt block to the grill. The cooking surface will be incredibly hot, just like an iron skillet. So be careful!
A gas grill is will make controlling the temperature much easier, but I don't think the flavor is nearly as good as with charcoal.
Combining salt block cooking with the bbq flavor that comes will grilling is a win-win situation, friends. Your taste buds will thank you!
Your salt block can also be used for serving sushi, veggies, baking cookies, and lots more, so make sure you explore ideas.
I keep my salt block clean and dry by storing it on a wire shelf in the open. Because Himalayan salt tiles are so beautiful, they look stunning as part of your kitchen decor.
Always rinse and dry your salt block between uses, and never use soap on your salt block. There are many shapes for salt tiles or salt blocks, but my favorite is the smaller size that are easier to move around and handle. Choose a size that you feel will work best for your kitchen and cooking needs.
My Favorite Salt Blocks for Cooking
No matter which of these three sizes you get, you'll have enough room for 1-2 fillets, so make sure you try cooking salmon on your salt tile. When I pulled this salt block out of the oven, the salmon was still sizzling, I prefer wild-caught sockeye salmon.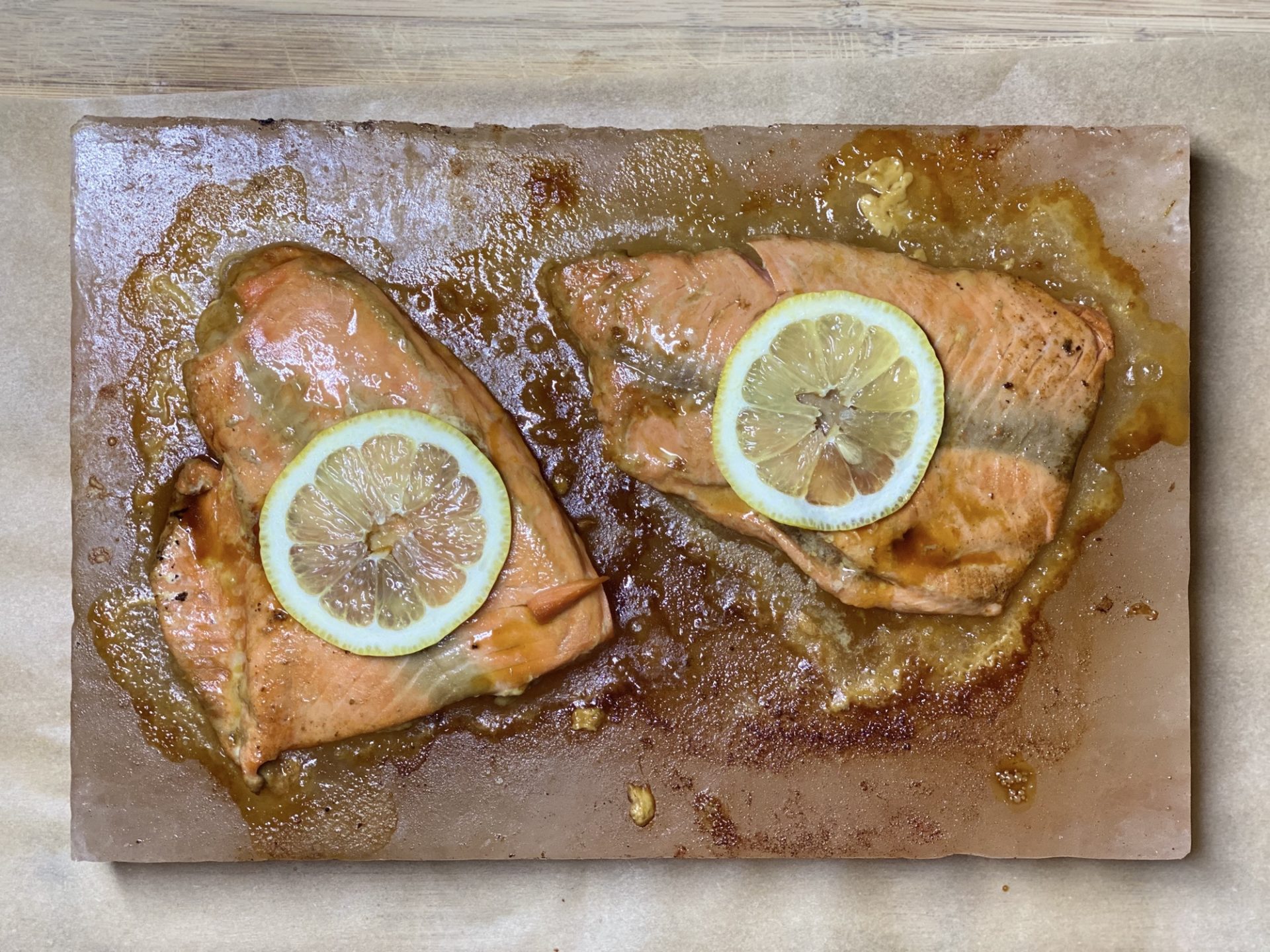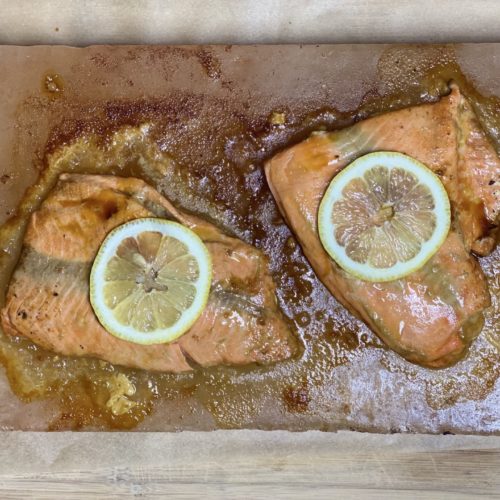 Himalayan Salt Block Salmon

Dairy Free

Gluten Free

Low Carb

Paleo

Sugar Free

Trim Healthy Mama

Whole 30
The best salmon you'll ever eat!
Ingredients
1

fillet

salmon

per person

1-2

tsp

coconut aminos

per person
Instructions
Follow instructions to heat salt block

Drizzle coconut aminos over salmon fillet during cooking, a little on each side

Cook until internal temperature reaches 145 degrees Fahrenheit.
Although I have used other varieties, such as Coho salmon which has a milder flavor. Anyone who doesn't like fish because it tastes "fishy" may prefer Coho Salmon.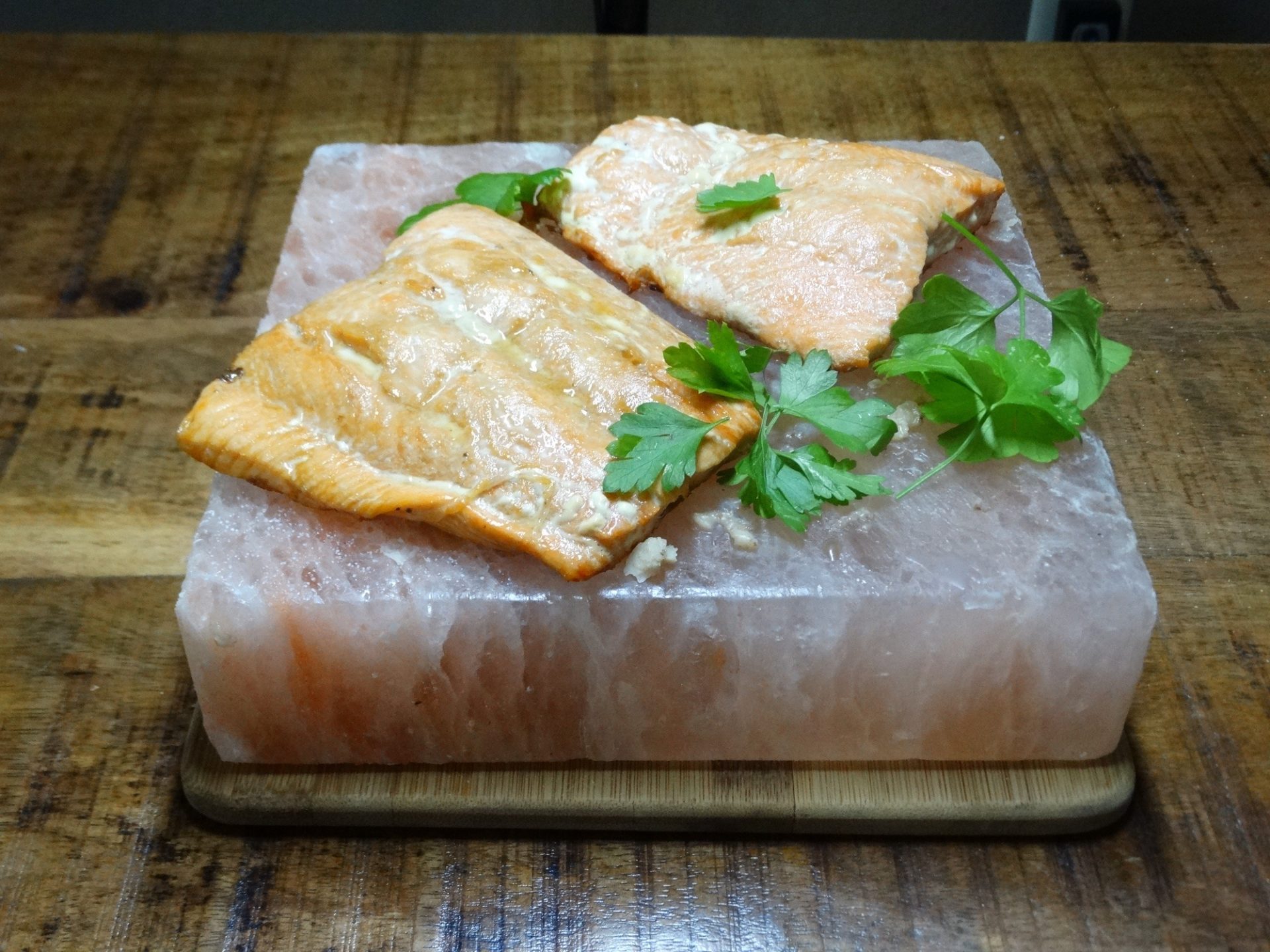 Salmon is an incredibly healthy food, especially when you choose wild-caught salmon.
Tips for making Himalayan Salt Block Salmon
The salt slab is ready for cooking your salmon when a few drops of water on the surface begin to sizzle.
Using a brush and a small bowl of avocado or olive oil apply a thin layer of oil to the salt block to reduce saltiness and prevent sticking.
To test your salmon for doneness, use a meat thermometer to check the internal temperature. This should read 145 degrees Fahrenheit in the thickest part of the filet. Some chefs prefer to cook salmon medium-well, to only 125 degrees, to maintain moisture.
Don't overcook your salmon as it will be dry. However, if you do accidentally overcook the salmon, drizzle some extra virgin olive oil and a squeeze of lemon on top to lend moisture. You can also try an aioli, my favorite is lemon herb aioli.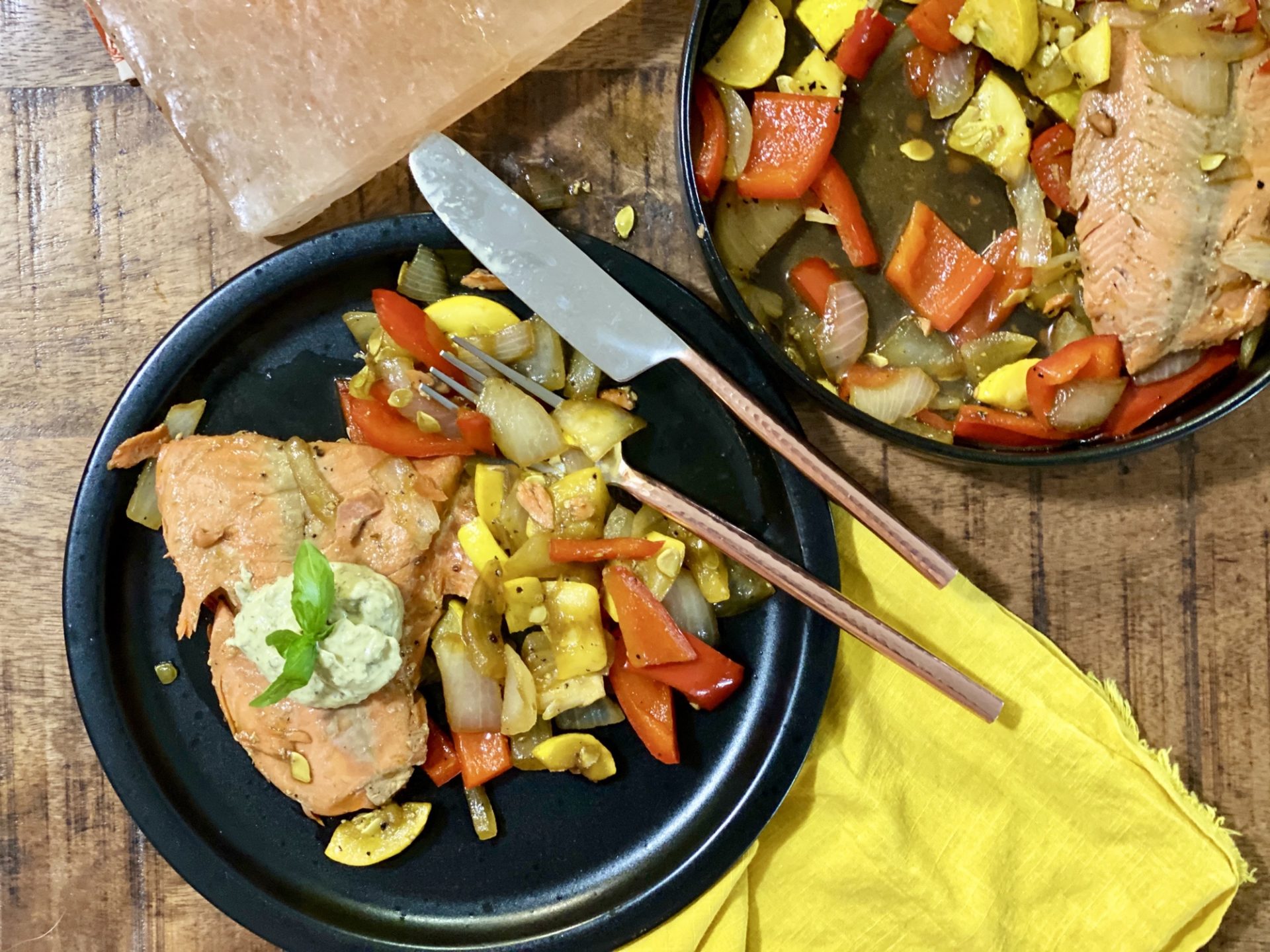 We prefer wild-caught salmon which you can order shipped to your home if you prefer. Choose a nice firm salmon fillet for this recipe. Place salmon with the flesh side down first, then halfway through cooking, flip it over continue skin side down.
If you don't have a salt block and you want to prepare this recipe, cook salmon on the grill. It will still taste delicious with the coconut aminos.
Getting children to eat salmon
Sometimes kids will have an aversion to fish. It is worthwhile to encourage them to eat this healthy source of protein. My children will happily eat salmon, but in the beginning, the way I got them to eat salmon was to add a little brown sugar or maple syrup to the pan.
Serve veggies on the side, which you can also grill or cook on your salt block.
Cooking on Himalayan salt is fun, and it makes your finished product taste even better! You can also use your salt block to cook shrimp, scallops, and other seafood.
Other salmon recipes you will love:
Disclaimer:
If you choose to cook on your salt block, please understand that you assume all responsibility. ThatOrganicMom, LLC will not be responsible for damages, injury, or loss which may result from heating of Himalayan Salt Tiles.