Last Updated on June 29, 2022 by Rebecca Huff
Make these insanely delicious salmon sliders for the entire family! There are many benefits for kids and adults alike when it comes to eating wild-caught salmon. You'll want to put this recipe in your recipe box and keep them in your menu rotation!
Kids will enjoy eating their salmon slider on a soft pretzel bun. Don't worry though, if you follow a low-carb, Ketogenic, or THM lifestyle, I have options for you too! Keep scrolling!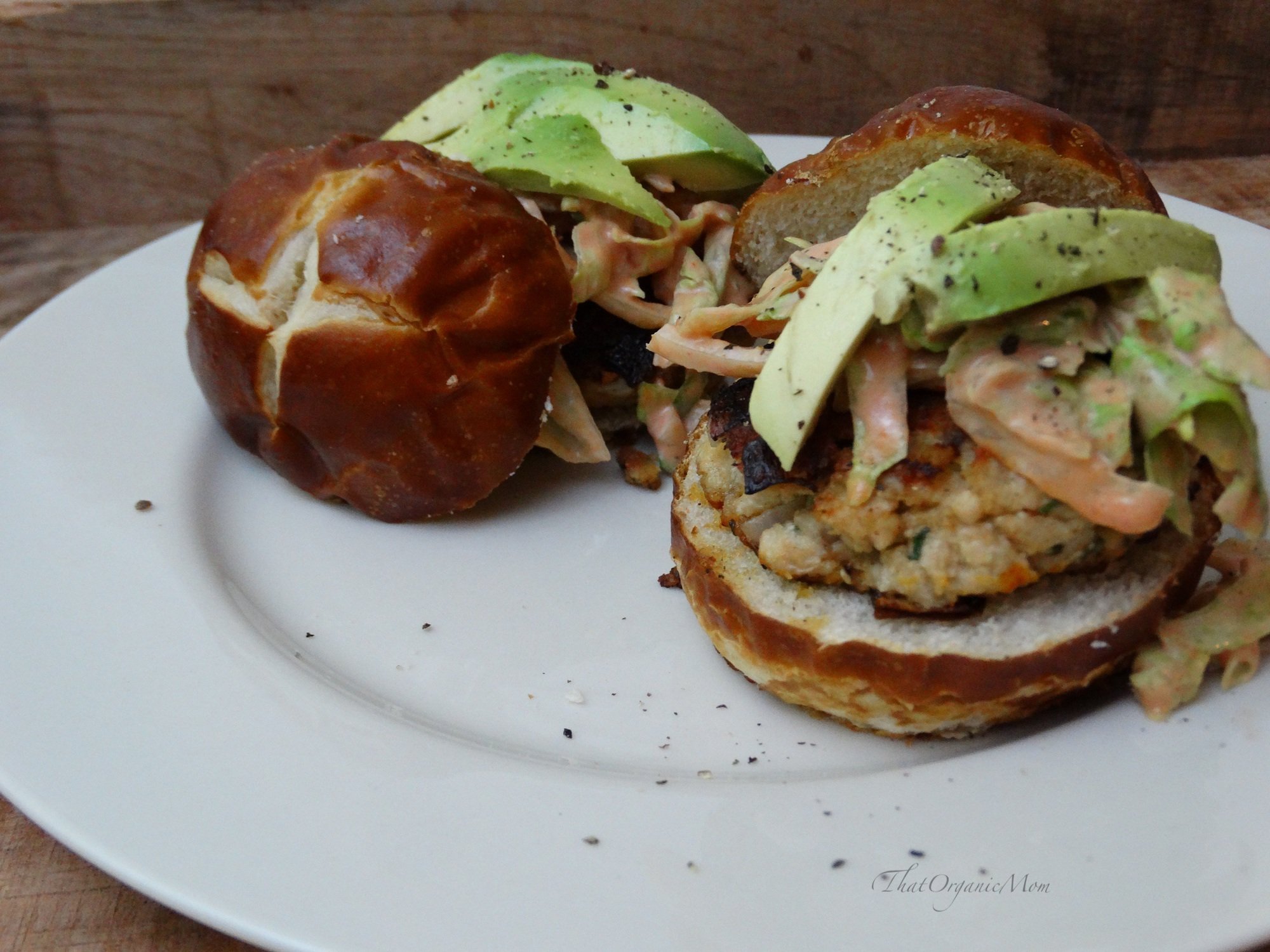 Those of us who follow a gluten-free or low-carb lifestyle can use an alternative, like the Keto bun pictured below. My three favorite recipes for low-carb, gluten-free, keto-friendly bread are:
Fat for weight loss Keto bread (but I put it in this silicone muffin pan to bake them into slider buns)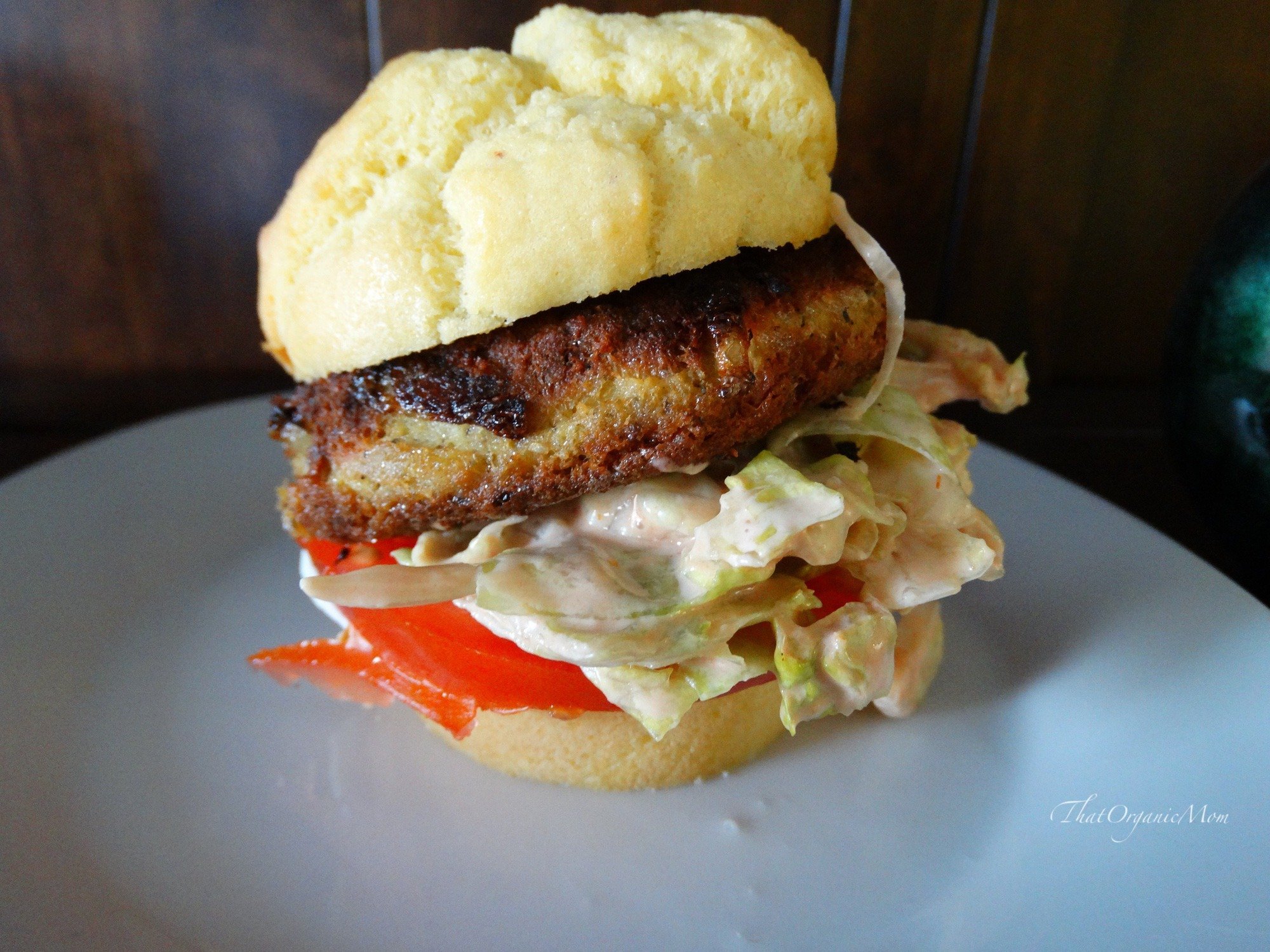 The inspiration for these insanely delicious salmon sliders comes from my family's all-time favorite hamburger recipe found in Jamie Oliver's book Comfort Food. He calls it the Insanity Burger. You can find this book in the TOM Cookbook Club collection.
In the spirit of "standing on the shoulders of giants" in mind, I prepared my salmon burger incorporating one of the condiments recommended from Jamie's burger recipe. I highly recommend grabbing that cookbook and trying the Insanity Burgers, by the way.
Since it's a good idea to get some healthy omega-3 fatty acids in our diet, I wanted to create a Salmon burger that would be just as delicious. The two main elements that make these salmon burgers outstanding are are 1) the use of the mustard and hot sauce combo while cooking the salmon and 2) the lettuce, ketchup, mayo combo used in building the burger. The size of these burgers make them fun and easier to hold therefore perfect for kids!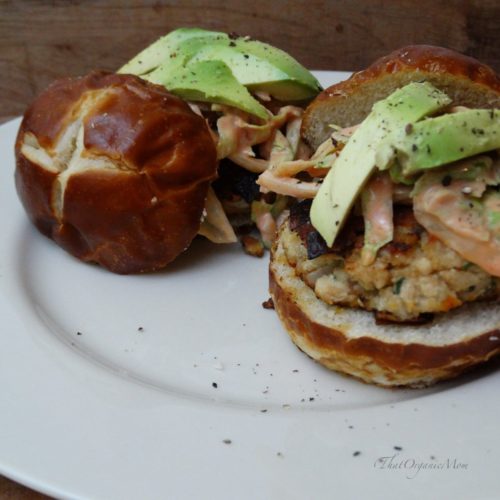 Insanely Delicious Salmon Sliders

Dairy Free

Keto

Low Carb

Trim Healthy Mama
You've had sliders, but have you had salmon sliders? The sauce makes these insanely delicious.
Ingredients
Salmon Burger

1 15-

ounce

can salmon

2

egg

1/8

cup

coconut flour

1/4

cup

finely chopped onion

salt and pepper to taste

1/2

teaspoon

garlic powder

1/2

tablespoon

parsley

tablespoon

of chives

optional

Other ingredients needed and toppings

avocado oil for frying

or whatever oil you prefer

yellow mustard

hot sauce

optional

2

tablespoons

mayonaise

2

cups

shredded iceberg lettuce

2

tablespoons

ketchup

slices

of avocado

optional

pickles

optional

sliced onions

optional

buns
Instructions
Mix salmon burger ingredients together

Form into patties to match the size of slider buns

Mix mustard and hot sauce together if using, if not using hot sauce just have mustard ready

Cut or shred iceberg lettuce into small pieces and mix with mayo and ketchup, set aside.

Oil pan and heat over medium, fry patties without crowding in skillet till first side is browned, flip.

With a basting brush, gently brush mustard mixture on salmon patty after flipping, when 2nd side is browned, flip again and add mustard mixture to second side, so that both sides have been coated with the mixture.

When browned on both sides remove patties.

Build sliders and enjoy!
Notes
Depending on the size of your can of salmon you may need to adjust your recipe slightly, with 12 ounces of salmon (from two 6-ounce cans) a scant or with a 15 ounce can use a heaping, 1/8 cup of coconut flour. Mixture should be able to hold together fairly well without crumbling.
Use your imagination in the kitchen. Don't be limited by my recipe recommendations, use whatever toppings you like on your insanely delicious salmon sliders. Here are a few ideas:
tomato
jalapeno
cheese
pickles
relish
kimchi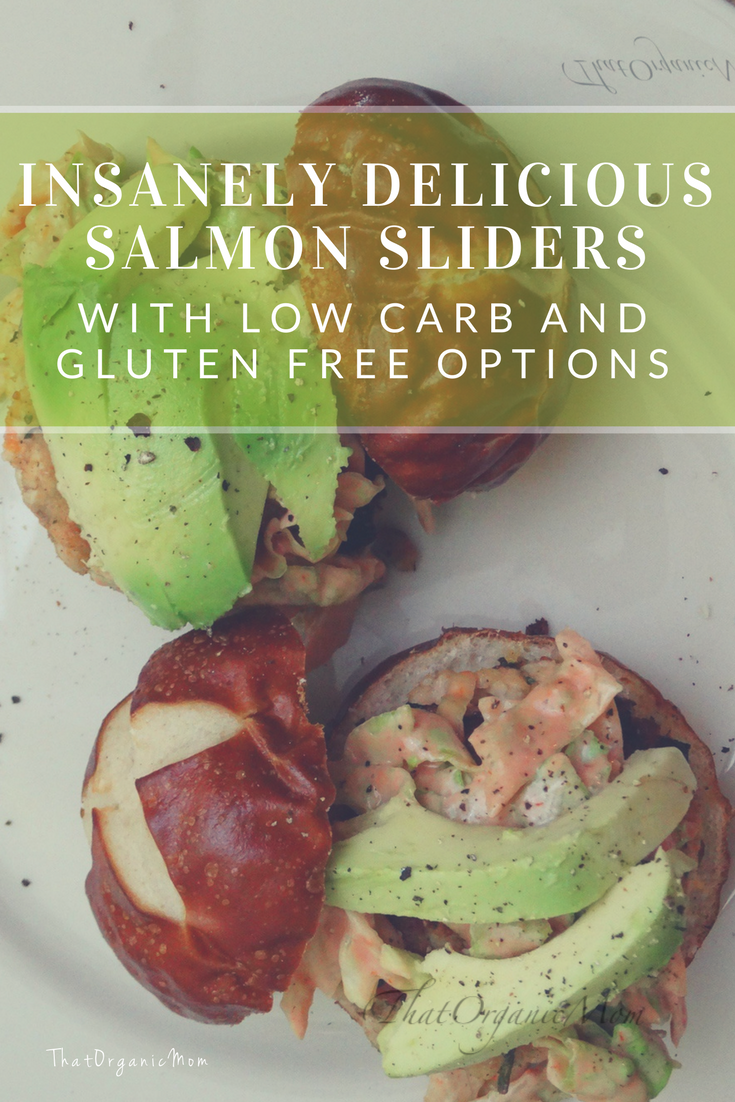 Check out the following articles about salmon!
1 – Wild Alaskan Salmon Is a Powerhouse of Nutrition January 02, 2018 https://articles.mercola.com/sites/articles/archive/2013/04/15/wild-alaskan-salmon.aspx
2 – Farmed and Dangerous http://www.farmedanddangerous.org/salmon-farming-problems/