Last Updated on August 30, 2020 by Rebecca Huff
Maple glazed powerhouse salmon is one of my favorite ways to eat salmon. Something about the combination of the sweetness of maple syrup and saltiness of tamari (or soy sauce) just works so well. Plus, my powerhouse spice combination of turmeric, black pepper, garlic and ginger not only imparts a fantastic flavor but it boosts the nutritional value of this dish.
Turmeric:
inflammation fighter
antioxidant and immune booster
heart protector
brain booster
arthritis buster
fights cancer
helps manage diabetes
Black pepper:
Improves digestion
promotes intestinal health
helps prevent gas
aids in breaking down fat cells
Ginger
treats nausea
helps symptoms of irritable bowel syndrome
anti-inflammatory
helps lower blood sugar
improves heart health
can help lower cholesterol
cancer prevention
improved brain function
fights infections
Garlic also has many benefits; I listed many in the post Garlic Benefits plus Recipes.
Jump to Recipe
Dinner guests always rave about my Maple Glazed Powerhouse Salmon Recipe. Pairs well with asparagus and other green veggies such as spinach, arugula, and chard. Try serving it with a cup of warm green tea for even more health benefits. In these photos, I'm drinking Mao Feng Shui Green Tea.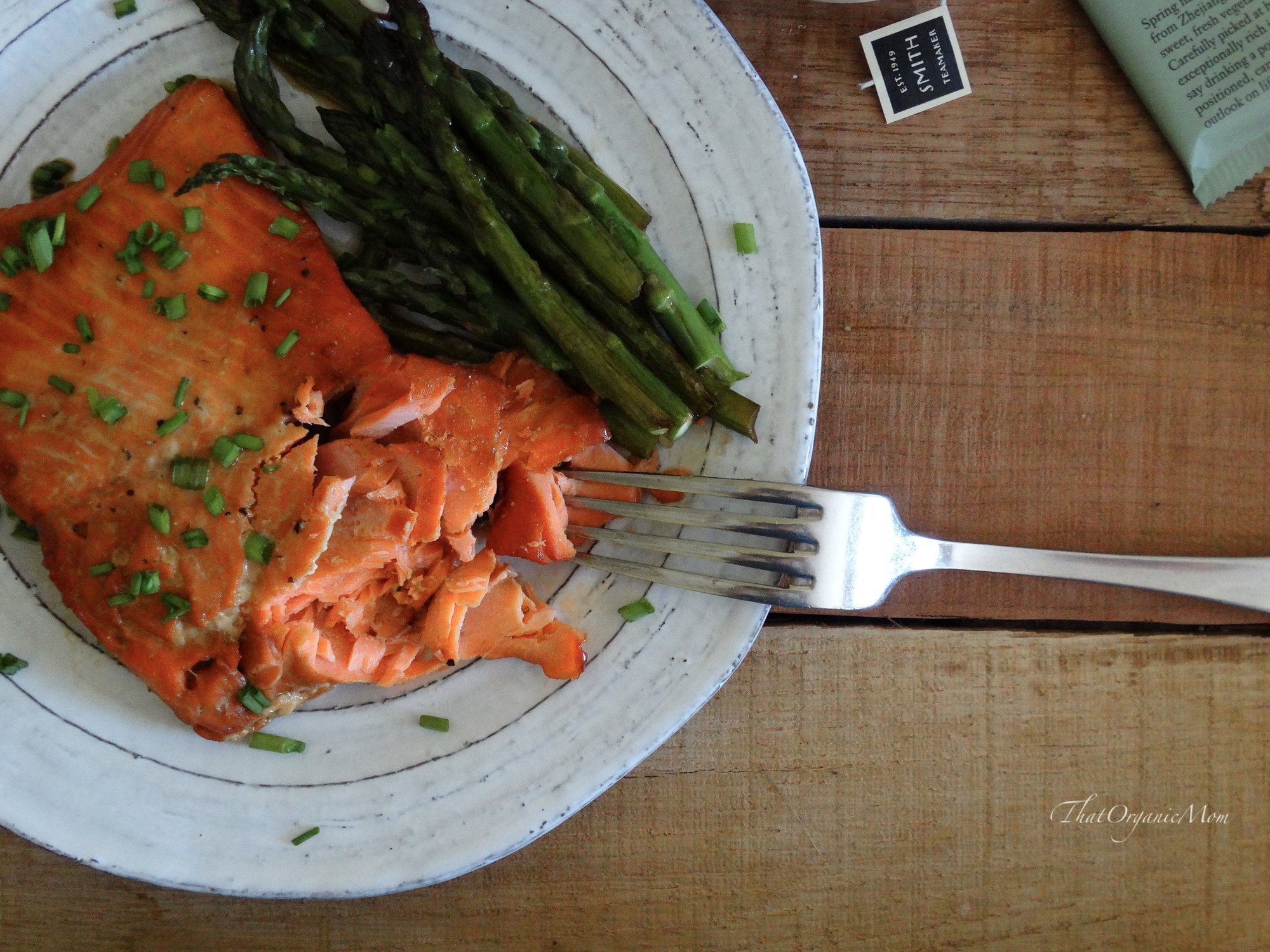 Maple Glazed Powerhouse Salmon Recipe can be prepared in any dish that is oven safe, but I like the way it cooks up in my iron skillet! The glaze almost caramelizes in the bottom of the pan. My skillets are handed down from my Pa, but you can get good pre-seasoned Lodge iron skillets on Amazon, and I have added it to the TOM store for your convenience. Another option is Xtrema Ceramic Cookware, I have several pots, and I'm hoping to add a skillet to my collection!
Before you add your salmon to your skillet, just lightly coat it with a quick spritz of oil or else use a basting brush to add a bit of avocado or coconut oil to your pan. Put your salmon in the skillet skin side down if you have a filet; if you are using a steak use just a bit extra oil. Don't add all the marinade to the pan but a little will help add flavor as it is cooking.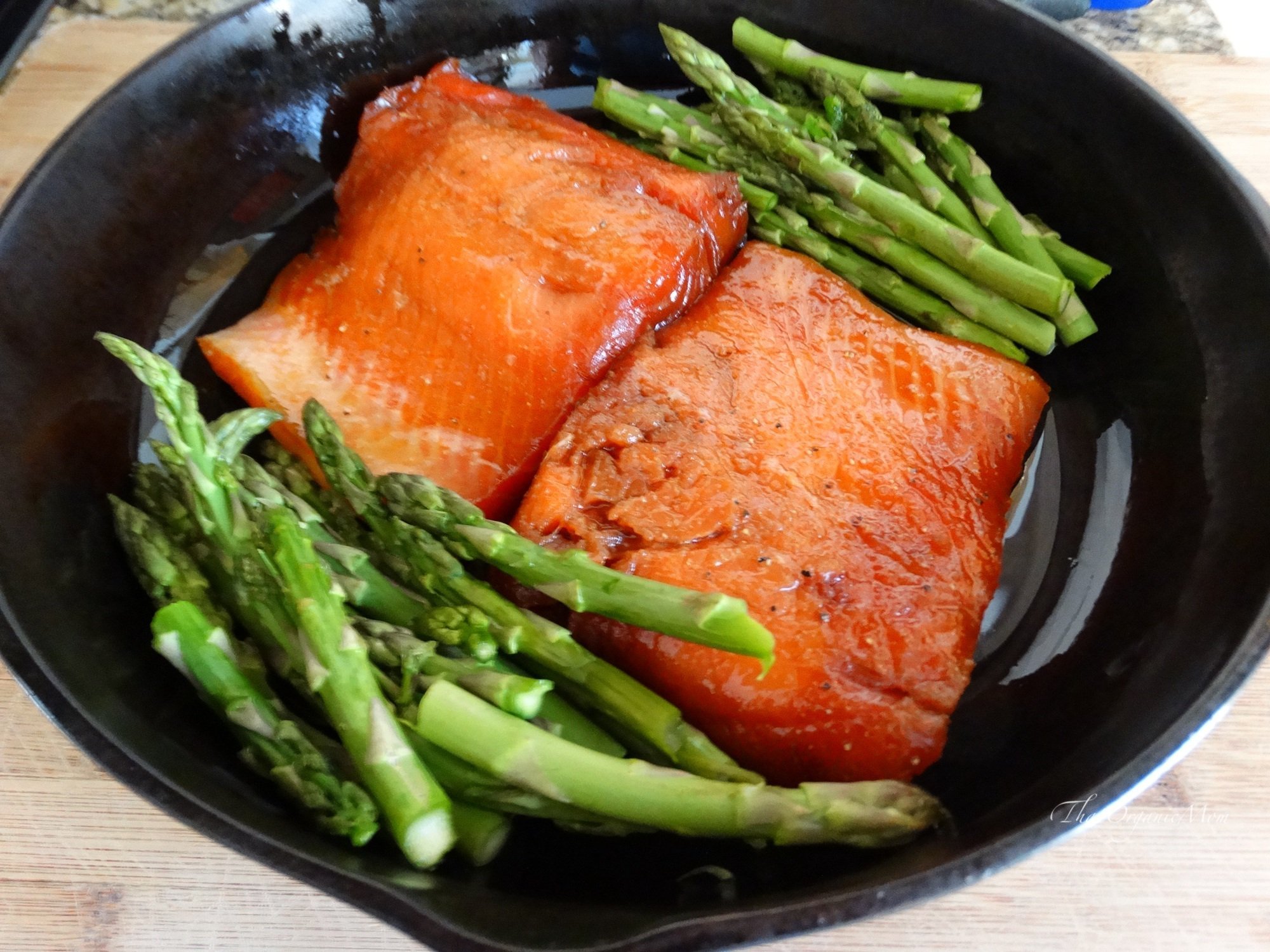 Have you seen my tutorial for adding recipes to your recipe box with just a few clicks? It's so helpful because you can collect recipes from anywhere on the web and then with just a click add them to your menu plan and grocery list. You just will not believe how much time it saves!
After you check out my recipe, don't forget to watch the video, best of all it's free! When you set up your recipe box, add Maple Glazed Powerhouse Salmon Recipe to your favorites.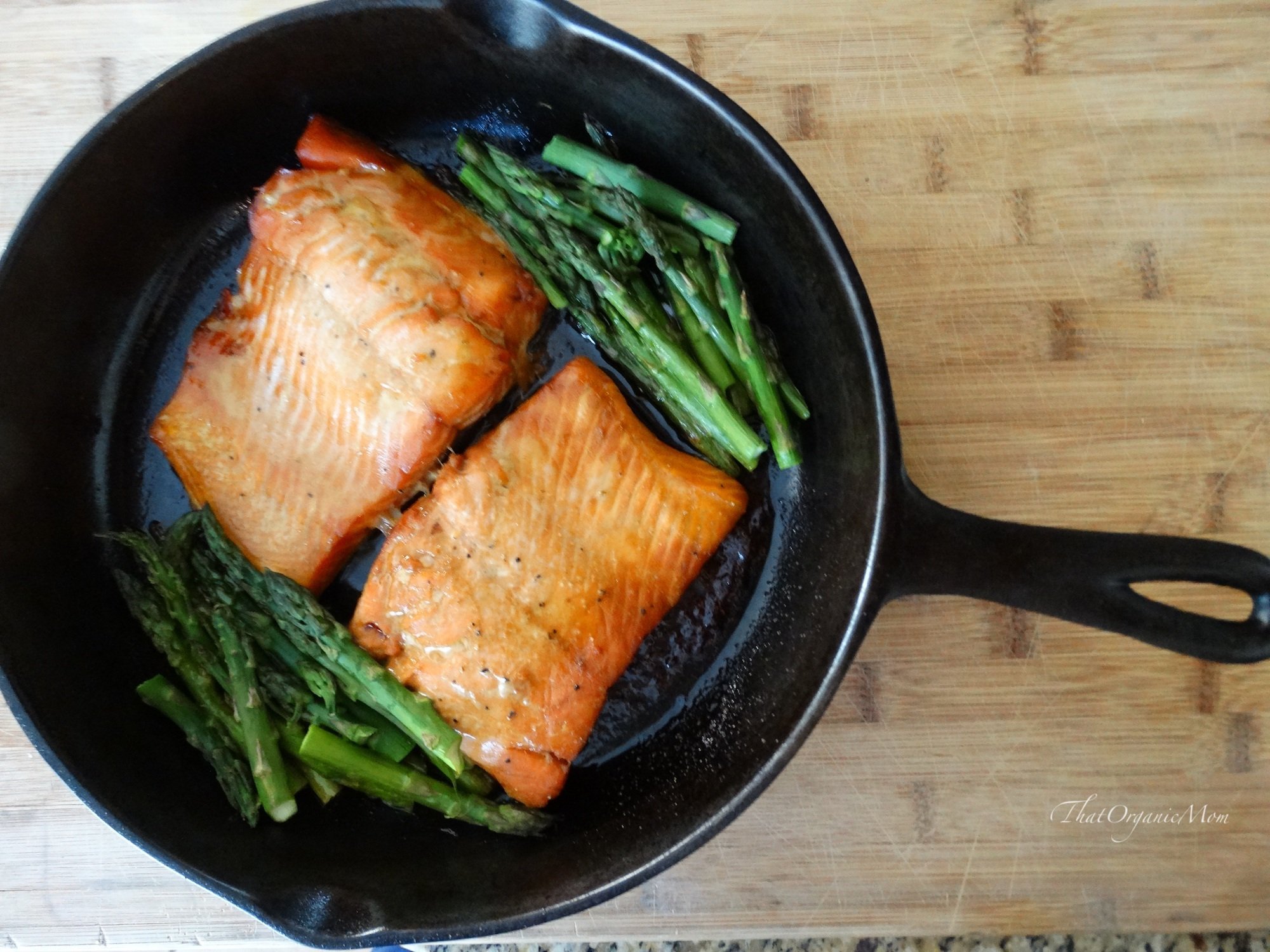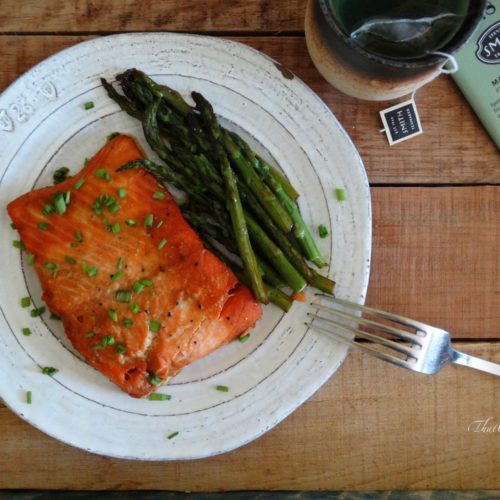 Maple Glazed Powerhouse Salmon Recipe

Gluten Free

Paleo
Sweet and salty glaze on the outside, flaky salmon-y goodness on the inside!
Ingredients
1/2

cup

tamari or soy sauce

whichever you prefer

1/2

cup

pure maple syrup

or a few drops of maple extract, a drop or two of stevia and 1/2 cup water

1/2

tsp

garlic powder

1/2

tsp

ginger powder or a small knob of fresh ginger

1/2

tsp

turmeric powder

1/2

tsp

black pepper

1/2

tsp

toasted sesame oil

4

salmon filets or salmon steaks

about 20-24 ounces of wild-caught salmon
Instructions
Mix all of the ingredients and pour over salmon in a container with a lid. Let the salmon marinate in the fridge for 1 hour or up to overnight.

Brush skillet with a very light coating of oil and add salmon to the pan.

Bake in the skillet at 450 for 10-15 minutes or until fish flakes easily
Notes
This recipe can easily be multiplied for large families. If you have fresh turmeric, ginger, and garlic on hand, by all means use those instead, I often do. For simplicity sake I wanted to write the recipe with items most people would keep in the spice cabinet.
Also, concerning soy sauce, tamari, and coconut aminos - coconut aminos is much milder and sweeter, so if you use it instead os soy sauce the result will be a sweeter and less salty flavor.
Share this recipe on Pinterest!