Last Updated on August 11, 2022 by Rebecca Huff
Having healthy hair is a goal of many women. At times you might notice your hair isn't as full as you like or it's not growing much. Thankfully there are ways to boost hair growth. It's also essential to address the underlying condition that may cause slowed hair growth.
Factors that can slow down hair growth can include
Thyroid imbalances
Anemia and depleted iron stores
Strict diet
Auto-immune diseases
Certain medications
Hormone imbalances
Once you discover the root cause of slowed growth or hair loss you can take measures to correct the problem. These tips will help boost hair growth during this time or even if you're just looking to grow hair faster.
The top 3 tips to Boost Hair Growth
Schedule haircuts using the Lunar Calendar
Organic Castor Oil mask once per week
Lunar Hair Chart
When I first discovered this theory I was skeptical, but I knew that farmer's tradition was to plant based on the lunar calendar. This idea of planting and harvesting based on the lunar calendar was centered around the belief that the phases of the moon affect plant growth. Old Farmer's Almanac was a tradition among farmers and still is today.
Even though I was skeptical, I decided to follow the lunar hair chart because it couldn't hurt anything and it might help. Using the lunar chart as my guide I highlighted the best dates in my planner. Then, choosing the best dates, I scheduled haircuts with my hairdresser. She laughed at first, but towards the end of the year, she decided there might be something to the Lunar Chart!
After following the chart for a full year, my hair growth was definitely faster than normal. During this time I also faced some health challenges that otherwise could have left me with thinning hair. That's when I implemented Tip #2:
Castor Oil masks once per week
Castor oil has long been known for its ability to stimulate hair growth. Vitamin E, Omega 6 and 9, minerals and ricinoleic acid are some of the properties contained in Castor oil that make it beneficial. Massaging castor oil into your scalp every night could stimulate noticeable changes in hair growth in as little as two weeks. The benefits may be due to the fact that castor oil is an anti-fungal, antibacterial, antiviral, that can reduce inflammation and stimulate the lymphatic system.
When applied topically, castor oil is effective against skin conditions like keratosis, dermatosis, wounds, acne, and warts, along with sebaceous cysts, itching, and hair loss.
Using castor oil on my scalp and hair once per week has noticeably improved the thickness of my hair and has helped my dry scalp. I do an organic castor oil mask on a day when I will be home all day so it is soaking the maximum amount of time. Some people do the mask overnight; if you choose to do this cover your pillow with an old towel to prevent stains.
You could use just castor oil alone but it is a bit sticky so I combine it with olive oil which is full of antioxidants to deep condition the hair. Adding olive oil will give you the added benefit of softness, manageability, shine, and dandruff control; perfect during the colder winter months.
Another oil you could add is Avocado oil. Beneficial for moisturizing dry, brittle, and damaged hair. Full of many nutrients such as vitamins A, B, D, E, protein, amino acids, iron, copper, magnesium, and folic acid, avocado oil would also be an excellent partner with castor oil.
Thankfully, I've been eating healthy for a very long time, but implementing Tip#3 can give you a great boost in your hair growth.
A well-balanced diet
There are so many benefits to eating a well-balanced diet and among those is great hair. Some of the best foods for hair growth include:
spinach
eggs
salmon
pumpkin seeds
chicken
strawberries
almonds
shitake mushrooms
I also started following a ketogenic way of eating, which I believe also had a positive impact on the rate of hair growth. This may be due in part to the increase in healthy fats I consume.
The video above is where I share my top 3 tips to boost hair growth! These have helped me even though I am in my mid-forties, a time when many women experience slower hair growth.
In addition, when I blow-dry my hair, I always use the lowest heat setting, after towel drying twice to cut down on damage. Sometimes, I'll allow my hair to air-dry until about 80% dry then use the blow-dryer to smooth and defrizz.
Before my 3 tips to boost hair growth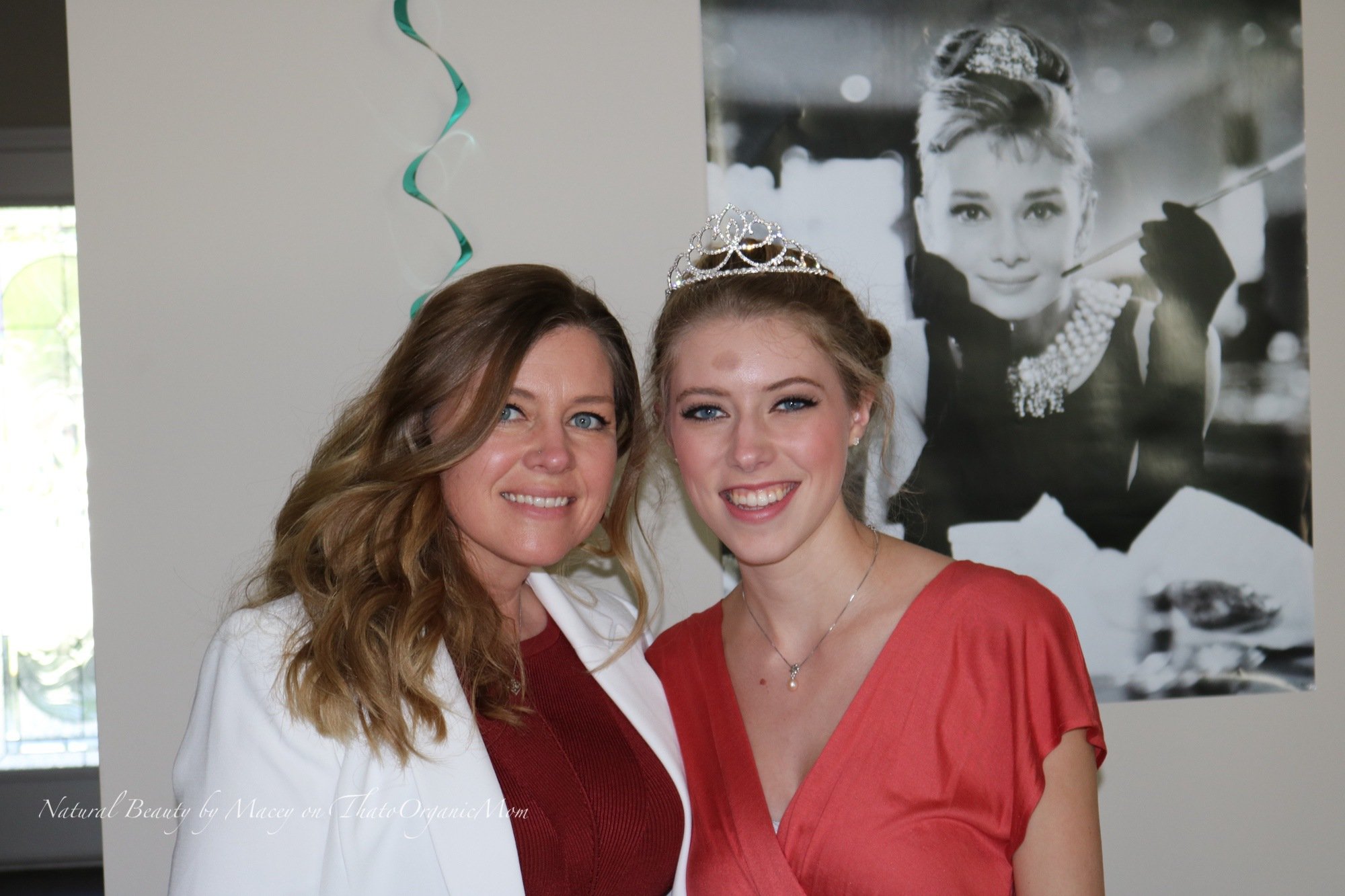 After implementing my top 3 tips to boost hair growth
Crazy coincidence that I am wearing the same white jacket in both these pictures! Not a coincidence that Macey, my beauty advisor, is in both photos though. She gives me the best advice when it comes to beauty at any age. Macey is a licensed cosmetologist.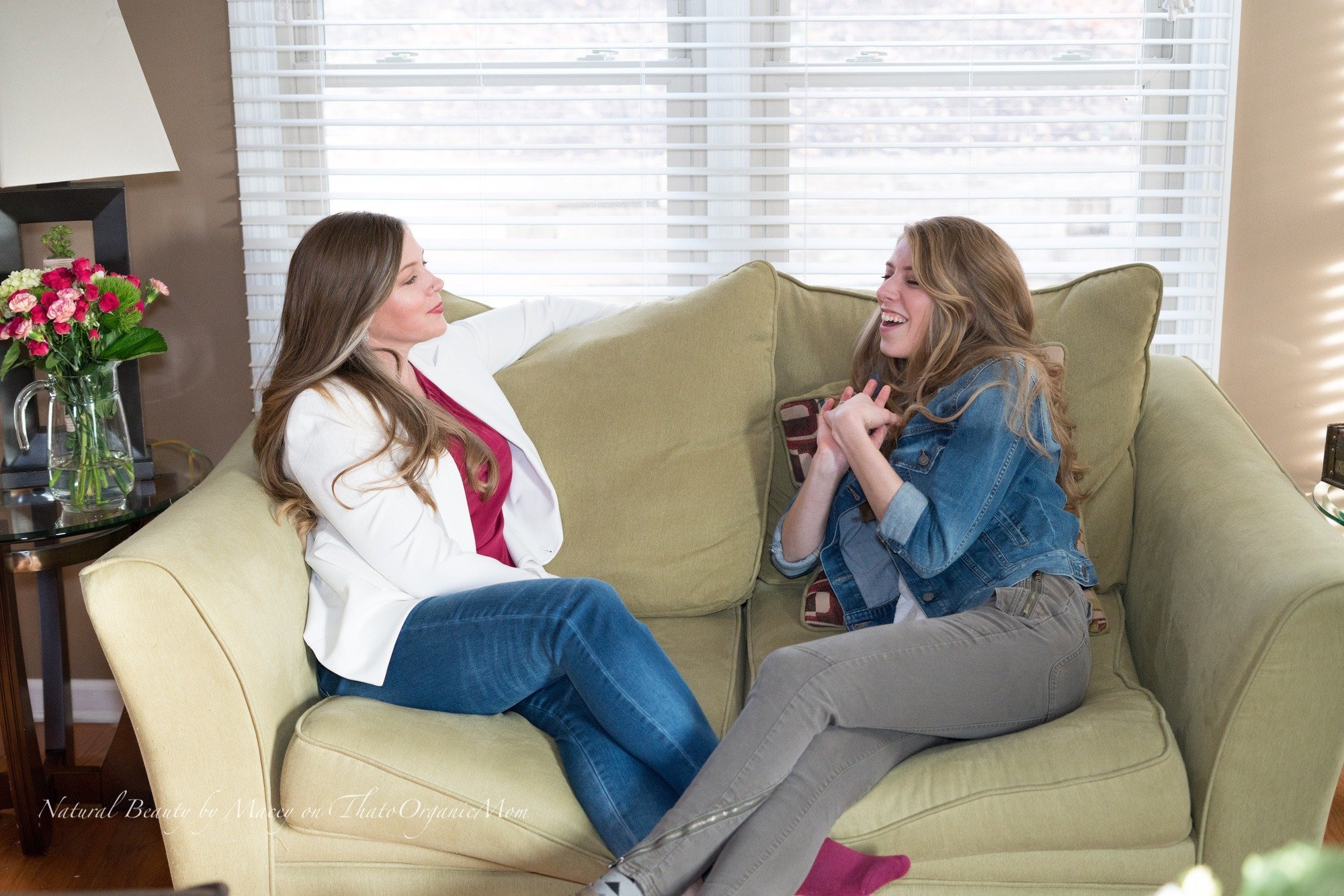 We'd love to chat with you about toxin-free beauty. What are some of the ways you take care of your hair? We'd love to hear about them, so please share your ideas and tips in the comments below!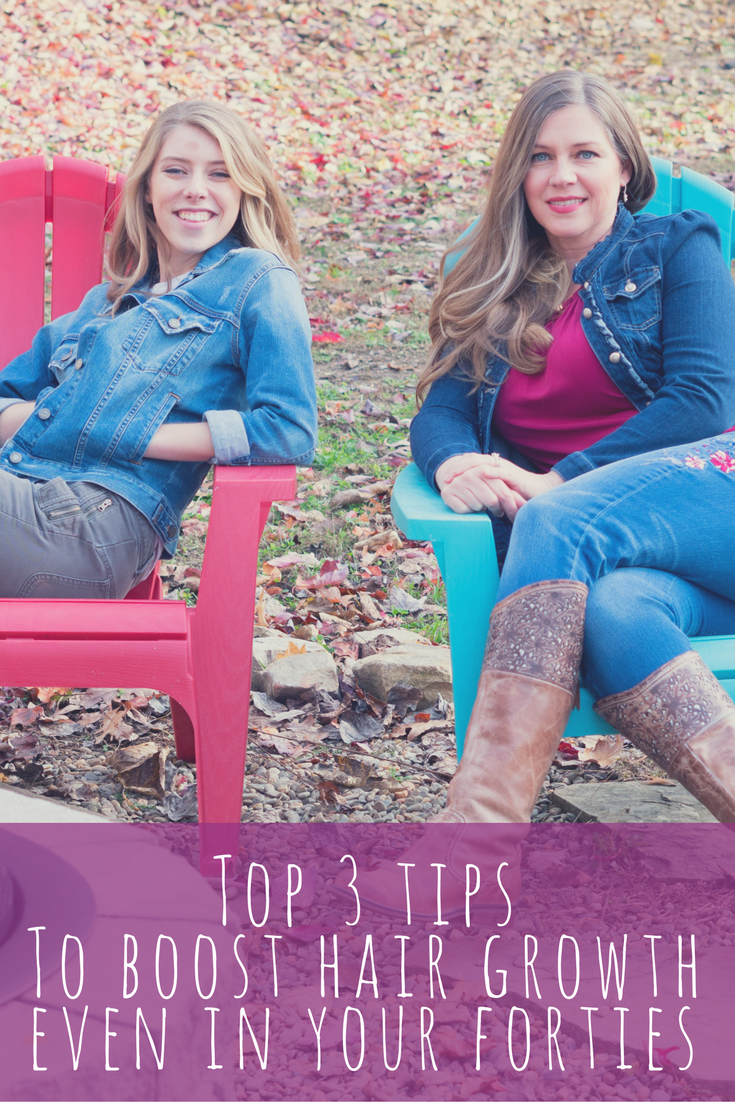 If you have an itchy scalp with falling flakes of skin, you know how frustrating and embarrassing it …