Last Updated on August 11, 2022 by Rebecca Huff
If you have an itchy scalp with falling flakes of skin, you know how frustrating and embarrassing it can be. I know, too, because, for decades, I tried so many different methods to eliminate a flaky scalp problem. I finally found the best shampoos (and conditioners) for dry scalp that alleviate both the itchy scalp as well as the flaking.
You may be wondering if dry scalp and dandruff are the same. The difference isn't super noticeable, which is why many people, including myself, mistreat dry scalp, mistaking it for dandruff.
While both share common symptoms, they are not the same condition. Dandruff is the result of too much oil on the scalp; this oil causes skin cells to build up, then they shed, causing the flaking that is known as dandruff. If you treat a dry scalp with an anti-dandruff shampoo, it may not work.
Dry scalp is just that, dry skin that gets irritated and begins to flake off. If you have dry skin on your body, you know what that dryness is like; it's often itchy and flaky as well. It can also be confusing if you have a dry scalp but still get oily hair, but it happens. Don't worry; you can still practice good scalp care and reduce the oil in your hair simultaneously, so keep reading.
Which Shampoo is Best for Dry Scalp
I'd have hairdressers, and even dermatologists recommend and prescribe dandruff shampoo, which always left my scalp feeling tight and my hair frizzy. Worst of all, it didn't cure the itchiness or the flaking and left me with dry hair.
Some ingredients I found in commonly recommended over-the-counter shampoos were just irritating, like salicylic acid. This one is a penetration enhancer, meaning it helps the product become transdermal (gets into your body through the skin.) It can also be a skin irritant.
Later, I even did some searching and found out that at least one ingredient in my dermatologist's recommended product was a carcinogen! Coal tar is often added to dandruff shampoos.
Coal tar is one of the oldest treatments for psoriasis and eczema. It has anti-inflammatory, antibacterial, antipruritic, and antimitotic effects. The short-term side effects are folliculitis, irritation, and contact allergy. Coal tar contains carcinogens. 1
I'd rather have dry, itchy skin than put a carcinogen on my body, but thankfully I didn't have to choose.
I have two recommendations, and these are the two sets I keep in my shower at all times. Typically, I only wash my hair once a week, but sometimes twice if I go swimming, sit by a campfire, or sweat a lot in the sauna. These are the shampoo and conditioner sets that I rotate.
Let's start with a product that is more like your typical shampoo and conditioner, and then I'll share my second option, which comes in plastic-free containers and is a good option if you are making a zero-waste effort.
Hair Care for Dry Scalp without Sulfates
One of the ingredients I try to avoid in general is sulfates. The products I recommend below are sulfate-free. Sulfates strip away the moisturizing oils on your scalp and hair which can leave it dry and brittle. These recommendations also will not cause build-up, are a safe cleanser for your hair and scalp whether you have curly hair, straight, or somewhere in between.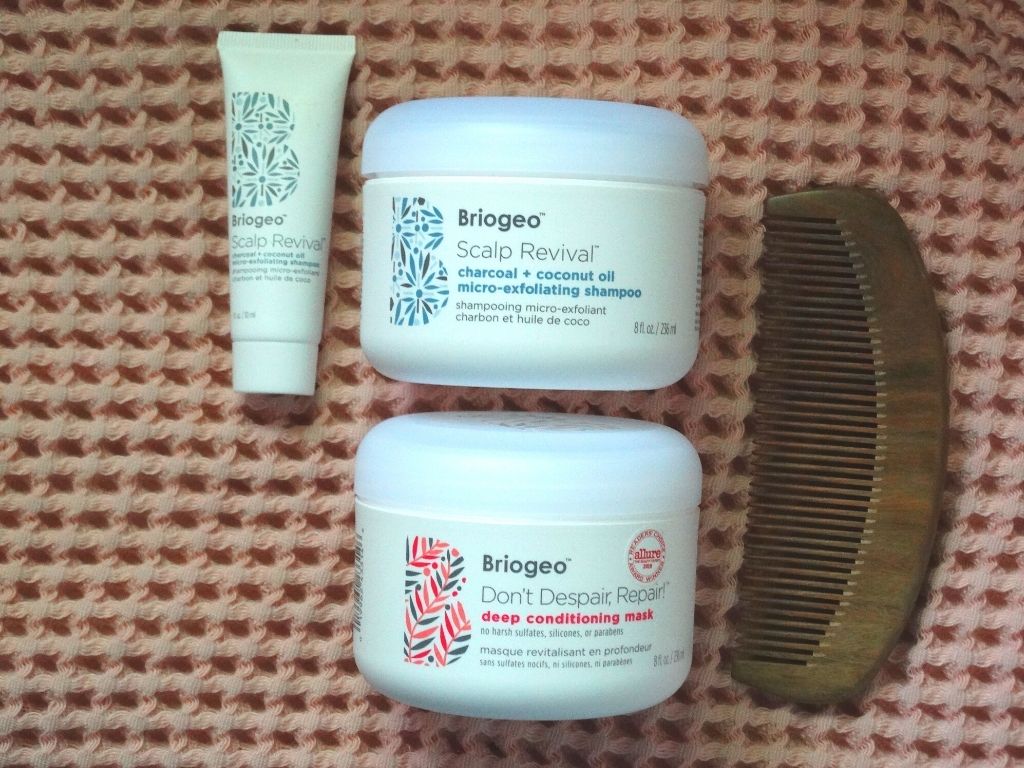 Briogeo Scalp Revival Charcoal + Coconut Oil Micro-Exfoliating Shampoo
I discovered this product by complete accident! I'd placed an order from The Detox Market. They included a few samples with my order. When I saw the scalp care shampoo sample in my box, I couldn't believe it. I'd ordered skincare products and had not indicated that I had scalp dryness, so I was excited about the coincidence.
The first thing I noticed after using the product only one time was instant itch relief. After a few uses, I noticed that my scalp irritation was gone. For years, I'd have an itchy scalp with dusty white small flakes any time I brushed my hair, and just like that, it was gone. I read the back of the tube and decided to get the full-size products right away.
This exfoliating scalp shampoo is crafted with a unique blend of Japanese binchotan charcoal and plant-derived exfoliators to effectively detox and balance. Spearmint, peppermint, and tea tree oils help ease itchiness and aggravation, while coconut oil locks in deep moisture. An infusion of the vitamin panthenol delivers essential nutrients, leaving hair feeling stronger and more healthy. Great for all hair types, this unique formula feels soothing, cooling, invigorating, and addictively stimulating all at once.
I use the Briogeo Shampoo once a week; it's not aggressive and doesn't strip the scalp, so even if you wash your hair every day, it would be fine. In fact, according to the team at The Detox Market, the shampoo is excellent for seborrheic dermatitis and is a good choice for product buildup and other scalp issues. Provides a deep exfoliating clean scalp treatment to eliminate flakiness.
Briogeo shampoo is safe for color-treated hair, so if that is a concern for you, then you're good to go. It has a minty fresh smell that I enjoy, not menthol, but more like a mild spearmint-peppermint blend. Even though it contains tea tree oil, it doesn't smell strongly of the essential oil. That's another thing I appreciate as most of the dry scalp care products dermatologists recommend have medicine like menthol scent, which I hated.
The shampoo is paraben-free and works into a luxurious lather. I have in between straight and curly hair, and I've noticed when I use this shampoo, it brings out the best in my hair. So it goes beyond hydrating and purifying my scalp; it makes my hair look so healthy!
My hair is long, pretty thick (though not as thick as it used to be due to my age and thyroid), and it tends to be dry, so I always use a conditioner when I shampoo my hair.
Bonus Step
If you wanted to go a step further, you could apply the Briogeo Scalp Mask
Binchotan charcoal draws out impurities while a blend of aloe vera and hyaluronic acid increases scalp hydration. A refreshing combination of tea tree, peppermint, and spearmint oils instantly soothes with an immediate cooling effect. For optimal results, use this scalp mask after exfoliating with Scalp Revival™ Charcoal + Coconut Oil Micro-Exfoliating Scalp Scrub Shampoo. Formulated with 98% naturally derived ingredients.

The Detox Market
Briogeo Don't Despair, Repair! Deep Conditioning Mask
I include the deep condition mask here as well since I purchased and use both of them together. My hair tends to have a good bit of frizz unless I condition. I stopped color treating my hair a long time ago, but the Briogeo conditioner will help to rejuvenate your lovely locks if you have damaged hair from color treatments.
This Deep Conditioning Mask is packed with massive amounts of nutrients and hydration to return hair to its natural vibrancy. Dry, brittle, over-processed hair will be rejuvenated with Briogeo's unique NOVA complex and a potent formulation of B-vitamins, rosehip and argan oils, algae, and biotin. The mask quickly works to reverse the damage, adding shine and strength to each hair.

The Detox Market
Typically, I apply the conditioner right after shampooing, allowing it to sit on my hair for a good five or ten minutes. During the "wait time," I exfoliate my skin, shave, or whatever, so it's not like I'm timing it with a watch, but just a general time frame.
Alternatively, you can apply it to your hair, wrap and wait 30 minutes and then rinse out for a deep condition. I've done this while I sit in my sauna, and the resulting hydration is incredible! It hydrates, takes the frizz away, and leaves my hair silky and soft.
I will mention, the conditioner has a touch of fragrance in it, which I don't care for as I try to avoid fragrance. But it is a very mild scent and thankfully doesn't bother me, so the pros outweigh the one con!
Another concern when choosing hair care is my goal to be plastic-free; the Briogeo products do come in plastic. I try to avoid it when I can but balance it out with the quality of life factor. Thankfully the containers are recyclable. If you avoid plastic altogether, go with my second recommendation below.
Morrocco Method Shampoo Bar and Conditioner Bar
I've used Morrocco Method Lunar Hair Chart to choose the dates on which I cut my hair for years now. That's my first recommendation to anyone who asks me how I grow my hair so long, so fast. In addition, I choose my hair removal dates based on the lunar chart as well. In other words, I wax, shave, or pluck on the "slow growth" days, so I don't have to do that as often!
You can find out more about how the lunar hair chart works here.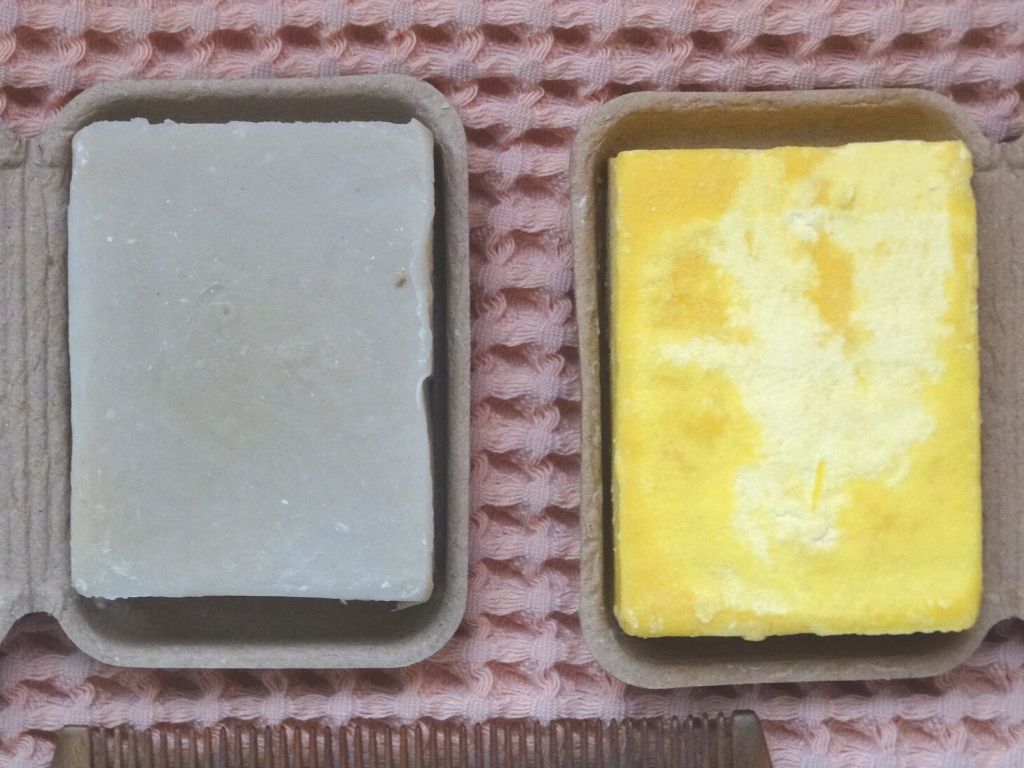 Morrocco Method Shampoo Bar
If you're looking for clean, green hair care, Morrocco Method is the answer. The shampoo and conditioner bars by Morrocco Method are some of my favorite zero-waste products. This shampoo bar comes in plastic-free packaging, and they're 100% compostable.
Beyond the packaging, it is simply outstanding, is raw, vegan, and paleo. It is cruelty-free, non-GMO, gluten-free, and of course, it's a sulfate-free shampoo. The shampoo bar works for all hair and scalp types and is an excellent solution for those who have dry scalp but oily hair.
Handcrafted to leave your hair moisturized and shiny, no matter what your hair type. Shea Butter moisturizes the hair as olive oil conditions it. Coconut oil is the primary cleanser, one that will not strip your hair of essential oils. French green clay detoxifies the scalp of impurities. Lavender extract and rosemary oil add a light fragrance and sheen. Castor oil stimulates the scalp, eases inflammation and dandruff, has antifungal and antibacterial properties, and promotes hair growth by increasing circulation.
Another neat thing to note about the shampoo bar is that it is a multi-use product, so you can use it on your skin. I've used mine for shaving my legs in a pinch, and if you are trying to eliminate plastic, it's one solution for zero-waste shaving cream. My son uses it on his hair and his entire body as well.
Morrocco Method Conditioner Bar
The Morrocco Method Conditioner bar is also made in small batches, like the shampoo bar.
I love that this conditioner is all-natural, eco-friendly, plastic-free, compostable, biodegradable, which is often hard to find in hair care products.
The Citrus Silk Conditioner Bar is the latest in innovation with orange peel extract and jojoba oil; this silky bar detangles the most unruly hair and adds luster and shine. [They use] cocoa butter to hydrate and nourish the hair shaft and Shea butter to heal and soften the scalp. Conditioning sea kelp help to add the extra moisture needed to create soft and luxurious hair naturally.

Morrocco Method
I am a big fan of reading product reviews before making a purchase. So, if you read the product reviews, you'll be impressed. One said that it conditioned curly hair well without weighing down the curls, and I know that's a challenge for many.
At first, I wasn't sure how to even use these bars on my hair. So if that's you, just wet your hair and then massage the bar into your hair and scalp until you work up a lather. Then rinse the bar and your hair. For a conditioner bar, you can wet hair and do the same, massage into your dry scalp and down the length of your hair several times until the hair is well-coated. Let the product sit on your hair for a couple of minutes, then rinse well.
Your hair will be soft and shiny, and tangles slip out easily when using the conditioner bar.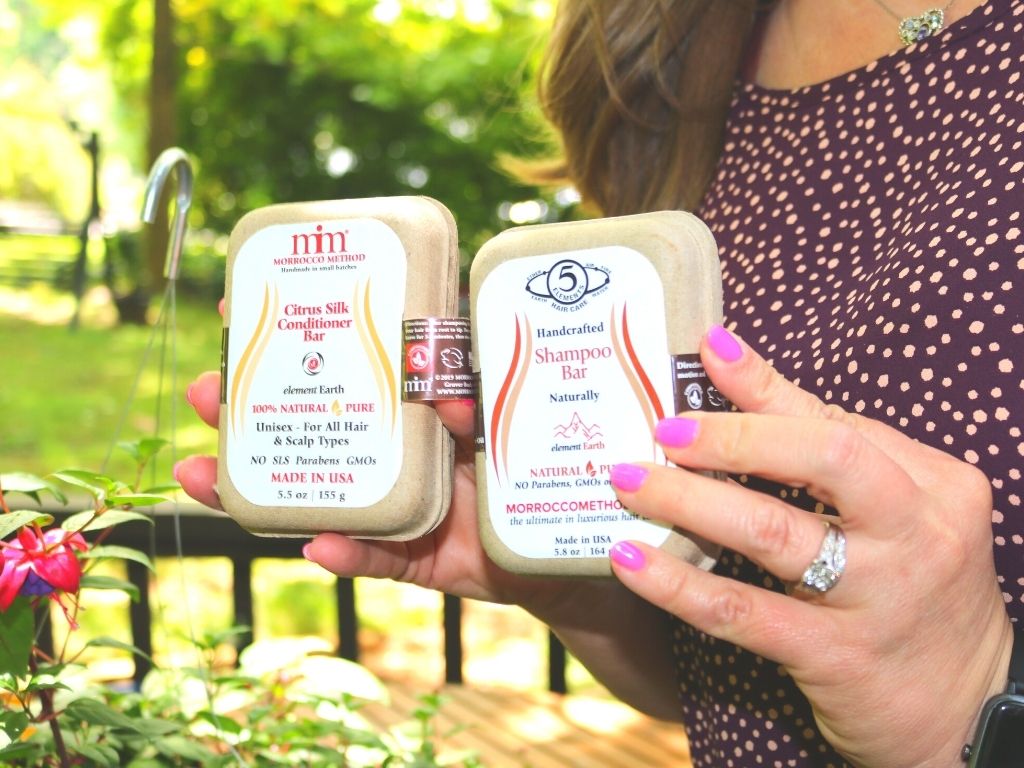 Morrocco Method Dry Shampoo
If you have oily hair (or even an oily scalp), there's one last product I'd recommend. Morrocco Method Volcanic Powder Dry Shampoo. It works for all hair types extending the time you can go between washes. Another interesting use for it is traveling, especially to places with air pollution. I took this dry shampoo with me when I went to Beijing, one because I didn't want to carry bottles of liquid shampoo, and two, it protects hair from damage and doesn't leave it dusty.
Volcanic Powder Dry Shampoo combines the finest clays, minerals, and botanicals from around the world to draw out impurities from the roots and follicles while also protecting the scalp's natural oils. The main ingredient, bentonite clay, helps absorb excess oils and gives your hair an added volume boost. Other ingredients such as aloe vera and prickly pear powder deliver essential vitamins and antioxidants to seal in moisture, fight breakouts, and balance pH levels to keep hair shiny and healthy. This unique formulation dynamically assists in reversing chemical damage caused by synthetic shampoos, giving hair a natural glow without leaving a dusty residue. A thin layer of volcanic powder coats the strands, protecting against smog, sun, and wind damage.

Morrocco Method
If you use other dry shampoos, I would encourage you to look up each of the ingredients. Many of them contain carcinogens, and some are contaminated with asbestos fibers. Most of the ones I looked up scored nine on the toxicity scale (with ten being the worst.) I want my hair products to make me look good, but I don't want them bad enough to put toxins on my body!
Speaking of avoiding toxins, I am sure you're wondering why I don't just use some natural remedies to treat my dry scalp. Believe me; I've tried them all!
Natural Remedies and DIY Mentions
I can't leave the subject without mentioning some of the natural remedies and do-it-yourself fails I've had over the years to remedy dry scalp. Apple Cider Vinegar was a big one people recommended. This is a fantastic ingredient that I love to use in cooking, and I've even used it on the rare sunburn with success. However, when I applied it to my scalp, it burned and stung and left my hair smelling like apple cider vinegar! Even when I rinsed it out. No thanks.
Aloe is another natural remedy I've tried on my scalp for its healing properties. You can purchase a jug of aloe vera juice at the health food store and apply it to your scalp as an anti-inflammatory. Aloe is moisturizing and is said to reduce irritation. However, it doesn't clean your hair or scalp and just flat out didn't work for me. Plus, if you fail to rinse thoroughly, it will leave your hair crunchy. I've heard that some people use it as a scalp mask; it just wasn't for me.
A while back, I wrote an article about how I get my hair to grow longer, faster using Castor Oil. I still use it occasionally, along with a touch of olive oil and lavender, for the nourishing benefits it brings, but I don't keep my hair as long anymore. Drying long thick hair is a real chore! Castor oil has antifungal and antibacterial properties and can fight off Candida or other infections.
Interestingly, one recommendation for dry scalp and dandruff is Castor Oil due to the fatty acids which balance the pH on your scalp. It never was enough to combat my dry skin, although, back when I wrote the article about using it to grow my hair, I was applying it weekly!
I still maintain that using castor oil weekly will help with hair growth. I've recommended it to many of my friends and readers who have given me positive feedback about their results. Unfortunately, it wasn't a good remedy for my dry scalp.
Summary
Both options above will benefit from the added use of a scalp massager. I use one to gently massage my scalp before shampooing or using the castor oil treatment.
If you're looking for a dry scalp remedy that doesn't look or smell like head & shoulders and doesn't contain carcinogens like coal tar, but you don't want to pour apple cider vinegar on your scalp every wash, these products work. I know there are many different types of dandruff shampoos on the market, such as Neutrogena T and others, and I have tried them all. Either they didn't work, had toxic ingredients, or in some cases, made my dry scalp even worse.
I stumbled upon these two shampoos and have not had a dry scalp since I started using them. After probably 25 years of living with a dry scalp. Going to the hairdresser was often embarrassing when I would see the results of my flaky scalp on the black robe I was wearing for my haircut. Those awkward moments are a thing of the past, and I feel good about the ingredients and results of using these products; and I hope you'll try them and love them as much as I do!
If so, I'd love to hear about your results!
Sources
Roelofzen JH, Aben KK, van der Valk PG, van Houtum JL, van de Kerkhof PC, Kiemeney LA. Coal tar in dermatology. J Dermatolog Treat. 2007;18(6):329-34. doi: 10.1080/09546630701496347. PMID: 17852640.
Scalp Revival Charcoal + Coconut Oil Micro-Exfoliating Shampoo. ~ The Detox Market
Shampoo Bar and Conditioner Bar Set. ~ Morrocco Method