Last Updated on August 11, 2022 by Rebecca Huff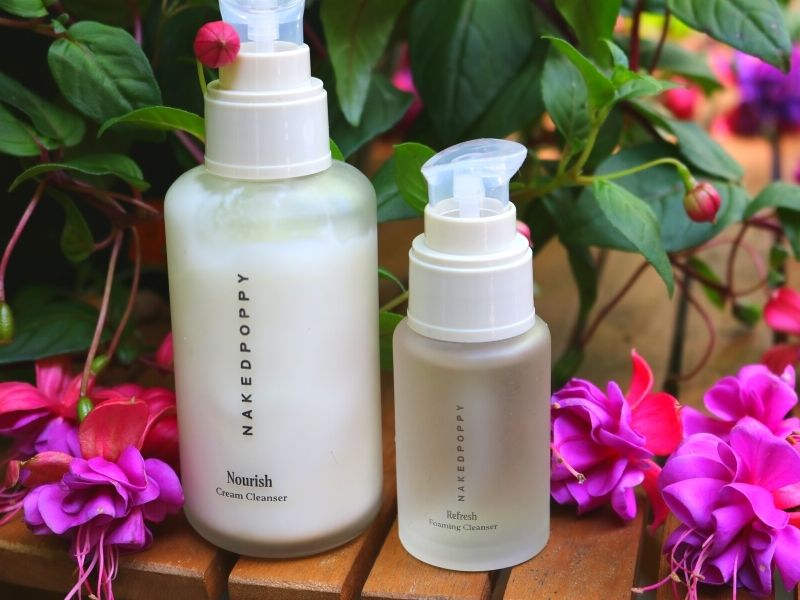 Like Jaleh Bisharat, the founder of NakedPoppy, I've been obsessed with organic, nourishing foods and recipes for decades. The more I researched, the more I realized that with time, what I put on my body, especially the thin skin on my face and neck has a cumulative effect on my health.
My goal is to live a long, healthy, vibrant life!
So it only makes sense that I'd look for the cleanest skincare and beauty products on the market. Not only for myself but also for my mom and daughters, because we'd like to grow old together.
Another person who is obsessed with clean beauty? My oldest daughter is an esthetician and worked at a five-diamond resort spa for years. She has spent countless hours in research on the best techniques and ingredients for maintaining beautiful skin. Since her very first mascara, I've made it a point to guide her to clean makeup brands.
She has adopted these values and taken it a step further. I trust her to help us stay informed and up-to-date with the latest trends and products that not only meet, but exceed our expectations and standards.
Clean Beauty for Skincare
There are so many beauty brands out there to choose from and unfortunately, many are full of harmful chemicals. Even well-known brand cosmetics companies carry products full of chemicals and toxins. You may wonder how they get away with this.
What many consumers don't know is that the beauty industry is not regulated. It's up to you to look out for your health and well-being when it comes to ingredients in beauty products.
Personal care products do fall under the FDA however, the FDA does not require that manufacturers share or file safety information. In fact, there are only about 9 chemicals the FDA has restricted from use. Truly mind-blowing considering there are nearly 100 chemicals currently scientifically linked to cancer.
This is why it's important to ask questions, then transition away from those conventional products and opt for cleaner, greener, more sustainable ones.
From sunscreen to lip balm, we've read through ingredient lists, tested and tried everything we recommend. So I'm beyond ecstatic when we find a company whose standards align with our own. NakedPoppy does the work of researching, setting high standards, and vetting green beauty products so you don't have to.
NakedPoppy is:
Cruelty-Free. Every product on NakedPoppy.com is cruelty-free. Period.
A clean beauty online store, tech startup & product line.
Staffed and run by a team of wellness-obsessed, tech-savvy women.
Fully vetted clean beauty products that are the safest, highest-performing brands on the market – ensuring you don't waste your time on anything but the best.
Minimizing environmental impact as a top priority.
On a mission to empower women to cultivate their own healthy, balanced lifestyles.
Their Secret Sauce: The online beauty assessment uses advanced AI to determine the best clean beauty products for your skin type, color, undertone, age, eye and hair color, allergies, sensitivities, beauty goals & more.
NakedPoppy makes it easy to select products that will make you look and feel fantastic without wasting time on the stuff that's not for you. With the 3-minute assessment, NakedPoppy determines your perfect picks based on more than 30 unique attributes from your beauty assessment answers including skin type, color, age, beauty goals, and more.
Our NakedPoppy Top Picks
Just like I'm recommending for you, we each took the 3-minute personalized beauty assessment.  The results are beauty brands created by cosmetic chemists with patent-pending technology to bring you the clean beauty products you are looking for. Our results were spot on, and I believe yours will be, too! We're sharing what we loved, will buy again, and other thoughts.
To take the assessment, click "redeem offer" then complete the questionnaire, which takes less than 3 minutes. After you finish, your results will be displayed and also emailed to you. Also, you'll save 10% on a purchase of $50 or more and get free shipping on orders over $35.
Watch this video of me taking the assessment
Nourish Cream Cleanser
I'm truly obsessed with the Nourish Cream Cleanser as a first-step cleanser. A rich, velvety cleanser that gently melts away impurities — including makeup — while helping to replenish skin with moisturizing oils. Works for all skin types, but especially ideal for dry, normal, and combo skin.
Splash a bit of water on your face, then put a pump or two on your fingertips and gently massage into your skin. The creamy formula easily lifts away oil, dirt, makeup, and other impurities and leaves skin soft, soothed, and protected.
Hydration that lasts is why I love this cleanser as it replenishes the moisture in your skin and keeps it there.
For anyone with mature or sensitive skin, and even rosacea, this cleanser is incredibly soothing and gentle. Read through the reviews to see more feedback, I'm not the only one who loves this emollient blend!
Ingredients include:
Baobab to nourish and protect skin from UV-induced damage.
Buriti oil helps improve the skin's moisture levels, firmness, and elasticity.
Quinoa extract to form a lightweight barrier on the skin to defend against pollutant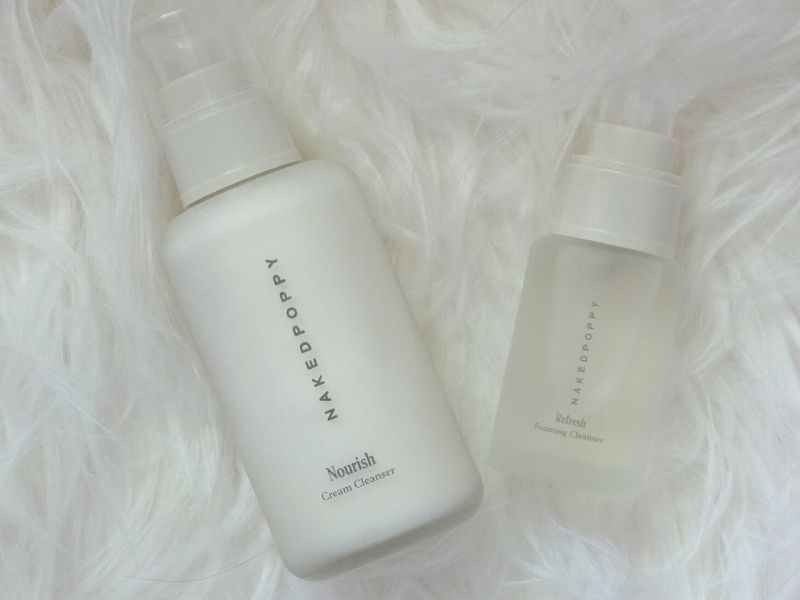 For oily skin Refresh Foaming Cleanser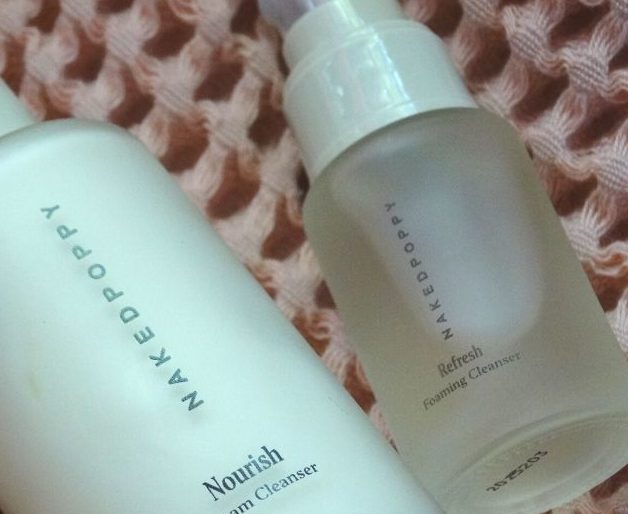 No two people are the same, but a lot can be determined about your skincare and beauty needs by answering the questions in the beauty assessment. For are skin types, but works especially well for those with oily skin, the Refresh Foaming Cleanser works like a charm.
First, it removes makeup thoroughly and smells incredible, due to the flower extracts. For being clean and so remarkably affordable it's one of the better cleansers we've tried.
We loved the gel-based easy foaming and luxe lather that leaves skin clean and feeling amazingly soft. This cleanser will gently exfoliate the skin, leaving it smoother and brighter
Can be used as the second cleanser when double-cleansing.
Revitalize Organic Facial Oil
Dermatologists are cautious about recommending oils for the face, however, these particular oils each have been researched and recommended as a facial oil.
Effective Ingredients:
Rosehips – an antioxidant that prevents oxidative stress, anti-inflammatory,
Jojoba Oil – excellent for the repair of the skin barrier
Argan Oil – improves the elasticity of the skin
Poppy Seed Oil – contains oleic and linoleic acid which acts as an emollient to restore moisture in the skin
Bergamot – antibacterial and anti-inflammatory properties, also good for acne-prone skin
Why you'll love Revitalize Organic Facial Oil
Minimizes the look of fine lines while visibly evening skin tone
Helps skin to retain hydration, resulting in a more supple texture
Sinks into skin instantly, leaving behind a flattering, subtly dewy finish
Suitable for all skin types
Rosehip seed oil sourced from a women-led sustainable farm in Patagonia
Certified USDA Organic
This organic facial oil was recommended for several of us (my mom, me, and two daughters) and I have added it to my nightly skincare routine just before my moisturizer to really help penetrate the layers of skin. My skin feels baby soft the next morning when I apply this at night.
I've also been using it during my face yoga exercises and plan to use it for Gua Sha.
Gua sha is an ancient Chinese ritual known to help improve the appearance of skin laxity, promote lymphatic drainage, and trigger muscle relaxation for a smoother, transformed appearance.
Learn how to do the ancient technique at home; relax, unwind, and learn the art of the gua sha facial treatment.
Indie Lee CoQ10 Toner
Indie Lee CoQ10 is the toner that both my mom and I have used for many years. I've lost count of how many bottles of this stuff we've spritzed on our skin as part of our daily skincare routine.
We love that it comes in a glass bottle, but beyond that, we love how dewy fresh it makes our skin. On days when I'm not wearing makeup, I'll sometimes grab the bottle and spritz it on my face as a refresher. It's part of my nightly skincare routine removing any trace of leftover makeup after I cleanse.
Super-hydrating ingredients wake up your complexion
Soothes skin on the spot (relieves my rosacea)
Helps other skincare ingredients to sink in more easily
Kari Gran Mini Kit With Lavender Hydrating Tonic
I gifted this elegant kit to my mom for Mother's Day. She said it made her skin feel soft and smooth again and hydrated and it smells amazing.
All Kari Gran products:
Are made with premium organic and naturally derived ingredients
Arrive in beautiful, eco-luxe packaging (Forest Stewardship Guild)
Contain no added water to ensure ingredients are in a potent and effective state
An all-in-one complexion kit for every skin type, including 4 travel-size staples: Cleansing Oil, Essential Oil, Three Sixty Five SPF 28 Sunscreen, and Lavender Tonic. (It also comes in Rose!)
Natural Moisturizing Face Sunscreen & Primer
My mom's dermatologist recommended using sunscreen on a daily basis and of course, my daughter (the esthetician) totally agrees. Years before we took the 3-minute assessment, we had my daughter choose the best skincare products for our daily routines. So I was impressed that this was one of her recommendations as it shows how accurate the assessment is!
This award-winning formula by Suntegrity has been part of my mom's daily routine for years and she loves it.
Suntegrity is sunscreen, moisturizer, and makeup primer all in one and made with non-nano zinc and protective antioxidants, plus broad-spectrum SPF 30 coverage. She uses this every single day, with or without makeup. Worn under makeup or foundation, it makes an excellent primer.
After you click the button, you will be directed to my community's landing page, click "redeem offer" to take the quiz! Once you complete the assessment, your results will display and also be sent to you via email. If you purchase products you'll receive 10% off a purchase of $50 or more. Shipping is free on orders over $35.
Indie Lee Iwaken Resurfacing Mask
I've gone through three tubes of this mask in the last year. It has a special spot in my shower so I can use the mask and simply rinse it off while showering. A refreshing face mask designed to eliminate dull skin. It leaves behind a glowing, clear, even, complexion all in a matter of minutes. Plus, I absolutely love the story behind the Indie Lee Brand.
Kosas Revealer Super Creamy + Brightening Concealer and Daytime Eye Cream
With nearly 30 shades, Kosas has a match for every skin color in their medium-to-full coverage liquid concealer. This formula covers imperfections instantly while improving the look of skin over time. Due to the natural-looking matte pigments and complexion-boosting botanicals.
When my rosacea flares up, I dot it across my cheeks to cover redness and it works beautifully. Products that do double-duty are always a priority for me. This one is just that, not only is it a cosmetic, but it also acts as skincare.
Many more clean makeup products to try!
There are several cosmetics from Naked that I plan to try when I use up the last of what I currently have. One is the Color Theory Creme Corrector – Sweet Basil to dial down any skin redness. Because of my rosacea, I'm always trying products that reduce redness.
My daughter also tried nakedpoppy clean liquid eyeliner and while she praised how well it went on and how good it looked, she was a little disappointed that it didn't seem to last all day. She also mentioned that it was easy to wash off.
Clean skincare and makeup products geared toward your own skin type is exactly what you get when you shop NakedPoppy. Based in San Francisco, the company is a curated beauty marketplace for wellness junkies like me! And you?
Over the last 20 years, I have studied the safety (or toxicity) of ingredients and tried hundreds of everyday items to see which ones work and which ones flop. I've shared little bits and pieces of this information on this website, but you still have to hunt and search across the site to locate these reviews and recommendations.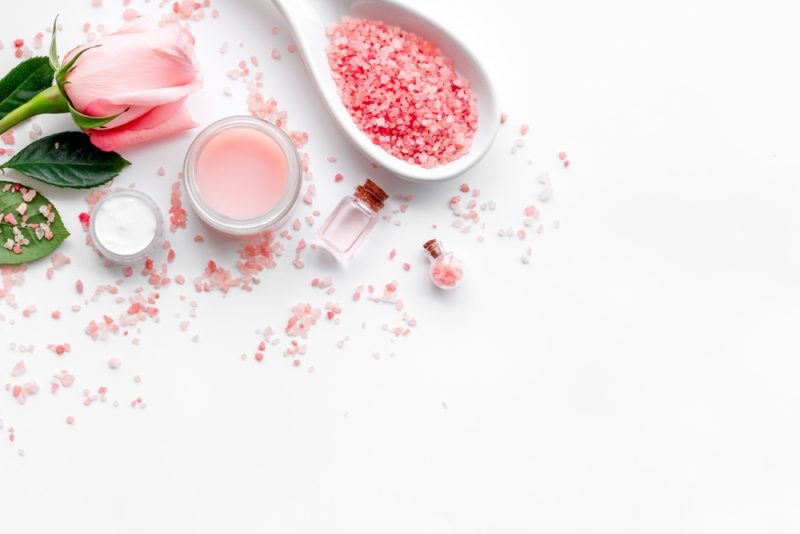 Ultimate Guide to Clean Swaps
With convenience in mind, I created The Ultimate Guide to Clean Swaps so you can take the guesswork out of the equation. Enjoy!!
NakedPoppy Review Summary
I'd like to wrap up this review with a list of what is NOT allowed in any of NakedPoppy's products.
Animal Fats, Oils, Musks
Parabens
Animal Derived Stem Cells
Chemical Sunscreens
Cyclical Silicones
Perfluorinated chemicals
Butylated Hydroxyanisole (BHA) and Butylated Hydroxytoluene (BHT)
Petrolatum
Carrageenan
Phthalates
Sodium Lauryl Sulfate (SLS)
Heavy Metals
and the list goes on – read the full "no list" here on www.nakedpoppy.com Developed with a team of research scientists, it's a running list of chemicals you won't see in products on [NakedPoppy]. Because when it comes to your health, you shouldn't have to do any guesswork.
Sources
https://www.ncbi.nlm.nih.gov/pmc/articles/PMC5796020/