A beauty routine can help keep our skin looking healthy
It's an age-old quest; how do I keep that youthful look for as long as I possibly can? I will eventually go into depth about this, but for now, I want to cover what I consider the ultimate beauty routine. In a series of upcoming posts, I will explain each of these 10 Steps more in-depth. As far as skincare is concerned many of us are a bit lazy.
Being beautiful on the outside starts on the inside, you'll hear us say that a lot. Eating as healthily as we can and drinking plenty of water can only make the outside glow and be able to repair itself as needed. What we do on the outside helps our skin along and protects it from environmental damage.
The need for a basic beauty routine
So today we are going to take a look at our skincare routines. How to care for your skin no matter what stage of life you are in. I can hear it now:
I don't have time.
We're just going to age anyway.
I hate using products.
I always say it's easier to take care of your skin now than it is to treat it later. In the spa, I talk to so many people who come in for facials saying "I wish someone would have told me how to take care of my skin at a younger age." This doesn't mean if you're past the point of preventing skin damage there's no hope for you. Believe me, there is!
Though, if you are at the place in life where you can avoid this damage to your skin, why not?! Starting a good skincare routine when you're young will keep it that way longer.
A full 10-step beauty routine isn't for everyone. I get that! If you don't want to invest too much money or time into your skincare routine, you can get away with 5-steps that are the most important to do. I'll have an asterisk (*) by the step name for your five most important steps if you need a more simplified skincare routine.
When to start a beauty routine
I believe you're never too young to start a skincare routine. Although, if you're looking for a particular age to start, I usually recommend when kids hit their teens as a good time to seriously consider it. Hormones play a huge factor in our skin and how it reacts, so the earlier on you start controlling your skin, the better.
We will walk through the steps here, and then go in-depth with each step in the upcoming series.
Finding the right products for your skin is a trial and error process. It will take time and effort to sift through products to find what works for you. You also need to know how your skin behaves, what type of skin you have, when and what breaks you out or flares up your rosacea for example. If you don't know your skin, it's going to do what it wants, when it wants, and you probably won't like it.
Double Cleansing*
One of the most important things we can do in taking care of our skin is to keep it clean, and NO, that bar of soap and a splash of water does not count!
So this would technically be two steps because you need to cleanse your face twice in a row with two separate products. Your first cleanser being oil-based (yes, even if you have oily skin) and your second cleanse should be with a water-based cleanser. If you have tried oil cleansers before and decided they just aren't for you, double cleansing with your regular cleanser is still important at the end of the day. Especially if you wear makeup and/or sunscreen. This is also something that we learn in school for aesthetics.
Cleansing twice ensures that your skin is clean, especially in the evening. Dirt, oil, makeup and sunscreen left on clogs pores, and clogged pores mean whiteheads, blackheads and dull skin. Also, clean skin absorbs product better thus giving you the best benefits from the product that you can get!
Exfoliation
Depending on your skin type, this should be done once to twice a week. Exfoliation helps to remove the dead skin that builds up on your face over time. A face free of dead skin cells will absorb product better and have a more healthy glow. (Say goodbye to dull skin!)
There are two ways of exfoliation: manual and chemical. Applying an exfoliant product with your hands is considered manual. Whereas using something such as Vitamin C or other exfoliation ingredients work chemically as they sit on the skin.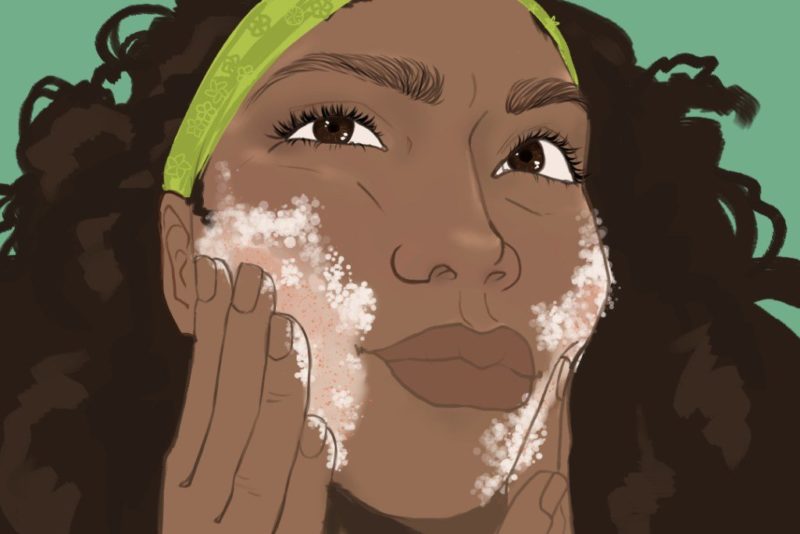 Basic Toning*
Toning is an essential step in your skincare regimen. A toner restores the pH balance of the skin. (We will get into what that means to your skin in our upcoming Toning post.) Using the proper toner for your skin will set a good foundation for the products you apply to your skin afterward. Toners vary in ingredients to treat different types of skin needs as well as restoring the pH balance.
Essence
What is essence? Well, for a while it was thought to be the Korean equivalent of "serum," but this is not the case. An essence is a more lightweight version of a serum packed with a high concentration of active ingredients. Since essences are a thinner consistency, they absorb into the skin more quickly and provide extra hydration or treatment of the skin.
Serums – treating products
A serum is an ingredient rich product that allows you to treat skin conditions such as acne, rosacea, hyperpigmentation, fine lines, breakouts, etc. Serum, ampoule or booster are other names given to products in this category. If you have multiple serums, you will apply them on the skin from the thinnest to the thickest consistency.
You may not think you need to treat your skin, but no one has perfect skin even if it looks that way from afar. Most likely every person has something that they have to manage or control. Whether it be excess oil, rosacea or fine lines, often they have simply found out what works for their skin and how to handle their particular challenge.
Masks/Sheet Masks
One of my favorites! Sheet masks are an optional step, but they are fun and can have significant benefits for your skin. It's something you can do a few times a week, or if you feel like it, use sheet masks every day!
Sheet masks soaked with an essence or serum are applied to the face and left on for a period of time, usually ranging from 10-20 minutes. Regular face masks go on like a cream or gel and are rinsed off after a set amount of time.
Sheet masks are relatively inexpensive so you can try out a ton of different ones. Using a sheet mask is a fun part of my skincare regimen. I like to take the time my mask sits on to read or watch a tv show. (Later I'll give you tips on how to make the most of your masks via my favorite sheet mask hacks!)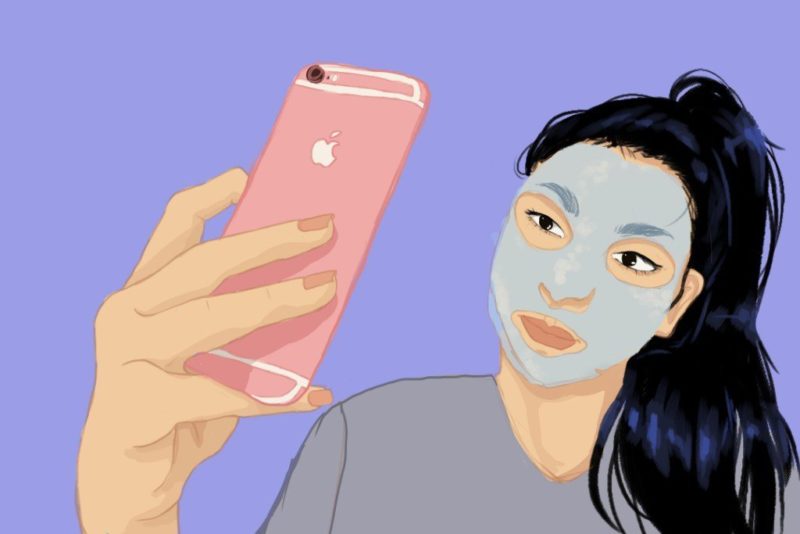 Eye Creams
The skin around your eyes is the thinnest skin on your face and is more prone to being dry and wrinkling. Because there are fewer oil glands in the area, your regular moisturizer won't do here. Your eyes can age up to 10 times faster than the rest of your face. So the earlier you start taking care of them, the better.
Eye creams are formulated specifically for this delicate skin and since it's such a small area, a little bit of product goes a long way. They range in what they treat from keeping the skin hydrated, fighting and preventing dark circles to reducing puffiness and fine lines.
Moisturizers & Night Creams*
Moisturizing is important for every skin type, even oily skin. You will find a variety of moisturizers from oil-free to heavy creams. Not only do you need to hydrate but this last step helps to seal in the good products you've put on before it.
Moisturizers can also have ingredients that help treat skin conditions. In the case you don't feel like layering serums find a good moisturizer for your skin type and needs.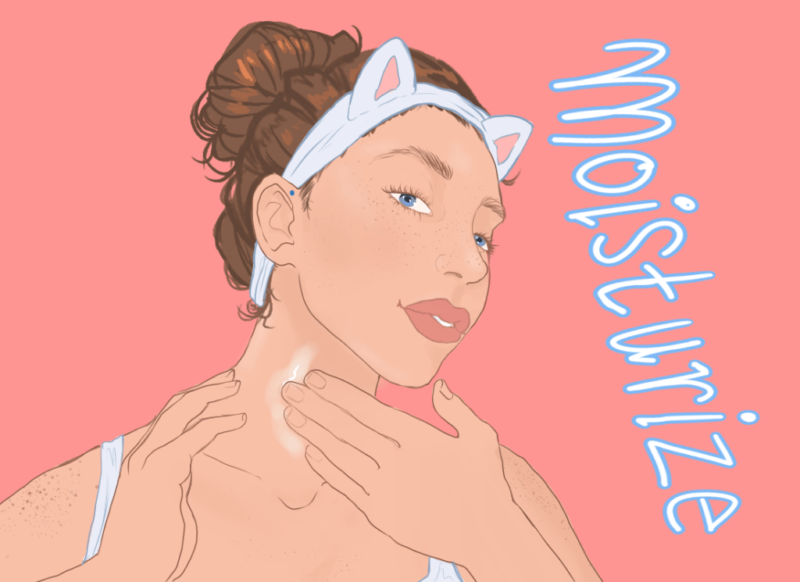 Once or twice a week, depending on the season, I replace my moisturizer at night with a night cream. Night creams will be an even heavier formula that you gently spread on your skin (not rub in) and let absorb overnight. These can treat multiple things or just give your skin some extra hydration.
You can often find moisturizers with built-in sunscreen which is nice because it can save you a step. However, you won't want to use sunscreen at night, so you'll probably end up with a regular moisturizer anyways.
Sunscreen*
I have a love-hate relationship with this topic. It tends to bring up a lot of controversies, and you're either on the sun is poison side, or the sunscreen is poison side. Well, I'm here to tell you there's an in-between, or at least to me there is.
I believe we need the sun, and vitamin D deficiencies are no joke. At the same time, I also think there is such a thing as too much sun. A sunburn is never, NEVER good and will not lead to a healthy look for your future skin.
Many foundations and even moisturizers have built-in sunscreens. We also have to be wary of the quality of sunscreen used. Some ingredients in your sunscreen are unhealthy to absorb. Several chemicals used in sunscreen are hormone disruptors since nanotechnology makes those molecules more readily absorbed into your bloodstream.
All in all, there is a difference in appropriate sun exposure and overexposure. Don't worry; I'll help you decide on the best sunscreens in our Sunscreen post coming soon!
It's important to find a product that meets your personal standards. For my mom and I, we choose products with a low rating on the EWG's SkinDeep® scale. We spend a tremendous amount of time researching and studying ingredients so that we can use the safest products possible.
There are your steps to a full skincare regimen! It seems like a lot at first, but I promise it will get easier. Once you find out what your skin needs and start getting your routine down it will be a breeze. It will become second nature, and you'll be saying hello to healthier, happy skin.
Have our beauty advisor and cosmetologist create a skincare routine personalized just for you!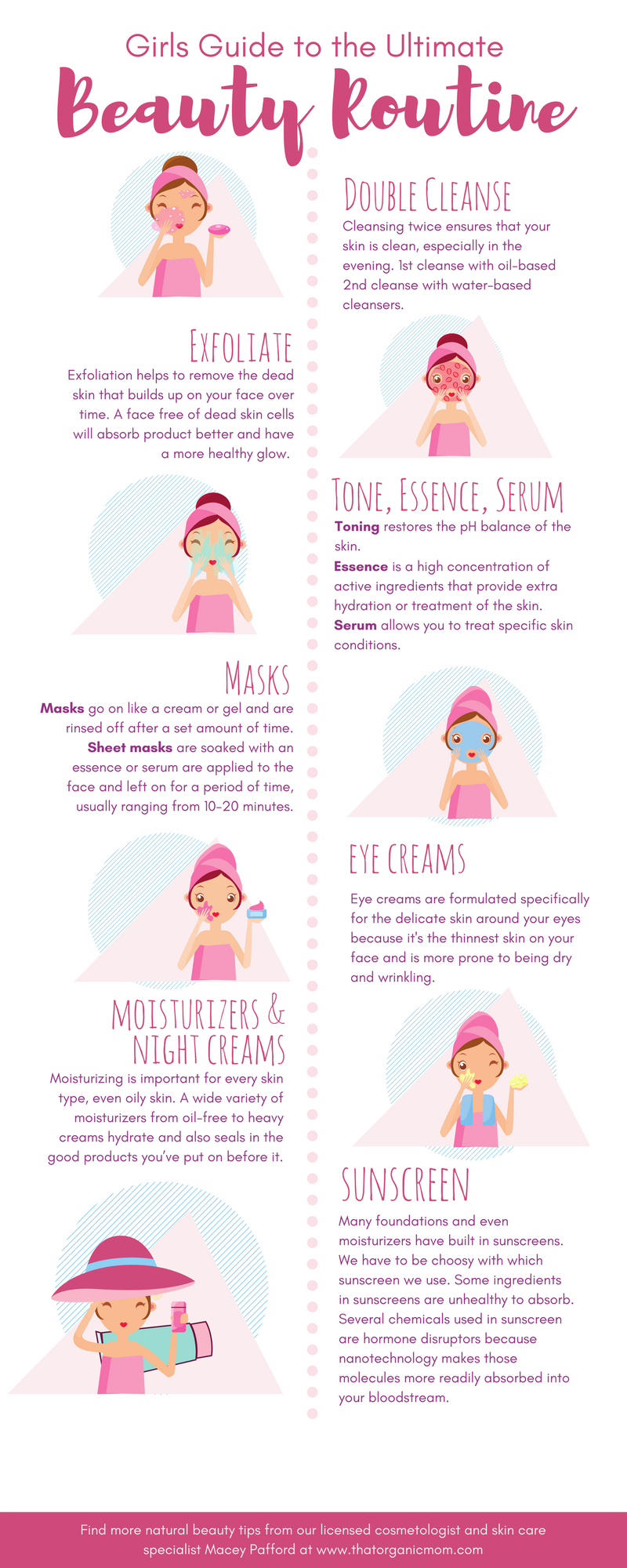 SaveSave