Last Updated on June 29, 2022 by Rebecca Huff
Looking for a budget-friendly dish that will look lovely on your table or at a holiday gathering? As a side dish or even at a picnic, served warm or cold, this Southwest Sweet Potato Hash with Lime Vinaigrette is lovely.
Black beans and sweet potatoes are the stars in this dish, but they are brightened up with bell peppers and red onion. This recipe makes enough to feed a crowd. So when the food sign-up sheet is passed around the office, family, or church gathering, plan on bringing this one!
Healthy Ingredients
Sweet potato is full of healthy Vitamins A and C in addition to an abundance of minerals including potassium. They also support weight-loss, lower inflammation levels, and help to regulate blood pressure.
Black beans have anti-cancer properties and support heart health. Being full of fiber they also help to regulate blood sugar, preventing blood sugar spikes. Black beans can also improve sexual function as well as give your nervous system a healthy boost.
Bell peppers are a good source of Vitamin C as well as other antioxidants that may help to boost the immune function. They are good for digestive health and the nervous system. Bell peppers are anti-aging due to Vitamin C. Not to mention they just look pretty next to sweet potato.
Red onions are amazingly healthy to eat. They are said to reduce triglycerides and blood pressure, help to detox your body, fight infections, dissolve blood clots and more.
My absolute favorite olive oil is crushed together with Meyer Lemons. I find it locally at Earth Fare, but if you don't live near one, you can also find it on Amazon.
Only a teaspoon is needed, so if you can't find it, just use regular olive oil.
Peel and crush the garlic and let it rest while you are dicing the potatoes as this is said to enhance the cancer-fighting properties.
This recipe is one I like to take to gatherings, so I often use maple syrup in the vinaigrette; however, if I'm making it for myself or a group of dieting mama's I will use Pyure Organic Stevia products to stay in the guidelines for the Trim Healthy Mama diet. (This recipe qualifies as an "E" meal.)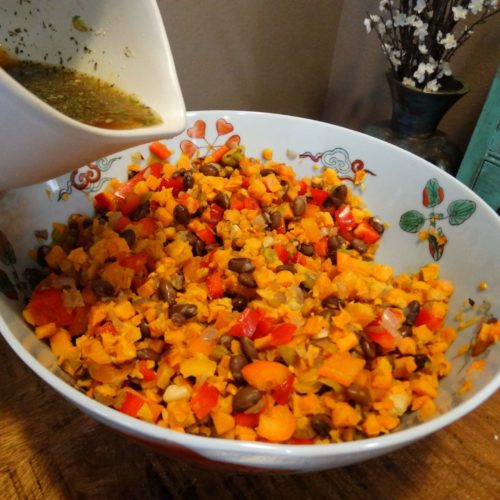 Southwest Sweet Potato Hash with Lime Vinaigrette

Dairy Free

Sugar Free

Trim Healthy Mama

Vegan

Vegetarian
A medley that helps sweet potatoes take center stage! This beautiful and delightful dish pairs well with fish, chicken, steak and even shines on its own.
Ingredients
4

medium sweet potatoes

1

red onion

6

cloves

garlic

1

red bell pepper

1

yellow or orange bell pepper

15.5

ounce

can of black beans

rinsed and drained

Vinaigrette

2

limes

3

tablespoons

Maple Syurp *see note

salt and pepper to taste

1

teaspoon

olive oil

a pinch of herbs such as a sage

oregano, thyme, or an Italian Blend of herbs
Dicing Sweet Potatoes Easily
To make this recipe quick and easy, I used my Kitchen Aid with the food processor dicing attachment for dicing perfectly and consistently. Not to mention it's fun. When I have made this recipe in a smaller quantity, I have used a knife, but to be honest, the dicing attachment is worth using even if it's for one potato.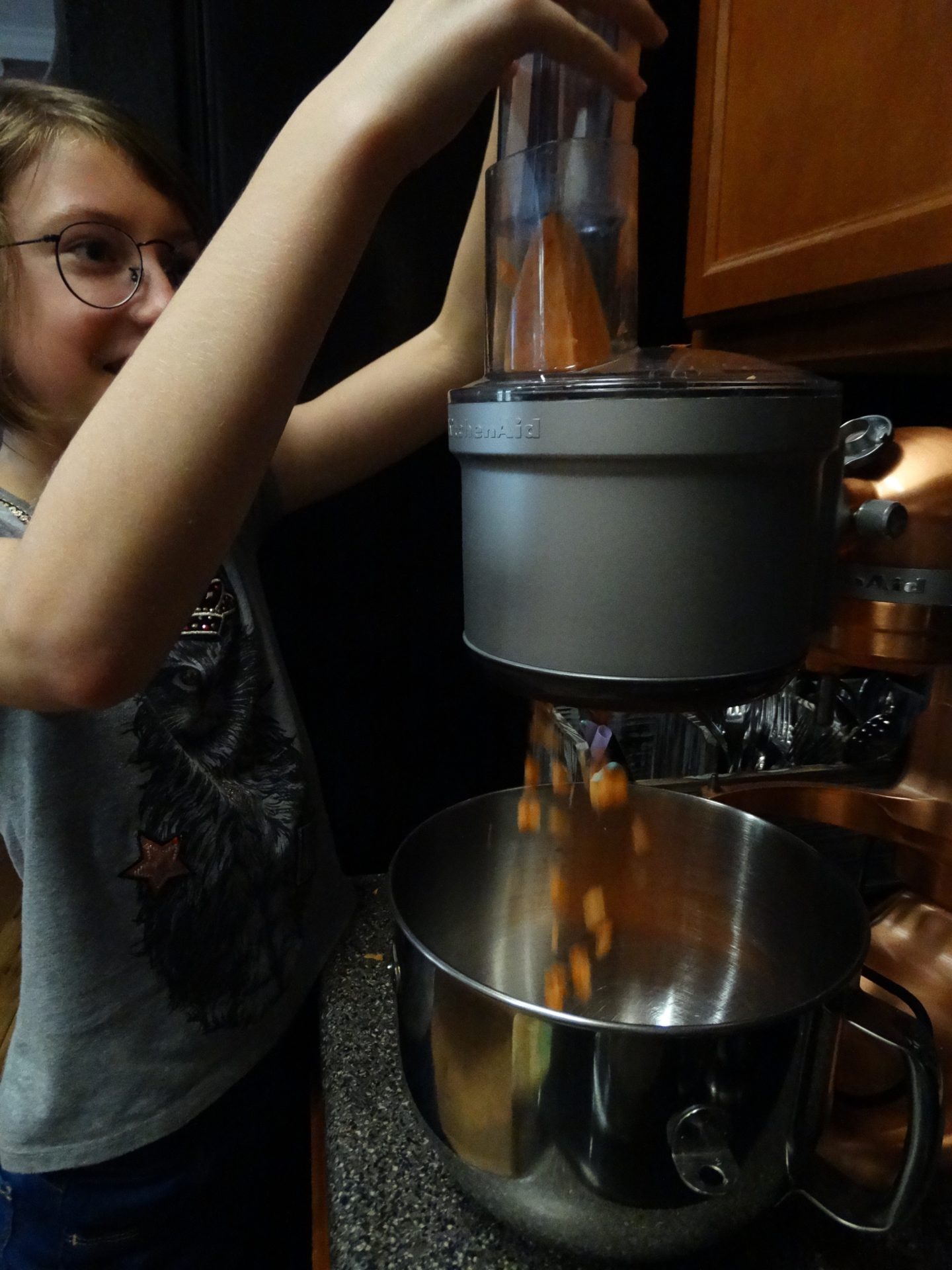 My daughter Shawna loves helping me make this recipe, especially if I let her put the potatoes into the dicer. Anything that gets my kids in the kitchen, y'all. Cause I'm working myself out of a job, you see? At this age, she can do a lot in the kitchen!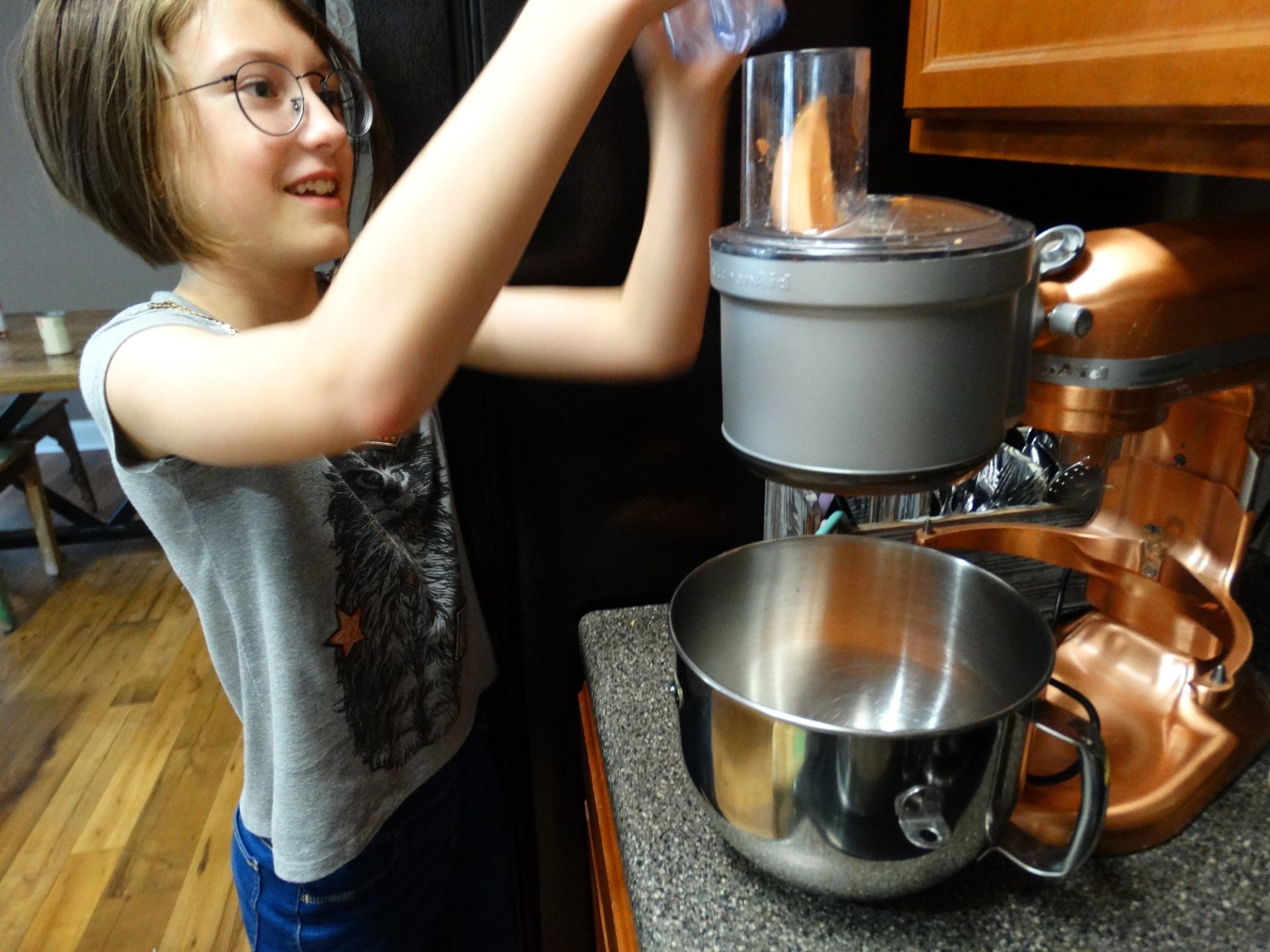 In about 8-10 minutes you can have the potatoes peeled and diced. After that, it's just a matter of roasting them and mixing everything together.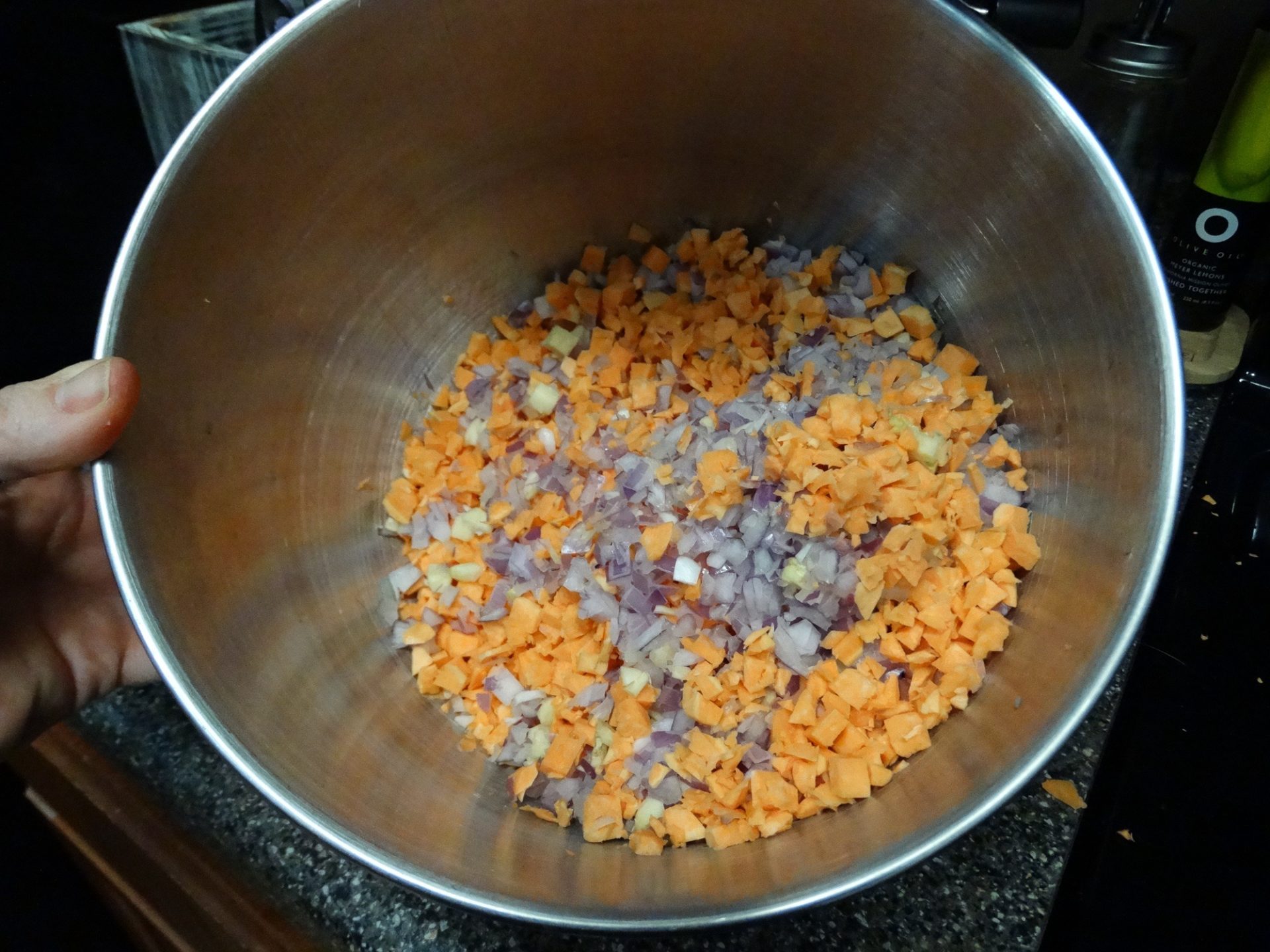 This dish pairs well with Maple Glazed Powerhouse Salmon Recipe covered with my BBQ Rub Recipe and a Caesar Salad.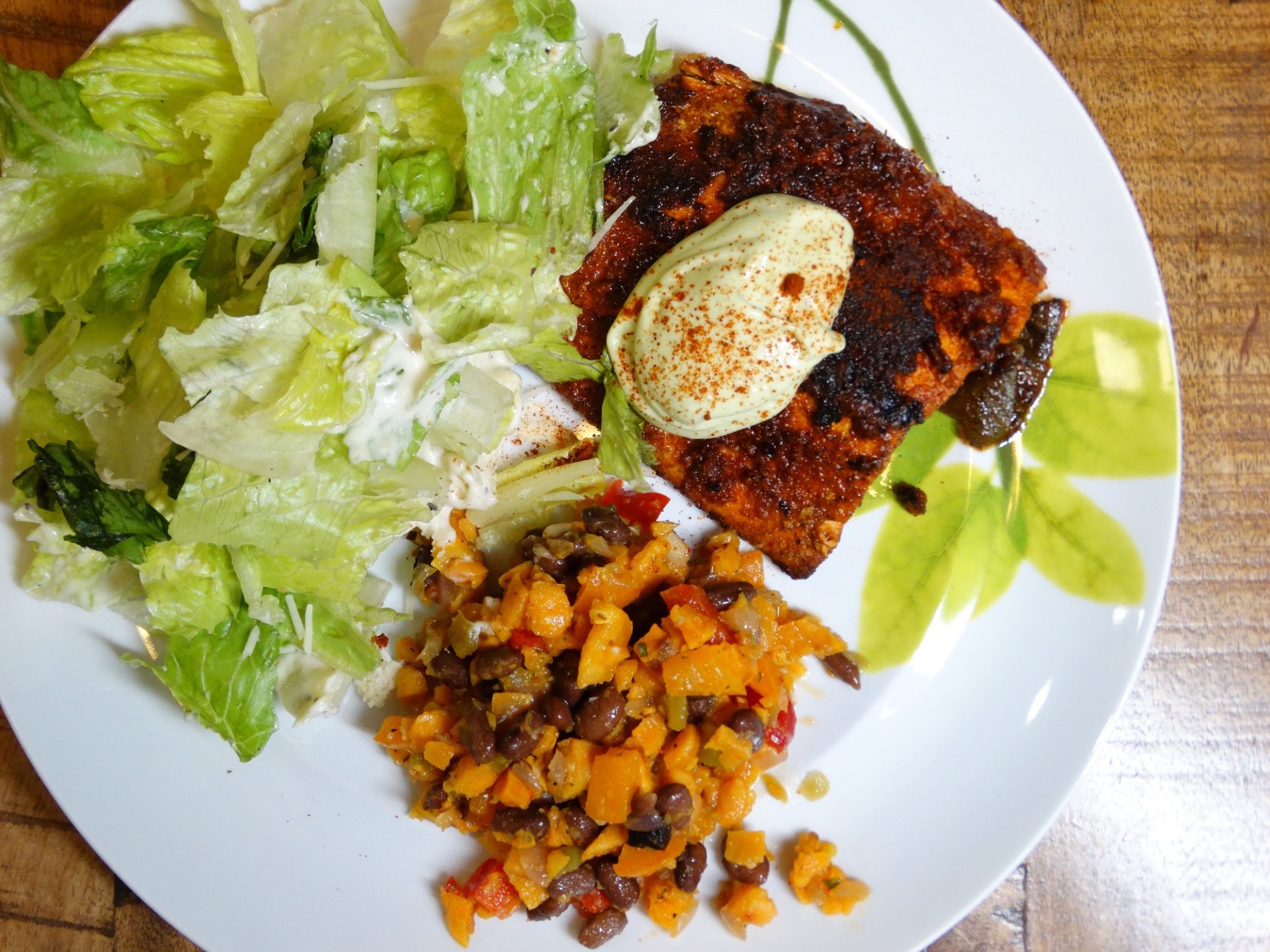 Pin this Post to your Eating Healthy Board!